7 September 2021
If the earth was flat, a cruise along the arctic coast of Norway would feel like a journey to the edge. Here's five reasons why Norwegian cruises are so cool. 
·       Indulge your thirst for adventure 
·       See landscapes most people never will 
·       Taste the authentic flavours of Norway 
·       Experience an expedition not just a cruise 
·       Support a leader in sustainability 
Indulge your thirst for adventure 
Hurtigruten specialises in small-ship polar cruises that allow guests to get up close to the icy margins of our planet in comfort and safety. Onboard guides on their Norwegian cruises offer you authentic experiences as you make your way up the fiord latticed coast. Depending on which Norwegian cruise you take (there are heaps to choose from), these experiences may include ice-hikes or day excursions exploring the region's unique coastal towns and communities during the many ports of stay along the way. The onboard guides are all fluent in English, love to engage in conversation and are treasure-troves when it comes to answering your questions about all the local cultures and the natural wonders you'll encounter on your journey.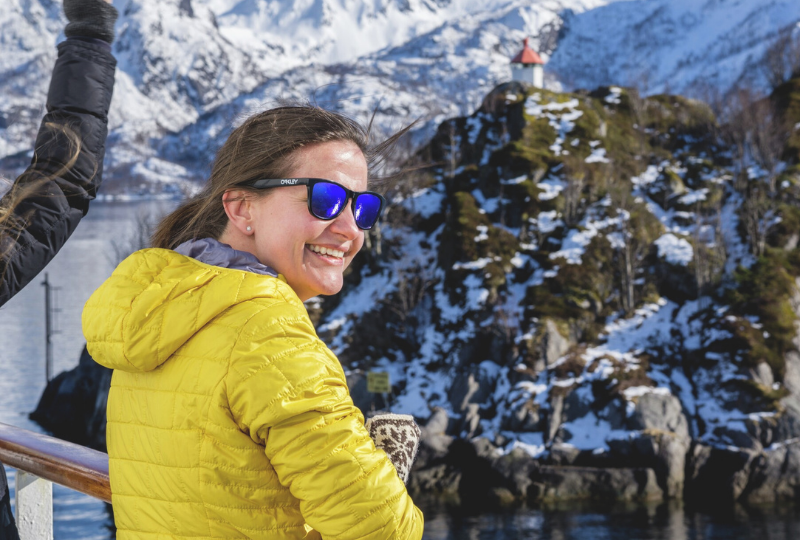 Although Hurtigruten is passionate about offering guests adventures of discovery, they're equally committed to your safety. They make sure you're all kitted up with the right equipment for ice hikes (loaned snow shoes, boot spikes and headlamps) and their guides are all highly trained for life in this challenging environment.
And then of course there's the Northern Lights. The shimmer of aurora borealis is the pinnacle of any arctic journey and is best viewed between November and March when near-night blankets the area much of the time. Nature can be fickle as to exactly when and where it will display its ultimate lightshow, so some Hurtigruten cruises will even offer you another voyage, free of charge, if the Northern Lights don't appear. 
If you opt to take a Norwegian cruise in summer, you can experience the rare opportunity of living under a midnight sun in 24-hour daylight in June and early July.  Tempting as it is to pack more into your day with limitless daylight, you're advised to maintain your normal sleeping pattern if you don't want to spend your cruise wandering the day-lit decks like a zombie. This is when those curtains on your cabin window truly come in handy. 
See landscapes most people never will 
To say Norway is home to some of the most beautiful places in the world is a sweeping statement, but we're not kidding. Cruising north along Norway's coast to the Arctic Circle treats you to the one of the most spectacular landscapes that can be viewed from the sea.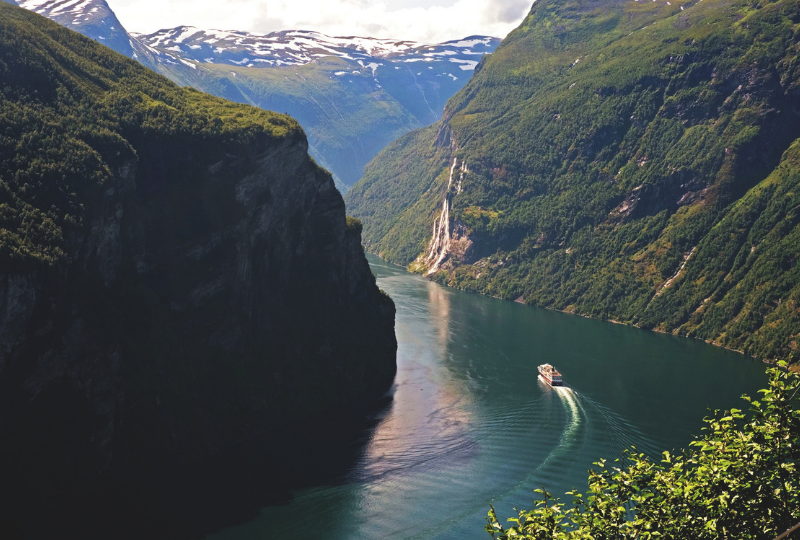 First there are Norway's dramatic fiords, including Geirangerfjord, Sognerfjord and Hjorundfjord.  As you sail into these thin fingers of ocean reaching deep into the mountains, you begin to feel you're no longer at sea, but on an overland journey among forested cliffs, waterfalls and sleepy villages. Scoured by ancient glaciers, many of these fiords are over 1km deep, offering ships plenty of room to manoeuvre in their calm, dark waters. 
---
RELATED: What It's Really Like To Travel To Antarctica
---
As your cruise ventures north, the verdant landscape gives way to arctic tundra. Although less cloaked in vegetation, the landscape is no less stunning with its ice-carved forms and abundant arctic wildlife. Spring and Autumn voyages best showcase the arctic's brilliant colours and magical light. 
Taste the authentic flavours of Norway 
With the Norwegian coastline as an abundant pantry, cruising Northern Europe with Hurtigruten is as much a culinary journey as it is an experience to explore the environment. Hurtigruten works with local growers to produce fresh, natural ingredients right along the coastline, that are harvested and delivered directly to the ship when docking at ports along the journey. What kind of flavours can you expect? Think artisanal cheeses, handmade Lofoten ice cream, and local king crab, alongside whatever is in season of course!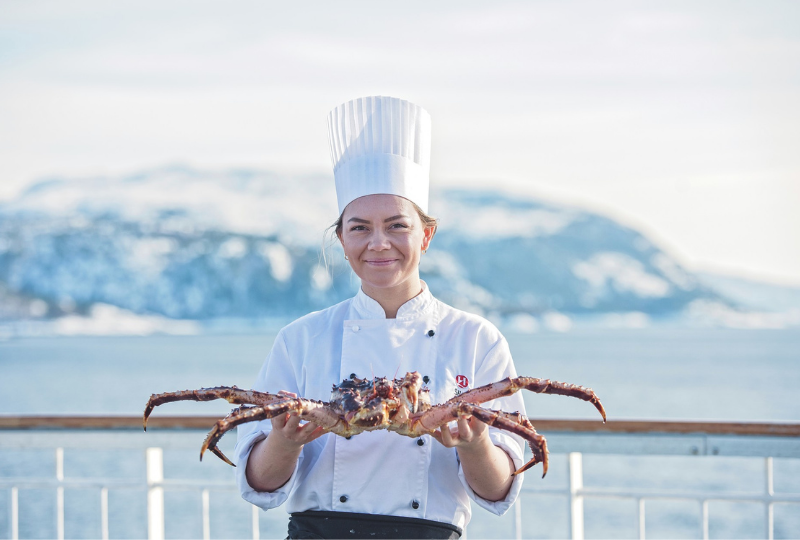 Experience an expedition not just a cruise 
If your spirit of adventure is drawing you to venture deeper into the Arctic, a cruise to Norway's Svalbard archipelago will take you into a silent wilderness of rugged beauty.  Hurtigruten knows these waters well, they've been sailing here since 1896, so their onboard expedition team will safely guide you around the best spots of this rarely visited gem. The archipelago has a surprisingly mild climate during summer thanks to the gulf stream. This covers the tundra with colourful flora and makes it possible to see wildlife such as elk, penguins, walruses, eagles, and even polar bears and whales. 
The expedition team will also guide you through an in-depth history of the archipelago as a focus of exploration, science and environmental protection.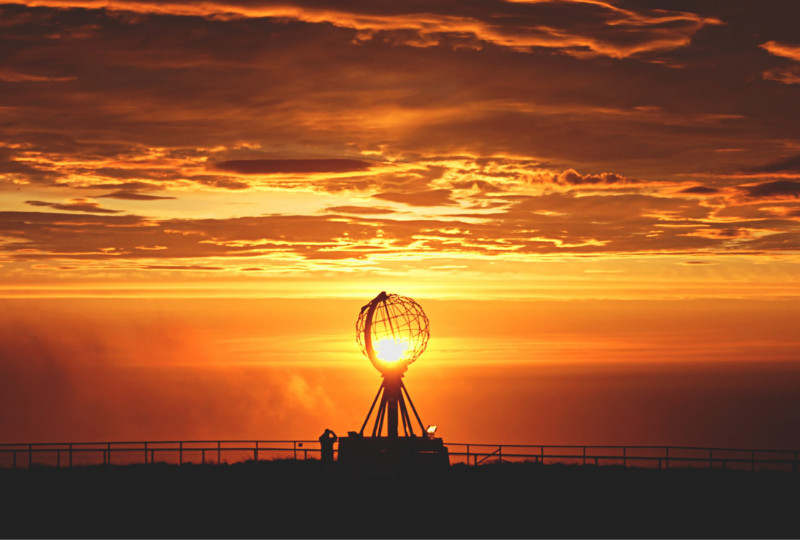 Support a leader in sustainability 
Hurtigruten is serious about environmental responsibility. Using the UN Sustainable Development Goals as a framework, the company has invested in engaging guests in the cultures they visit and educating guests about the ecosystems they explore -- particularly in regard to the clearly observable impact climate change is having in many of the regions they visit. 
Eager to do their part to lower their environmental impact, Hurtigruten are building the first ever hybrid-electric powered expedition cruise ships and are the first major travel company to remove single-use plastic from its entire fleet and hotels. 
Other Travel Articles You Might Like...