3 December 2017
Follow Flight Centre consultant Greer Gardiner on The 48 Hour Destination as she dives headfirst into the City of Angels. Local Californian Kelly King has planned a jam-packed itinerary and can't wait to take Greer around.  The catch is they only have 48 hours to experience it all. Here's her action-packed LA itinerary.
Day 1
10am Griffith Park Observatory
What better place to start the adventure than the Griffith Park Observatory, an iconic landmark that boasts some of the best views over LA.  Kelly has been waiting here for Greer so they can get straight into things with a hike through Griffith Park.  The duo meets up with a friend of Kelly's – DW from Bikes & Hikes LA and his dog Tucker, this is LA after all! DW takes them through the dusty trails while sharing fun facts about LA, his favourite hidden gems and pointing out famous landmarks. 
11am, Plant Food + Wine, Venice Beach
Kelly has a tasty brunch in store for Greer, a 100-percent plant-based restaurant in quirky Venice Beach.  They sit down with Plant Food + Wine founder Matthew Kenney to find out about the sustainable, organic concept behind his establishment, inspired by the active LA lifestyle and warm climate.  They enjoy one of the key dishes from the menu, a delicious fresh meal made straight from their garden. 
12noon, Cure Day Spa, West Hollywood
After a long flight and a busy morning, Kelly has organised a little pampering for the pair, in true LA style.  She has booked them into Cure, a day spa that happens to be located in John Wayne's old apartment, now converted into a luxurious haven. Greer is sold!
1pm, 71 Above, OUE Skyspace, Downtown LA
Downtown LA hosts the highest restaurant west of the Mississippi, and at 290m in the air, it certainly offers a meal with a view.  Kelly and Greer dine on modern American cuisine with breathtaking views from Malibu out to Laguna Hills. After their wonderfully curated lunch, Kelly takes Greer out to the observation deck at OUE Skyspace, buttering Greer up with 360-degree views before she can realise what's next.. a glass sky slide that wraps itself around the side of the building! The girls slip and slide and Greer can't wipe the smile off her face. 
3pm, Grand Central Market, Downtown LA
In the thriving heart of Downtown LA is a foodie mecca that operates daily, serving up everything from craft beer to fresh produce, French cheese to vegan treats.  The duo hit up famed Eggslut for another bite to eat, and sink their teeth into delicious eggy goodness.  Next, Kelly takes Greer for a stroll through historic Olvera Street – LA's oldest street.
4pm, The Broad, Downtown LA
Hosting some of the most incredible galleries in the US, the Broad is the next stop for Greer and Kelly and Trinity from the Broad shows them through some of the colourful exhibitions.  They check out some fascinating contemporary art  such as Under the Table – a life-size dining setting by LA artist Robert Therrien, which makes Kelly and Greer feel like ants.  They also admire the stunning Tulips by Jeff Koon, and get lost in the experiential The Infinity Room aka outer space. 
6pm, Ace Hotel, Downtown LA
It's time for a cocktail, so Kelly takes Greer to Up, a rooftop bar at the historic Ace Hotel.  Located in the arts district of Downtown LA, the building was originally built in 1927 and founded by none other than 1920s icon Charlie Chaplin.  They enjoy a mix of tasty tapas and a refreshing cocktail as they watch the sun set over the city. 
Day 2
7am, Rooftop at W Hollywood Hotel, Hollywood
Breakfast by an enticing aqua pool on the sunny W Hollywood Hotel rooftop with city views – not a bad way to begin day two! The pair get an early start as LA still has so much to offer.
8am, Santa Monica Trapeze School
Swinging like monkeys, the pair has taken to the skies.  A stint on the ropes at the Santa Monica Trapeze School course is something Greer certainly hasn't tried before, and what a location! Sitting on the famous Santa Monica Pier, the pair swing, jump and squeal – what a way to see LA! 
9am, Mojo Sailing, Venice
The ocean is such a vital part of the LA lifestyle, so Kelly has organised Captain Jim to take them out on his yacht and up the picturesque coastline. It's not long before their inner sailors are out, manning the decks, looking out portside and tying bowlines.  Of course, no sail is complete without a jump off the back, and Greer and Kelly oblige with a refreshing splash in that glistening Californian water.
12noon, Loteria Grill, Hollywood
Kelly has a tasty lunch in store for Greer – an LA institution run by Jimmy, who hails from Mexico City and originally started out with a taco stand at the local Farmers Market.  His inspiration for the concept came from the ideal date back in his country, where tacos will make or break the possibility of a second date – talk about pressure!  Paired with locally sourced fresh produce, house-made tortillas and a character like Jimmy to liven things up, the rest, as they say, is history!
2pm, The Getty Center, Los Angeles
LA's number-one cultural attraction, The Getty Center is a museum with free entry. Say no more, Greer loves a free attraction to share with her clients, especially one as notable as this.  They meet Corey, who walks them around the incredible, architectural feat of a campus, in and out of wings that pay homage to a different era, artist or theme.  J. Paul Getty was the man behind the vision, a wealthy businessman who had the ability to buy up amazing art, now for the enjoyment of guests like Greer and Kelly.
5pm, Hotel Erwin, Venice Beach
It's been a long day, time to head back to the water and enjoy those fresh sea breezes with a refreshment, of course. Hotel Erwin offers incredible views over Venice Beach, a great spot for a sundowner as the day draws to a close.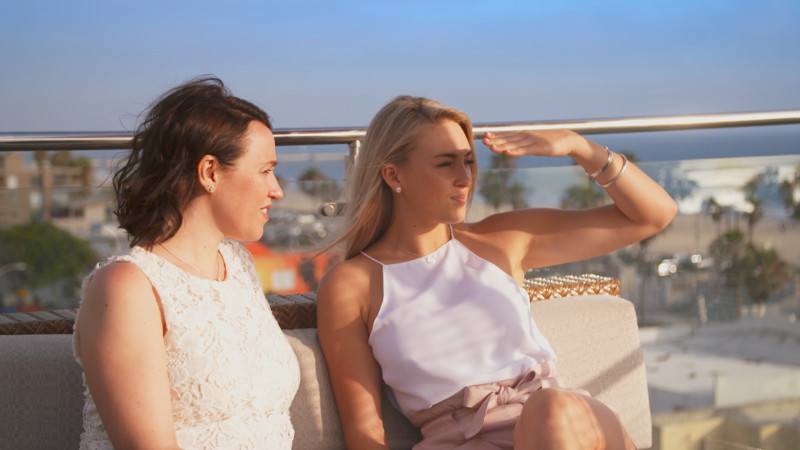 Sundowners.. Venice Beach style at Hotel Erwin Rooftop
7pm, Rooftop Cinema Club, Downtown LA
A rooftop outdoor cinema – how LA! Kelly has organised a night for Greer at this unique movie theatre in the heart of Downtown LA with another friend, Halima.  They grab a bite from the street food canteen, then settle down with popcorn and wait for the blockbuster to begin.
Day 3
8am Surf lesson, Venice Beach
To kick off their final morning in LA, Kelly and Greer meet up with local Flynn and hit the beach.  Kelly insists that it's not a trip to LA without getting onto a board at some stage, so a surf lesson awaits! Time to hang 10, get wet and wild and make the most out of these last few sunny hours on Greer's 48-hour LA trip.
All images: Flight Centre
---

Other Travel Articles You Might Like...