8 March 2013
On his culinary travels, one of the most memorable destinations for Chef Luke Nguyen was Cambodia.
"As I step back in time walking around one of the largest and oldest Hindu Temples in the world, Angkor Wat, I also learnt the ancient cuisine of the Khmer people; a cuisine that was almost lost during the Pol Pot Regime.
"Food for me is culture, and I found that every Khmer dish that I came across had an incredible history and such an amazing story to it," said Luke.
While Sydney foodies have been appreciating Luke's unique style of Vietnamese cuisine at his restaurant in Darlinghurst and at the Star Casino, Brisbane enthusiasts now have the opportunity of savouring his dishes at Fat Noodle located within Brisbane's Treasury Casino.
To construct the menu for this stylish new addition to the Brisbane restaurant scene, Luke used his own travels through Asia as inspiration.
"Through my culinary travels throughout Asia, I come across new and exciting foods every day. The best dishes that I find are mostly street food, hawker style dishes.
"I have taken these favourite dishes of mine and constructed my Fat Noodle menu around them," said Luke.
"What makes Fat Noodle unique is that we use premium produce to make the food that we serve. A great example is our Pho; a Vietnamese beef noodle soup. Our stock is simmered for 24 hours using 12 different spices and medicinal herbs, ox tail, roasted vegetables and waygu beef brisket.
"It is then served with freshly made rice noodles and fine slices of Angus Beef. There is no use of any artificial flavorings such as MSG in our cooking.
"Our flavours are extracted from all the goodness of our premium sustainable products. At Fat Noodle, we offer the ultimate street food dining experience in the most incredibly designed restaurant setting."
---
Hungry for more? Read A Foodie's Guide To Queensland
Ready to set sail? Check out our range of cruises to Vietnam 
---
According to the talented Australian-born chef who is currently filming the Vietnamese version of Masterchef where he is both host and judge, Vietnamese food is light, healthy, delicate and extremely well balanced.
"Vietnam was ruled by China for a thousand years, colonized by the French for almost one hundred years and its neighbouring countries are Thailand, Laos and Cambodia - so you can understand why Vietnamese cuisine in one of the most refined Asian cuisines in the world," he said.
For travellers keen to learn more about Asian cuisine, Luke has partnered with tour company APT to guide a dedicated Vietnam and Mekong River Cruise that explores the flavours of the region.
Luke hosts four tours annually taking enthusiasts to places where no tourists have gone before, eating at places where no tourist could ever find and experiencing things that no tourist could ever get to see.
[embed]http://youtu.be/WbqjZtik3q4[/embed]

"The definite highlight for me and for my guests is visiting my family in old Saigon. This is where both my parents grew up, and it is where my uncles and aunties still live today. We walk through the narrow lanes of this ancient area absorbing the daily lives of the local people.
"Small markets dot the area, with vendors who never get to see foreigners, smile and welcome us into their stalls with open arms. We visit my Aunty's three homes, passed down from my grandmother. It is a behind the scenes look into life in the real Vietnam," he said.
"I have been travelling back to Vietnam for the last 15 years researching and learning about regional Vietnamese cooking. I have eaten at thousands of street food stalls and restaurants throughout the country, so I know where the best ones are located. It is through food that I share and showcase Vietnam."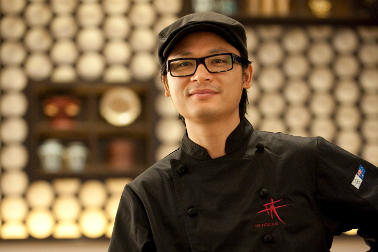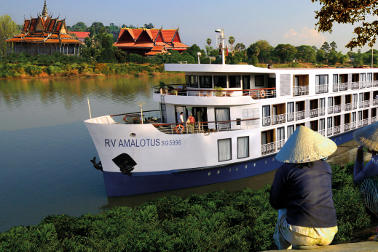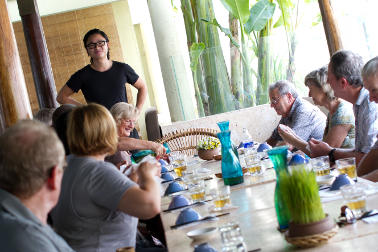 With so many fantastic destinations across south-east Asia, it was very difficult for Luke to recommend one location over the others, however when pressed he nominated
Hoi An
in central Vietnam.
"The entire town is dotted with thousands of colorful lanterns lighting up ancient old buildings and cobbled streets, which is surrounded by a slow flowing river and pretty foot bridges. One would think they had arrived on a movie set; this quiet town is just so incredibly charming and romantic.
"Then there are the regional foods, which are some of the most flavourful in Vietnam. Must try dishes are Banh Mi Thit, Cau Lao Noodle, White Rose, Fried Won Ton and Tam Huu," said Luke.
"To relax away from work, I always go to northern NSW around Byron Bay where my partner Suzanna is from. It is seafood, beaches and beer almost every day. Abroad, I love visiting Kyoto in Japan. The people, the culture, architecture and the food have a calming effect on me."
Other Travel Articles You Might Like...