10 March 2022
It's no secret that the Spanish love to party. They have a siesta every day (the whole of Madrid shuts down for hours in the afternoon) before the evening comes to life; they eat dinner later than most other European countries (9 pm is early); it's not uncommon to see entire neighbourhoods, including kids playing, in city squares until well past midnight every night; and coffee shops are in fact bars, that happen to serve breakfast before beer. So, it's no surprise that they celebrate countless festivals throughout the year, from patron saints to summer music festivals. After living in Spain for a year, and doing my due diligence of attending a great number of these, I can confirm you won't regret planning a trip to Spain just to get in on all the festive action. The good news is, there is practically a festival a week, so no matter when you visit, there will be something to celebrate.  

The best Spanish festivals to celebrate at: 
La Tomatina 
Semana Santa 
La Tamborrada 
Las Fallas de Valencia 
Feria de Abril 
Los Patios Cordoba  
Boloencierro 
Haro Wine Festival 
La Tomatina, August, Bunol, Valencia 
The most famous food fight in the world? It has to be La Tomatina. Running for almost 80 years, this event sees some 20,000 people hurl tomatoes at one another for the best part of an hour. It's supposed to kick off when someone reaches the top of a large greasy pole to claim a leg of smoked ham at the top... but most people aren't patient enough, so it's every man for themselves. If you want to join in, you'll have to purchase a ticket, so plan ahead.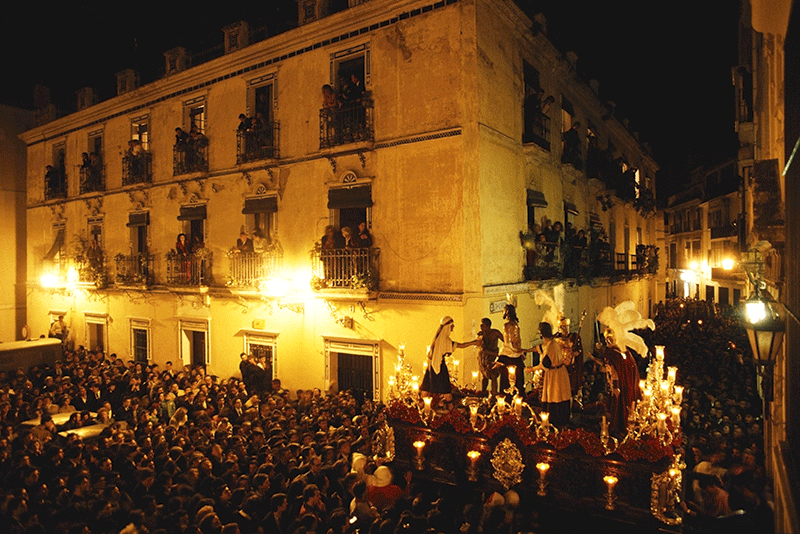 ---
---
Semana Santa, the week before Easter, southern Spain 
Semana Santa means holy week, and whether you're religious or not, this is an incredible festival to experience. I've been lucky enough to experience it twice, in different parts of Spain, and can confirm, it's both mesmerising and intimidating regardless of its size. Semana Santa is Catholicism's week-long tribute to Jesus in the lead up to Easter, where thousands of people take part in processions, with marching bands and massive floats carrying religious statues, some of which have been preserved for thousands of years. Head to the southern cities of Seville or Malaga to see the largest celebrations, and make sure to try torrijas, Spain's answer to French toast, which is the snack of choice during Semana Santa.  
La Tamborrada (drum festival), January, San Sebastian  
When I first moved to Spain, it was the middle of winter and all was still and quiet. Then at the stroke of midnight, a chorus of rhythmic drumming erupted, moving through the streets, edging ever closer to the house. If you don't know what it is, I tell you, this is mildly unsettling. It was not, however, the pied piper, it was the annual celebration of La Tamborrada. Starting at midnight on January 19, the city of San Sebastian, in the country's north, erupts to celebrate its patron saint with singing and drumming. If you want any sleep, you ought to bring earplugs because there are organised processions, and free-for-all drum bashing, which some groups continue for the full 24 hours. The perfect place to try your hand at drumming for the first time, where no one can really hear if you're any good or not.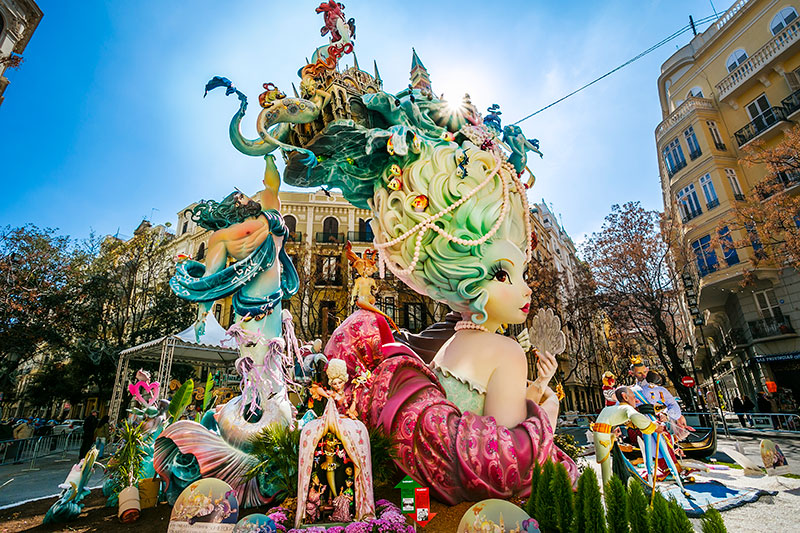 ---
---
Las Fallas de Valencia (Festival of fire), March 
Meaning 'fires' in the local Valencian language, Las Fallas, is a five-day festival that celebrates the arrival of spring, and St Jospeh, the patron saint of carpentry. The festival is celebrated with street parties, ornate costumes, and the main event, where hundreds of giant, beautifully made statues are set ablaze in one evening. The artistic creations are burned as a celebration of creativity, mortality and rebirth.  
Feria de Abril (April Seville fair), April/May 
Most, if not all cities in Spain have a feria (fair), and Seville is one of the biggest. At the week-long affair (like so many festivals here), it starts two weeks after Easter. Expect carnival rides, processions with horses and floats, plenty of flamenco music and dancing, art, and of course, eating and drinking.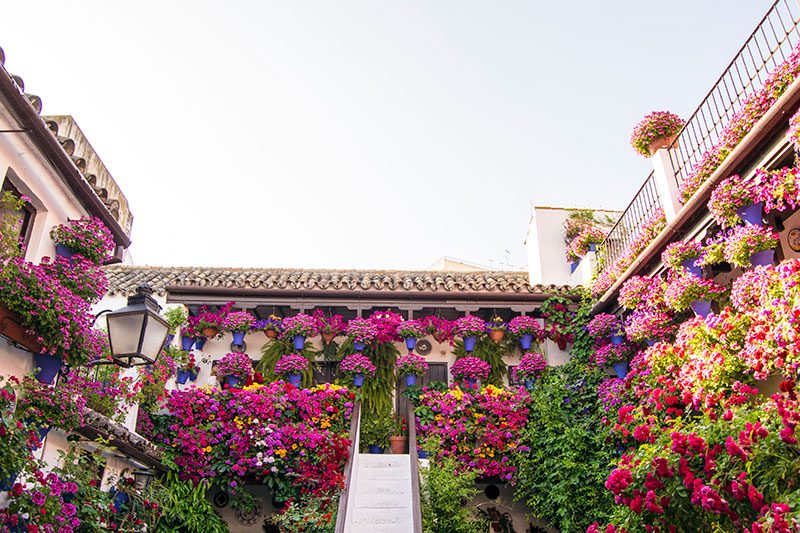 Cordoba patios festival, May 
Garden lover or not, this is one flower festival everyone should see in their lifetime. In the first week of May, Cordoba residents open their patios (courtyards and gardens) to public viewing. In the historic Alcazar Viejo neighbourhood, residents have been tending to spectacular flowering gardens in their courtyards and off their balconies since about 1918, and a competition has been run for the most beautiful since 1921. While you're in town make sure to visit the ancient Alcazar de los Reyes too, a fortress once home to Spanish royalty.  
Boloencierro, August, Mataelpino, Madrid 
No doubt you've heard of the festival of San Fermin, otherwise known as running of the bulls. Well, now there's a modern alternative that leaves the bulls out of it. Instead of running down a narrow street being chased by a giant bull, you'll be chased by a 150kg, 3m wide foam ball. The name of the festival is a made-up term combining the words for ball (bolo) and bull run (encierro), and was started in 2011 as an alternative to the traditional bull run. Got dare devil kids? There's also a children's event featuring a significantly smaller ball. 
Haro Wine Festival, June, La Rioja 
While La Tomatina is a food fight that turns your whites, red, the batalla de vino is the alcoholic version. This 'battle of wine' takes place as part of the annual summer Haro Wine Festival. Like most Spanish festivals, it started off celebrating a saint – this time San Pedro (Saint Peter) and has roots back to the 13th century when neighbouring vineyards had a tiff, and threw wine at one another. The festival has now evolved into a week of drinking, music and drenching anyone and everyone in wine. It's good wine too – Haro is in the heart of Spain's La Rioja wine region.  
---
---
Other Travel Articles You Might Like...