24 April 2017
From the character-filled boutiques and bars of Britomart to fine dining establishments of Wynyard Quarter and the Viaduct Basin, Auckland's waterfront is a veritable cultural and social hub. Undergoing a dramatic transformation that's seen new events venues, restaurants and bars, public artworks and markets pop up all over, the area is a must-visit for making the most of the beautiful harbourside city. 
Art and Architecture
Undergoing a 25-year urban transformation, Wynyard Quarter, on the westernmost point of the Auckland Waterfront is home to an eclectic mix of public art and new award-winning architecture. Admire the Wind Tree sculpture and local artist Erin Forsyth's Madden Street Mural. Enjoy Sounds of Sea, an interactive art work based on the ventilation funnels and speaking tubes on ships, or sit back and enjoy locals and visitors playing the Wynyard Piano. Learn about the heritage of the area and its revitalisation at the Karanga Kiosk, or take it all in with fresh seafood or a coffee on the water's edge along North Wharf.
Silo Park Cinema
If experiencing the pulse of Auckland is top of your list, head to the summer cinema in Silo Park, in the Wynyard Quarter. From December to March, each Friday night from 9pm there is a free film screening. The Food Space just next door is brimming with food trucks and bustling markets for your food and retail fix, too.
Viaduct Bars and Restaurants
The fine dining epicentre of Auckland, the Viaduct Basin has over 30 restaurants and bars overlooking the Auckland harbour. Conveniently located parking facilities for your car or boat, mean you can cruise in for an afternoon or evening of frivolities with ease. From authentic Chinese Yum Cha at Grand Harbour to a sojourn in Italy at Portofino, elegant dining at Soul Bar and Bistro, or an interactive dining experience at The Foodstore, there's something to satisfy all cravings in the Viaduct Basin.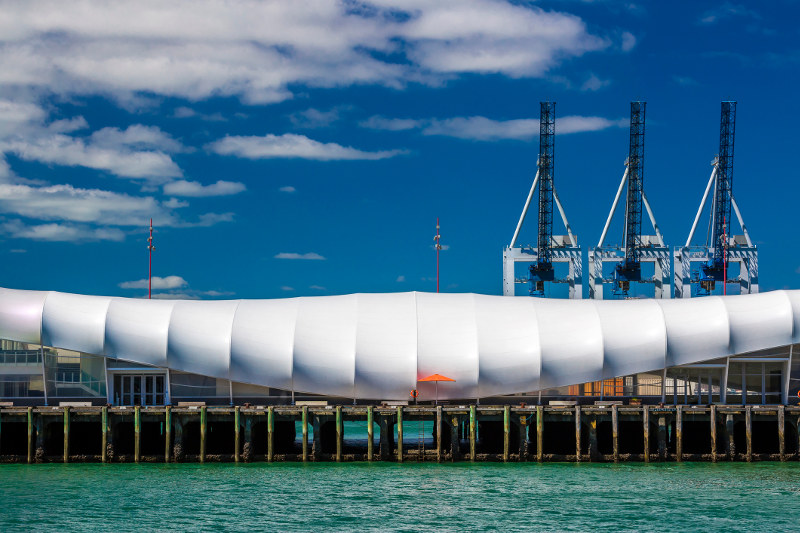 The Long White Cloud
At the heart of Auckland's waterfront, Queens Wharf has come to life in recent years. The highlight is The Cloud, a modern event venue that has quickly become a landmark along Auckland's waterfront and is a nod to New Zealand's most famous nickname. Hosting events, exhibitions, markets and cocktail evenings, it's a glamorous venue to see and where to be seen. Queens Wharf is also home to Shed 10, a 1910-built cargo shed that has been refurbished into another premium events space and cruise ship facility.
Dining on the Deck
The latest addition to Queens Wharf is the Queens Wharf Village, a growing food market with casual street food vendors serving sushi, Malaysian, coffee and burgers. Queens Wharf Village is perfect for a quick bite to eat at lunchtime or a place to watch the sun set on a weekend before dinner in one of the nearby restaurants.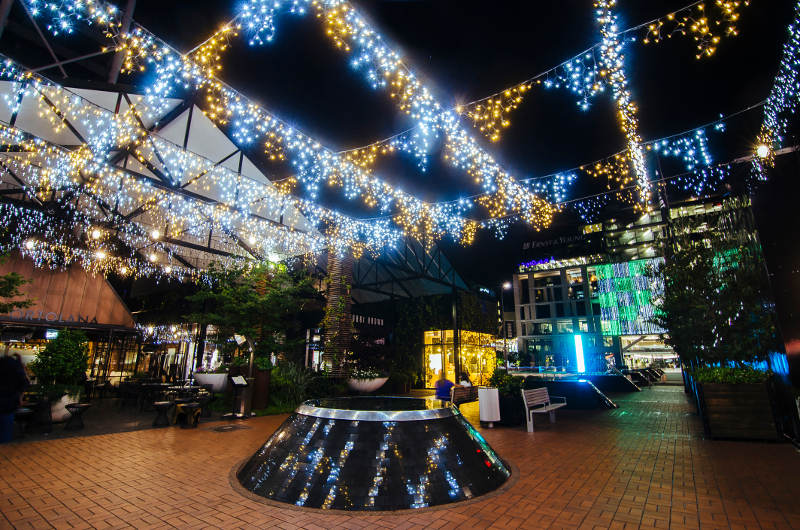 Auckland's Heritage Heart
A rich history as Auckland's first mercantile centre, Britomart lay neglected in the 1980s and 90s before undergoing a transformation into one of the city's most vibrant shopping and dining districts. Today it is home to a busy mix of restaurants, bars, boutiques and offices, occupying 18 heritage buildings and many newer, environmentally-friendly buildings. The Pavillions, a complex of designer boutiques, courtyard gardens, restaurants and bars, is at the heart of the precinct, surrounded by food and drink establishments with soaring ceilings and views across the harbour. 
Feature image: Auckland Tourism
Other Travel Articles You Might Like...