6 July 2021
7 sights you'll see on the Lake Dunstan Trail
1. Cromwell Heritage Precinct
2. Cromwell Gorge
3. Bannockburn inlet
4. Cornish Point
5. A floating coffee shop
6. Hugo Bridge
7. Clyde Dam
---

Like to cycle? Whether you're a diehard rider or dabbler, New Zealand's new Lake Dunstan Cycle Trail shows off the best of Central Otago's natural beauty in the stunning South Island.
What's even more exciting is there's a coffee shop—ON A BOAT—along the way, it's every lycra-loving cyclist's dreams come true! The entire trail really is impressive though, with some remarkable feats of engineering to connect the towns of Clyde and Cromwell. Along its 55-kilometre track you'll weave along the cliffs and rock faces of Cromwell Gorge, cross an 85-metre suspension bridge and make ample stops to enjoy local vineyards and olive groves—and that's just a taster!
Zip up, lace up or strap in and we'll pace you through the trail below…
Tip: it's not recommended you dust off your city bike for this trail, instead hire one designed for the track. And, if you're not a seasoned cyclist, go electric for when you need a little boost.
Lake Dunstan Trail Highlights
Just a few kilometres along Lake Dunstan you'll reach Cromwell Heritage Precinct—a charming village with art galleries, boutiques, local artisan stores, restaurants, and cafes—it's a great spot for breakfast and a quick stroll around.
Onward towards Cromwell Gorge, you'll pass the vineyards of Bannockburn where you can jump off the trail and onto a beanbag for a glass of wine with a view overlooking the lake.
Back on your bike, with a slight wine glow (remembering the same rules you'd apply to driving a car should apply to riding a bike), you'll cross the Bannockburn Bridge and loop back to the picturesque Bannockburn inlet which is a popular picnic spot with a designated swimming area.
The trail next takes you to Cornish Point. When you peer directly down at the gorge with water on one side and soaring cliffs on the other, you'll begin to wonder, how did they make a cycle trail through here? As you continue you see the full extent of the engineering, with cantilevered platforms strapped to the sides of the granite rock faces hundreds of metres into the air to make it around the cliffs, you really appreciate that this is one of the most advanced bike tracks anywhere in the country.
---
---
Is it time for a coffee? You're in luck, because you'll next come across that coffee spot we mentioned earlier, the one that floats! Coffee Afloat has you sorted for the perfect brew, in the middle of nowhere! And you're going to need that caffeinated boost, because the next leg of the ride includes a rather steep hill. Which is why that electric bike boost we also mentioned earlier might be a good idea for those without calves of steel.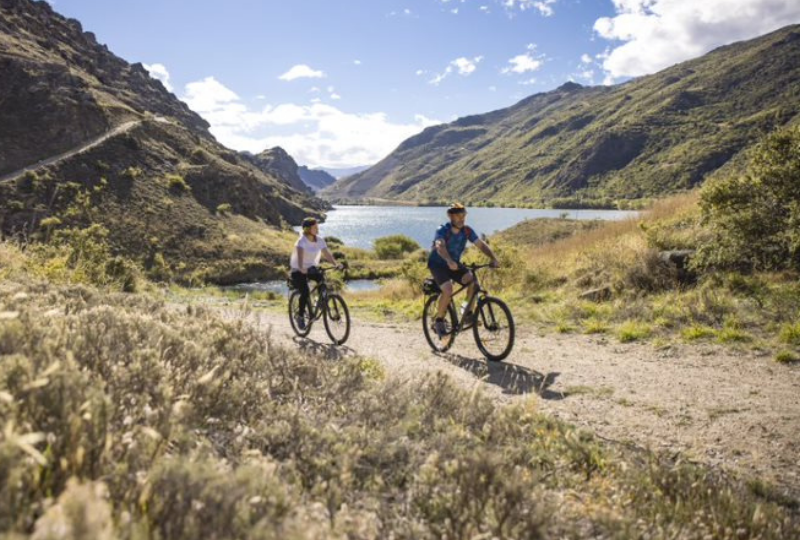 Continuing along the trail, you're treated to a birds-eye view of the gorge and up next, you cross the 'Hugo Bridge' the 85-metre high suspension bridge named after the late Hugh Green whose charitable foundation funded the bridge construction.
After the bridge it's a gentle ride and before long you've reached the Clyde Dam and the historic mining township of Clyde and the end of the Lake Dunstan Trail. If you've hired your bike, most of the hire companies run a shuttle bus to take you back to your starting point in Cromwell (or vice versa as you can start the trail from Clyde and end in Cromwell). While you can absolutely make the return journey all in a day's ride, it might be a long day if you're not an experienced cyclist.
Lake Dunstan Trail Fast facts
Located one hour's drive from Queenstown or a 40-minute drive from Wanaka

55km ride (Grade 1-2)

The ride takes a leisurely three to four hours one way with stops for wine, coffee and photo opportunities

The trail is steeped with history from the bygone gold rush days

You can cycle Clyde to Cromwell but Crowmwell to Clyde is the easiest

Sample local wines year round, and in the summer and spring months cherries and nectarines are in season

You've got to wear a helmet at all times when cycling in New Zealand

The track is open year round – with warm clothes a sunny winter's day can be a beautiful ride. Expect the track to be busiest in spring
---
---
Ready for an adventure to New Zealand? Whether you're up for checking out one of the country's great rides or tackling one of its many other exhilarating activities, check out our deals on flights and more and get ready to #ExperienceOurExperience

Other Travel Articles You Might Like...