29 January 2020
From 1919 to 1933, was a period in American history when the production, distribution, sale, and consumption of alcohol was illegal throughout the U.S., referred to as the Prohibition-era. This period gave rise to illicit drinking houses called 'Speakeasies' which largely disappeared after Prohibition ended. When we talk about speakeasies today, the reference is to a bar that has been modelled and conceptualised after those Prohibition-era saloons and nightclubs.
These bars were especially popular in New York City so it's no surprise then that the unofficial U.S. city that serves as a melting pot of bars and dining has some of the most imaginative secret drinking dens in the world.
Where does the name come from?
'Speakeasies' (speak-easies) was a nickname for these bars because patrons had to whisper code words to enter the establishments. Another similar term used at the time was 'blind pig' which referred to lower-class establishments, while a speakeasy was usually a higher-class establishment that offered food and entertainment.
What do you wear to a speakeasy?
Smart casual to cocktail. Dress to impress and leave the sneakers at home. 
Where should I go to find a speakeasy in New York?
We've polled our Flight Centre travel experts' to find their top picks for speakeasies dotted in and around the New York boroughs of Manhattan and Brooklyn: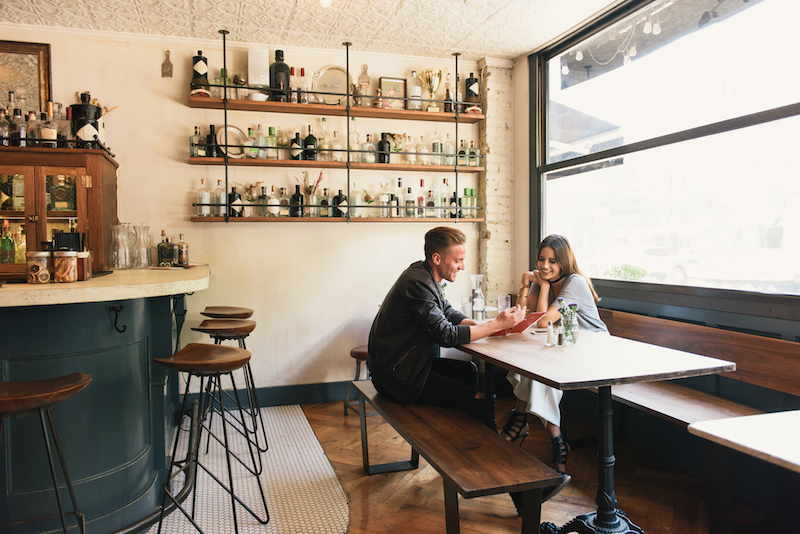 PDT
113 St Marks Pl, New York
Otherwise known as 'Please Don't Tell,' however after 12 years in operation, everybody's been told. Entrance is through a phone booth in a hotdog joint called Crif Dogs. Dial 1 on the rotary phone, and the host on the other end of the line will tell you whether they have room, or, more likely, how long you'll have to wait. 
Angel's Share
8 Stuyvesant St, New York
Named after the amount of liquid that evaporates during a spirits' aging process, Angel's Share is perfect for those looking for ambiance. To locate the bar, enter the high-end Japanese restaurant, Village Yokocho, and enter through the unmarked door just inside. Arrive early for a seat under the bar's ethereal mural.
Blind Barber
339 E 10th St, New York
An East Village favorite (which also has newer versions in Chelsea and Times Square), Blind Barber is in fact as the name suggests an old-school barbershop. Get there before 8pm (or 6pm on Sundays), and you can even get a haircut before entering through the sliding door at the back of the shop to dance the night away.
Dear Irving
55 Irving Pl, New York
It's been described as something out of Midnight in Paris or even Back to the Future for the contrastingly themed quarters of the railroad shaped space. Dear Irving features a tufted Victorian parlor and an ashtray-dotted hooch den worthy of Don Draper. The perfect speakeasy to feel like you've stepped back (or forward) in time. 
RELATED: Walking NYC: Locals Guide To Williamsburg
Fig.19
131 Chrystie St, New York
Brewing up creative takes on classic cocktails, Fig, 19 is hidden away in the back room of an art gallery called SFA Projects. The dim chandelier lit space serves as a nice retreat from the Bowery area chaos. Just don't get it confused with and stumble into the dance club next door.
Patent Pending
49 W 27th St, New York
The adage 'looks can be deceiving' is especially true for neighborhood coffee shop, Patent Coffee, in Nomad. After 5pm, the café space becomes an entryway leading to an inconspicuous back door that leads to the Patent Pending cocktail bar. (Psst...the code is 4927.) Built in the basement of the Radio Wave Building, Patent Pending channels its location by labelling drinks under categories like "Vibration," "Frequency" and "Energy."
Attaboy
134 Eldridge St, New York
Attaboy is the spin off of the highly popular Milk and Honey speakeasy and has kept the same protocol with its suspender-clad mixologist creating bespoke off-the-cuff riffs to suit each customer's boozy preference. When searching for the Lower East Side bar, look for the beguiling, dust-covered window that still reads "tailors M&H alterations".
Apotheke
9 Doyers St, New York
Down a windy street in Chinatown and behind an unmarked door, Apotheke combines a lavish lounge atmosphere with well dressed patrons. Choose your "prescription" on the menu concocted by bartenders in white lab coats. Just what the doctor ordered.
Sign up to our newsletter for more travel inspiration, tips and exclusive deals sent straight to your inbox.
Other Travel Articles You Might Like...