14 February 2019
Forget the chocolate, our tastes are a little more travel-centric… 
Not that we'd say no to chocolates but these romantic travel experiences are the kind of Valentine's Day treat we'll be pining over.
1. Helicopter over Heart Reef
In the stunning Whitsunday Islands, nature goes all out to help you woo your bae. Case in point: Heart Reef – a natural, almost perfectly shaped heart made completely out of reef. Charter a romantic helicopter flight over the Great Barrier Reef to see this iconic wonder, ending with an intimate picnic on Whitehaven Beach just for two. 
2. Luxury African river safari  
Big feelings call for big experiences so heading back to the seat of all civilisation (Africa) is an appropriate getaway for you and your honey, right? You could go the traditional safari route but if you're after something a touch more special (and who isn't, amirite?), then a river safari onboard the Zambesi Queen delivers the goods. As you'd expect from a luxury river cruise, the pace is slow and languid and your digs are on point – complete with a private balcony from which to enjoy the scenery and each other's company.    
3. The Ghan Expedition
Harking back to the grand old era of train travel and celebrating its 90th year, The Ghan Expedition rail journey cuts a steadfast route through one of the most evocative landscapes in the world: the Australian Outback. This four-day, three-night rail expedition departs from Darwin to Adelaide (March-October) and traces the route of the country's pioneers and explorers. This is no cattle class either; luxuriously-appointed cabins, top-notch food and enchanting off-train experiences like dinner under the stars in the Red Centre are just the start for these all inclusive packages.   
4. Horse drawn carriage ride around St Petersburg 
On the up and up as a travel destination, the City of Tsars is equal parts romantic and enigmatic. Brimming with historic sites and attractions, there's nothing like a simple horse drawn carriage through the city's grand squares and cobblestoned streets to show your love how you really feel. 
5. Oysters and Champagne in a Tasmanian wetland 
In the universal language of amore, oysters and Champagne send a very clear message: L-O-V-E. Brush up said language skills at Saffire Freycinet where you can choose their Marine Oyster Farm experience. With a knowledgeable You and your boo can don a pair of waders, head out into an internationally significant wetland and sip and slurp bubbly and freshly shucked Pacific oysters in the stunning surrounds of Tasmania's East coast.     
6. Skylodge Adventure Suites in Sacred Valley
If you want to feel like it's just you and your love looking out over the edge of the world, then Skylodge Adventure Suites in Cusco, Peru is here for you. Because this quirky accommodation is actually clinging to the edge of a cliff. In a fitting metaphor of love itself, the only way to get there, is an adventurous hike up through Sacred Valley. With 180 degree, awe-inspiring views of of this ancient location, the bubble-shaped suites (there are three suites and a restaurant) will leave you with a distinct last-humans-on-Earth vibe that's very conducive to romance.        
7. The MURAKA at Conrad
From up in the sky to under the sea, it doesn't get much more secluded than a suite in the Pacific Ocean. Check in to The Conrad on Rangali Island in the Maldives for loved-up luxury with a capital L. THE MURAKA, a private two-bedroom residence with rooms built above and below the ocean surface may set you back a pretty penny but love is an investment, right?   
8. Okazaki Canal ride in Kyoto
True romantics know that there's magic in a falling blossom and the Japanese have floral romance down to a fine art. Though they aren't particular to Japan, cherry blossoms (sakura) hold huge significance in Japanese culture. The practice of hanami (cherry blossom viewing) is an event in itself: friends, family, lovers all gather during cherry blossom season to enjoy the fleeting spectacle. For an extra special hanami, hop aboard a Jikkokubune boat ride as it cruises the Lake Biwa Canal in Kyoto; during the day the overhanging trees create an impressive cherry blossom canopy as you motor past Heian Shrine and its impressive torii gates and at night you'll be treated to stunning illuminations, inspired by the sakura.     
9. Hot air balloon for two
If you're partial to feeling the love at altitude, float serenely above the world with your one and only in a hot air balloon. Aside from the romance factor, it's a great way to get a birds-eye-view of some of the most stunning landscapes in the world. From Turkey (#Cappadocia brings up millions of Instagram hits) to Sri Lanka and Myanmar, there's more than one place to get up, up and away.   
10. Watch the sunrise at the Taj Mahal
Watching the start of a new day together is a shoo-in for a top romantic activity but seeing the sun rise over the most romantic building in the world? Well, that's just romance squared. Despite the fact that it's a tomb, or maybe precisely because it is, the Taj Mahal takes the cake for being an awe-inspiring monument to everlasting love. Built over 22 years in the 17th century by the lovestruck Mughal emperor Shah Jahan, the building is the burial site of his third and favourite wife Mumtaz Mahal. Historic love stories aside, this UNESCO World Heritage site is one for the bucket list thanks to its stunning architecture and beautiful gardens.   
11. Ice skating at Rockefeller Rink
It's just like a scene from your fave RomCom: twinkling lights, steaming cups of eggnog and awkward, uncoordinated skating that ends in a cute tangle of limbs and laughter. The Rockefeller Center's ice skating rink is quintessential NYC for lovers. Make your way to the Big Apple with the apple of your eye for this and a bucket load more romance-filled experiences.     
12. Wine and dine with Europe's best vinos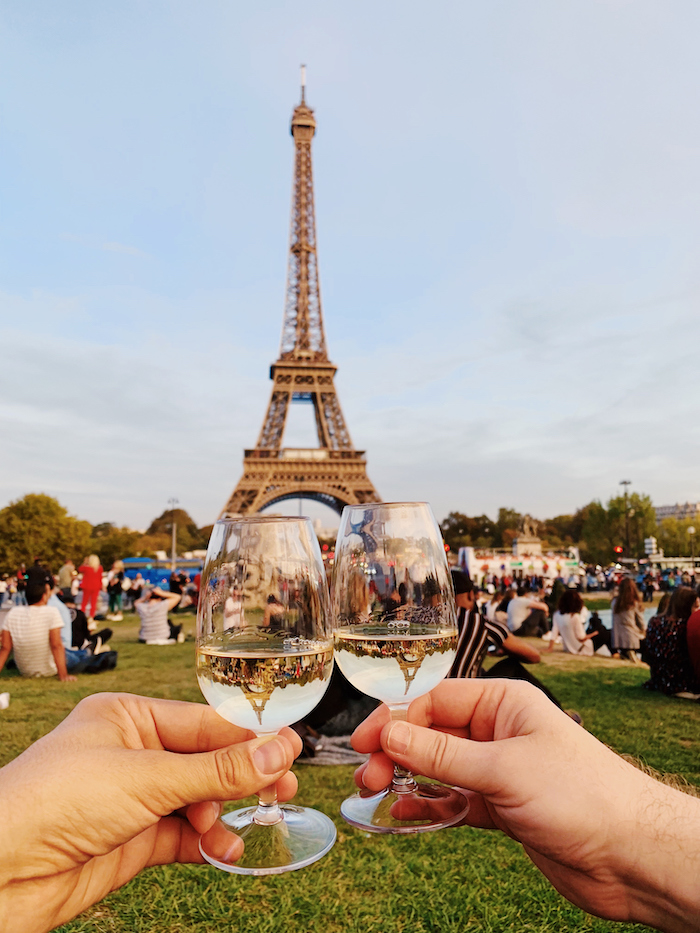 Look, if you like wine then it's hard to argue with the city of love, Paris. With so many romantic locations in one city, you can choose from a fancy dinner in St Germain or just grab a vintage bottle of your favourite drop, pack a picnic for two and watch the Eiffel Tower twinkle to life from the Champ de Mars.  
If you've already been loved-up in France's capital de amour and you're keen to cast a wider wine net, make your way to Portugal's Douro Valley. The UNESCO World Heritage site throws magic and enchantment around like a love wizard, making it perfect for wooing your paramour. A popular route for river cruises and rail journeys, the verdant valley is famed for its Port wine production, picturesque landscapes and quaint villages drenched in both sun and charm. Stay and play in the valley proper or make your way to Porto, Portugal's Port wine capital. The historic port city sits where the Douro River meets the Atlantic Ocean and is a burgeoning destination for those who want the old-world charm of Europe, excellent food and wine options and a unique blend of provincial tradition and cosmopolitan modernism, all in one city.   
13. Igloo together under the Northern Lights
There's just something about being cold that takes the romance level up a notch. Perhaps it's all the opportunities for cosying up to one another or maybe it's just that numb hands equals a nice tingly feeling, which could easily be mistaken for loved-up feels. If the frost-bite doesn't win you over, then watching the larger-than-life, ephemeral beauty of the aurora borealis from the privacy of your own igloo is a profound, love-affirming experience best shared with the most important person in your life.
14. Hike the Na Pali coast of Kauai
With landscapes straight out of Jurassic Park (the steep, often fog shrouded volcanic cliffs had a starring role in the popular franchise), the Na Pali coast of Kauai still feels secluded and otherworldly, despite its popularity with adventure seekers and tourists alike. Choose from stunning beaches, pristine tropical jungles and secret waterfall spots in which to frolic or just do a bit of everything.    
Other Travel Articles You Might Like...