7 January 2020
1. A little local lingo
English is the official language, however you will hear these two phrases frequently; Bula is 'hello, welcome, or good day', and Vinaka is 'thank you'.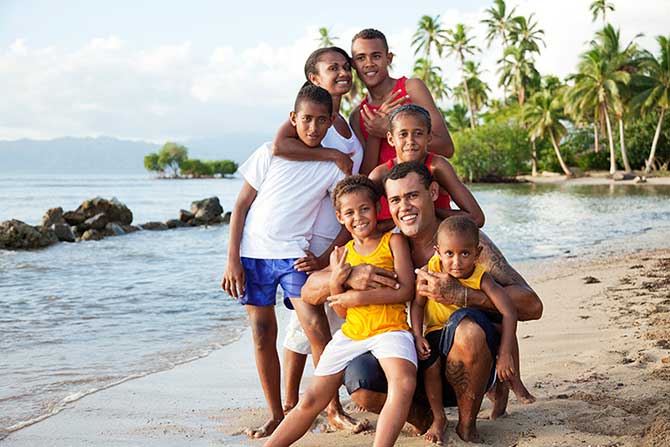 2. The sun is feisty, so pack ALL the sun protection tools
These should seem obvious, but here is a reminder: 
Wide brimmed sun hat 

SPF (we recommend 50+)

Sunglasses - polarised if possible so you can admire that turquoise water! 

Collared lightweight shirt with sleeves for any boating activities  

After sun gel - just in case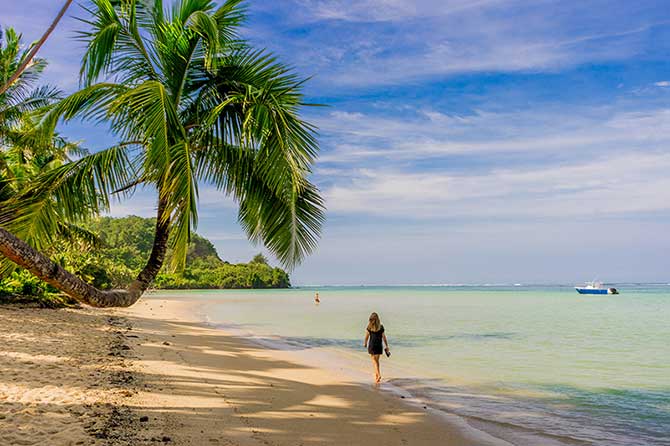 3. The local currency is the Fijian dollar
We recommend heading to Travel Money Oz to exchange some AUD to make your money go further.
4. Bring the Mozzie spray
Pack rid, lots of it. Wear it and reapply regularly.
5. Fiji is not the place for your Borat bikini
Wear modest swimwear and clothing. Fiji is one of the more traditional and conservative countries in the South Pacific, which is something to be particularly mindful of when outside of the resorts. Public bathing topless is prohibited. 
6. Machetes are a-ok and nothing to be alarmed about
You will probably notice people in villages carrying them around, as they use them to cut down and open coconuts, as well as clear out vegetation around the villages.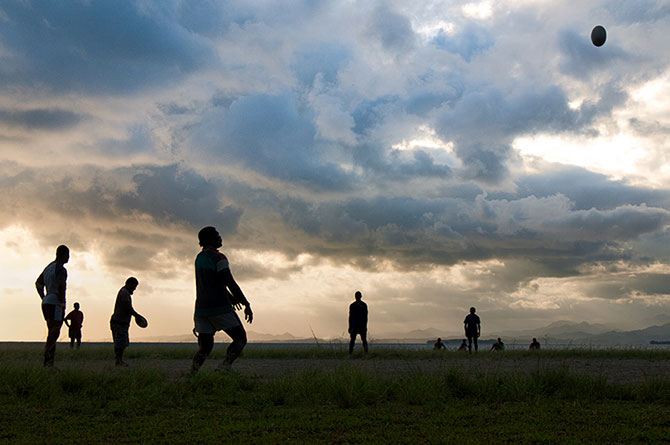 7. Rugby is bordering on the status of religion in Fiji
The Fijians play it preeeeetty well and if you're lucky enough you might be able to join in on a game with the locals while you're there.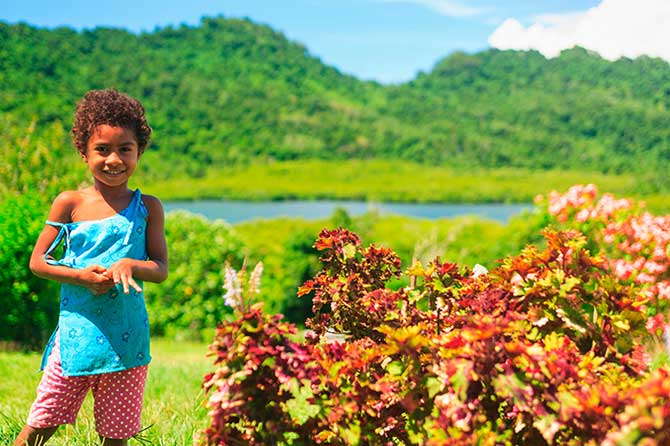 ---
RELATED: Thinking about a trip to the South Pacific? Check out our top tips on Vanuatu
---
8. Walking around at night is not advisable
While the resorts are perfectly safe and usually monitored by security, the streets and villages are not okay for tourists to be wandering through at night - take a taxi after dark.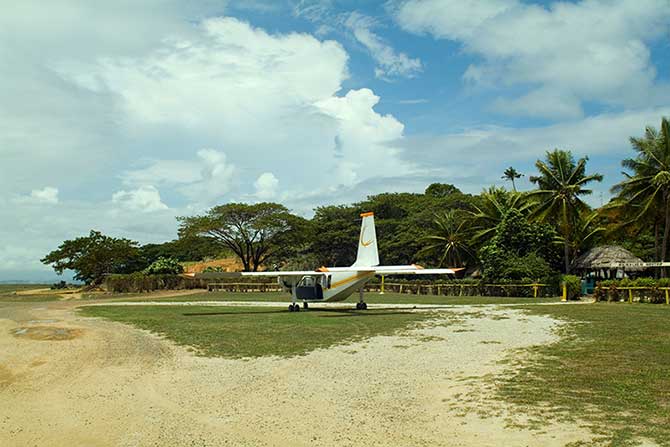 9. Not all airport runways in Fiji are tarmac
If you are a nervous flyer, or not in for a bumpy ride, perhaps check out the airports on your itinerary first - only about 4 of the 28 airports have paved tarmacs. 
10. The majority religion in Fiji is Christian
Followed by Hinduism (due to the large Indian-Fijian population).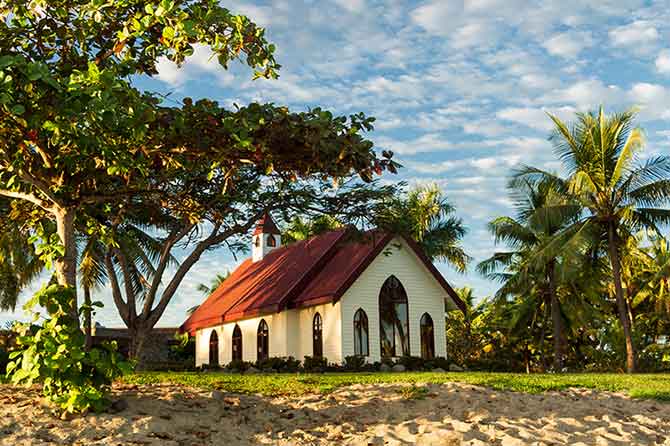 11. Sunday is Church day
With the majority of residents being Christian, Fijians put on their Sunday best and head off to Church - it is an important custom and therefore most businesses are either closed or open for only limited hours on a Sunday.
12. An eyebrow raise is local lingo for 'yes'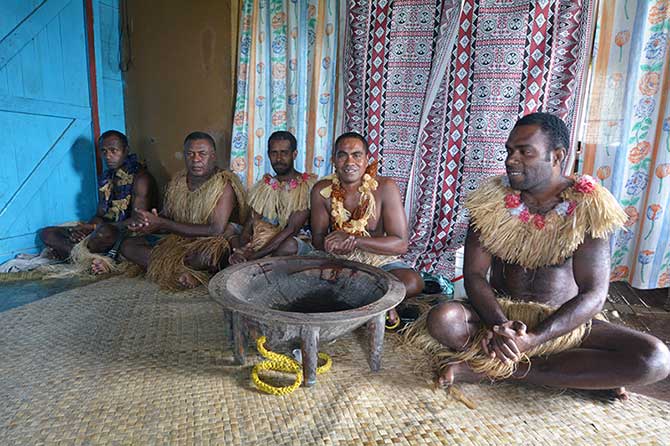 13. Fiji unofficially operates on 'island time' 
This translates as not many people wear watches and schedules often don't operate to the minute. Keep this in mind to avoid frustration on your trip, it's a holiday after all! 
14. When visiting a traditional village
It's important to know that visitors must remove hats and sunglasses when in the presence of the chief.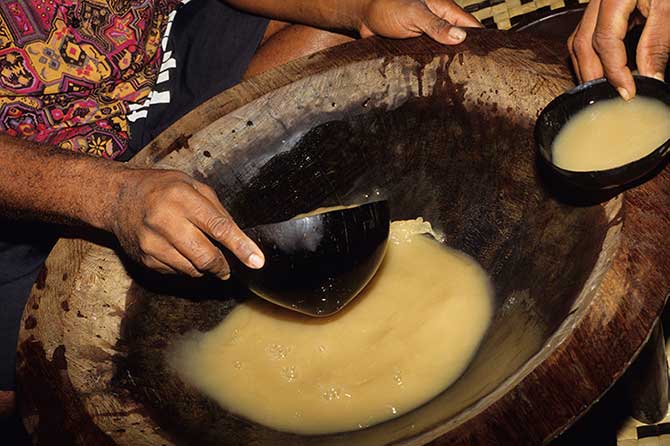 15. Kava Etiquette
Kava is a popular traditional drink in Fiji, in fact it is the national drink, so it's likely you will be offered it at some point during your visit. So it's handy to know the etiquette before you go: 
If you're offered kava it is considered impolite to refuse, especially for males.

If you just want a small taste, request 'low tide'.

If you would like a generous serving, ask for 'high tide' however you must make sure you drink it all.
16. Fijians are the happiest people in the world! 
It's true. They are friendly, welcoming, and genuine. Embrace it; smile and be happy in return. 
17. 

Bonus fun fact: 'Fiji' refers to the 330 Fijian islands, of these 110 are inhabited

However, there is not a single island named 'Fiji', the word itself refers to the collective islands.

 
Other Travel Articles You Might Like...