25 May 2022
Here are 10 ways to enjoy this alluring South Pacific Ocean paradise — and not just because it's one of the most secluded islands in the world. 
Take a day tour 

Stamp your passport at the world's smallest post office 

Stay longer   

Snorkel 

Scuba dive 

Kayak or paddle board 

Water Sports 

Explore by bike or scooter 

Flyfishing 

Punarei Cultural Day Tour   
---
Kia orana! From its friendly people to its azure lagoon teeming with marine life and fringed by romantic motu (islets) whose beaches you can have all to yourself, the island of Aitutaki might never want to let you go.  
The easiest way to get to Aitutaki is by a domestic flight from Rarotonga, the main island of the Cook Islands and the location of the country's only international airport. Although there's plenty of accommodation on Aitutaki to suit your budget, many travellers to the islands who opt for the comparative ease and bustle of staying in Rarotonga take in Aitutaki as a day trip.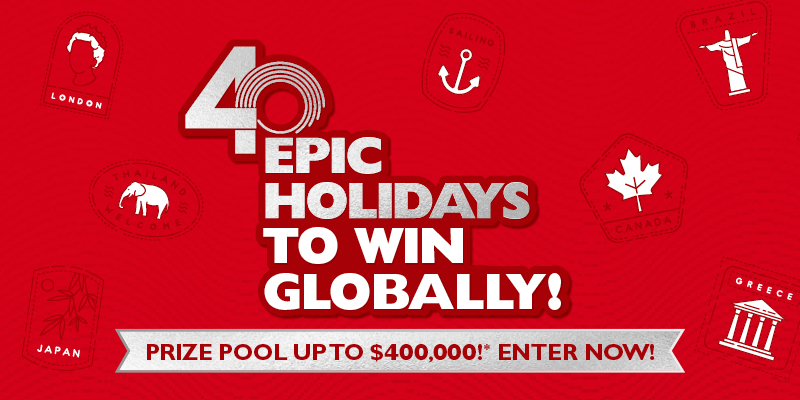 Air Rarotonga's Aitutaki day tours include coach transfers from all the island's hotels to Rarotonga International Airport with the 50-minute flights departing at 8am and returning by 5:30pm, six days a week. Tour activities include a one-hour guided "road trip" followed by a lagoon cruise aboard the 21-metre vaka (catamaran) with ample opportunity for swimming and snorkelling. A bbq lunch of freshly caught fish is then prepared onboard along with delectably colourful island salads.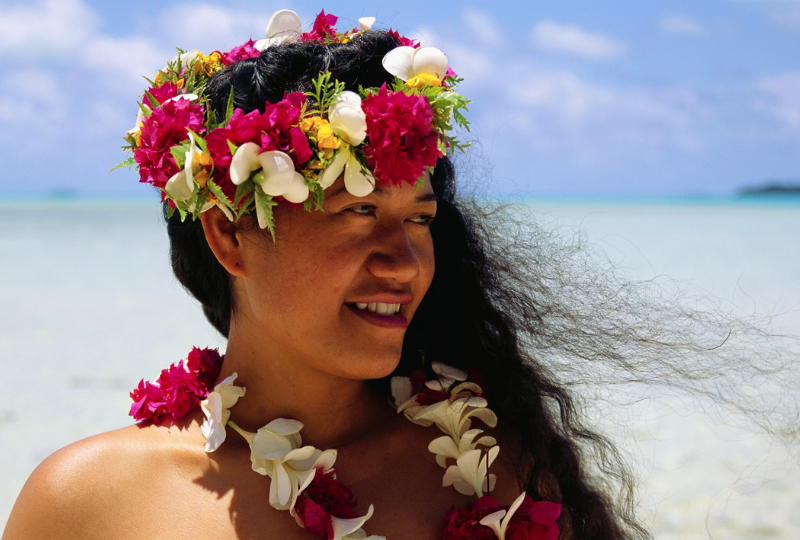 Stamp your passport at the world's smallest post office  
While out on the vaka trip, enjoy the sheer novelty of visiting the world's smallest post office on the outlying motu Tapuaetai (One Foot Island) and getting your passport stamped. Unique "been there" story. Check.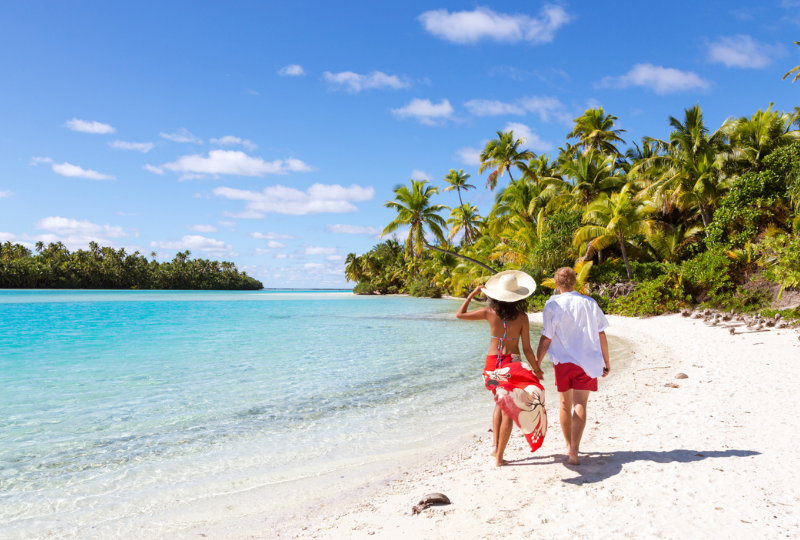 Stay longer   
Now we're talking. To fully immerse yourself, relax, play and learn about this slice of island-lagoon paradise, a three-night stay is your bare minimum. You'll find many types of accommodation to choose from. There's family friendly resorts and hotels, holiday homes, apartments and "no kids" resorts where you can wake to the gentle lagoon waters virtually lapping at your toes in an overwater bungalow.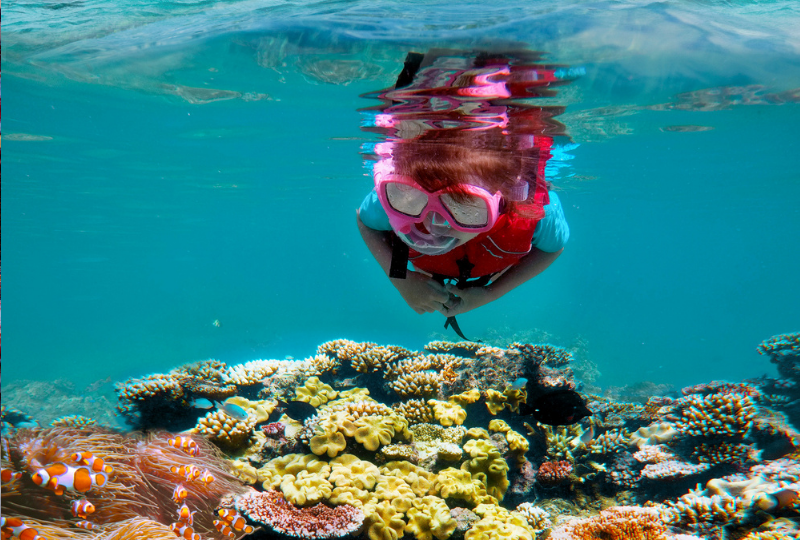 Snorkel  
Aitutaki lagoon is larger than the island itself and is bordered by live coral reefs and abundant marine life. Hire a mask, snorkel and fins from your accommodation or the local bike/car rental people and snorkel right off the beach or around Aitutaki's many motu (uninhabited islets). Enjoy the warm, calm, crystal blue waters as you befriend scores of tropical fish such as giant trevally, angel fish, Picasso fish, Moorish idols and more. Further out towards the perimeter reef you'll discover giant clams, green turtles and manta rays.  
Scuba dive  
The outer reefs and beyond entice greater underwater exploration with a scuba dive. Private charter trips, scuba courses and gear hire are all available on Aitutaki. The outer hard corals make for some impressive marine scapes with excellent visibility. Here you'll meet plenty of the larger reef fish: unicorns, parrotfish, Napoleon wrasse and eagle rays.  
Kayak or paddle board  
Aitutaki's spacious but shallow lagoon makes it ideal for leisurely kayak trips to explore the many motu (uninhabited islets) dotted around its fringe. There are plenty of places to hire a kayak or paddle board to suit and resorts around Amuri village and Tamanu Beach retain kayaks for their guests. Locals say the best kayaking spot is O'otu Beach and its beautiful tidal estuary near the southern tip of the island's runway.  
Water Sports  
Vast warm, flat, open waters and reliable breezes of 15 – 30 knots make Aitutaki lagoon one of the Cook Islands' worst kept secrets as a kitesurfing nirvana, as all the ideal conditions blend into one. Perfect for novices and experienced breeze-riders alike, the best kitesurfing on Aitutaki lagoon requires transfers out to the sandbars of Tapuaetai  (One Foot Island) at the south end of the lagoon. Look out for the annual Manureva Aquafest Kitesurfing Competition if you're making your trip in August.  
Explore by bike or scooter  
You can choose to hire a car on Aitutaki, but with a 40km speed limit, let's face it, letting the breeze through your hair as you guide a push-bike or motor-scooter around this 6km-long island isn't going to significantly add to your travel time.  
Sights to check out include a walk up Mount Maungapu or Piraki Lookout, both offer spectacular panoramic views of the beautiful island, lagoon and motu. Then, why not visit Hollywood? The island's village of Vaipae earned the nickname after US troops stationed on the island during World War Two returned to Aitutaki in the 1950s and 60s with supplies and Hollywood movies that were set up and projected on a huge screen on the village's soccer field.  
But the biggest buzz of cruising about on a scooter is feeling closer to the locals as you get around on their preferred mode of transport. Give a friendly wave and you'll invariably get one back.  
Flyfishing  
Land yourself a bonefish from the sandflats or a giant trevally from deeper lagoon waters as part of a locally guided flyfishing tour. Half-day or full-day charters are available. I'm reliably informed that Aitutaki has the largest bonefish in the world.  
Punarei Cultural Day Tour   
The Punarei Cultural Day Tour gives you the opportunity to interact and discover the hidden culture of Aitutaki - stories that have not been told since the arrival of the missionaries in 1821.  
The Aitutaki community runs the culture tours to restore parts of Aitutakian culture back among its people while sharing this unique culture with visitors so we can appreciate the difference between Aitutaki and the rest of the Cook Islands. The tour includes cultural demonstrations, a visit to the sacred 'Marae Arangi-rea' and an umu (traditional earth oven) lunch of fresh local produce.  
A tropical island holiday will let you unwind and enjoy a pace that is very far from hectic.
Other Travel Articles You Might Like...