15 Of The Highest Rated Tourist Destinations In New Zealand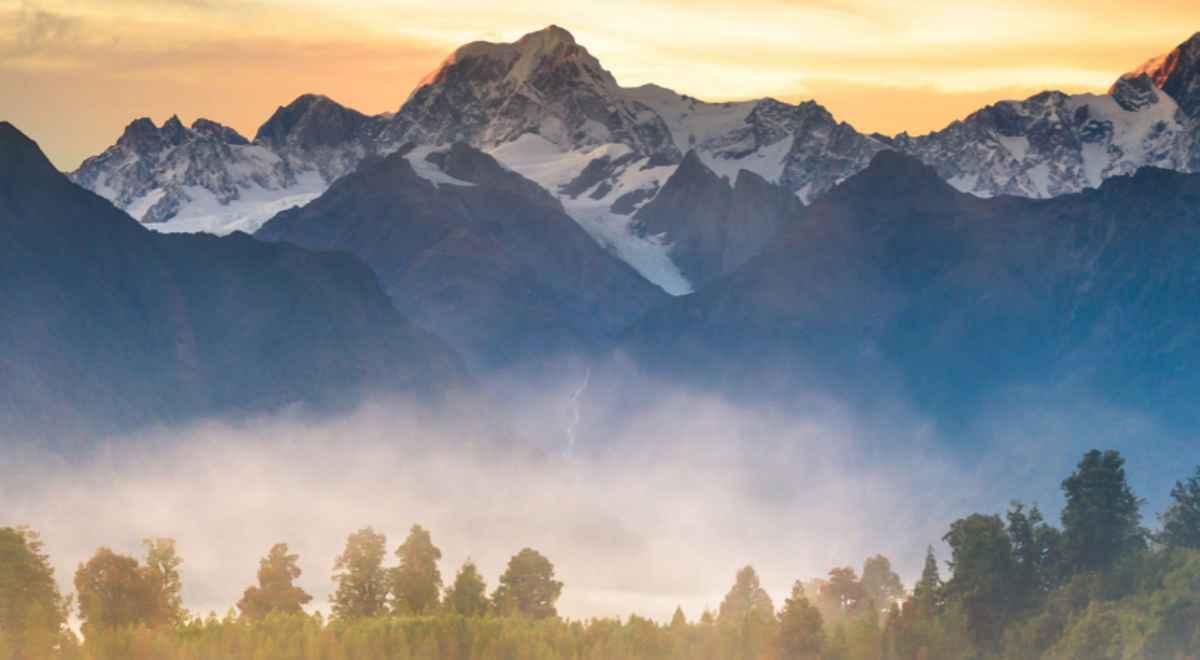 ---
---
Top 15 New Zealand Destinations  
Abel Tasman National Park  
Museum of New Zealand Te Papa  
Te Whanganui-A-Hei (Cathedral Cove)  
Tongariro Alpine Crossing  
Auckland War Memorial Museum  
Waiotapu Thermal Wonderland  (Closed for renovation but due to open soon!)
---

JRR Tolkien never visited New Zealand. But even The Lord of the Rings creator would've agreed that with some of the highest mountains around, our rugged neighbour's dramatic, looming landscape make it an ideal setting for a fantasy epic - not to mention an intriguing land and culture to explore.
Judged the world's top destination in an international survey, Milford Sound in the Fiordland National Park is a land of craggy mountain peaks atop towering cliffs rising from the sea. Spectacular in any weather, this enchanting maritime valley plays host to spontaneous rain-fed waterfalls that plunge from on high into dark waters below. While a popular destination for cruise ships, Milford Sound is most commonly accessed by road via Homer Tunnel. Once there, strap on hiking boots, take a small boat cruise, or take up a kayaking paddle to really immerse yourself in this fiord of otherworldly wonder.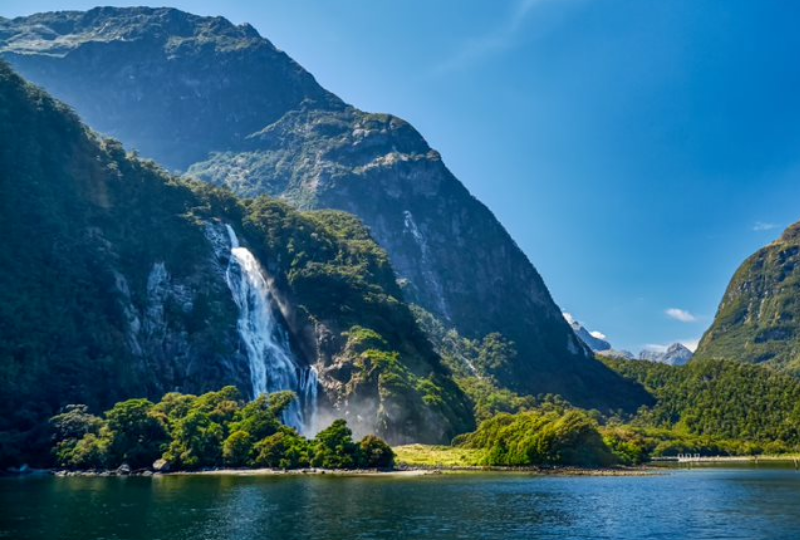 2. Aoraki / Mount Cook  
At 3,724 metres, the tallest peak in the Southern Alps attracts sightseers and adventure seekers year-round. Trek around Mount Cook National Park's many hiking routes with the world's most dazzling alpine scenery as your backdrop. Other options include a 4WD safari, boating on glacier lakes and scenic flights. Mount Cook village is your jump-off point for all this adventure, providing a range of accommodation from an international style hotel to backpackers and camping.
3. Hobbiton Movie Set  
Not just for movie-buffs, exploring the Shire as depicted in The Lord of the Rings and The Hobbit is a delight for young and old. Located on rolling hills in the heart of the Waikato region, a tour through the hobbit-hole dwellings of Bag End (including a complimentary Southfarthing beverage at the Green Dragon Inn) will set you on your way to more epic adventures.
4. Abel Tasman National Park  
This mesmerising nature reserve at the southern tip of the South Island's Golden Bay is showcased by a 60km coastal track. Just a gentle one-hour hike into either end of the track will enchant you with tranquil golden-sanded coves and chance sightings of marine mammals. For hardier adventurers, the five-night hike along the entire track is worth the effort. If seafaring is more your speed, there are also tours that combine kayaking with hiking, which provide a different perspective of the national park. Keep your eyes peeled for marine life such as dolphins too.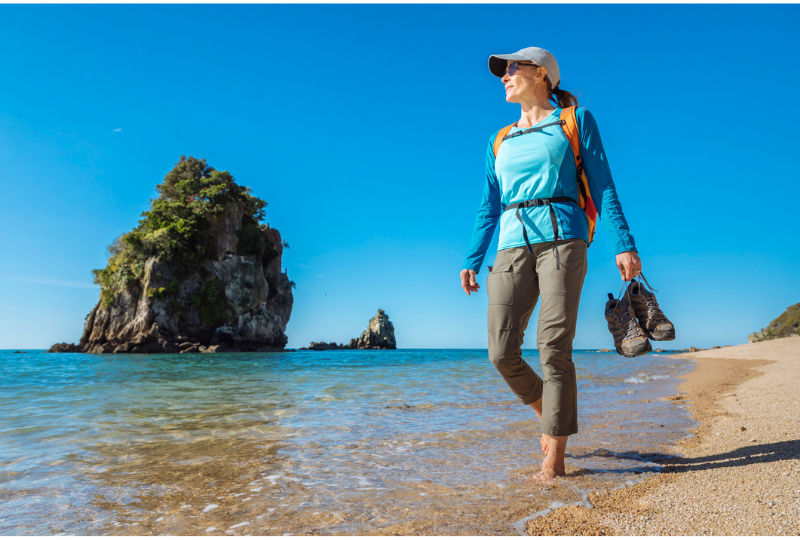 5. Museum of New Zealand Te Papa Tongarewa  
Immerse yourself in New Zealand's unique treasures, stories, art and culture at its internationally acclaimed museum that attracts over 1.5 million visitors a year. Highlights include a wild ride kiwi-style when you step inside the 'earthquake house' and the Mana Whenua exhibition that takes you on an amazing journey into the heart of Maori culture.
---
---
6. Franz Josef Glacier  
Made popular by its proximity to a South Island highway, you can snap pics of this 12km sprawl of ice (literally frozen in time as it cascades down a southern alpine valley) just a short walk from your bus or car. But to really experience the grandeur of Franz Josef Glacier, take a heli-hike tour. Memories of your first spikey steps onto solid ice will last a lifetime.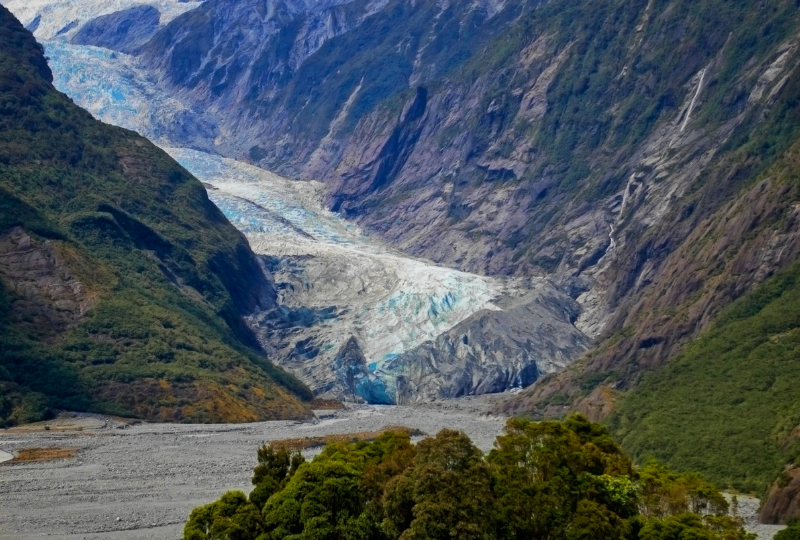 7. Waitomo Glowworm Caves  
Wander into an underworld of stalactites and stalagmites. Marvel at the Cathedral, the caves' tallest chamber, before taking a boat ride through the glowworm grotto. Look up, embrace silence (these critters hate noise), then watch as a thousand tiny lights pierce the darkness. Magic.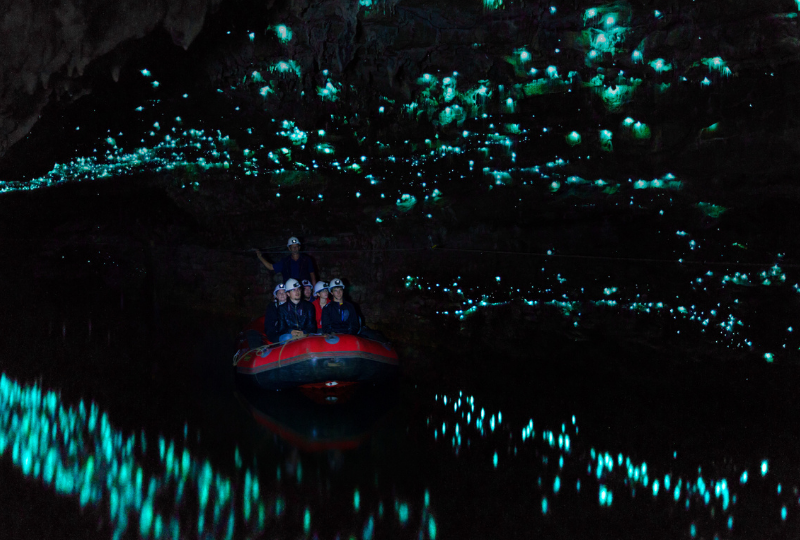 8. Mount Tongariro  
Mount Tongariro is one of three active volcanoes that dominate the North Island's central plateau. The Tongariro National Park covers a cratered volcanic landscape akin to rover pics of Mars, but adorned with lakes, crashing streams, outcrops of hardy alpine flora and picture-perfect waterfalls. Lord of the Rings buffs like checking out the park's Tawhai Falls as they were the backdrop to 'Gollum's pool'. They then snap selfies with Tongariro's southern neighbour Mt Ngauruhoe who performed a cameo as Mt Doom. Other adventurers lace up sturdy hiking boots and trek a variety of routes through the national park. The Tongariro Alpine Crossing is the longest and most popular.
9. Sky Tower  
It's one thing to venture to the top of the Southern Hemisphere's tallest free-standing structure, but quite another to jump off it.  Auckland's Sky Tower allows you a jaw-dropping panorama of this gorgeous city with harbour views and stunning coastal vistas in the safe confines of a glassed indoor viewing deck. But for a real hit of adrenaline why not take it all in with a bungy jump off the tower itself? Or, if the prospect of plummeting head-first into the Auckland CBD is just a bit too daunting, you can settle for a harnessed fresh-air stroll around the roof – much more relaxing!  
---
---
10. Te Whanganui-A-Hei (Cathedral Cove)  
Venture down the 2.5km Cathedral Cove Walk from the road to this gem of a beach and you won't ever want to leave. Located on the eastern shore of Coromandel Peninsula, Te Whanganui-A-Hei (Cathedral Cove) will draw you to a spectacular cavernous archway in the cliff leading to the next beach. Dip your toes in the cove's crystal-clear water as you walk through the archway to the gentle echo of lapping waves and seabird calls and you'll feel that, just perhaps, you've wandered into paradise.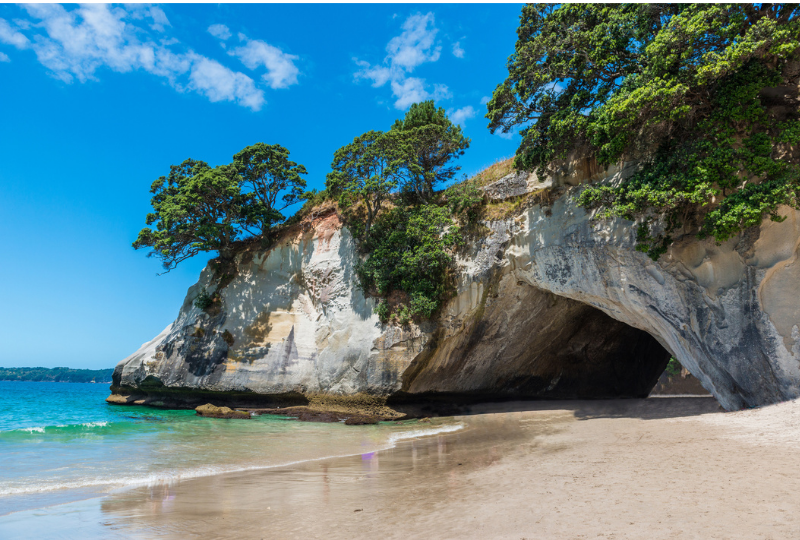 11. Fiordland National Park  
Remote, unspoiled, beautiful and spectacular only begins to describe the allure of Fiordland National Park. Home to the iconic Milford Sound and Mitre Peak, the national park encompasses a unique area of New Zealand where ancient glaciers carved deep valleys into the mountains before being flooded by the sea. The resulting comb of fiords splayed among jagged snow-capped peaks are best viewed by air. But to fully experience Fiordland's rugged wonder, we say take a hike along the Milford Track. Picture lush rainforest, pristine waterfalls, shimmering lakes and great granite peaks. Top tip: pack plenty of insect repellent – sandflies love this part of the world as much as we do.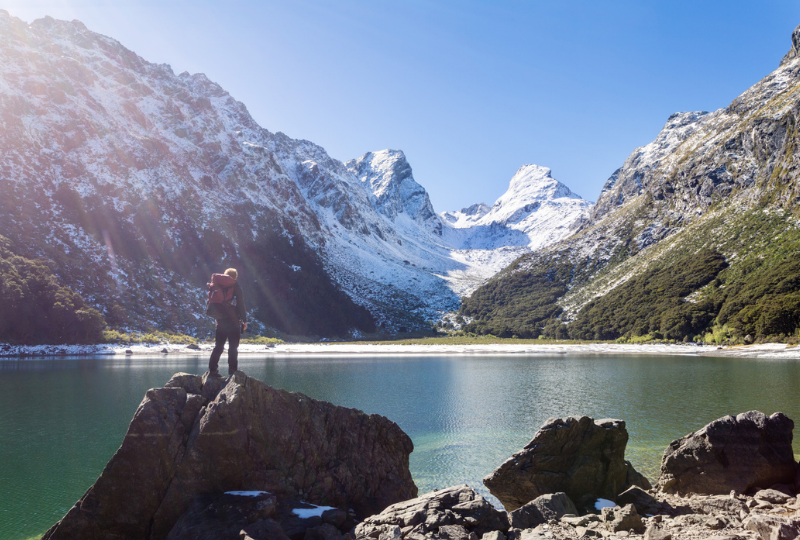 12. Tongariro Alpine Crossing  
If you're a hardy solo hiker, a fit couple, or family with energetic and adventurous kids then this 20km day-trek will mark the pinnacle of your trip. This world-renowned hike through the Tongariro National Park's breath-taking volcanic landscape is steep in places and subject to unpredictable weather. But if you're well prepared, and heed the basic mountain safety advice, your tramp through the area's unique alpine landforms, crater lakes and wondrous views will inspire unbeatable memories. Essential tip:  Opt to park and ride with a licensed operator based nearby at National Park Village or Whakapapa Village rather than parking your car at one end of the track. It saves you a loooong walk back.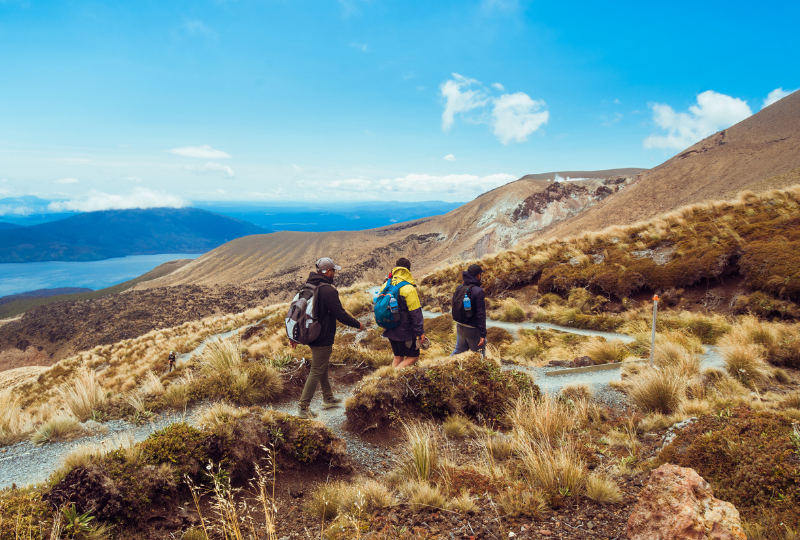 ---
---
13. Auckland War Memorial Museum  
The city of Auckland's flagship museum is cleverly housed within a war memorial where you can explore interactive exhibits that open worlds. Discover the treasures and stories of the region, from the arrival of its first people – the iwi (tribes) of Ngati Whatua, Ngati Paoa and Waikato-Tainui – to European settlement in the 1800s. Also check out the museum's south atrium, Te Ao Marama. As you walk underneath one of the four legs of the megaframe that support a suspended Fijian kauri clad bowl, peer up four storeys to the glass rimmed perimeter and watch bold shafts of sunlight filter to the floor – it's a dazzling feat of architecture.    
14. Lake Tekapo  
Nestled among the wild tussock of the Mackenzie Basin at the foot of the Southern Alps, the first thing that'll strike you about Lake Tekapo is its colour. The lake's milky-turquoise tint comes from glacier-ground 'rock flour' suspended in the water. If the intriguing hue of this lake isn't enough to have you spontaneously popping snaps, then the prospect of a pic featuring the intricate stonework of the Church of the Good Shepherd perched near the water (with a mountainous backdrop dominated by Aoraki / Mt Cook) surely will. What could make this all more beautiful? Look up after dusk and let the vivid glory of the Milky Way transform the scene to one where Heaven truly meets Earth. In fact, Tekapo is within the Aoraki Mackenzie International Dark Sky Reserve, the world's largest of its kind. Declared a reserve in 2012, the 4300 square kilometre area falls under strict light pollution guidelines to maintain its dark skies.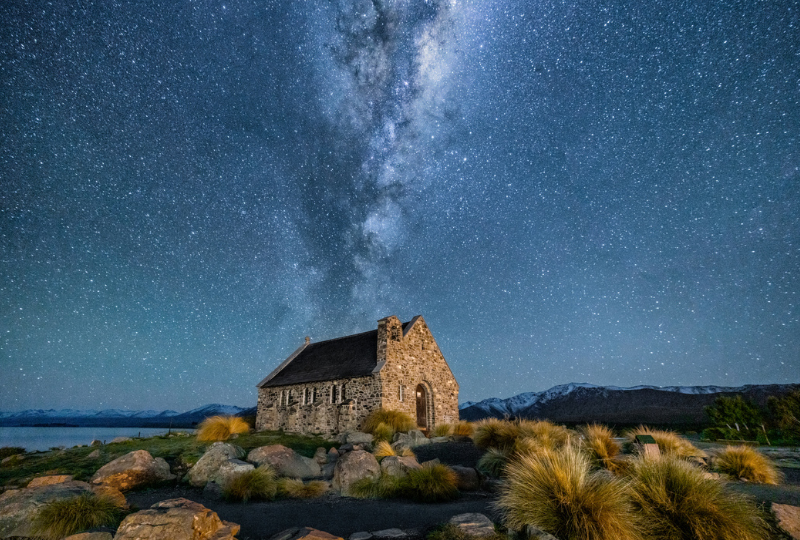 15. Waiotapu Thermal Wonderland
Experience the earth as it lives and breathes, hisses and bubbles. The Waiotapu Thermal Wonderland gets you up close (but not too close!) to all the heat and colour of spectacular geothermal elements shaped by thousands of years of geothermal activity. Located near Rotorua at the heart of the North Island's active volcanic region, this steamy attraction guides you safely around boiling pools of sulphur-rich water with intriguing colours, bubbling ponds of scorching hot mud and several geysers. Queen of them all is the Lady Knox Geyser who squirts boiling hot water up to 20 metres in the air.  The Waiotapu Thermal Wonderland is temporarily closed for renovations, but should be reopening soon.
---

---
Flight Centre acknowledges the Traditional Custodians of Country throughout Australia.