Weekend Away: How To Spend An Art-filled 48 Hours In Hobart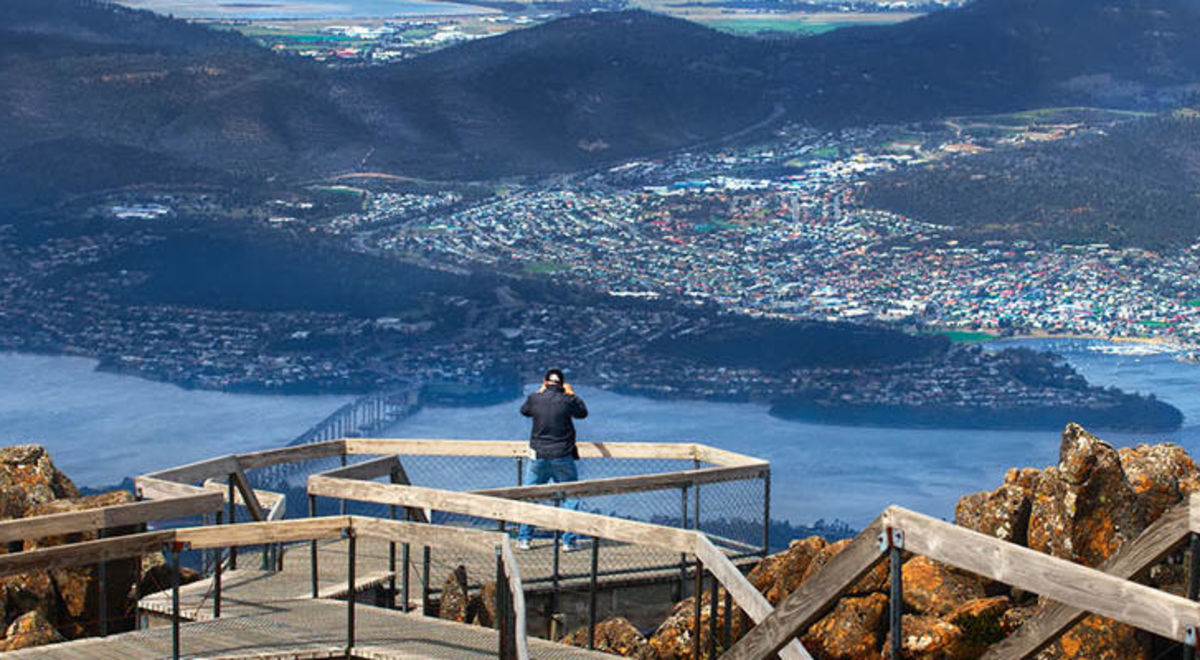 ---
Top tips for what to do in Hobart:
Stay at the MACQ01 hotel arguably the coolest hotel in Tasmania 

Go on a gourmet food walking tour or dine at one of Hobart's standout restaurants

Visit Mona and travel there in style with a "Posh Pit' ferry ticket

Market hop and enjoy a delicious brunch

Taste award winning Chardonnay at the picturesque Riverdale Estate. 

Road Trip out to Milton Vineyard, Freycinet National Park, Wineglass Bay and Piermont Retreat
---
Whereas once Tasmania was seen as mainland Australia's embarrassing little sibling, the former under-the-radar state - with Hobart at its centre - is rapidly on its way to becoming the country's new capital of cool. Recently hailed by the "New York Times" as one of its 'top destinations for 2018' (at #33 between Belgrave and Iceland) the Apple Isle now boasts an arts and culture scene to rival any global big city, and then there's its culinary prowess, with an abundance of hip cafes, slick cocktail bars and gourmet eateries that could easily put Melbourne to shame. Combined this makes Hobart and its surrounding area one of the most happening locations for a weekend getaway. And in 48 hours you can see plenty. 
Check Into Tasmania's Coolest Hotel
While the Henry Jones Art Hotel reigned uninterrupted for years as the best place to check in in Hobart, it has been usurped by the newly opened MACQ01 hotel (macq01.com.au). Positioned directly across from the old hotel stalwart, the hip property sits on the historic wharf with the shape of the four-storey structure mimicking the former shipping shed that stood on the site. And that's not the only nod to its past - each slickly designed room is named after a character from Hobart's history and in the lobby are cabinets full of historic artefacts. 
The ground floor Story Bar is one of the best places in town to grab a drink. Offering a menu of unpretentious beers, cocktails and fine wines - alongside an extensive collection of local gins and whiskeys - the feature glass walls show off its riverside location making it a go-to venue for a sundowner or two. 
The hotel is not only a place where you can get a bed for the night and a killer drinking den, checking in here also means a free history lesson. Billing itself as the "world's first storytelling hotel" it has a team of resident storytellers who take guests on daily, complimentary walking tours around the city. 
Get A Gourmet Grounding
Speaking of walking tours, to get a grounding in Hobart 's gourmet scene, book onto a Gourmania (gourmaniafoodtours.com.au) tour. Guided by a food-loving local, the award-winning experience takes guests off the tourist trail to the city's best not-to-be-missed foodie haunts. All easily accessible by foot from central Hobart, over three-and-a-half hours you'll taste killer coffee, artisan vodka and gin, sweet and savoury baked goods, charcuterie, award-winning cheeses and sensational cool-climate wines, all the while getting an overview of the local history and meeting passionate producers at the same time. Arrive hungry! 
Dine Like A Boss
Forget Melbourne, when it comes to internationally lauded dining Hobart is where it's at. 
A standout is The Glass House Restaurant (theglass.house). Occupying the rear deck of Brooke Street Pier, this is one of the best eateries in the city to take in the harbour views. And despite being four years old - an age in restaurant years - in this town of rapidly opinion new 'IT' places it's still holding its own thanks to a yummy Asian-inspired menu brimming with fresh Tasmanian produce. Think sashimi Tasmanian salmon, fresh oysters and  plump scallops. 
Visit Mona In Style
Given that the Museum of Old and New Art - aka Mona (mona.net.au) - is widely credited for spearheading the transformation of not just Hobart but the entire state in what has since been dubbed the 'Mona effect', there's no denying that a visit to this unconventional gallery is an absolute must when in town. 
Australia's largest privately owned gallery and museum, the space showcases the diverse (and often controversial) collection of its owner, David Walsh. From ancient Egyptian mummies, to modernist masterpieces, and visiting installations from some of the biggest names in contemporary art; you can easily spend an entire day here. Then there's the on-site luxury accommodation, restaurant, vineyard and winery. But how to get there? While it's accessible via road, or regular return ferry to really kickstart your trip splurge on a 'Posh Pit' ticket where passengers pay for a plush private lounge bar and deck area on the ferry, plus complimentary beers and wines (all Mona naturally) and delicious canapes. 
Fuel Up To Market Hop
Brunch and the Saturday Salamanca Markets go hand-in-hand. So rise early and do as do Hobartians do by galvanising yourself for a morning of stall-hopping by indulging in a slap-up breakfast at Machine Laundry cafe. Handily situated on Salamanca Place, this retro-styled venue is both a working laundromat (hence the name) and a cafe. Solid mugs of coffee ensure you won't be left caffeine deprived and correspondingly huge portions of ingenious breakfast combinations ensure you won't go hungry. Don't miss the chilli-infused roti wrap. Yummy. 
After gorging you'll be ready to tackle the crowds. One of the most popular activities on a weekend in the city, the Salamanca Markets comprises hundreds of colourful market tents and stalls selling everything from arts, crafts and antiques, to clothing and local foodie fare, including truffles, jam, honey and cheese. A Hobart institution since 1972, the markets run every Saturday from 8.30am to 3pm.
Taste The Most Awarded Chardonnay In The Country's Best Regional Restaurant
A quick 18-minute drive out of Hobart's CBD and you'll arrive at the picturesque Riverdale Estate (riversdaleestate.com.au) which produced the most awarded Chardonnay wine in the history of Tasmania. 
Amassing more than 40 awards and medals locally and internationally, the vineyard's Crater Chardonnay is the only wine to win the coveted Trophy for Champion Chardonnay at the Tasmanian Wine show for three years consecutively. A Cellarmasters favourite, mere weeks ago its Crux Sparkling was also named one of Australia's best sparkling wines under $30. 
But it's not just the wine that's award-winning, the estate's French Bistro was named the country's Best Regional Restaurant by the Australian Hotels Association. Serving up authentic cuisine that will have even the most hardened Francophile thinking they're in a Parisian kitchen, the a la carte menu is (of course) paired with wines produced on site. The French influence also extends to the four 5-star French Provincial-inspired cottages, which overlook the winery and the stunning Pittwater.  And if that wasn't enough, the 37-hectares of vines and one of the largest olive groves in Tasmania, is also home to the only licensed Peter Rabbit Garden (of  Beatrix Potter fame) in the Southern Hemisphere meaning that there's entertainment for both adults and kids alike. 
Get Out Of Town
One of the best things about Tassie is its size - being so compact means that it's super-quick to get around. Keep driving and in under two hours you'll reach the postcard-perfect Sophies restaurant at Milton Vineyard (sophiesatmilton.com). 
Located at the cellar door of the award winning vineyard Milton, this small eatery is helmed by Bordeaux-trained chef, Sophie Bermudes, who spent most of her career in the south-west of France before her Tasmania sea change. Despite its rural location Sophies has become a culinary hotspot thanks to the unique French approach to Tassie produce. Plus, with an outdoor terrace overlooking a large pond and wines you can have your lunch overlooking one hell of a view. 
Speaking of bucolic beauty, if you're looking to be left awestruck then continue east to Freycinet National Park. Home to dramatic pink granite peaks, secluded bays, and an abundance of wildlife, this stretch of coastline is also were you'll find the state's most famous beach - Wineglass Bay. Easily the most photographed stretch of sand on the Apple Isle, the gorgeous beach is also repeatedly lauded internationally as one of the best beaches in the entire world. 
To see this perfect curve of white sand and clear blue ocean at its best, hop onboard one of Wineglass Bay Cruises (wineglassbaycruises.com) luxury catamarans for a four-hour excursion. Operating daily, in addition to the epic scenery you'll also spot seals, whales and friendly pods of resident dolphins. 
Another must-do on the water is a kayak with Freycinet Adventures (freycinetadventures.com.au). Tasmania's leading sea kayak tour company, over three hours you'll be guided along the coastline of the national park beneath pink granite mountains, past pristine beaches and across water so crystal clear that you can spy the aquatic life below. 
There's plenty on offer here for landlubbers too. Back on shore make a beeline for Freycinet Marine Farm (freycinetmarinefarm.com) where you can try some of the freshest seafood in your life. Grown in the local tidal waters - and served from a charm-infused deck and shack nearby - go wild and order everything from the chalkboard menu: freshly harvested oysters, succulent steamed mussels, scallops, abalone, rock lobster and locally sourced salmon. All washed down with a glass of local vino or cider. Lip-smackingly good! 
The last must-visit in Freycinet is Piermont Retreat (piermont.com.au), which boasts one of the area's gourmet hotspots, the award-winning Homestead Restaurant. With the sea stretching beyond its windows, diners can feast on a seasonally-inspired menu of hand-selected, organic ingredients, finished with micro-herbs from the kitchen garden.
---
---
For more flights to Hobart click here!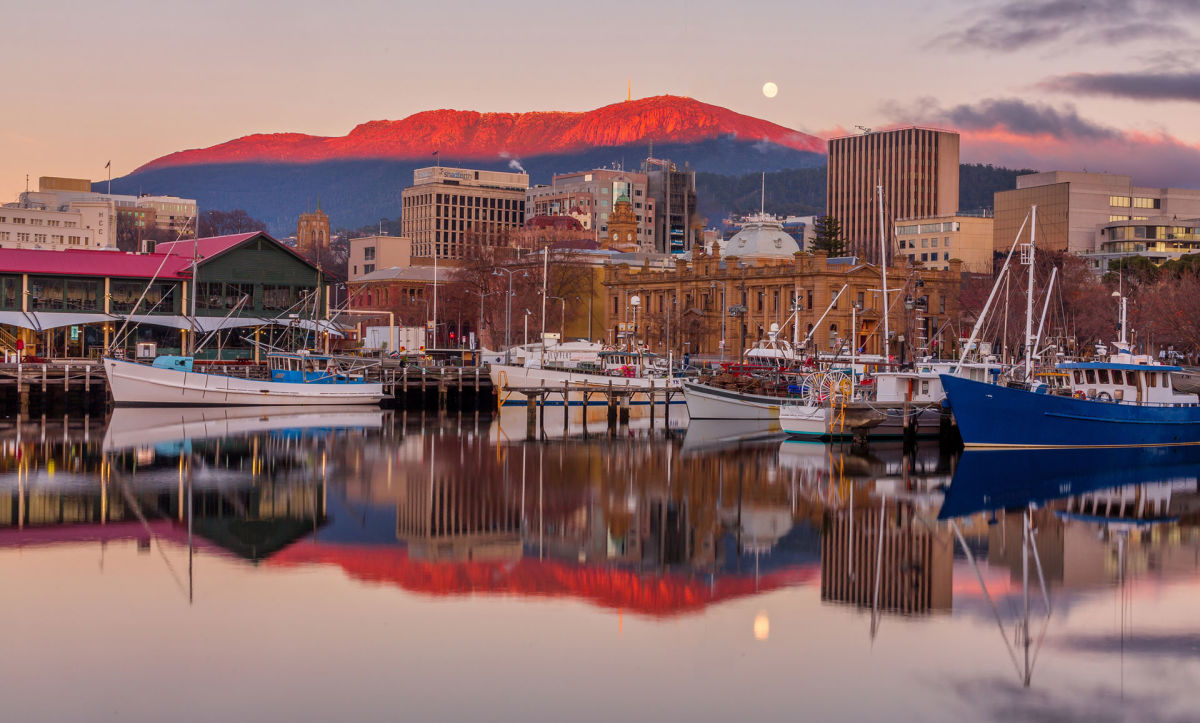 Expert tip
A visit to the Museum of Old and New Art is a must while in town, but instead of driving there, book a ticket on the MONA Ferry in the 'Posh Pit', where you'll be served gourmet snacks and drinks all the way to and from the museum - a much nicer way to spend half an hour than battling traffic!
---
Flight Centre acknowledges the Traditional Custodians of Country throughout Australia.