5 Reasons Everyone Should Be Excited About MONA Tasmania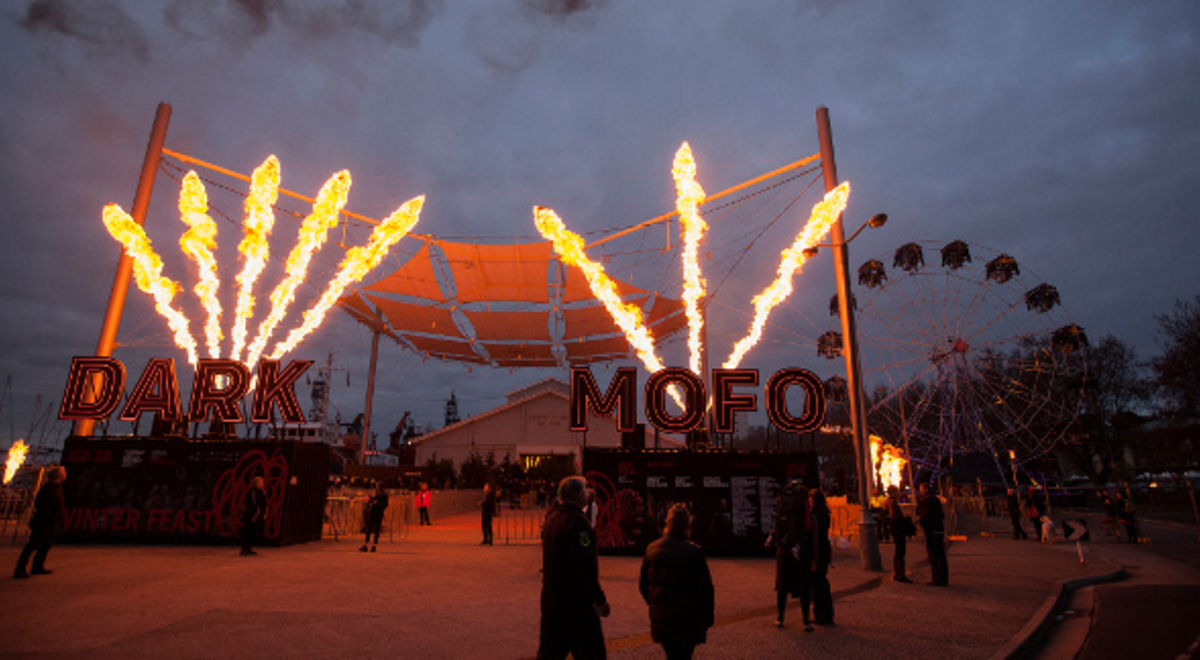 ---
---
David Walsh is the eccentric, genius, professional gambler-cum-museum owner whose maths smarts amounted to deep pockets and one hell of an art collection (one of the world's largest, thank you very much).
Chiselled into a subterranean perch on the Berriedale peninsula, his private collection is showcased in MONA, The Museum of Old and New Art on the Moorilla Estate.
MONA, and the Moorilla Estate, has well and truly catapulted Tasmania into the limelight, drawing thousands of visitors each year thanks to its infamous reputation, boundary-pushing art collection and a handful of eclectic extras.
Ahh MONA, how do I love thee? Let me count the ways...
1.     The Artwork, Obviously.
Come with an open mind; it's not considered a 'subversive adult Disneyland' for no reason. Emphasis on the word adult with thought-provoking exhibits like 'C**ts and other Conversations', as well as perennial favourite, Cloaca Professional by Wim Delvoye, which mirrors the human digestive system.
Simply put, it's a machine which turns food into excrement. Word on the grapevine is some folks are willing to pay top dollar for the pleasure of owning a piece of the machine's waste. Digest that.
Along with the favourites are a few temporary exhibits designed to bend the mind over the next few months:
Matthew Barney: River of Fundament (until April)
A film adaptation of Norman Mailer's Ancient Evenings (sadly Mailer passed before the project was finished), River of Fundament is a three-act opera complemented by sculptural works of the action seen in the films. Matthew Barney has also drawn inspiration from MONA's own Egyptian artefacts.
Biennale of Moving Images (until July)
The Biennale of Moving Images is a collection of new work from 18 emerging video artists. Fresh from Geneva, the exhibit has been carefully curated by artistic directors, Andrea Bellini, Hans Ulrich Obrist and Yann Cateigne.
2.     A Museum, A Winery, A Restaurant And A Bar...
No, it's not the precursor to an average punchline; MONA rests on the Moorilla Estate whose claim to fame is a winery, restaurant, wine bar and cellar door. Not only will you sate your artistic appetite, but you can whet your gastronomic one too.
The Moorilla winery was sold to David Walsh in 1995. Over the past 10 years, the vineyard's Muse and Praxis series have developed to mirror MONA's ethos, utilising both traditional methods and new-age techniques.
Moorilla's Cellar Door awards views of the Derwent River, Mt Wellington and grapevines. Pull up a stool; you're in for a good time. Perfect the art of wine tasting and get nice and merry here before exploring the museum, or taste straight from the tanks and barrels on a winery tour.
However, the piece de resistance is MONA's The Source Restaurant. Head chef Philippe Leban (whose resume is studded with Michelin stars) crafts a distinctively Tasmanian, albeit French-inspired menu, so refined it's enough to make you weep into your foie gras. All paired with an impeccable wine list too, of course.
Seeking more liquid nourishment? The onsite wine bar serves Moorilla wines, Moo Brew beers (yep, Moorilla also has its own brews) and a selection of grazing platters.
3.     Take Off Those Fancy Pants In Your Own Designer Den
If you can't bear to leave at the end of the day, one of eight designer apartments has your name on it. Well, actually they're named after four 20th Century architects who significantly influenced Australia's architectural landscape and four 20th Century Australian painters.
These eight architectural masterpieces cut a striking silhouette over the River Derwent and hazy Tassie sky with their gunpowder grey and glass-panelled facades.
Expect all the embellishments with a distinctly MONA twist: state-of-the-art kitchens, plush robes, Aesop amenities, swanky designer furnishings and walls adorned in original artworks.
Don't feel like walking the few hundred metres to MONA? Embark on your own 'tour' of the museum straight off your TV. Don't fancy whipping up breakfast, lunch or dinner? Saunter across to The Source restaurant for an unforgettable meal.
---
Check out these 7 Amazing Places To Stay In Tasmania
Craft your Tassie holiday around these 2015 events
Taste your way around Bruny Island on the Gourmet Trail
---
4.     DARK MOFO Shines A Light In Winter
Cue the Game of Thrones title sequence – winter is coming.
But short days and long nights doesn't mean you should retreat to the comfort of a hotel room when the sun takes a bow or avoid this southern state completely.
Winter sees the return of MONA's hugely successful and seductive DARK MOFO festival; the yang to the MONA FOMA festival's yin.
Held over the winter solstice around Hobart, DARK MOFO treats revellers to free and ticketed citywide large-scale public artworks, music, light, film, noise and food across 10 glorious days from June 12 to 22.
The program is under wraps for now, but if past years are anything to go by, expect the same level of intrigue in 2015 with confronting and interactive installations, performances, film festivals, concerts, one rager of a party known as Dark Faux Mo and a three-night Bacchanalian banquet.
Taking inspiration from ye olden times, the atmosphere of the Winter Feast pulses with music, mead and that fine Tassie fare in a wintery forest setting on the waterfront. Extra kicks come from the worryingly named, Ferris Wheel of Death, where you can sit back and admire the views alongside a dreamy soundtrack from a hand-picked artist who performs atop the wheel.

Round off your DARK MOFO experience and bid farewell to the longest night of the year by whipping off those layers and plunging into the icy depths of the Derwent River with a flock of other sans swimmer swimmers for the Nude Solstice Swim. Brrr.
Have a burning FOMO on MOFO? Don't despair over the fear of missing out; we'll keep you updated when the line-up is announced in April.
5.     It's The Little Things...
Need further convincing? MONA still has plenty of tricks up her sleeve...
Don't be like the common folk that would consider driving to MONA. That's way too basic.
Take to the high seas onboard the MR-1 Fast Ferry. That's the camouflage vessel that docks at the Brooke St ferry terminal in Hobart. Standard tickets set you back just $20 (one-way or return) where you have the pleasure of gliding up the Derwent River on the back of plastic sheep. Yes, you sit on sheep.
An extra $30 gets you an upgrade to the Posh Pit for exclusive access to a private lounge where you'll nibble on canapés washed down with complimentary Moorilla brews and bubbles.
Those who've a cool $75,000 spare should consider making an investment into MONA's lifetime membership. Naturally, this is no ordinary museum membership. The Eternity Membership grants you access to all the exclusive shindigs over the course of your lifetime, with loads of added extras.
Here's the kicker: when you die, you'll be cremated and placed in a 'fancy jar' in the museum itself.
If you envision yourself saying 'I do' at MONA, there's a spectacular, mock-Gothic chapel from the great mind of Wim Delvoye (the Cloaca guy).
Never mind til death do you part; MONA offers two-for-one Eternity Memberships to the newly betrothed. They'll even throw in matching urns.
Worth every penny if you ask me.
---
Flight Centre acknowledges the Traditional Custodians of Country throughout Australia.