The Land Of Smiles: Tips For Tackling Thailand With The Kids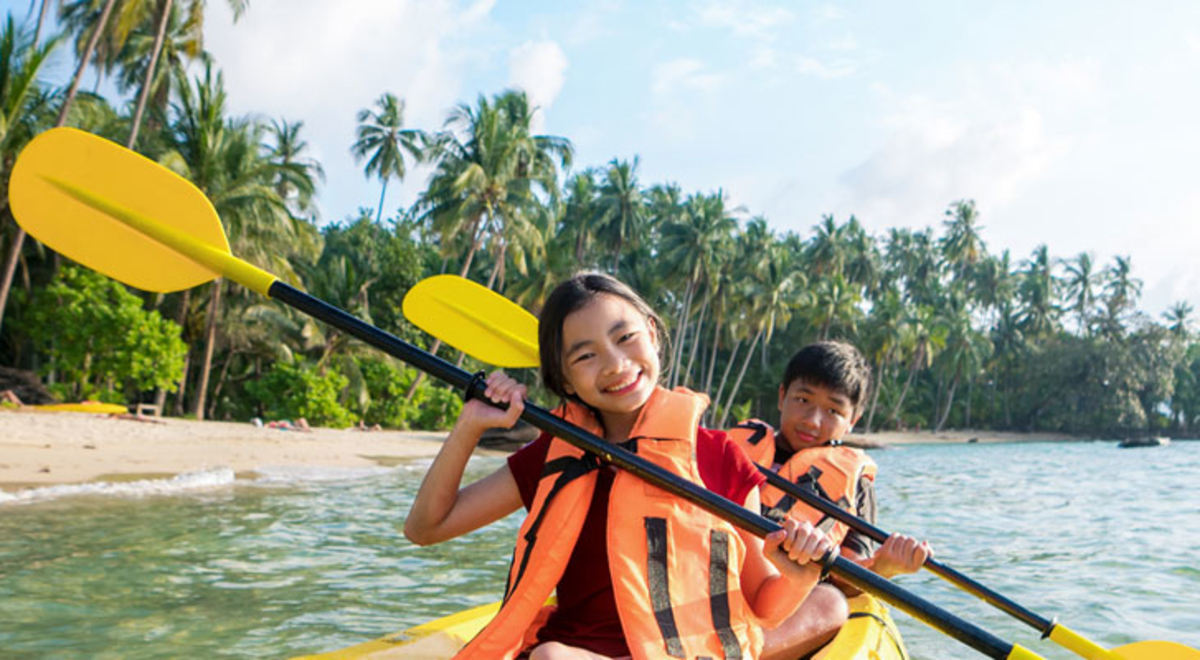 ---
---
Thailand is a tropical holiday all-rounder perfect for families looking for an off-the-beaten-path option.
As diverse as its people are friendly – it's known as the Land of Smiles, after all – there's no shortage of things to do in
Thailand
with kids, from adventure and leisure activities, beautiful beaches and stunning natural attractions to amazing dining and street-food.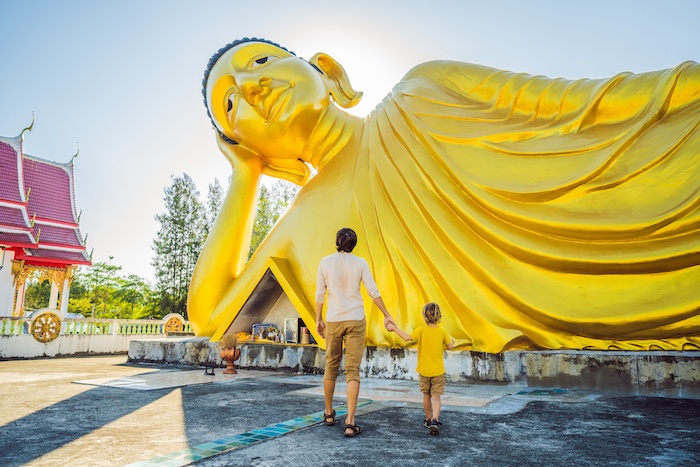 Say sa-wa-dee ka to Thailand's amazing culture. Image: Getty.
Here's our guide to hitting Thailand with your family covering everything from getting there, where to stay, what to eat and tips and tricks for tackling Thailand with kids.   
FLYING TO THAILAND  & GETTING AROUND
Bangkok Airport, also known as Suvarnabhumi Airport is the main international hub to fly into and the best option if you plan on staying on in Bangkok or travelling further afield. The flight is approximately nine hours from most Australian capital cities (depending on airline and ex-point) and once in Bangkok, there's a whole raft of family-friendly destinations just a short plane, train or car ride away.
When my family of three (including our 18-month old son) travelled to Thailand we opted for an alternative route: Brisbane>Singapore>Koh Samui. With a flight time of eight hours to Singapore and another 1.5 hours to Koh Samui (with Bangkok Airways', Silk Air) travel time was manageable. We broke up the two flights with an overnight stay at Crowne Plaza Changi Airport, meaning we didn't have to go through the rigmarole of immigration and customs with a toddler.
Driving
Driving in Thailand isn't for the faint-hearted. While it is doable, it's worth keeping in mind that roads are very busy, street signs aren't in English and there are many 'informal' road rules that take some getting used to. Not ideal when you have the family in tow. If you are hiring a car and you want to ensure a car seat for your child, it might be worth taking your own as they aren't always standard.  
Alternatively, there are plenty of transfer companies who can help you get to where you need to be in a more efficient and safe way. Don't forget to let your Travel Expert know that you'll need car seats for any transfers they are organising
Taxis are cheap and plentiful but car seats are not standard and you will need to negotiate price wherever you are.
Tips:
– Fly straight to Bangkok to cut down on transiting.
– Avoid hopping on ferries and buses where possible.
– Plan in advance if families must travel in school holidays to avoid disappointment.
– Be flexible or be aware that picking particular dates can be restrictive.
– Know what will make your travel comfortable. E.g. Full-service airline (which includes baggage, meals, bassinets, etc), all-inclusive accommodation or particular amenities (such as kids club, for example). This will make it easier for your Travel Expert when they are customising your trip.
– Feeling adventurous? An all-inclusive tour like Intrepid's Thailand Family Holiday is a great way to see multiple destinations without the hassle of planning and coordinating yourself. 
---
RELATED: Why Thailand Tops The Travel List Everytime
---
WHERE TO GO
Choose your own adventure in Thailand from palm-fringed beaches to lush jungle and ancient cities or ultra-modern bustling city experiences.   
The capital of Thailand, Bangkok is a modern and cosmopolitan city with so many attractions for kids. From the floating markets to cooking classes and even Michelin-starred street-food spots, the city is an exciting place for mini-foodies. Cultural attractions like the Grand Palace and some impressive temples (or wats) abound too, including Ayutthaya, the UNESCO-listed historic city that was the capital of the ancient kingdom of Siam only 80km north of the city.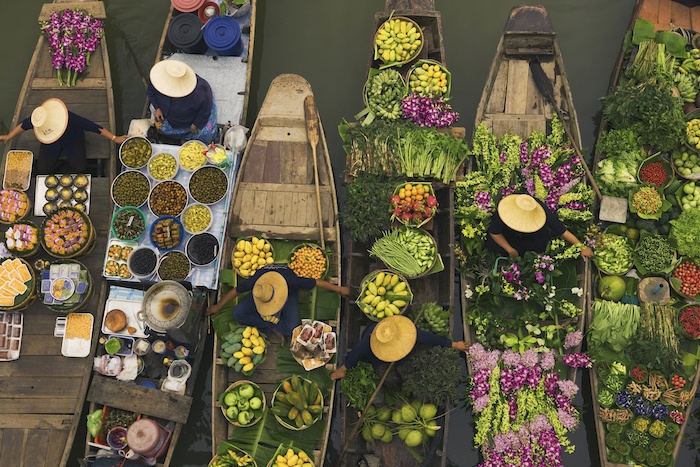 Bangkok's floating markets are an amazing sensory experience for little foodies. Image: Getty.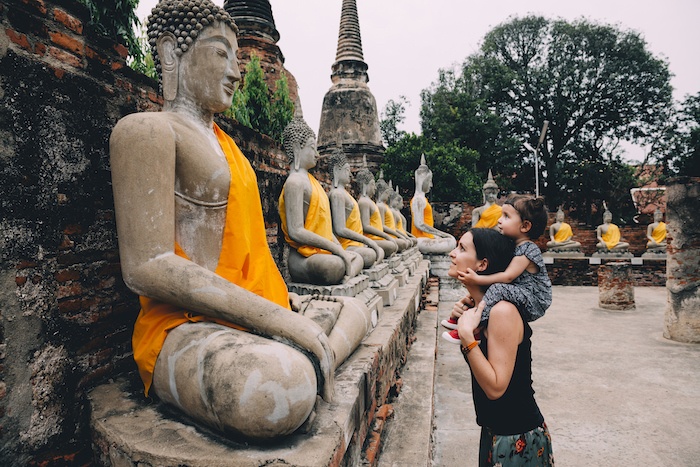 The historic city of Ayatthaya is only 80km from Bangkok. Image: Getty.
Surrounded by jungle, sprawling countryside and brimming with amazing night markets, delicious regional food and natural experiences, Chiang Mai is a laid back alternative to the hustle and bustle of Bangkok. Just over one hour flying from Bangkok (or 11 hours on a train) the Northern Thai city – known as the 'Rose of the North' is perfect for quality downtime with family, minus the hectic energy.
Khao Lak
Only an hour drive from Phuket but a world away in terms of vibe, Khao Lak is an excellent option for families seeking laidback luxury and the stunning calm beaches of the Andaman Sea.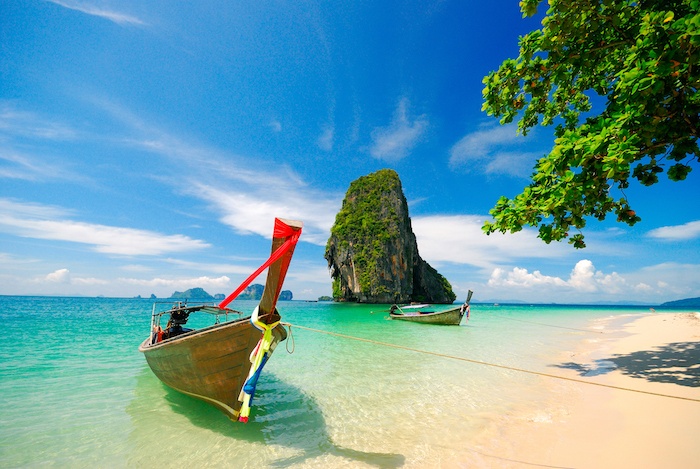 Krabi is famed for its stunning beaches and limestone cliffs. Image: Getty.
Charectised by its craggy limestone cliffs and beautiful beaches, the Krabi Province is known for its tropical attributes and picturesque environment. Surrounded by beautiful islands (such as Phi Phi), Krabi is a good choice for families after the perfect mix of island relaxation, good food plus adventure. 
Phi Phi Island
Another popular island destination, Phi Phi Island is a xx ferry ride from Krabi. With stunning clear turquoise water and an abundance of marine life, the island is renowned for its snorkelling and diving. Popular with international travellers and popularised by the film 'The Beach', Phi Phi Island has a well established community and all the mod-cons that go with it.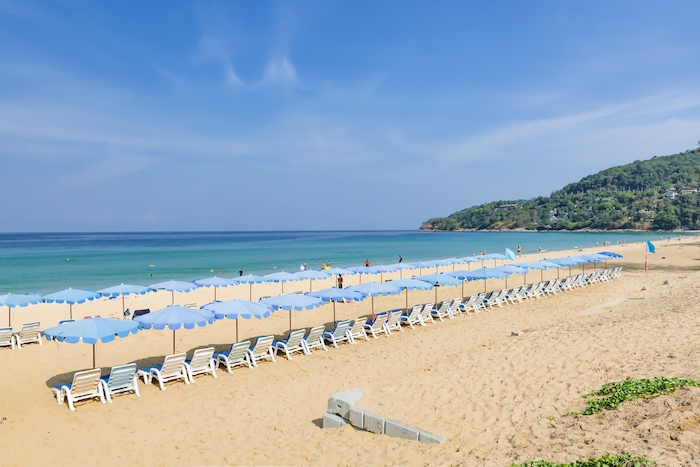 Quiet and calm on Karon Beach, away from the crowds of Patong. Image: Getty.
With direct flights (Tiger and Air Asia) from Australia, it's easy to get to Phuket and perfect for families with a multitude of experiences in close proximity. Karon Beach is best for kids, away from the craziness of popular tourist spot, Patong.   
One of the largest islands off the south coast of Thailand, Koh Samui has its own airport and a wealth of excellent beachside resorts and hotels. There are various enclaves at which to base yourself – including popular options Chaweng and Lamai – but we chose Bophut Beach as our base thanks to its proximity to the dining and shopping hub of Fisherman's Village.       
STAYING, PLAYING & EATING
WHERE TO STAY  
From Bangkok to the islands and other destinations like Chiang Mai, there are a plethora of secluded villas, apartments and boutique hotels in Thailand's various destinations with package deals and perks for kids, included kids' clubs, nanny services and other family-focused services.  
Leeanne Hosking, a Flight Centre's Travel Expert for Thailand says to be aware that most accommodation promotions are for existing bedding. "'Kid's, Stay, Play and Eat free' often means that the kids have to share the bed with the parents or sleep on a couch," she said. An alternative to this is to request roll-away beds added to the room at a cost per day. Most hotels also offer interconnecting rooms, which are hotel rooms side by side with an interconnecting door. "These are a great option and because a lot of Thailand beach deals are Stay 8, Pay 4, most can afford to buy two rooms for the normal price," Leeanne said.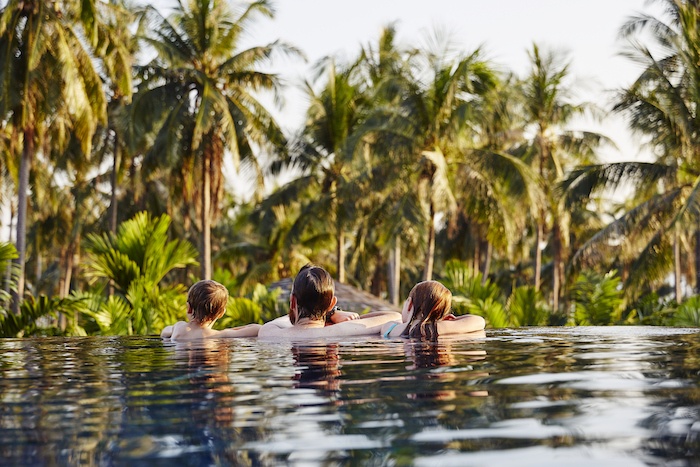 Hotel villas with private pools are great for families who want privacy. Image: Getty.
Tips:
– Keep to routines: Kids love consistency and even though you are on holidays, it will serve you well to keep some semblance of routine. Consider time differences and jet lag, particularly with smaller children. Although Koh Samui is only on three hours behind Australian time, we found it made a difference for our son's mornings and evenings. 3am on the island was 6am at home (his usual waking time) and 3.30pm was when he would normally be prepping for bedtime. It was not fun, and while there's little to do to avoid it, maintaining a routine as much as possible helps smaller travellers adjust to the disrupted circadian rhythms. 
– Let your Travel Expert advise you on resort facilities that will make your stay more enjoyable. Details like room types, interconnecting, multiple bedrooms, private pool, etc that will make the family holiday more memorable.
– Advise your Travel Expert of any allergies, special medical conditions, anything your kids may like so they can advise the hotel.
– Keep an eye out for deals and promotions with great bonuses and inclusions to stretch your dollar further.
EATING & DRINKING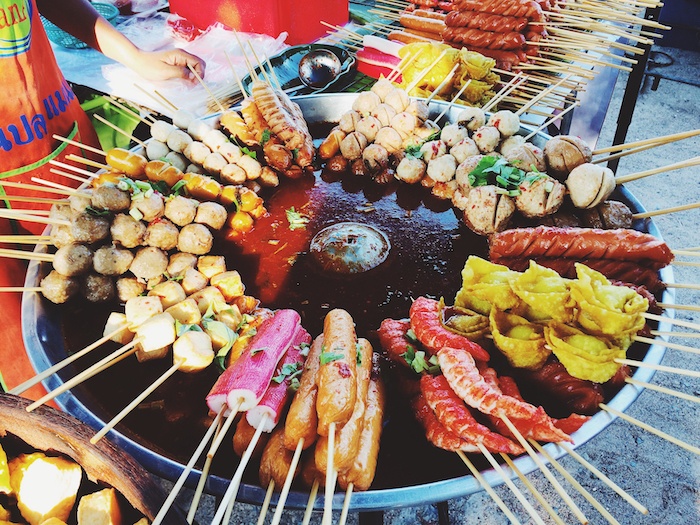 So much street-food in Thailand's many food markets. Image: Getty.
Avoiding the dreaded stomach bug or something more sinister while visiting Thailand with kids is an exercise in preparation and discipline, especially with little hands always in mouths. Hygiene and food safety vary from destination to destination but there's a few tips to follow wherever you are to avoid the dreaded holiday belly:
– Only drink bottled or filtered water and don't brush teeth with tap water or drink from the shower.
– Don't eat pre-cut fruit and veg and wash any you buy with bottled or filtered water.
– Wash your hands and use hand sanitiser.
– Don't eat food that has been sitting around (i.e. buffets etc) or is room temperature. Fresh cooked is best, particularly from street-food stalls.
– Ask for drinks without ice as it is usually made with tap water.
– Avoid unpasteurised dairy, shaved ice and soft-serve as these can be sources of listeria and bacteria. 
– Eat in restaurants with high turnover as you'll know the food is cooked fresh.
– Ensure you have full coverage health insurance in the event of a hospitalisation or doctors visit.  
---
RELATED: 12 Next Level Thailand Resorts You Need To Stay At
---
PLAYING
Done with the beach and kids clubs?
Thailand boasts a rich history and cultural heritage and whichever spot you choose, you'll find there's something to break up the endless beach days and kids' club sessions and explore the local culture. From family tours and cultural experiences such as temples, palaces and ancient cities to family attractions and playgrounds, theme parks and water parks, ask your travel expert or hotel to recommend a good one in the local area.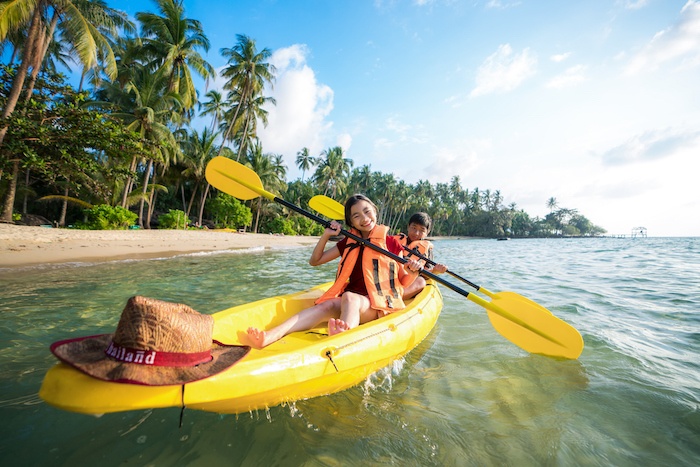 Kids can spend all day playing at Thailand's calm beaches. Image: Getty
Try these: 
– Elephant Hills – Offering ethical elephant experiences and a range of safaris, Elephant Hills is a low-key Phuket experience for nature and animal lovers to see the majesty of these beautiful creatures up close. 
– Pink Elephant, Samui Water Park – approximately 15 minutes in a taxi (traffic dependent) from Bophut Beach in Samui, and set among a palm grove, the water park has a variety of slides and pools for kids of all ages. 
– Kanchanaburi – This town in west Thailand is know for its three most moving historical attractions: Death Railway, Bridge over the River Kwae and the Allied War Cemetery.Despite its historical significance the city is also home to other activities such as a gemstone village, bamboo river rafting and Khmer temple ruin tours.
– Wat Phra That Doi Suthep – an awe-inspiring temple in Chiang Mail with a 309-step ascent to reach the complex of wats.
– Visiting a tailor – Having a special item made to order, by hand is a unique and enlightening experience for a little person. Most areas will have multiple tailors who can take custom orders with a few days notice. 
– Attending festivals like Yi Ping festival in Chiang Mai (pictured).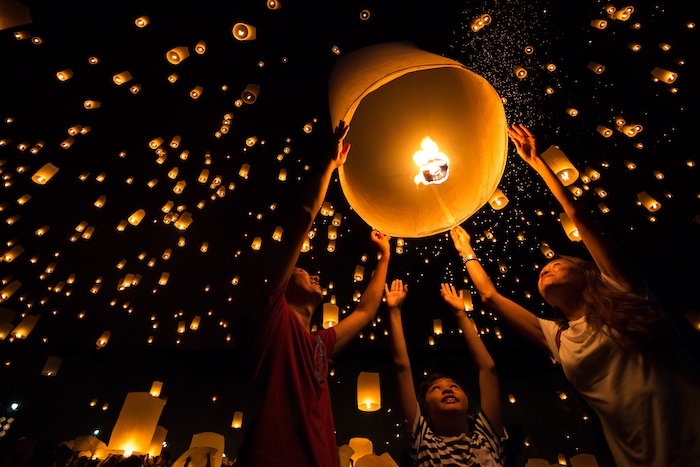 Yi Ping Festival in Chiang Mai is a great event to attend with kids. Image: Getty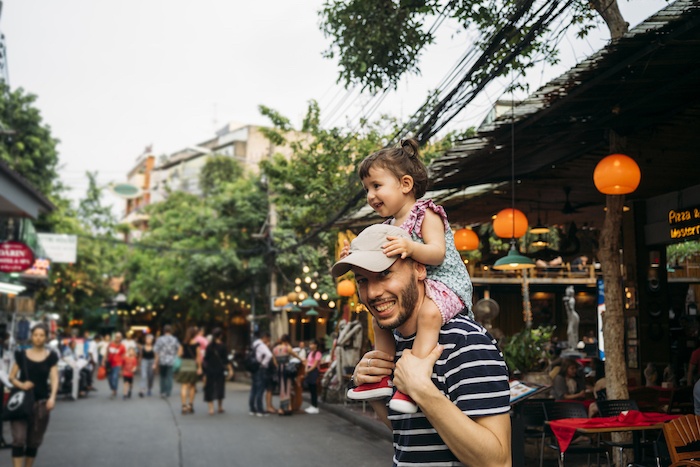 Explore Bangkok's popular Khao San Road. Image: Getty.
Tips for sightseeing:
– Keep kids well fed, rested and hydrated on cultural sightseeing.
– Opt for shorter days and plenty of rest stops.
– Choose your time of day wisely considering factors such as weather and local customs
– Encourage kids' curiosity and learning opportunities by letting them interact with locals and exploring their local environment.  
---
Ready to book your family's Thailand adventure? Get there now!
---
---
Flight Centre acknowledges the Traditional Custodians of Country throughout Australia.