Seeing Is Believing: Discover The Beauty Of Milford Sound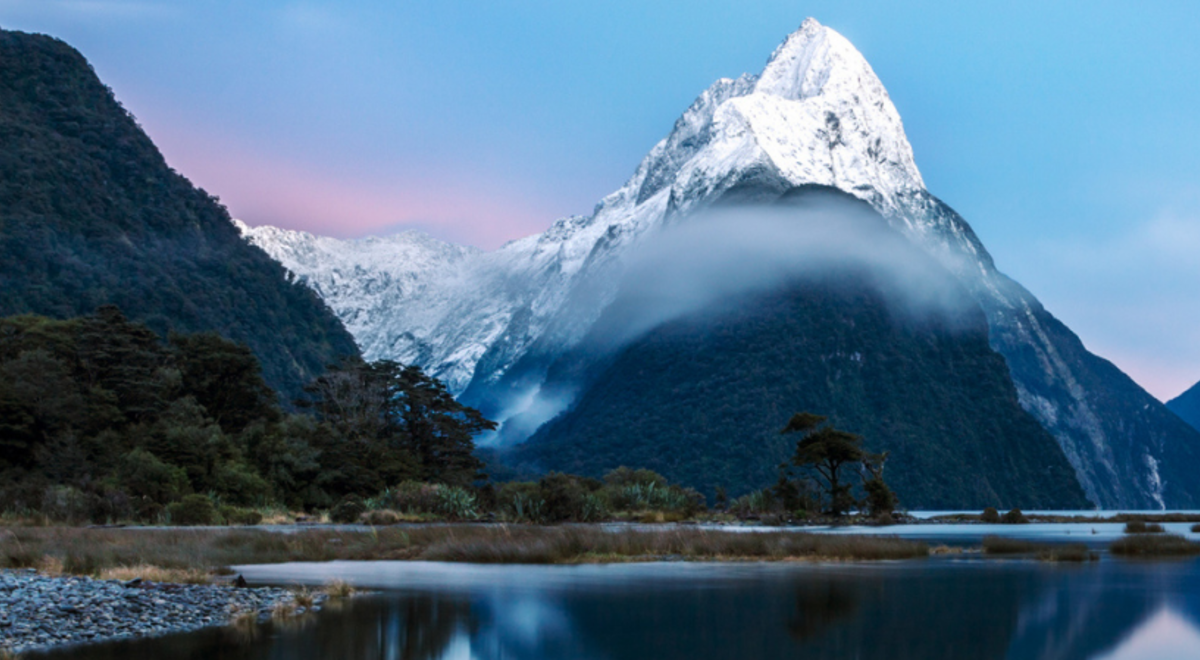 ---
---
If you're holding out for a destination that is rugged as it is beautiful, wild as it is serene, and best visited when people choose not to be there, then pencil in a trip to Milford Sound in New Zealand's Fiordland National Park.  
Top 5 things to do in and around Milford Sound: 
Boat cruise 

Kayaking 

Underwater observatory 

Hiking and tramping 

Scenic flights 
---

Fiordland is where the mountains of the South Island venture to dip their toes in the Tasman Sea, and nowhere is this displayed in more drama than places such as Doubtful Sound and Milford Sound (which are technically fiords, but I won't inflict that geology/history lesson on you until later). 
It's a sight 19th Century writer Rudyard Kipling declared "the eighth wonder of the world" as he took in Milford Sound's craggy peaks towering over the sea playing host to forests and fizzing waterfalls dropping into inky-dark water. Make the trip today and you'll find New Zealand's most stunning natural attraction has lost none of its splendour.
The Road In Is Spectacular  
You can either explore Milford Sound as a day-trip (easiest if you've based yourself in a nearby destination such as Queenstown or Te Anau) or opt to stay at the Milford Sound Lodge which is the fiord's one and only digs to doss-down. The lodge offers pristine chalet accommodation and powered sites for campervans, but note that tent camping isn't permitted. 
Most visitors make their way in by road. You can fly, but while the scenic flights that land at the fiord's airstrip are truly spectacular, they do come at a premium and deny you some sights that are best enjoyed at ground level. If getting there really is half the fun, then allowing yourself time to take in sights along the way is what real journeys are about, right? And if you're super keen about getting amongst it, you can set aside four nights between October and April to tramp (Kiwi for "hike") in via the 53km Milford Track that runs overland from Lake Te Anau.  
Driving to Milford Sound by car, campervan or coach follows the Milford Road which your Sat Nav may also refer to as State Highway 94. The road was built along a trail originally traversed by Maori who journeyed into the fiord they named Piopiotahi on foot to hunt, fish and gather the prized taonga pounamu (jade). The Milford Road weaves among mountain ranges, glacial-carved valleys and alpine rainforest, so you'll want to stop often. If you've opted to go by bus or coach, no dramas, your driver will allow enough stops to stretch, gaze at the awesome landscape and snap all the selfies-with-breathtaking-backdrop you like. 
The summit of the road takes you through the 1.2km-long Homer Tunnel from where you'll descend steeply into the fiord via Cleddau Valley. Here you'll find the drive's most snappable spot – the Chasm – a series of crashing waterfalls a short walk from the road where the powerful Cleddau River has scoured its way deep into the rock. 
Winter Is The Best Time To Visit 
Even though skiers and snowboarders flock to the slopes around nearby Queenstown in winter, you'll find fewer crowds filter their way out to Milford Sound at this time of year. Which is great, because winter is the best time to visit. It's also a time when you can take pics of the incredible scenery devoid of other people taking pics of the incredible scenery, or when you can readily slide into window seats on coaches and cruise boats that aren't booked to capacity like they are in summer. 
Once you arrive, the best way to see Milford Sound in all its glory is to get out on the water. You'll find ample opportunity to board a cruise boat or even hire a kayak if you're keen.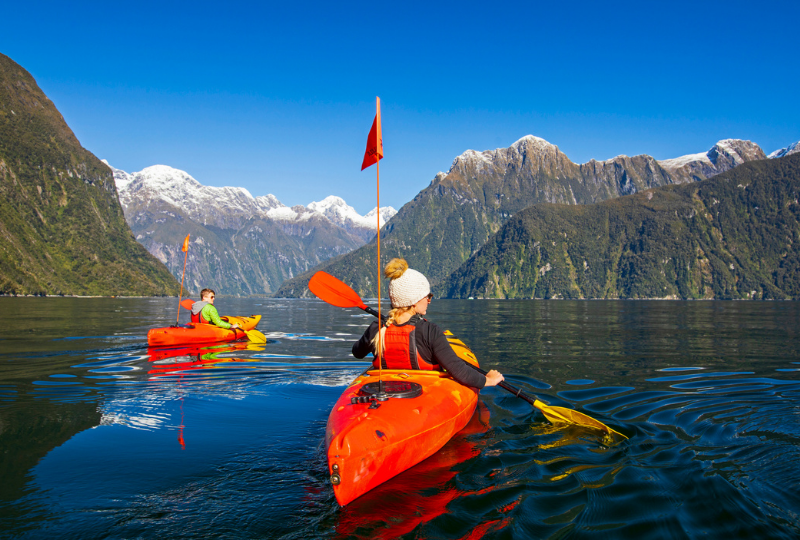 A Land Of Grace And Grandeur 
Your eyes will immediately be drawn to Mitre Peak, towering 1,700 metres over the water like a giant wedge of forested Toblerone. Then as you cast your eyes around the fiord, you'll begin to appreciate the sheer grace and grandeur of the snow-capped Fiordland ranges and wonder just how did these mountains become so entwined with the sea? This might be a good time to drop in that snippet of geology and history I promised. The answer lies in glaciation. During previous ice ages, glaciers throughout New Zealand's southern ranges carved out distinctive U-shaped valleys that a series of tectonic movements along the south-west coast then lowered into the sea forming long fiords. Sounds are formed when V-shaped river valleys get similar tectonic treatment. The sealer John Grono, who in 1823 was the first European to venture in here, may well have known all this but decided "Milford Fiord" just didn't roll of the tongue as well.
Fiordland enjoys high rainfall. So if it starts raining during your venture on the water, you're in luck. This is when the fiord's countless waterfalls — that are already pretty spectacular — really come to life. As if on cue from some meteorological conductor, the waterfalls suddenly swell into raging torrents that crash unhindered into the sea from the clifftops in thunderous, frothing glory. Your cruise boat operator will get in nice and close to allow you to enjoy this experience to the max, so be prepared to cop plenty of spray.  
Winter in Milford Sound is also the best time to encounter fur seals, penguins and bottlenose dolphins who venture in from the open sea to enjoy the fiord in the quieter months. Whether you're on a cruise boat or in a kayak, the more quietly and respectfully you make up-close experiences with the natural inhabitants of Milford Sound, the longer they'll last. 
There's also plenty of wildlife in Milford Sound to discover underwater. While a scuba dive into the ocean depths offers you a unique opportunity to encounter colourful sea life and rare black coral, most visitors seeking undersea experiences opt to visit Milford Sound's floating underwater observatory. Moored to a rocky edge of the fiord, the observatory lets you peer into the depths 10 m below sea level from the comfort of an air-conditioned viewing room – effectively an aquarium in reverse, where you'll become both spectacle and spectator. You can book tickets to visit the observatory as part of some cruises or selected kayaking packages. 
5 Essential Tips To Enjoying The Milford Sound Experience  
Bring plenty of insect repellent – Sandflies love this place as much as we do. 
Go in winter – There are fewer crowds, the alpine photo ops look more amazing, and there's more marine wildlife to talk to. 
Pack a raincoat and a warm change of clothes – For getting up close to waterfalls such as Stirling Falls without having to worry about making your return trip in wet undies. Fiordland is also New Zealand's rainfall capital, which is fortunate given that's when the waterfalls are most spectacular. 
Strap on sturdy footwear and take a hike – Whether you like short shoreline strolls or gnarly half-day treks with amazing views, allow yourself plenty of time to enjoy great walks in and around Milford Sound. 
Drive with care – Although fully sealed, some of Milford Road's twists and turns can be tricky to negotiate. Add heavy traffic in summer and occasional surface ice, avalanches and road closures in winter, and you've got every reason to be uber attentive behind the wheel. Rest assured that thousands of visitors make the drive each year without mishap – so enjoy this most spectacular road trip in the world!

---
Flight Centre acknowledges the Traditional Custodians of Country throughout Australia.