Queensland Is Open: These Destinations Are Calling Your Name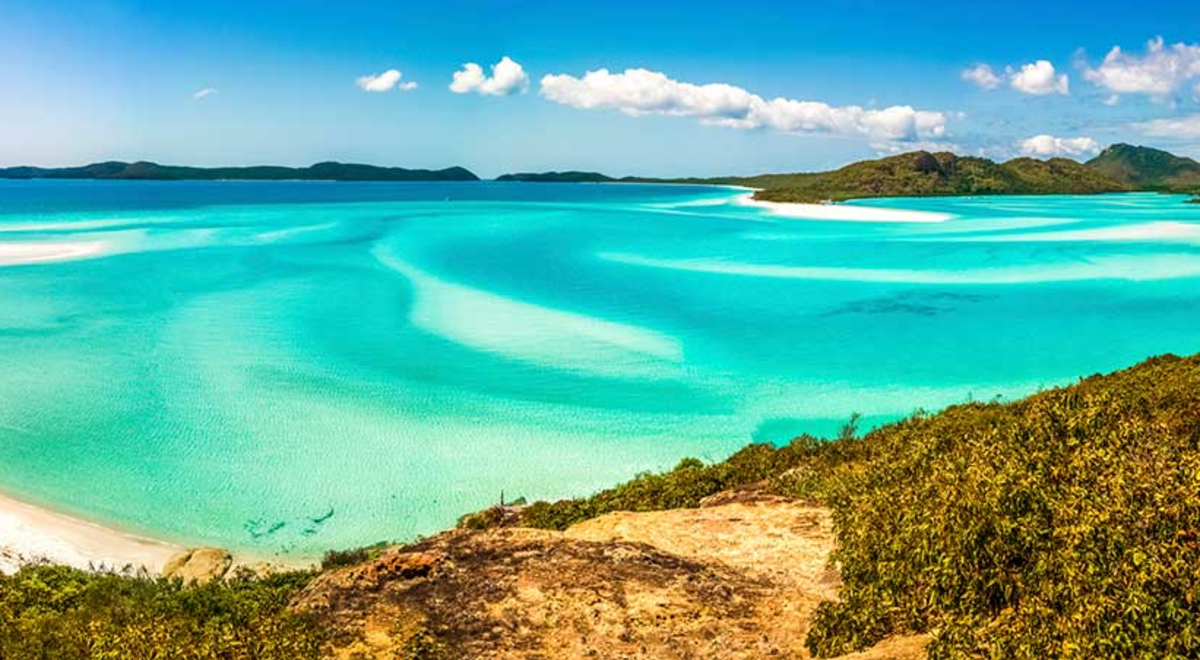 Great Barrier Reef 
Spanning over 2,300 kilometers from Bundaberg up to the tip of Cape York, Queensland's Great Barrier Reef is as alluring and fascinating, as it is beautiful. Afterall, it is one of the seven new wonders of the world, and it's right here in our own backyard. It's all pretty incredible, but these are a few of the best spots to access the reef, and relax a bit while you're there: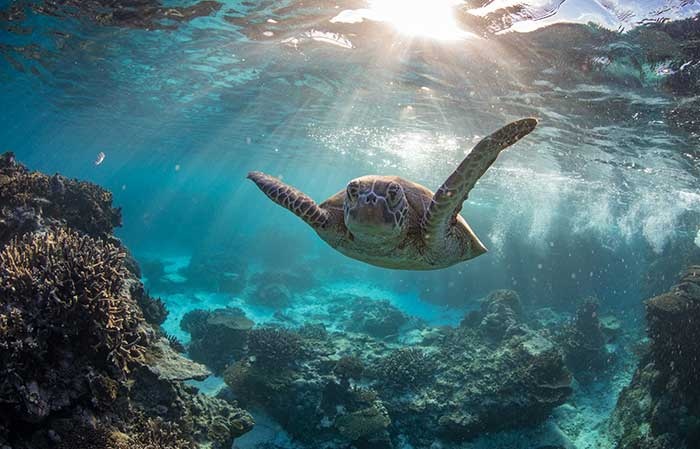 Great Barrier Reef
Hamilton Island 
If you're looking for an idyllic, tropical paradise perfect for a relaxing getaway, this is it.  The amenities, island logistics and unique experiences Hamilton offers make it a great family destination where even parents will return feeling refreshed. Being a privately-owned island, it is clean, safe and very easy to navigate, it's run like a well oiled machine, and almost all the thinking has been done for you. 
Boasting its own commercial airport makes travel easy, you can fly directly from most Australian capital cities onto the island; no ferry transfers or hire cars needed. An accommodation representative will be waiting for you to assist and transfer you to your new abode. The island also has a great range of dining options, stores, bars, access to some of the world's most incredible waters and reef, and hosts unmissable events year round. Check out their calendar for some major events like Race Week, performances by The Australian Ballet and several other fashion and cultural events. 
---
Want Queensland deals? Click here!
---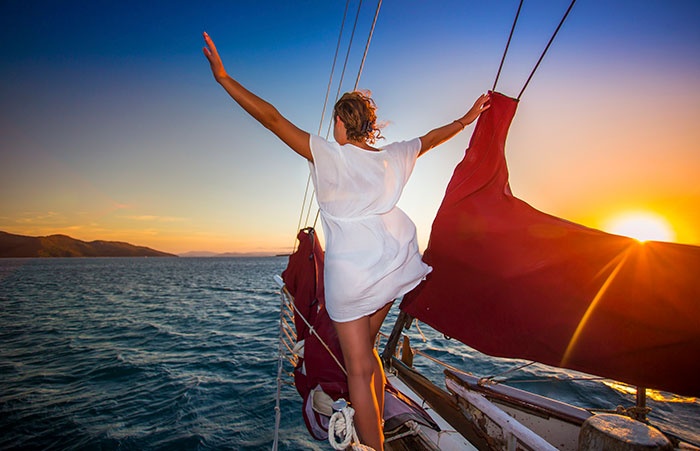 Sailing is a great way to experience the picturesque Whitsundays
Lady Musgrave Island
Accessible from Bundaberg and the Town of 1770, Lady Musgrave is an untouched beauty. Tucked away in its own little lagoon, this coral cay with direct Great Barrier Reef access is one of the most magical natural swimming pools on offer. This gem is home to vast marine life including the full 'Great 8', plus, it's a popular nesting ground for turtles and you can even see impressive humpback whales if you're visiting between July and November.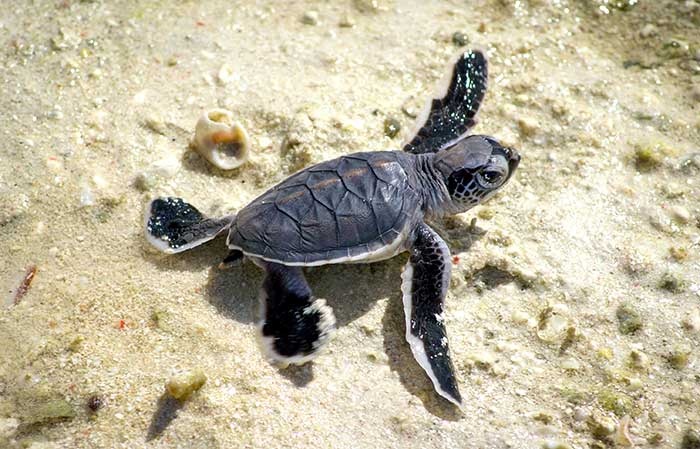 Heron and Lady Musgrave are both turtle nesting grounds
The island can be explored by snorkelling, diving and glass bottom boat rides, but is best done on a guided tour, which are run regularly out of Bundaberg and 1770. For something a little different and off the beaten track, camping is available, which is a pretty unique way to experience the island. The sites are bookable from the Easter holidays through to 27 January every year.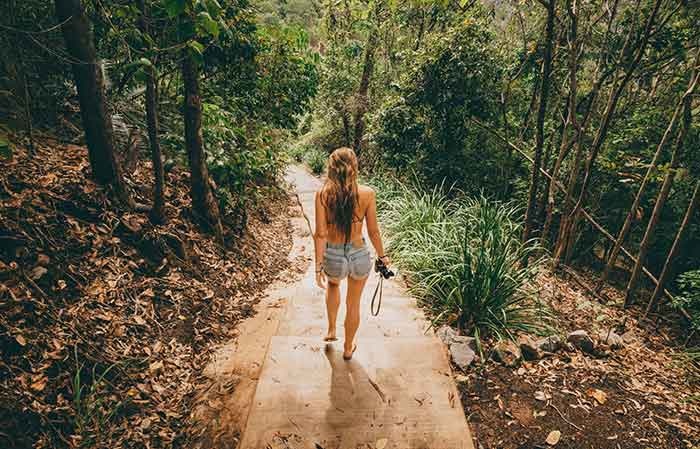 Rainforest walks in Cairns
Cairns Region 
Combining the best of both worlds, this thriving tropical city has rainforest, a Skyrail, hiking trails, waterfalls and direct access to the Great Barrier Reef, only the worlds largest living organism. You can kayak, fly, sail, dive or snorkel the reef from Cairns by day, then enjoy the coastal city's nightlife after dark. Cairns boasts family activities, delicious local delicacies, the rolling green Atherton Tablelands, cultural attractions and romantic escapes. Accommodation options range about as far as you can get, from luxe retreats, to caravan parks, hostels and rooms with a view. There isn't much that this city on the coast doesn't offer.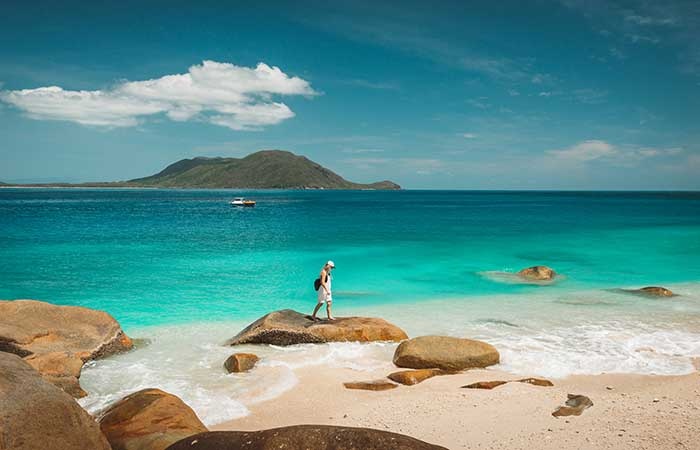 Nudey Beach on Fitzroy Island, off the coast of Cairns
Heron Island
This small island is home to an intimate resort you will immediately feel familiar with. Thanks to its size, within a few hours the staff will feel like family and the footpaths will seem like ones you've walked before. Not only is it easy to get around on foot, but the whole guest experience is seamless. It's remote location and lack of phone or internet coverage makes you feel like you've left reality for far longer than you have. It is a fantastic place to relax, read, walk and retreat, but is particularly great if you're into diving, snorkelling or birdwatching. 
One of the stand out things about Heron Island is the close proximity of world class dive sites, the bommies are right there on the island's doorstep as it's one of the only islands that has direct Great Barrier Reef access. They also run bird and wildlife tours of the island, and there is constantly research and conservation going on in the background, because it's just such an untouched paradise.
---
Want to dive the Great Barrier Reef? We sent a Flight Centre travel agent to experience Heron Island, check out the video here! 
---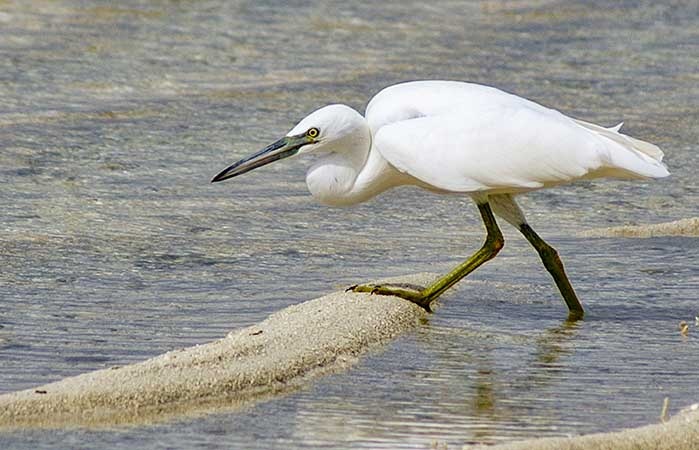 Heron Island is known for its birdlife
Outback & Country Queensland
Toowoomba & Darling Downs Regions
Home to notable wineries and cellar doors, national parks, rustic farm stays and incredible scenery, this region of Southern Queensland makes for an idyllic escape. Toowoomba is Australia's largest country town, and a gateway to the state's rural regions, so it's sure to give you a decent dose of country life.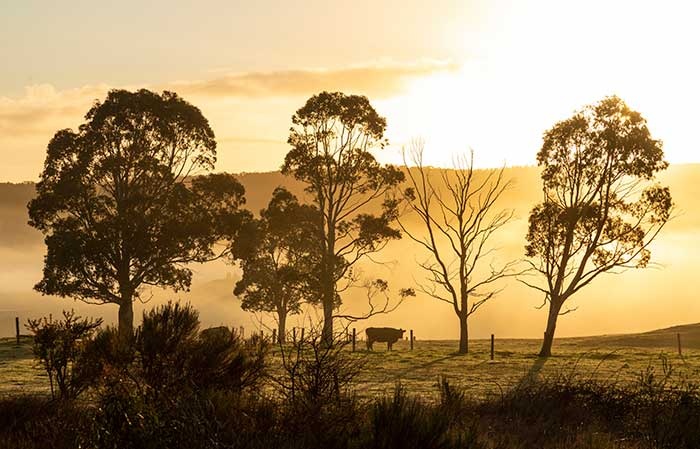 Country Queensland
Perfect for a couples long weekend, or family week away, there are endless activities from hiking to horseback riding, road trips to cheese tasting; you can even try your hand at stand up paddle boarding in Lake Dyer. The region also boasts award-winning dining or casual family foodie options, DIY craft classes, local markets, historic sites and a burgeoning arts scene. If you're wanting to embrace country life, Toowoomba and the Darling Downs is a good place to start.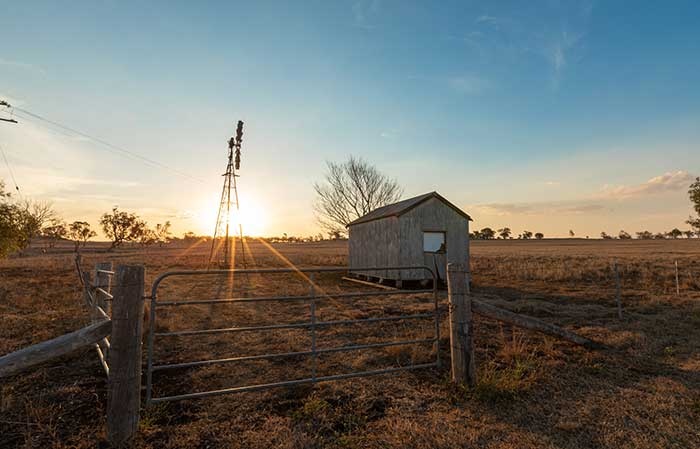 Those country sunsets
The Granite Belt 
Here, the air feels fresher, the sky bluer, and the wine, well the wine always tastes good. The Granite Belt is Queensland's wine region, the state's fruit bowl and is centered on the town of Stanthorpe in the Darling Downs (technically it also covers the New England region of NSW). It's an ideal place to get lost for a few days, just make sure you pack your appetite because The Granite Belt is known for its gastronomy. 
From cellar doors to organic dairies, the local farmers around here are passionate about their paddock to plate style grazing. I'm talking about hand-made cheeses, speciality vinegars, chutneys, preserves, jams, olives and more. A region steeped in European culture, with richly diverse produce, this really is a food enthusiast's ideal destination. If your family is full of budding masterchefs, and into food and cooking, this might be the spot for your next escape. 
Longreach locals
Longreach 
Lovingly known as the 'heart' of Queensland's outback, Longreach sits on the Thomson River in the centre of the state. It's quite remote so is most commonly accessed by road or rail (though you can also fly), but this outback town exudes that kind of country hospitality that keeps tourists coming back again, and again, and again. 
It's famously the birthplace of the flying kangaroo, and therefore is home to the Qantas Museum; a hotspot for keen history buffs. Visitors can take part in live stockman shows, hydrate in outback pubs, cruise the Thomson River on a traditional paddle wheeler and listen to bush poetry, before watching the sunset at Starlight's Lookout. Accommodation options range from lush outback retreats and farm stays, to motels, camp and caravan grounds and cottages.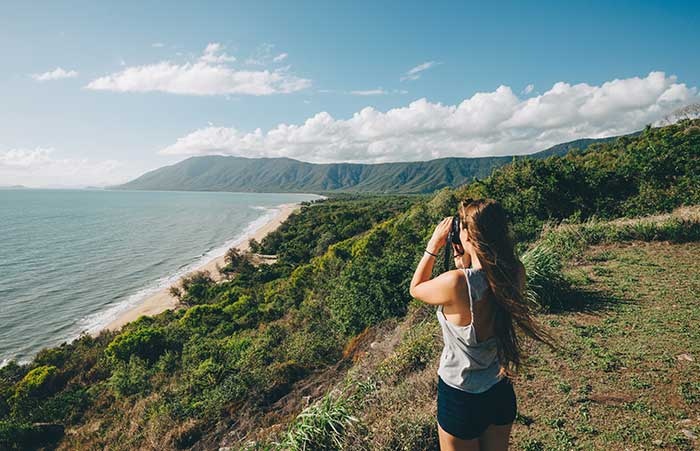 Rex Lookout in the Cairns region
Beaches
It's no secret that Queensland, aka the sunshine state, has a plethora of pristine beaches to pick and choose from. Other states envy Queenslanders because of them, international tourists lust after them and they even may (or may not) have created a state full of 'beach snobs'. Their patrolled waters welcome millions of new and return visitors year after year, and you've probably visited a handful at least, but perhaps there are some you haven't considered before…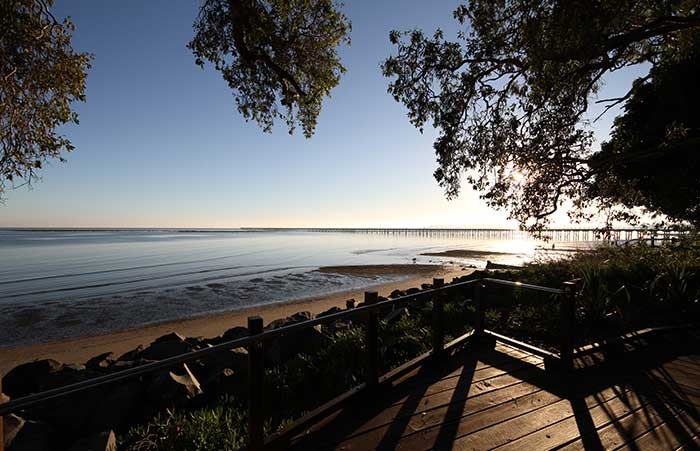 Hervery Bay Sunset
Fraser Coast Region 
Encompassing the Hervey Bay, Maryborough and Fraser Island regions, it's one of the lesser known coastal areas of Queensland, but one of the more unique. Thanks to Fraser Island and the Great Sandy Straits that shelter the region, the waters are warm, calm and sheltered, providing safe swimming spaces for all ages year round. 
Hervey Bay's prime position provides the perfect launch pad for whale watching tours, but it's just as ideal for swimming, diving, sailing and watersports. Fraser Island provides a bit of a different pace; being the world's largest sand island it's apt for adventurous types with 4WD trails, campsites, natural attractions, culture and history. The sub-tropical climate makes it ideal for wholesome family breaks year round, and there are accommodation options for all styles and budgets.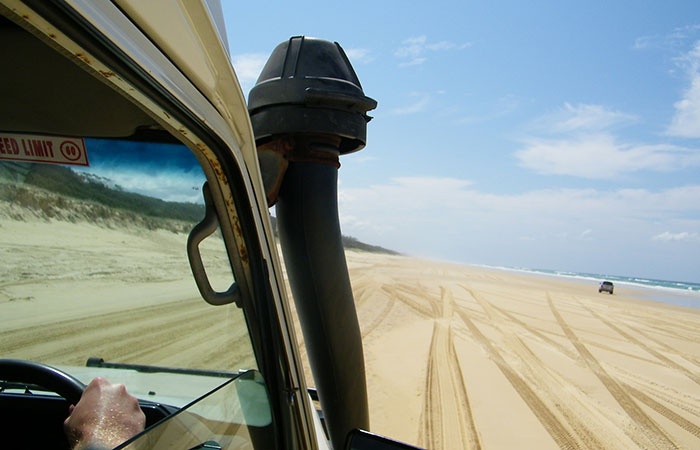 Fraser Island is a very popular 4WD spot
Rainbow Beach 
Rainbow Beach is most known for its ancient, colourful sand dunes, but what most people don't know is how quaint the town itself is. It's centered around one main street that leads right into the ocean. This is where you'll find welcoming locals and their homely hospitality, as well as a few fantastic cafes and of course, the always reliable surf club. 
The colourful sands are strikingly beautiful and untouched; they get their rippling effect from the minerals in the rocks in the nearby cliffs. Another must do is the Carlo Sand Blow, a 15 hectare sand mass that overlooks these towering sands, providing incredible views over them, Double Island Lighthouse and Inskip Peninsula. If you're a budding photographer, you'll want to head there for sunrise or sunset for some incredible shots.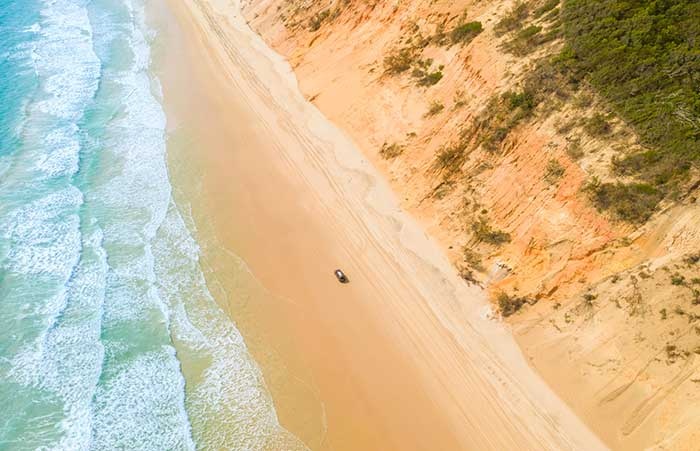 Rainbow Beach dunes
Seventeen Seventy (1770) & Agnes Water 
Sitting just north of the Sunshine Coast, these charming seaside communities and beaches are so secluded you could almost miss them. Home to lush forests, calm swimming inlets, rolling surf breaks, plus native wildlife, they make great bases for wholesome family breaks. Depending on time of year you could see migrating whales, dolphins and even dugongs in the area.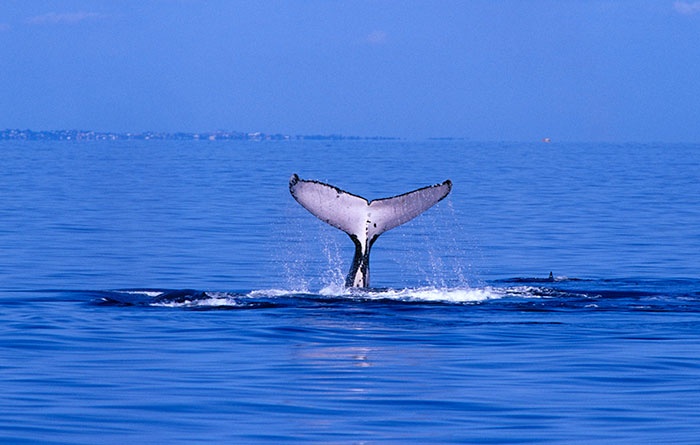 Humpback whales migrate through the waters around 1770 & Hervey Bay
---
Keen to book a Queensland escape? Click here!
---
---
Flight Centre acknowledges the Traditional Custodians of Country throughout Australia.