What's On In 2015? | The Big Events In 2015 Are In QLD!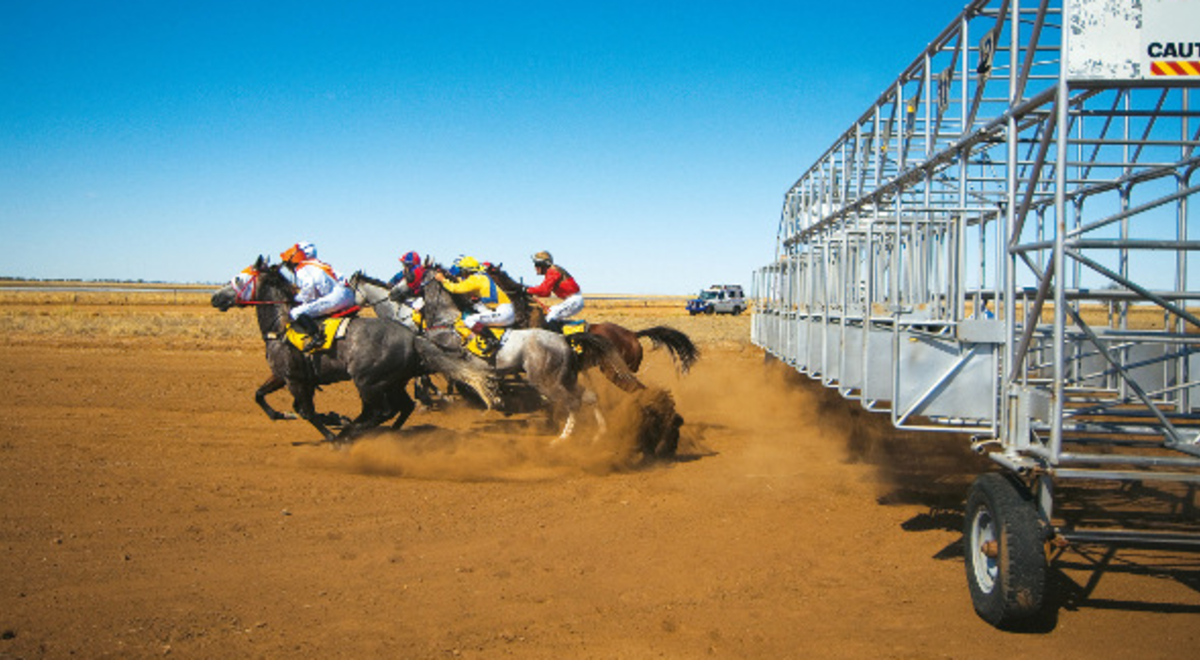 ---
---
Welcome to 2015! From bucking bulls to roaring engines, night noodle markets and haute couture carnivals, it's all happening in the Sunshine State this year. You've got arts, eats, sports and style, all live and all year long.
While some may travel purely for a change of scenery, others like to focus their getaways around 'happenings'. Grab your diary or desk calendar, pencil in these 2015 Queensland events, and get your excuses ready for a few sneaky long weekends.
January
AFC Asian Cup, Brisbane (Jan 10–22)
Football fans will flock to Milton in Brisbane this month, supporting the Socceroos in their quest to be named the best in Asia. Ex-Socceroo Ned Zelic encourages fans to combine their holiday with a side serve of sport, and take a few leisurely days to watch some world-class football. Seven AFC Asian Cup games will be played in Brisbane from Jan 10–22.
More events in January...
Brisbane International tennis, Brisbane (Jan 4–11)
Magic Millions horse races, Gold Coast (Jan 10)
The Great Australia Day Beach Party, Yeppoon (Jan 26)
February
Chinchilla Melon Festival, Chinchilla (Feb 12–15)
The Outback town of Chinchilla will be painted pink and green this month, with melon-themed events including (but certainly not limited to) melon skiing, melon weigh-ins, pip-spitting and good old-fashioned melon eating. Why the quirky, messy festivities? Chinchilla is the proud melon capital of Australia, didn't you know?
More events in February...
Chinese New Year Street Festival, Cairns (Feb 6–28)
RACV Ladies Masters golf tournament, Gold Coast (Feb 12–15)
ICC Cricket World Cup, Brisbane (Feb 21, 25 & Mar 1)
March
CMC Rocks, Ipswich (March 13–15)
The largest country music festival in the Southern Hemisphere is coming to Queensland this month, after three years being hosted in the Hunter Valley. Headlined by Grammy award-winning American outfit Lady Antebellum, the three-day country music extravaganza will also feature an array of homegrown talent including Troy Cassar-Daley and Adam Brand. Yeehaw!
More events in March...
Anywhere Festival, Mackay (Feb 13–22)
Queensland Surf Lifesaving Championships, Maroochydore (Mar 27–29)
Magnetic Island Adventurethon, Townsville (Mar 28–29)
April
Julia Creek Dirt & Dust Festival, Julia Creek (April 17–19)
Celebrating its 21st birthday in 2015, the Julia Creek Dirt & Dust festival showcases the Queensland Outback at its finest (and dustiest). Hosted in a tiny town 664 kilometres west of Townsville, Julia Creek Dirt & Dust runs what is arguably the hottest and harshest triathlon in the country. Come for the bullrides, stay for the tobacco-rolling contest.
More events in April...
Easterfest, Toowoomba (Apr 2–5)
Gold Coast Film Festival (Apr 9–19)
Gold Coast Thriathlon (Apr 11–12)
May
WOW World of WearableArt, Townsville (from May 29)
Townsville's Perc Tucker gallery is the only Australian venue lucky enough to host the touring WOW World of WearableArt exhibition. Toeing the line between fashion and art installation, this New Zealand-born exhibition has wow`ed crowds for around 25 years with its boundary-pushing creations.
More events in May...
Noosa International Food & Wine Festival, Noosa (May 14–17)
Port Douglas Carnivale, Port Douglas (May 22–31)
Captain Cook 1770 Festival, Gladstone region (May 23–24)
June
Great Whitehaven Beach Run, Whitsunday Island (June 20)
What is perhaps the most picturesque running comp around, the Great Whitehaven Beach Run in the Whitsundays is as challenging as it is fun - anyone who has tried to run on sand before will understand. If you're keen to participate, races vary in length from 500 metres to a 21.1-kilometre half marathon.
More events in June...
Mackay Boat Show, Mackay (June 13–14)
Australian Open - Bowls, Gold Coast (June 13–25)
Cairns Airport Ironman competition, Cairns (June 14)
July
Hervey Bay Whale Festival, Hervey Bay (from mid-July)
July officially marks the start of whale season in the Fraser Coast region. The Hervey Bay Whale Festival offers a greater experience beyond whale watching, encouraging visitors to get in on the region's vitally important conservation efforts. Celebrations in 2014 included a concert raising funds for whale aid and an evening of moonlight swing-dancing. We hear it will be a marvellous night for a moondance.
More events in July...
Brisbane Times Good Food Month, Brisbane (Jul 1–31)
Castrol Townsville 400 V8 Supercars, Townsville (Jul 10–12)
Winton Camel Races, Winton (Jul 25)
August
Gympie Music Muster, Gympie (August 27–30)
What started out as a community fundraiser in the early '80s has grown to become an iconic Queensland music event. The Gympie Music Muster is chuffed to be called Australia's largest charitable music and camping festival. While the 2015 lineup is yet to be announced, 2014 saw a slew of big-name artists including Kasey Chambers, Josh Pyke and Triple J darling Thelma Plum.
More events in August...
Ekka (aka 'the show'), Brisbane (Aug 6–17)
Audi Hamilton Race Week, Hamilton Island (Aug 15–22)
Mercedes Benz Fashion Festival, Brisbane (Aug 22–28)
September
Birdsville Races, Birdsville (Sept 4–5)
The Birdsville Races see the population of this remote Outback town balloon from 120 to around 7,000 over the course of the two-day event. The historic one-mile race was first run in 1882 and these days raises vital funds for the Royal Flying Doctor Service. You'll want to giddy up and book your tickets in advance if you're keen to attend the races.
More events in September...
Carlton Mid Amateurs Carnival, Cairns (Sept 10–12)
Mitchell Creek Rock N Blues Fest, Gympie (Sept 18–21)
Toowoomba Carnival of Flowers, Toowoomba (Sept 18–27)
October
Taste of the Tablelands, Atherton (Oct 18)
Hosted high up on the Atherton Tablelands about an hour from Cairns, Taste of the Tablelands celebrates the flavours of this agriculturally blessed region. Sample the area's finest boutique wines, coffee, chocolate, dairy products and tropical fruit as fresh as they get, direct from the producers. Don't forget to take some edible souvenirs home for your workmates (hint hint)!
More events in October...
Spirit of Bundaberg Festival, Bundaberg (Oct 1–31)
Oktoberfest at Granite Belt Brewery, Stanthorpe (Oct 3–4)
Netfest, Gold Coast (Oct 15–18)
November
Noosa Triathlon, Noosa (Nov 1)
The Noosa Triathlon is the third largest Olympic distance triathlon in the world, as well as Australia's oldest, largest and highest profile triathlon. Pretty impressive, right? From its early days when cyclists got lost on the course, the Noosa Triathlon has become the largest multi-sport festival of its kind in the southern hemisphere with celebrations extending over five days. Pace yourself.
More events in November...
GBR Marathon, Port Douglas (Nov 1)
Stanthorpe Rocks, Ballandean - Southern Queensland Country (Nov 14)
Brisbane Asia Pacific Film Festival, Brisbane (Late Nov. Dates TBC)
December
Woodford Folk Festival, Woodford(Dec 27–Jan 1)
The annual love-in held on the Sunshine Coast known as the Woodford Folk Festival has become a post-Christmas camping tradition for creative types from Brisbane and beyond. The festival showcases a variety of musical acts and artistic workshops for around 130,000 attendees, with repeat past performers including Kate Miller-Heidke, John Butler Trio and The Cat Empire.
More events in December...
Australian PGA Championship (Dates TBC)
 
brisbane cairns gold coast noosa outback queensland queensland sunshine coast townsville whitsundays
---
Flight Centre acknowledges the Traditional Custodians of Country throughout Australia.