Bali vs Thailand: Which is Better for Your Honeymoon?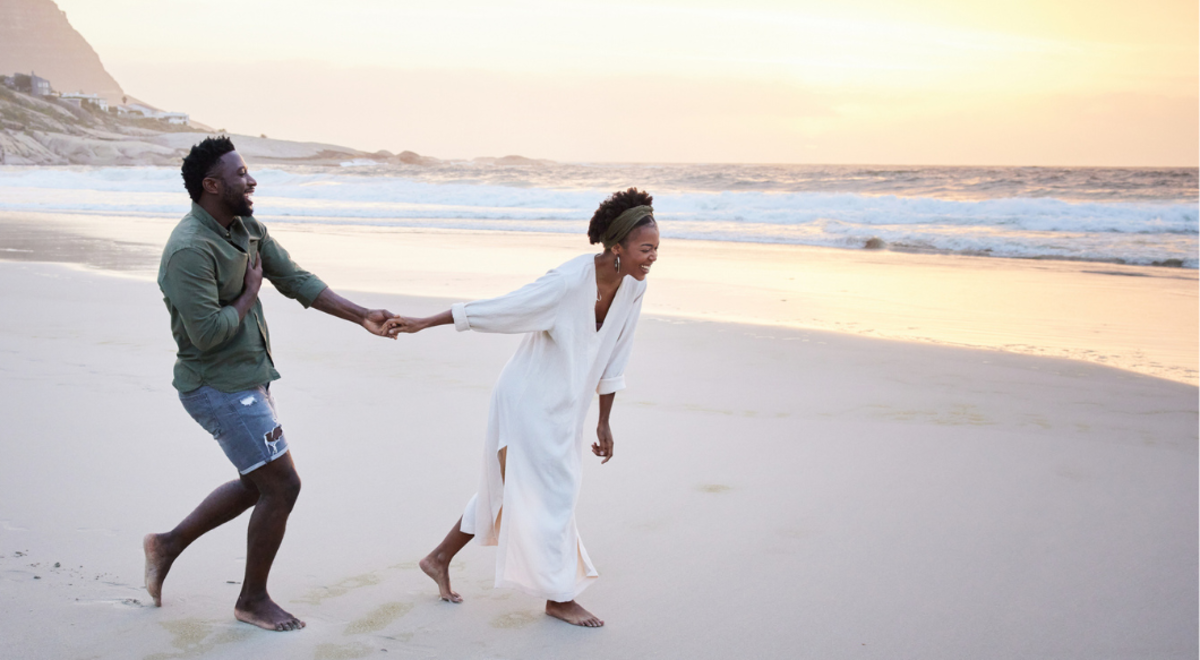 They say all is fair in love and war. And when the battle for where to go for your honeymoon trip pits two tropical heavyweights like Thailand and Bali against each other, there are certainly no losers.
In fact, everyone's a winner, baby... especially you! But if you're looking for an easy answer to the question of which is better for your honeymoon, Thailand or Bali, then here's the short version: it's a trick question because both are amazing.
They're both tropical getaways with great beaches, lush jungles, mouth-watering street food, vibrant local culture and stunning landscapes.
Since you can only have one honeymoon (unless you're super lucky), then you'll probably have to choose. So think of this article as your pre-honeymoon tour guide. Read on for a quick comparison of two of the world's best honeymoon destinations, plus the most romantic and love-centric highlights of each country.
Bali vs Thailand: A Quick Guide
There's no denying that both Thailand and Bali as honeymoon destinations have their post-nuptial perks. Perhaps you want to lie on a white sand beach in Gili Islands, cocktail in hand. Or maybe you want to pair your daytime adventures with vibrant nightlife in places like Bangkok's Khao San Road?
Or you're all about the fancy luxurious resorts and their inclusions? Then there's strapping on your boots and hitting the hills for a hike or a mountain biking session with your one and only. Want to go deeper and experience the rich culture and ancient spirituality in both countries? Have a moment with a monk or take a temple tour in both Bali and Thailand.
Whether you choose either Thailand or Bali, you're in after-wedding luck. Throughout both of these tropical destinations you can find the ingredients for a honeymoon that hits all the right notes – just like the big day itself.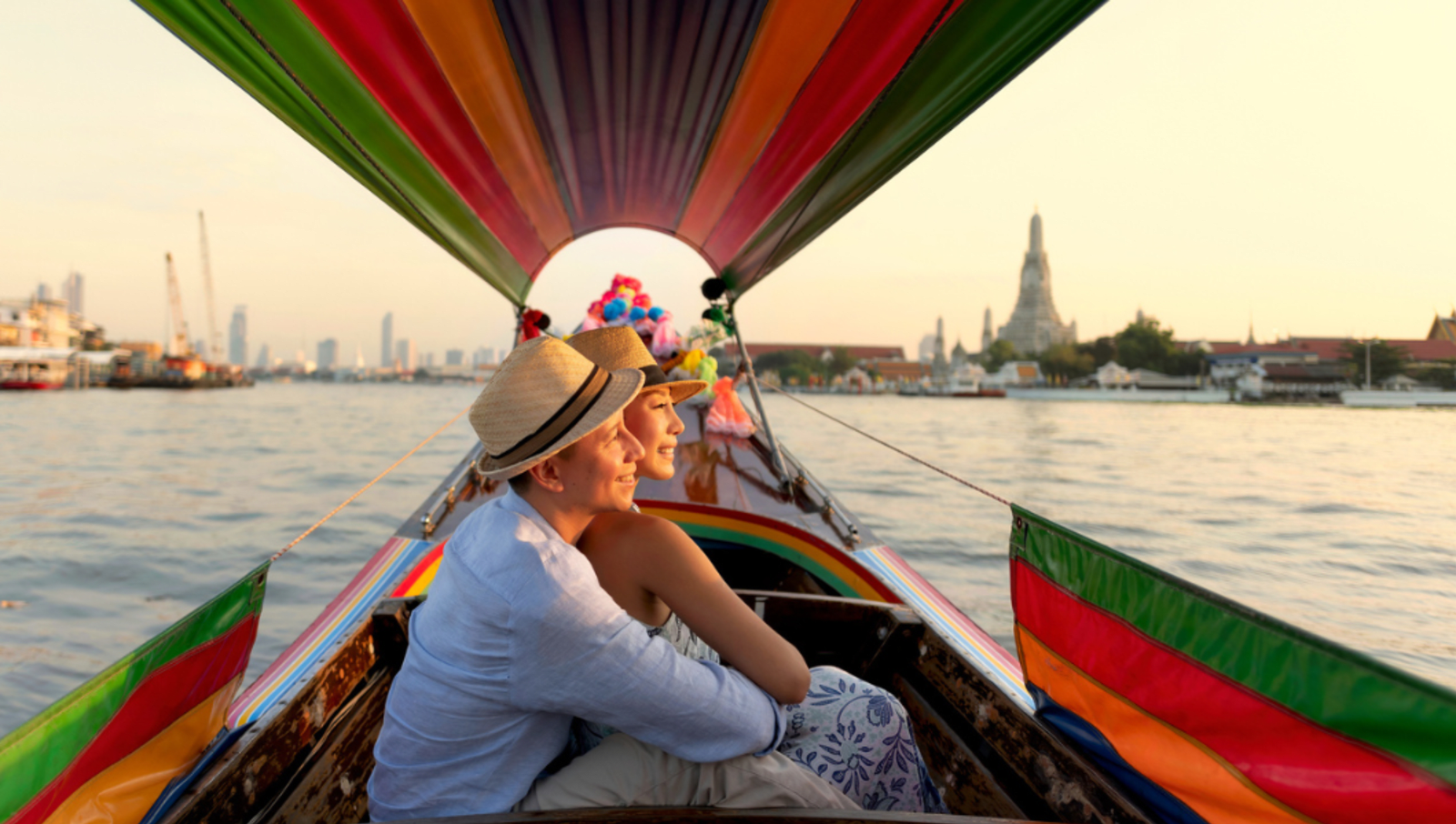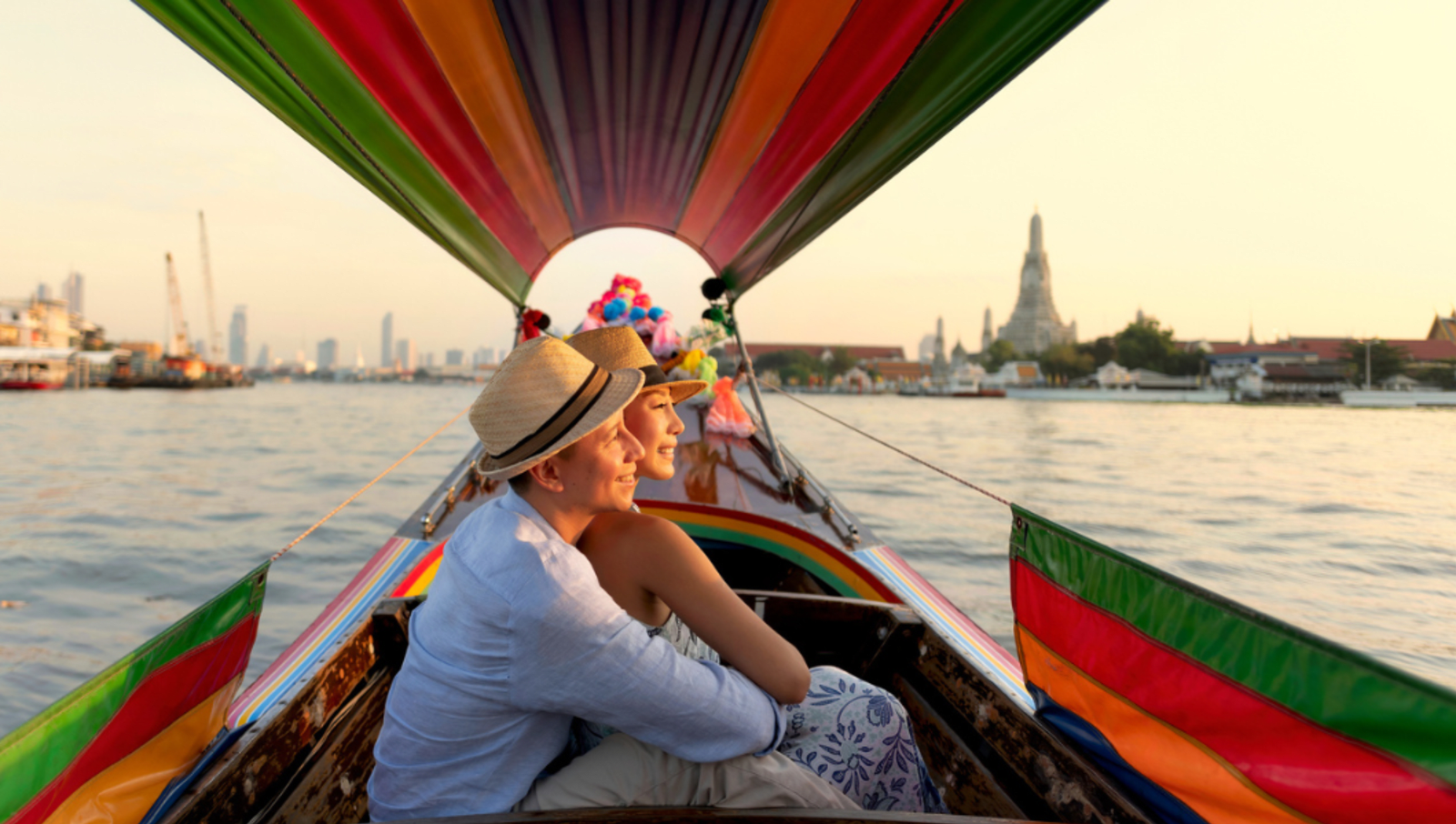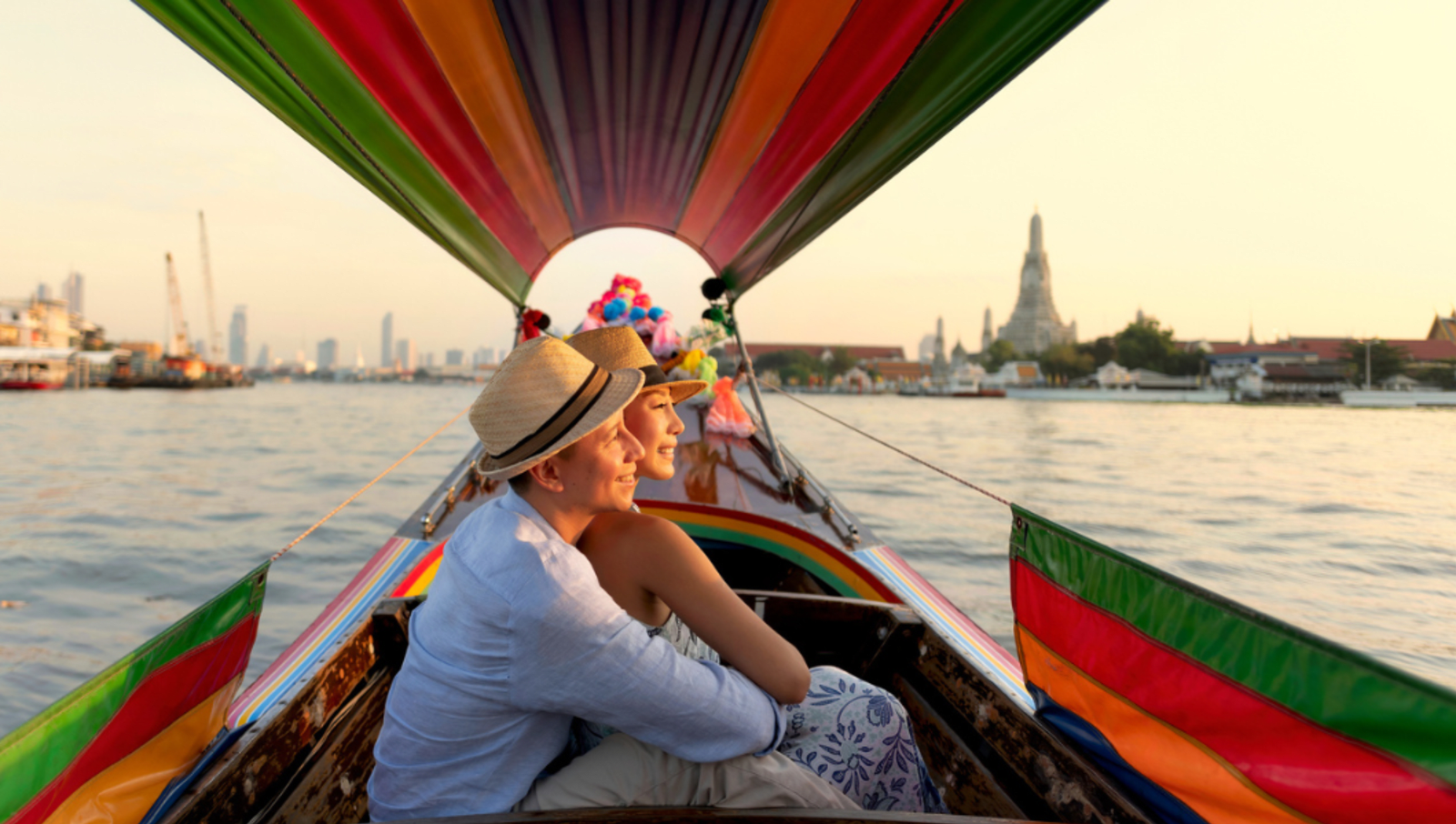 Top five reasons to choose Thailand
It's huge and diverse: Across Thailand's 513,120-square-kilometre land mass, you'll find a massive range of variety. There's shopping galore for any budget, street food and award-winning restaurants, luxury resorts and cheap-as-chips hostels (not advised for a honeymoon though!). Plus there's a vast array of landscapes, each home to different types of experiences depending on your holiday style.

Thailand beaches: Another Thailand vs Bali honeymoon head-to-head is the battle for best beaches. While Bali beaches (particularly the reef-protected Nusa Dua) are beautiful, Thailand is unrivalled when it comes to pristine beaches and white sand beaches. The Thai islands in particular are great for ocean-based activities like snorkeling, diving and fishing. But if lying on a beach is more your speed, then try Koh Samui's Chaweng Beach or choose to stay in Krabi and take your pick.

The food: Thai food is renowned as being one of the best in the world. Punchy, vibrant and colourful, you'll find different flavours and slight variations in ingredients from Northern Thailand to Southern Thailand.

Thailand nightlife: If you like to party, then Thailand brings the goods. The spirit of Thailand's party scene can be found in most tourist destinations but the likes of Bangkok, Phuket, Koh Samui and Koh Phangan (home to full moon parties) are known for after-dark activities.

Thai hospitality: It's known as the Land of Smiles for a reason. Thai hospitality is famous around the world for being some of the best and honeymooners will get the full treatment.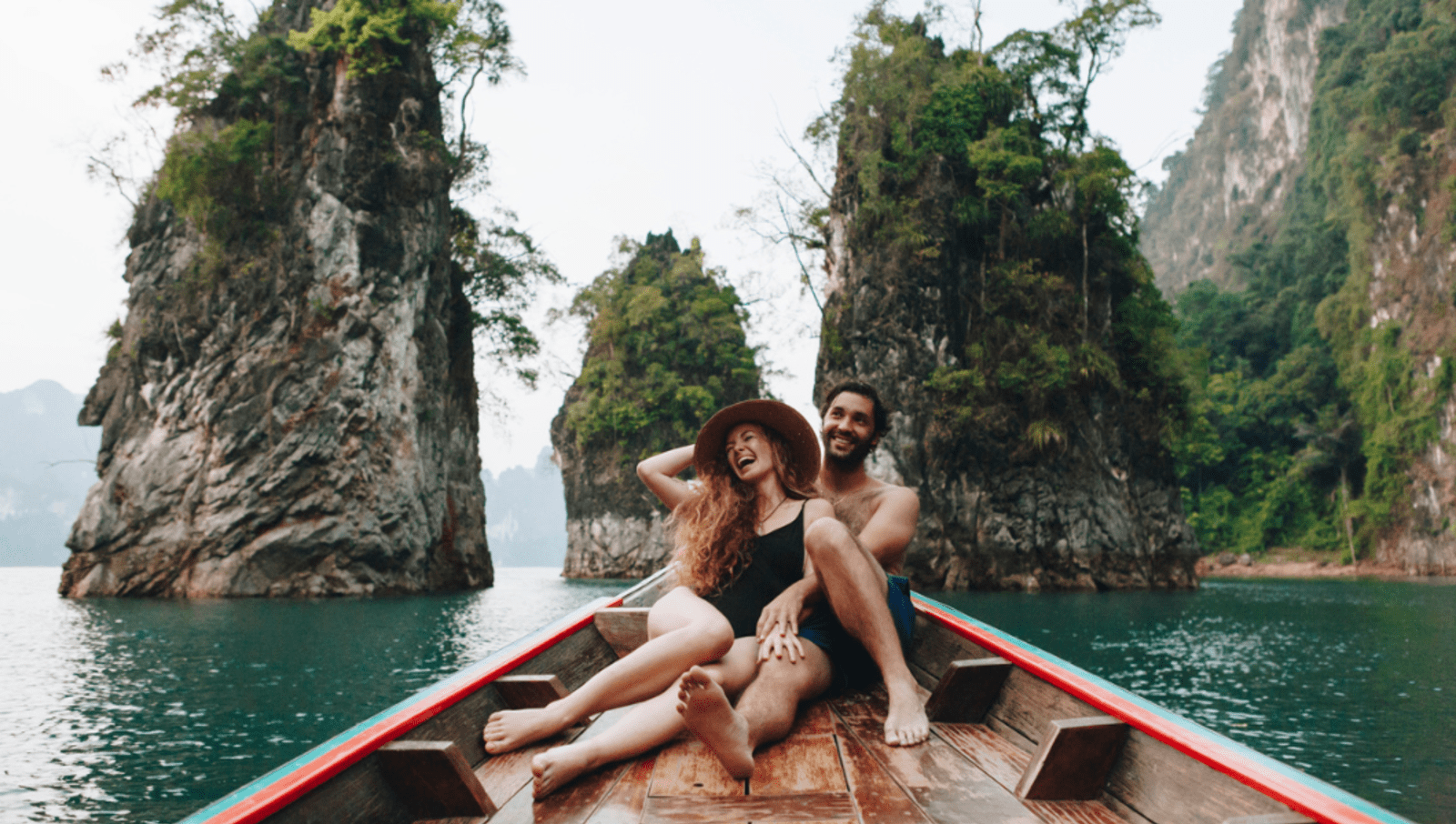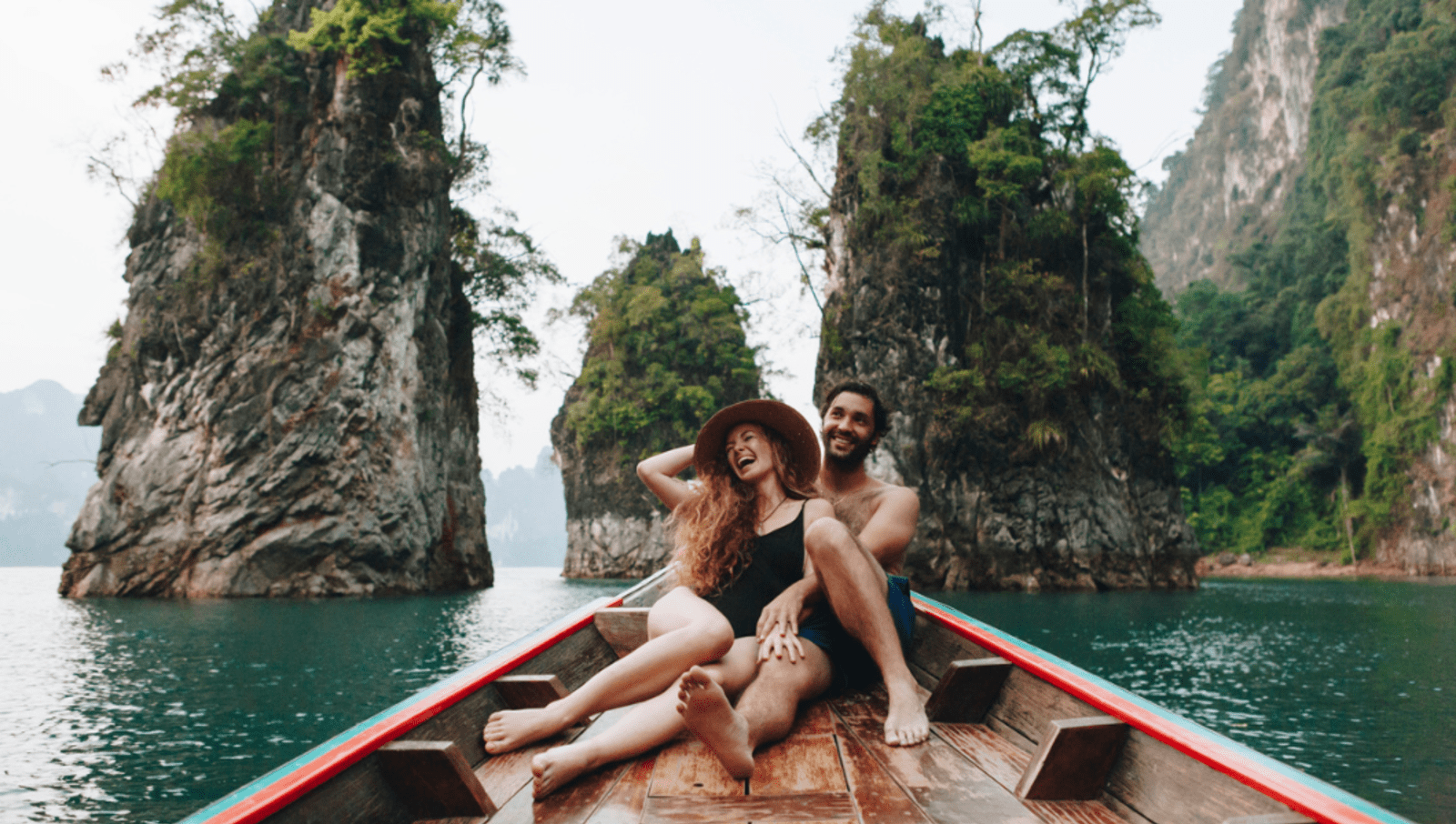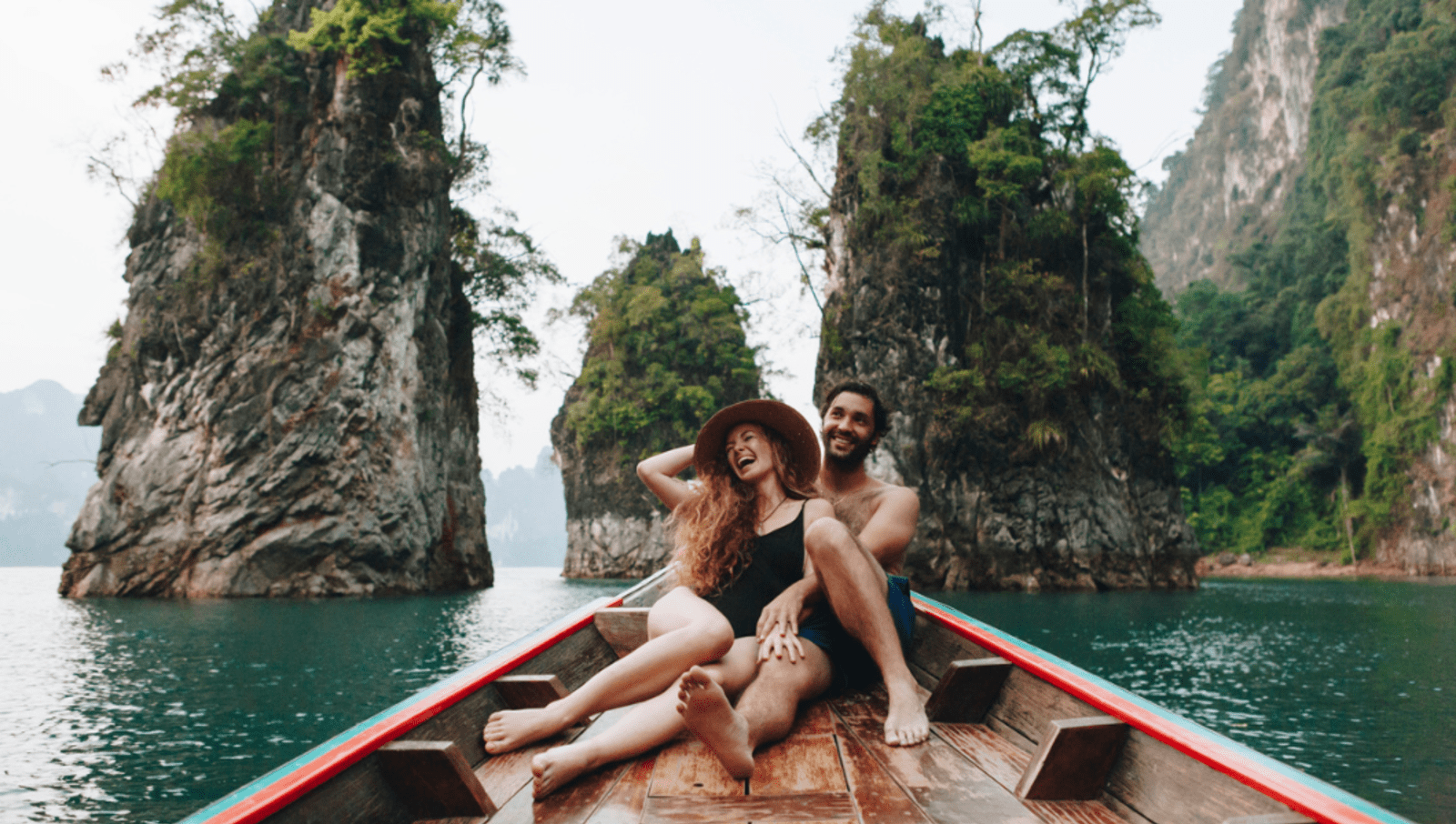 Top five reasons to choose Bali
It's easier to get around: Thailand is a whole entire country; Bali is an island in the Indonesian archipelago. Because it's much smaller, it makes for less travel within the island. Want to stay in a lush bamboo treehouse one night and be dining beachside at Jimbaran the next? Piece of cake in Bali.

Lots and lots of luxurious resorts and luxury villas: Looking for private pool villas on the beach? Bali's got them in spades. There's all-inclusive resorts, like Ayana in Jimbaran Bay, where all you have to do is wake up and spend time together; isolated hideouts nestled in amongst rainforest so thick all you'll hear is each other and the hum of nature; and villas on the cliffs of Canggu, with sunsets over rolling surf sets the scene for romance.

Activities galore: Bali may be smaller in geographic size but it makes up for it in the amount of things you can do, all within only a few hours' car or boat ride.

It's closer to Australia: Less travel time equals more time in your love bubble.

Breathtaking landscapes: Mist shrouded volcanos overlook dense jungle, which gives way to the geometric patterns of rice terraces. Palm trees are backlit by beautiful sunsets or sunrise wherever you are. And moss-covered temples built to honour Hindu deities reach to the sky. Your challenge will be trying not to take another happy couple snap at every single spot you visit.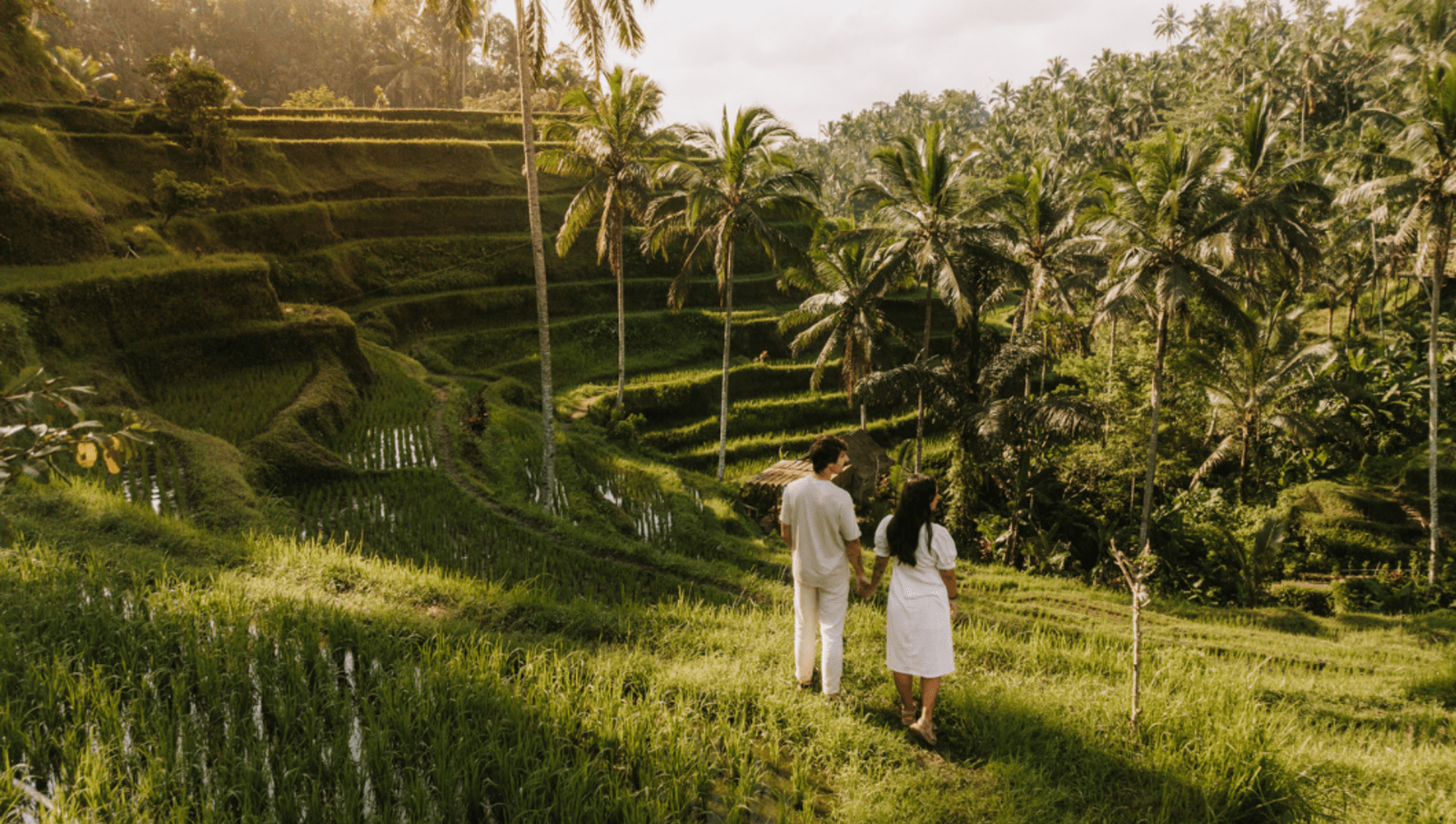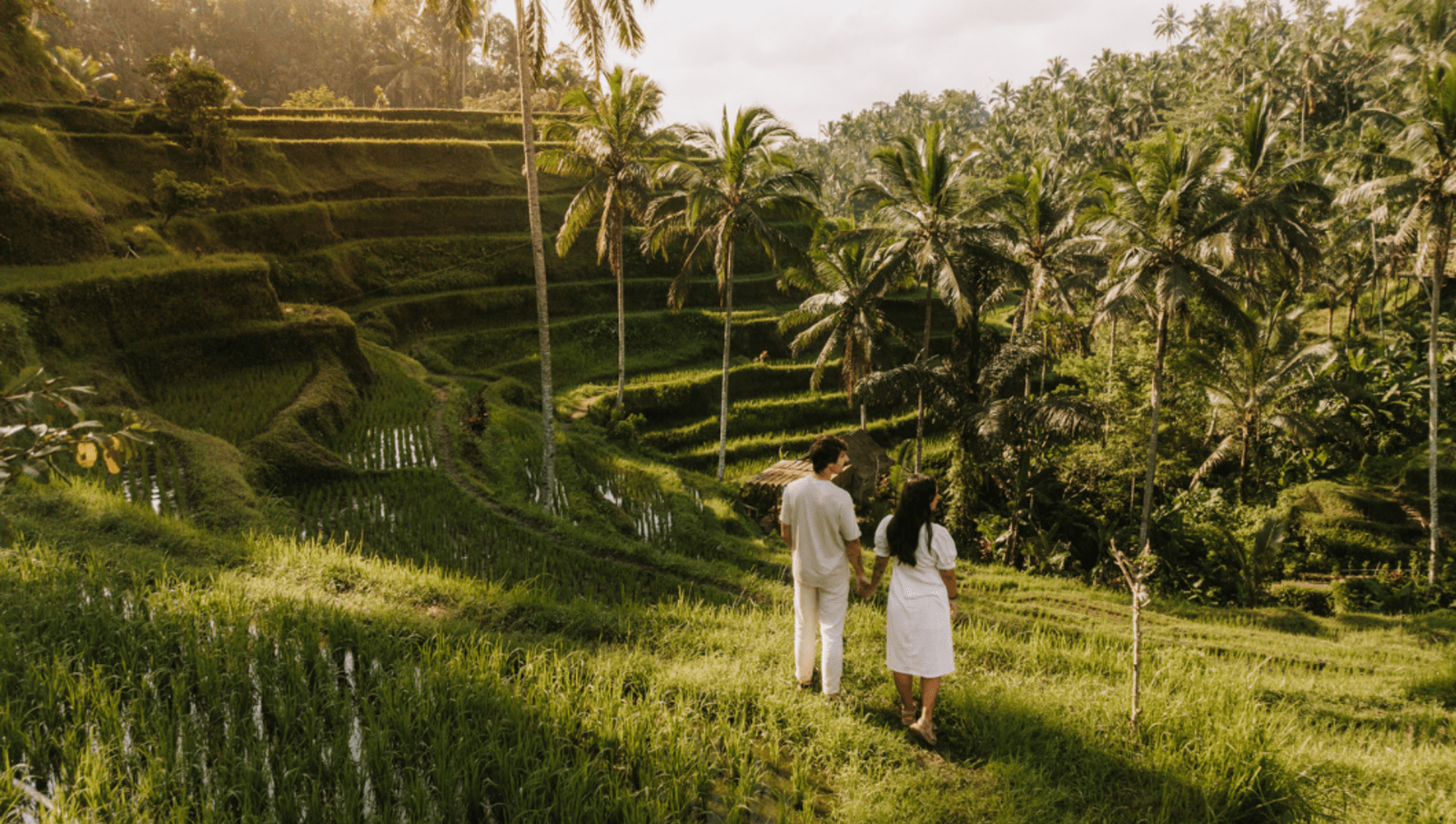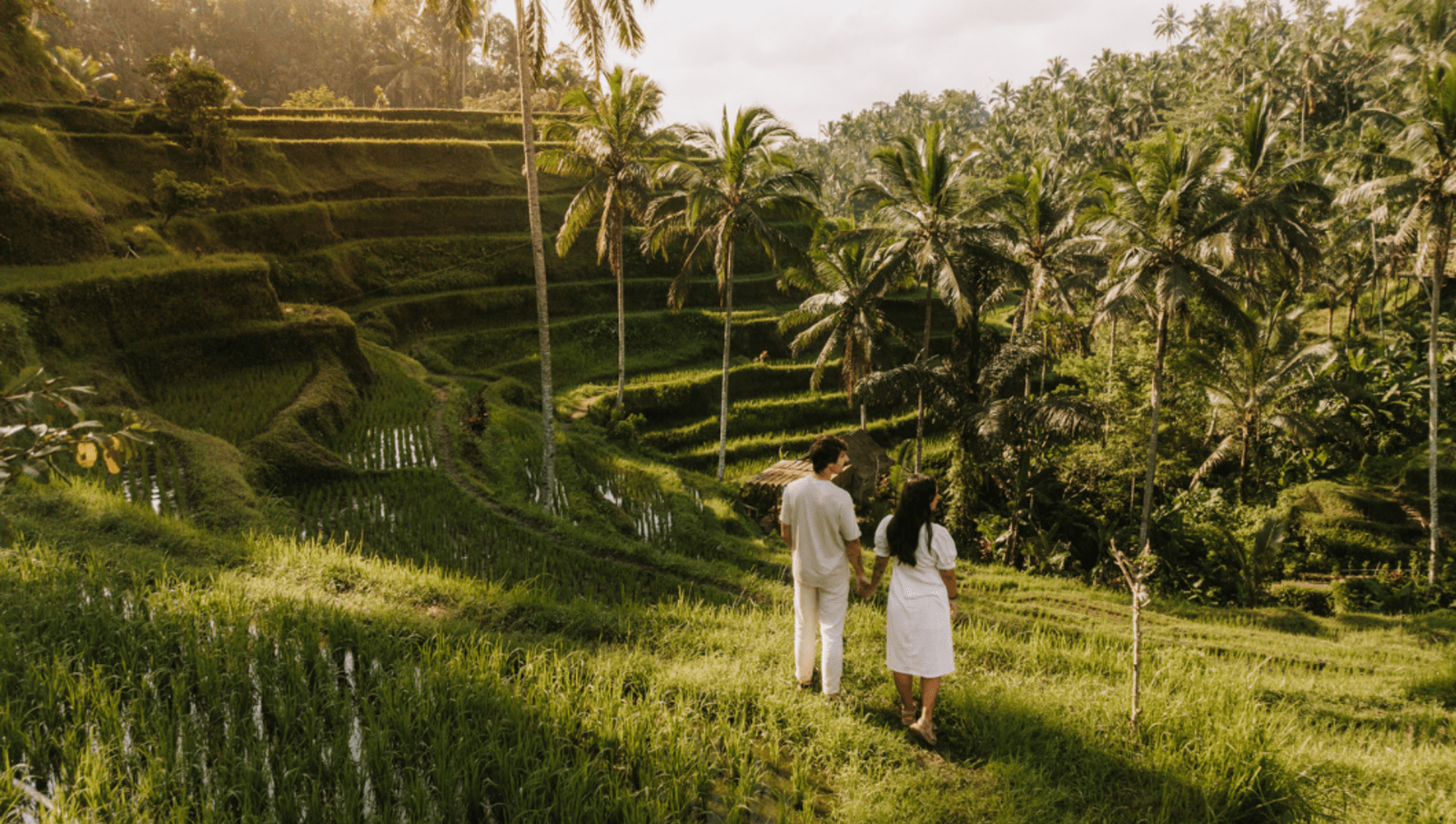 The questions to ask yourself before choosing Bali vs Thailand
Q: What kind of holiday do you want?
A: Both offer diversity but if you are looking for more options in style and cost of travel within the same country, then Thailand wins in this Bali vs Thailand face-off. For luxurious tropical holiday with a side of immersion into the warm, open friendliness of Balinese culture, then choose Bali.
Q: When are you going?
A: Rainy season is one of the major factors for deciding when to travel. In Thailand, you'll find the rain comes down heaviest from July – October. Things are slightly different in Bali, where monsoon season falls roughly from October to April. If beach holiday and sunshine is your aim, then visiting Bali in the dry season is best. Of course, as one of the top destinations for Australian travellers, Bali can be incredibly busy in high season so make sure to book early enough to avoid missing out.
The beauty of Bali's jungle locations can still be appreciated in rainy season but the frequent torrential downpours make doing anything but staying in almost impossible.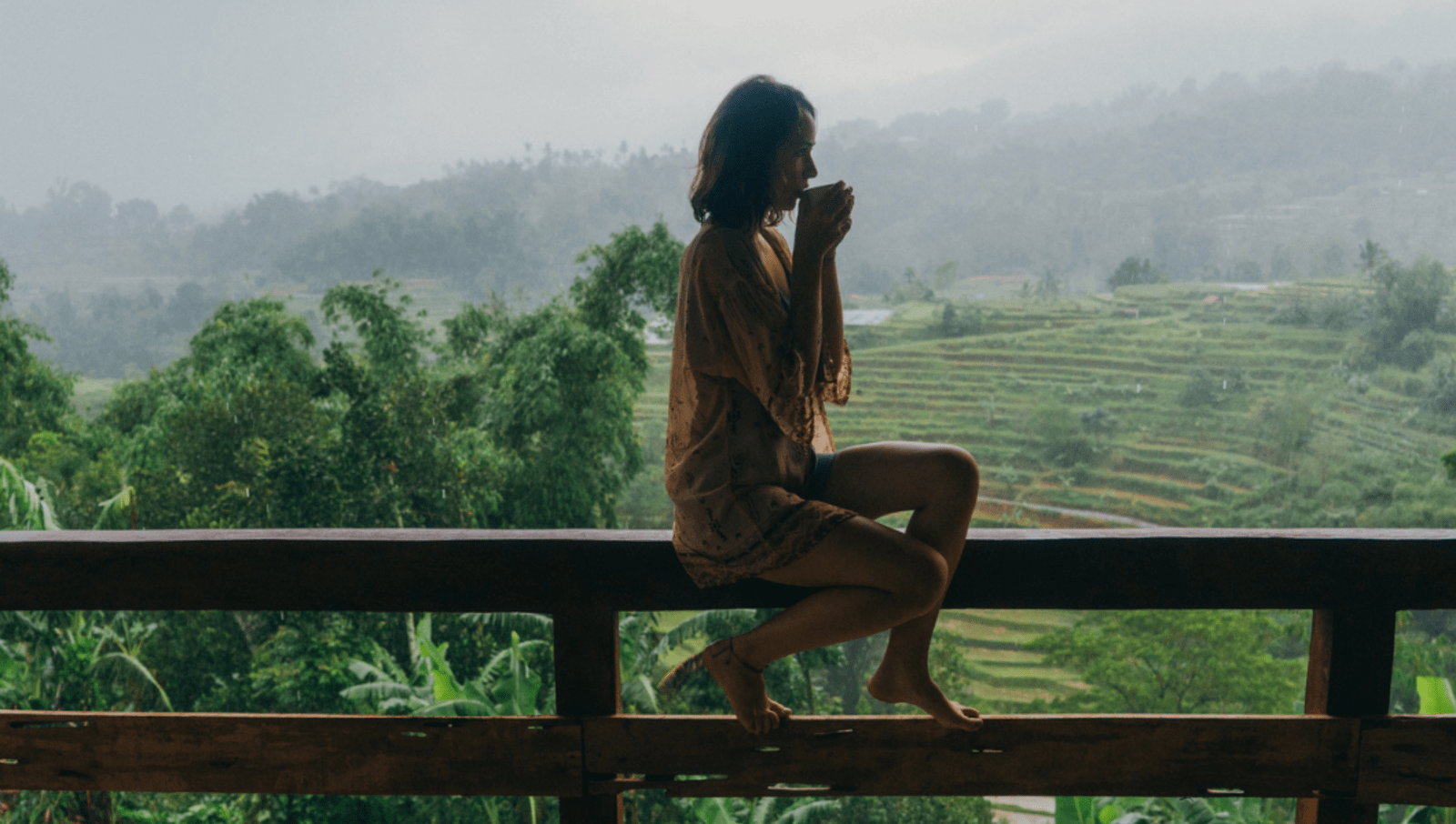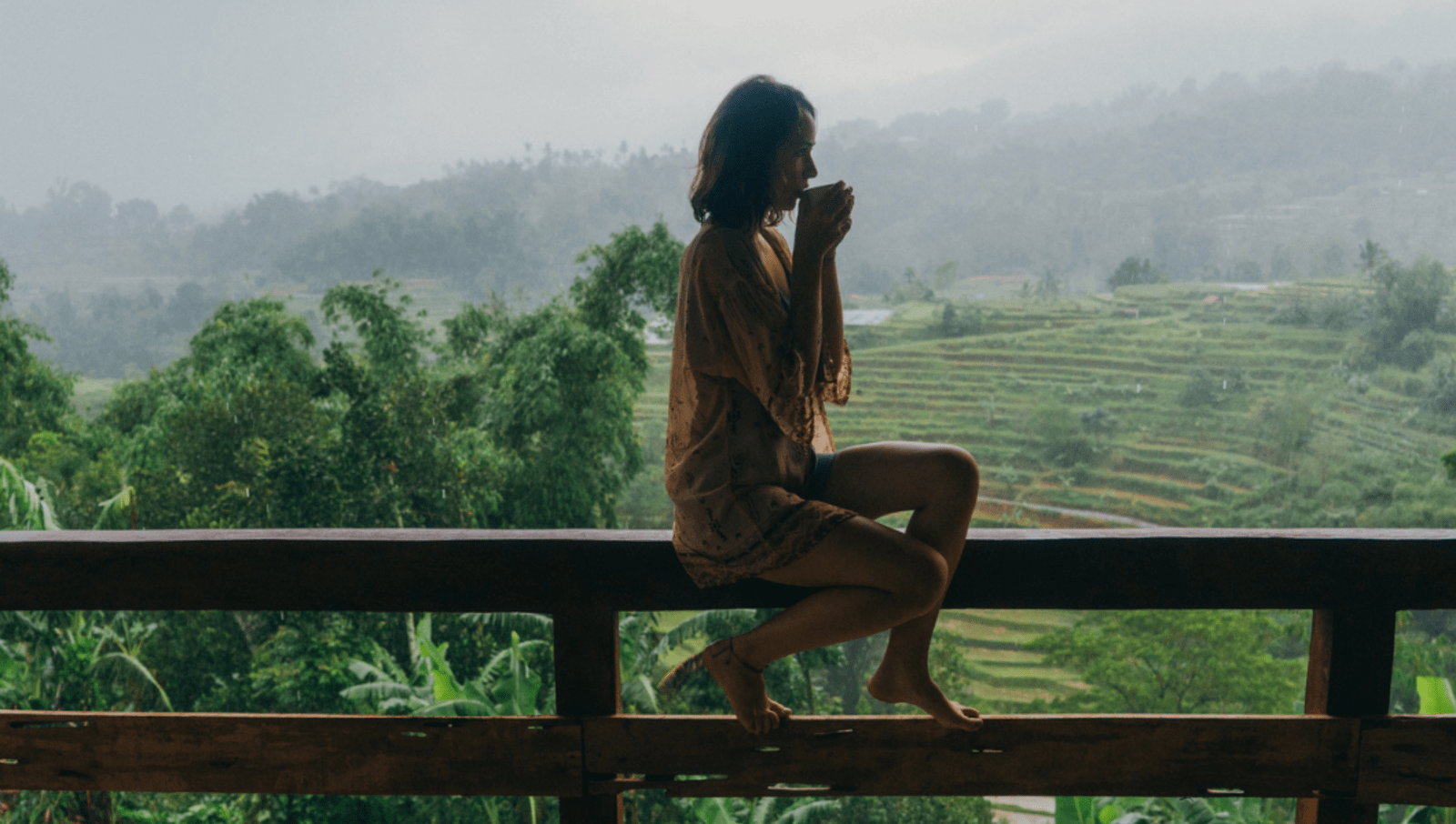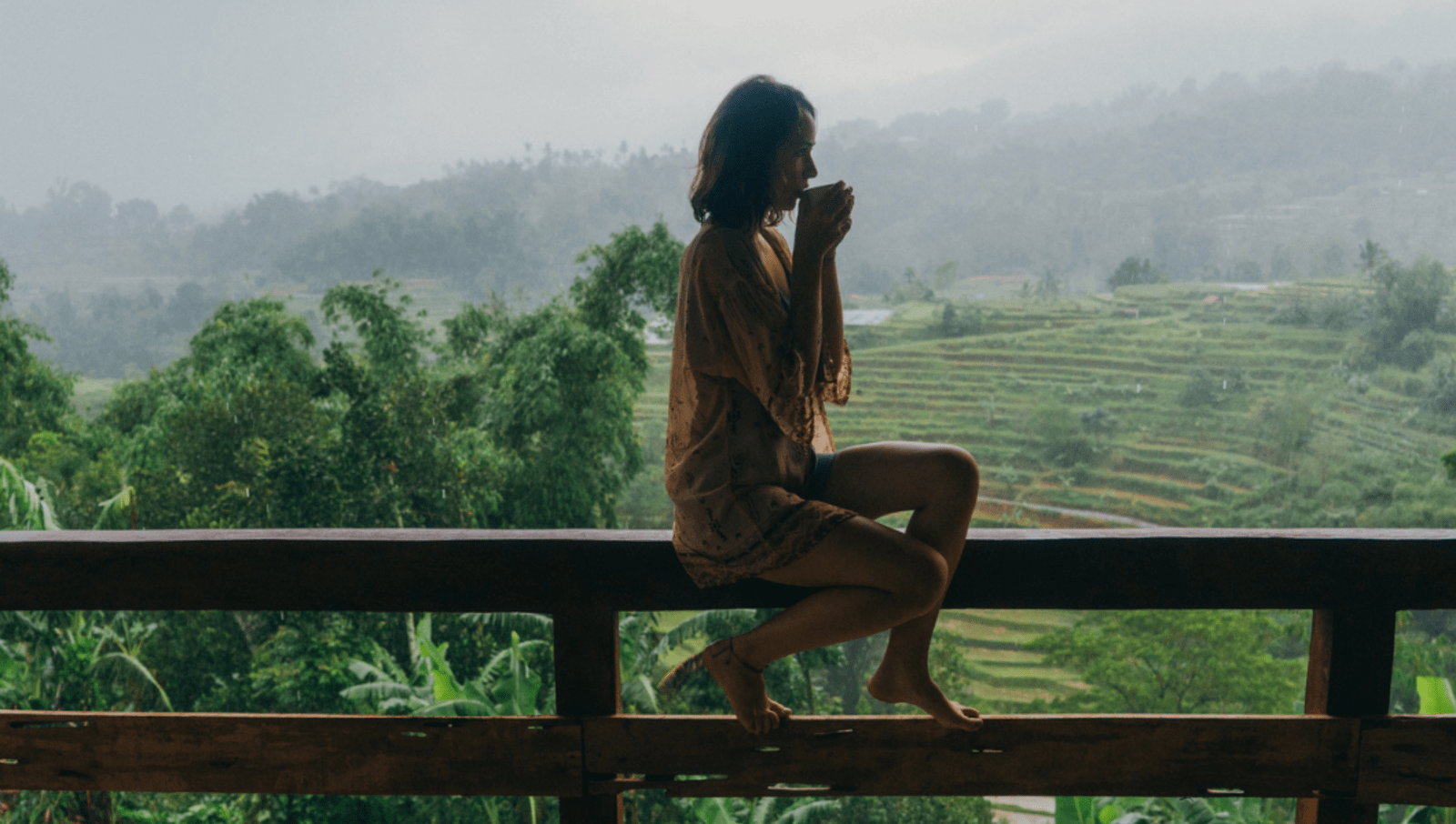 Q: How far do you want to travel?
A: Departing from Australia? There are international flights to both destinations from most major cities. Thailand is slightly further (depending on where you are leaving from) so if you want a shorter flight all up, then you'll probably want to choose a Bali honeymoon (approximately six hours from the east coast of Australia).
Thailand is also the more challenging of the two to get around. While most destinations in Bali only require a car or scooter ride, you'll find yourself on planes, trains and automobiles (and the odd boat as well!) to traverse the breadth of Thailand. Island hopping?
Q: How much do you want to spend?
A: On average, both Bali and Thailand are about on par when it comes to cost. Thailand is cheaper for accommodation, transport and food thanks to its range of variety – and its history as a backpacker haven.
That's not to say that Bali isn't affordable; both destinations are some of the cheapest places to have a honeymoon.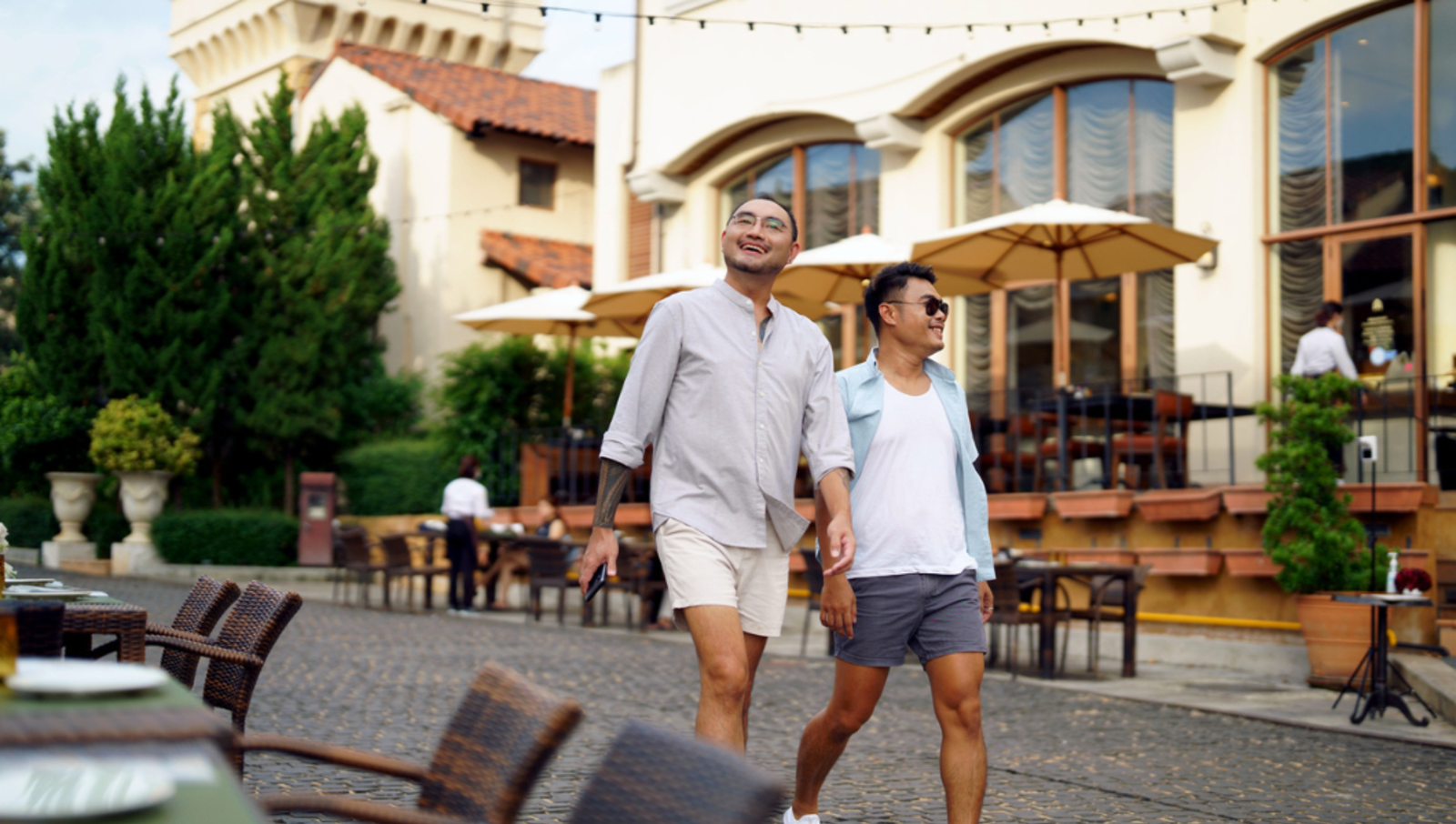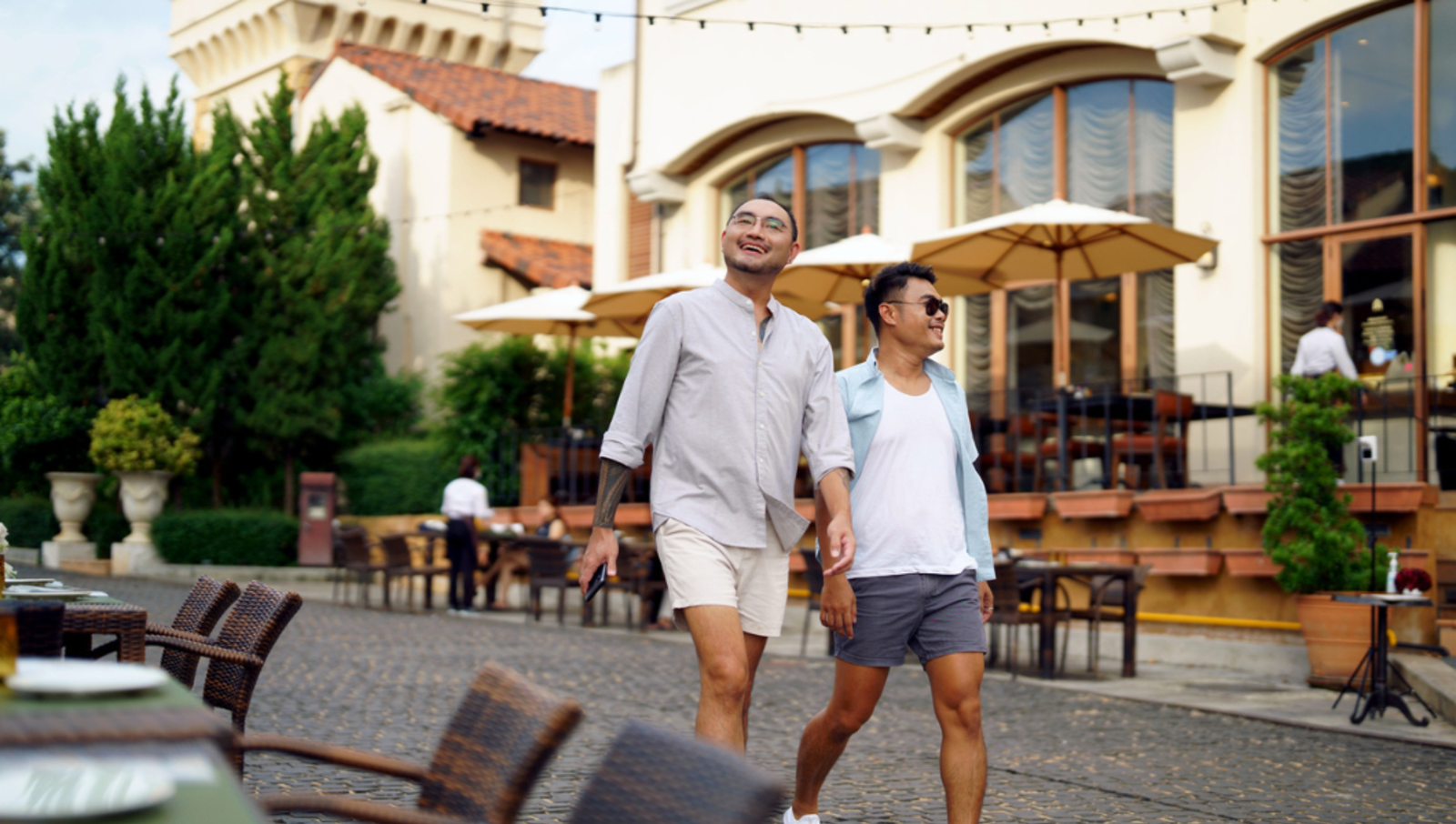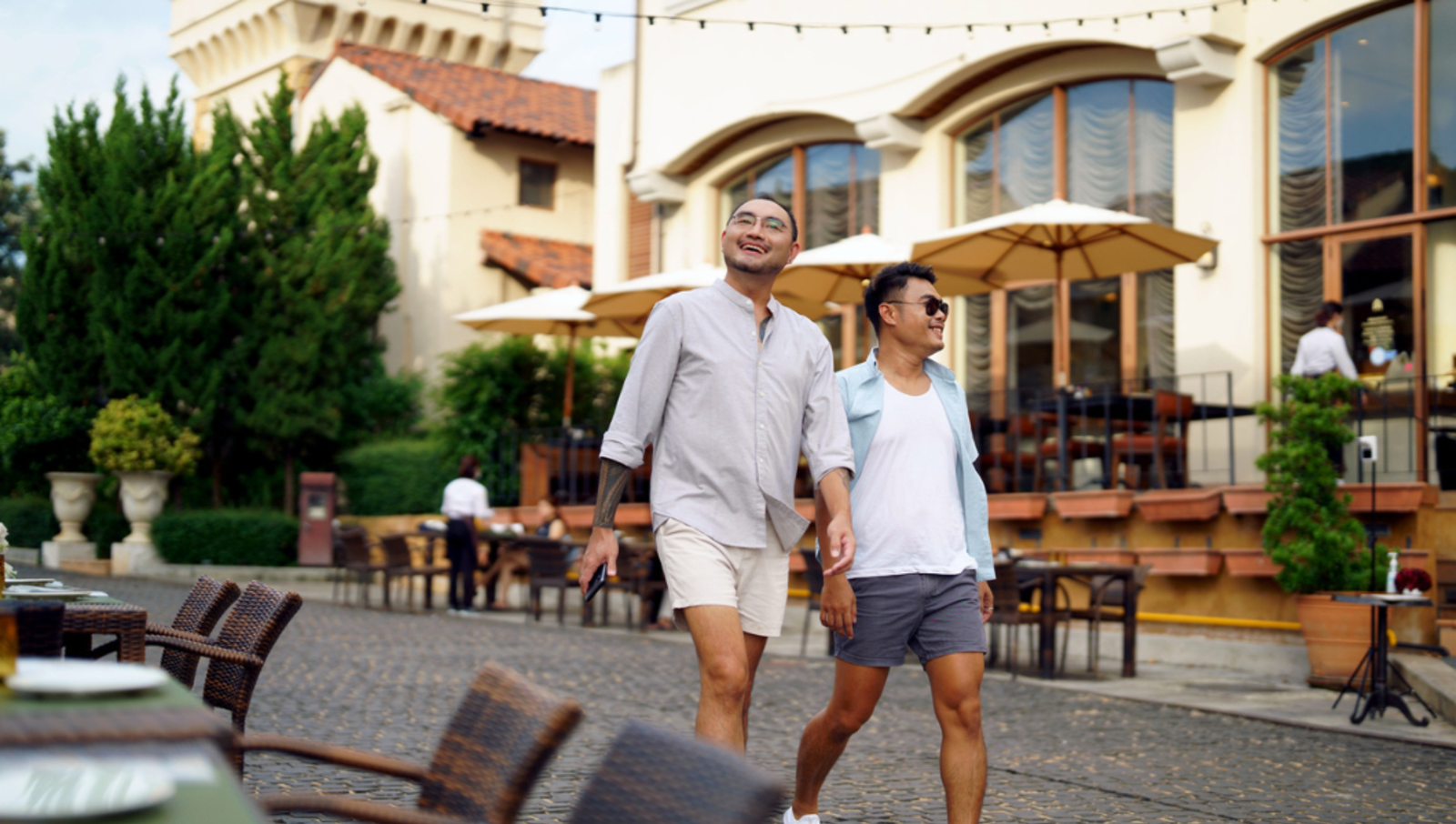 THAILAND
Thailand is a land of contrasts. Choose to honeymoon in buzzing metropolis Bangkok, where high-end shopping, five-star dining and glitzy hotels cosy up to bargain-filled markets, street food stalls and backpacker hostels. Or make your way to the country's idyllic islands like Koh Chang and Koh Phangan, which both pair the luxury of lush jungle resorts with access to a decent party, if you're keen. Go island hopping or just set yourself up in a fancy resort and do next to nothing.
In the north, Chiang Mai (and laidback neighbour Chiang Rai) have developed a reputation as wellbeing destinations where the pace is slower and natural beauty wins the day. Stay in luxury resorts and eco-getaways, go white water rafting or just relax in one of the many day spas and massage houses.
For an experience with real heart, take a walk with rescued elephants at the Elephant Nature Park just outside of Chiang Mai.
Most romantic destinations in Thailand
Bangkok
This glittering city needs little introduction as a honeymoon destination. The beauty of Bangkok is that you can find almost any experience you seek – from low-key to luxurious, often within the space of only a couple of streets.
Koh Samui
Combining all the best of Thailand: beaches, good food, markets and plenty of luxury resorts if you just want to stay in and chill.
Chiang Mai and Chiang Rai
Temples, excellent restaurants, nature experiences and plenty of quality time together relaxing in day spas or learning about animal conservation at an elephant sanctuary, Chiang Mai will charm you from the first look.
Only a few hours' drive north, Chiang Rai is the equally alluring, slightly more chill sibling of Chiang Mai's city highlights. If relaxation and untouched nature are among your non-negotiables, then make your way here.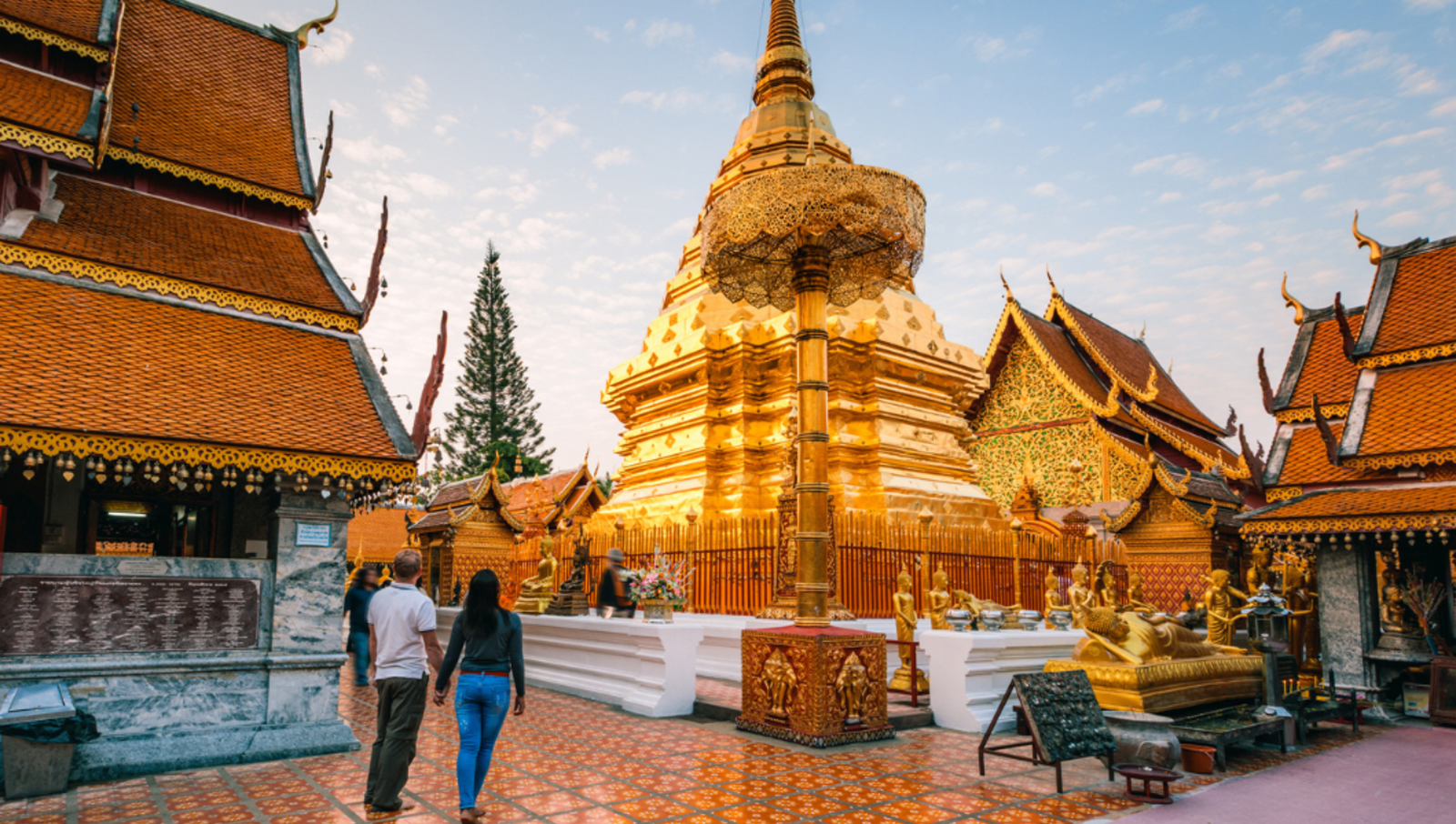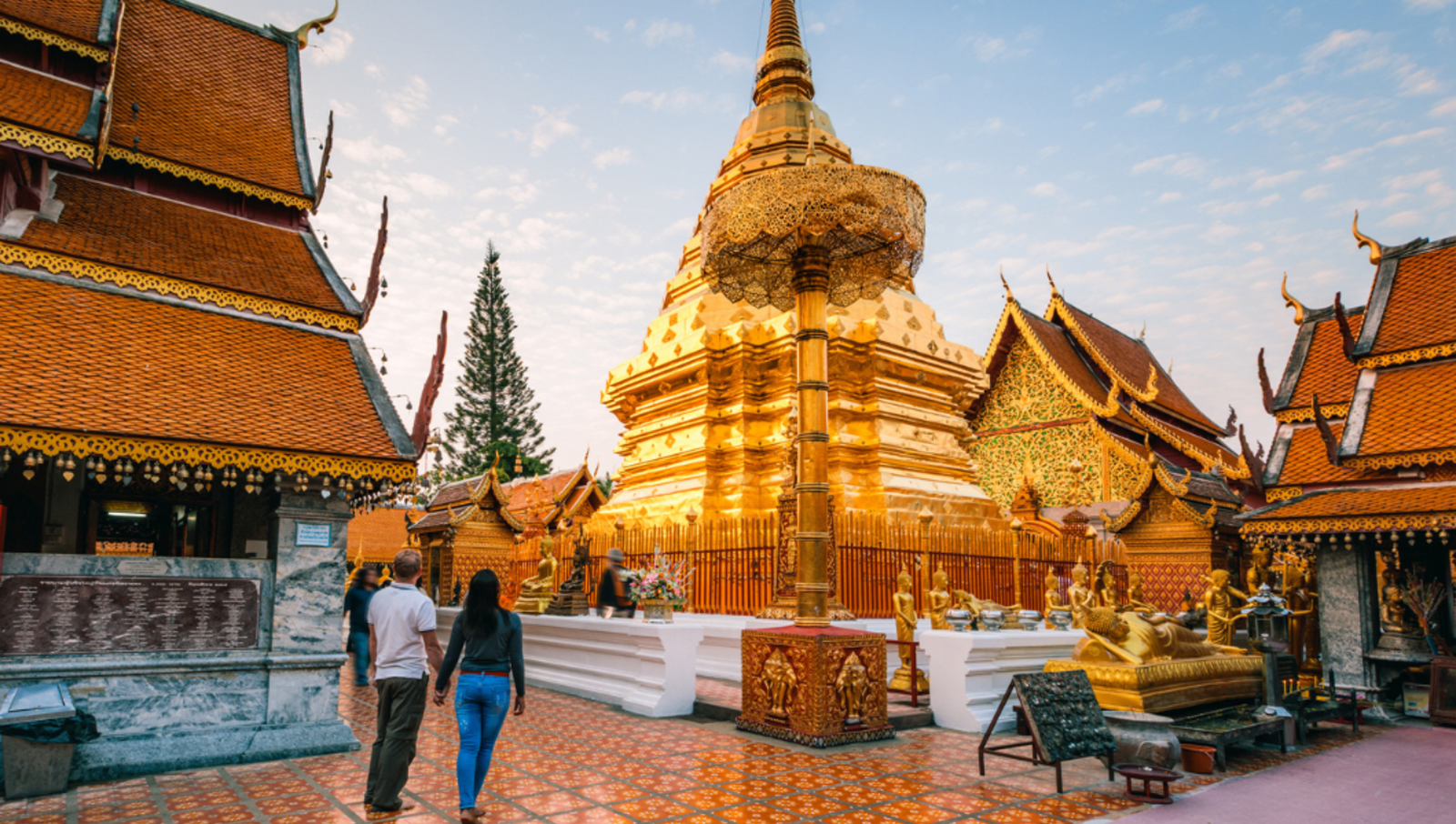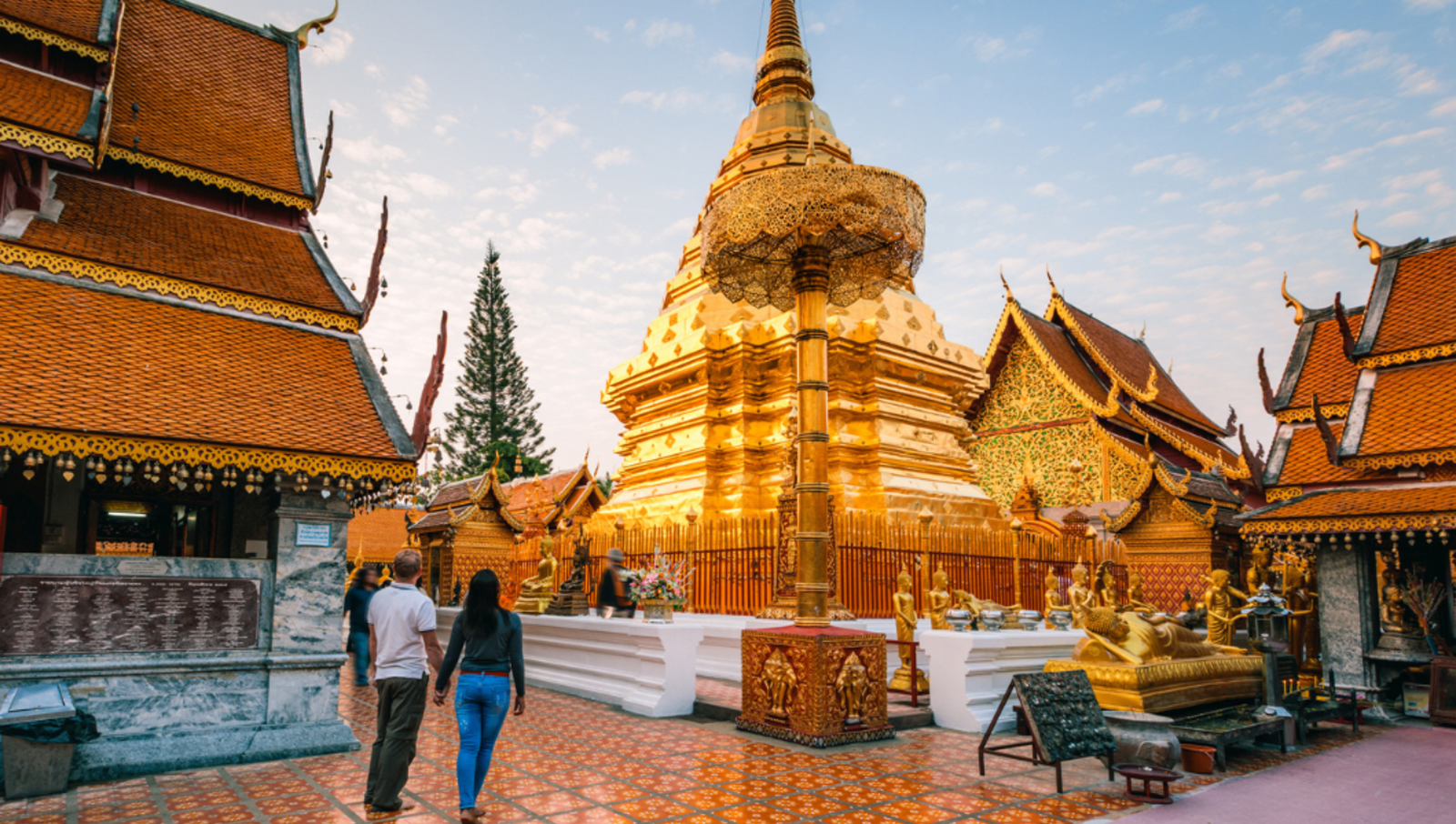 Similan Islands
Make your Thai Honeymoon an island hopping dream and head to the Similan Islands. In the heart of the Andaman Sea, this group of islands is a relatively untouched patch of the southeast Asian destination. There's wildlife on tap, some of the region's clearest waters and little in the way of light pollution to mess up stargazing time with your significant other.
Ayutthaya
It was once the capital of the Kingdom of Siam but now the crumbling ruins of this city attract travellers looking for a different face of Thailand. Explore the former bustling trading port and make some mems against the grand and sweeping backdrop of ancient temples, palaces and monasteries.
Phi Phi Islands
Snorkelling, stunning beaches and plenty of romantic stays, the Phi Phi Islands have long been a favourite with backpackers but that doesn't mean that you won't find loved up locations as well.
Krabi
With jungle-covered limestone formations rising off white sand beaches and stunning sunsets, Krabi is the perfect place for honeymooners.
Close to Koh Phi Phi, Lanta and Phuket, Krabi easily blends laidback beach holiday vibes with picturesque scenery and access to day trips and ocean adventures.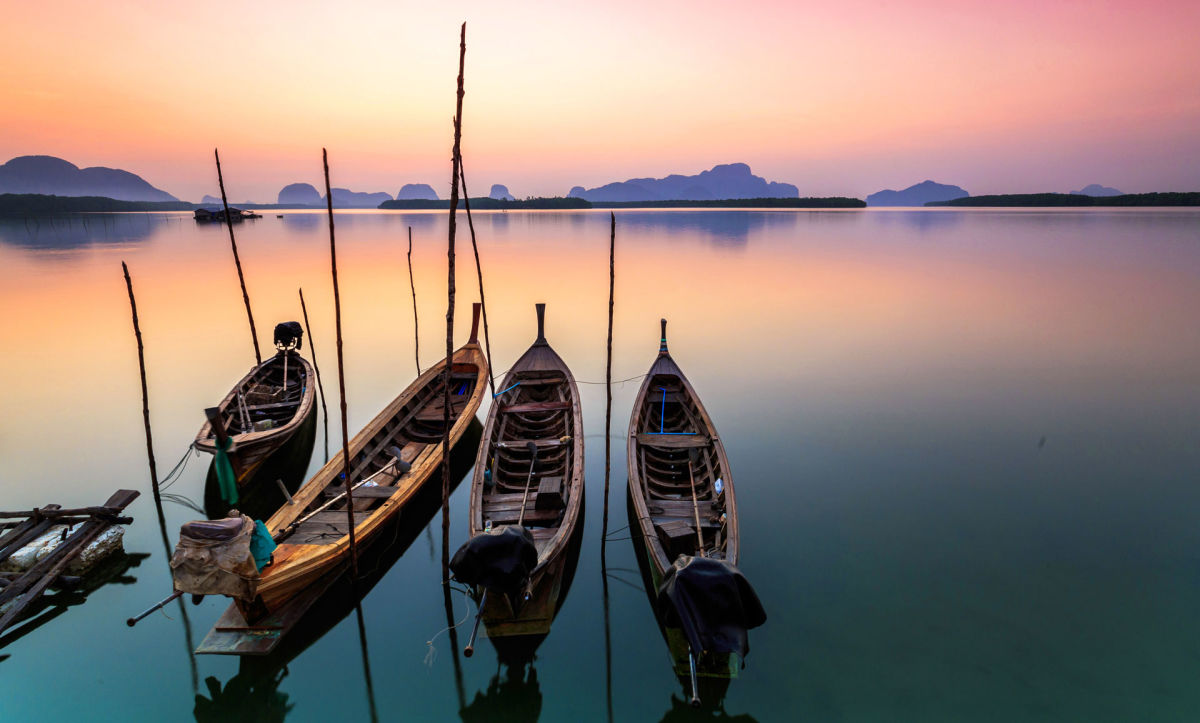 Expert tip
Krabi is the often forgotten beach location in Thailand and offers fantastic eateries and great bang for your buck. Definitely hire a boat to go swimming by the gorgeous cliffs or visit the Phi Phi Islands for a day or night.
Romantic experiences to have on honeymoon in Thailand
A Thai cooking class – master the art of Thai cuisine and make cooking your couple love language all in one go.

Hot air balloon ride over Chiang Mai – it will be impossible not to get swept up in the soaring romance of it all as the hot air balloon glides up and over the mystical landscape splaying out before you.

Dinner at Nahm in Bangkok – a shining example of the creativity of Thai food, dinner at Nahm is the ultimate foodie activity. And who can argue with five Michelin stars?

River cruise in Bangkok – see the sprawling city from a different angle by hopping aboard a cruise of the Chao Phraya River. Float past snippets of daily life in action and see the Grand Palace complex with its impressive gold-encrusted buildings and wats (temples). Go at night to see the inspiring architecture lit up from below.

A Thai massage for couples – added to UNESCO's list of intangible cultural heritage list in 2019, you can't go wrong with a couples massage using a technique that has been practised for more than 2000 years.

Dining in a treepod – suspended high in the canopy overlooking Ko Kood's stunning beaches, this 1-2 hour experience will rival the best meal you've ever had, simply because of the location.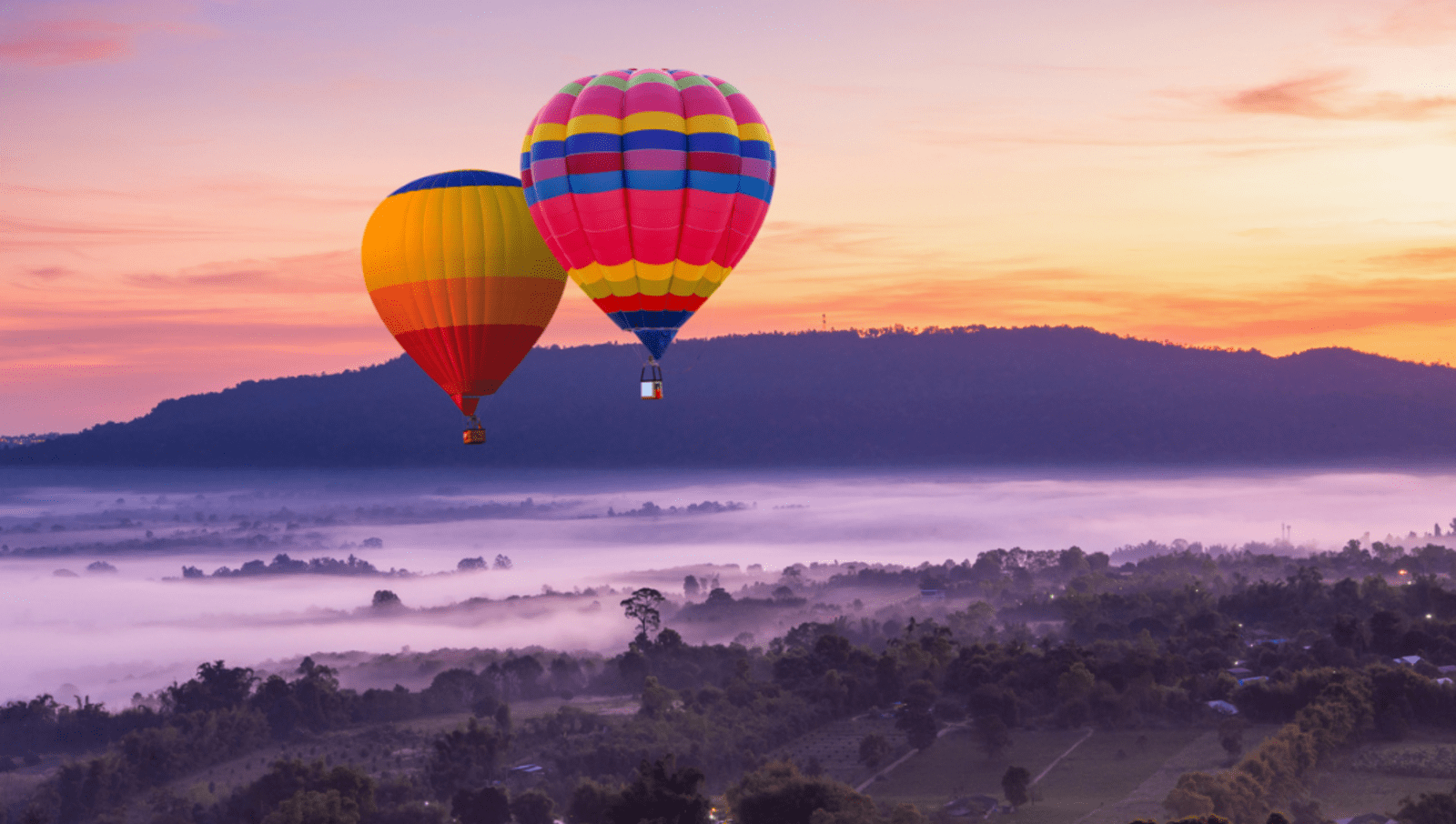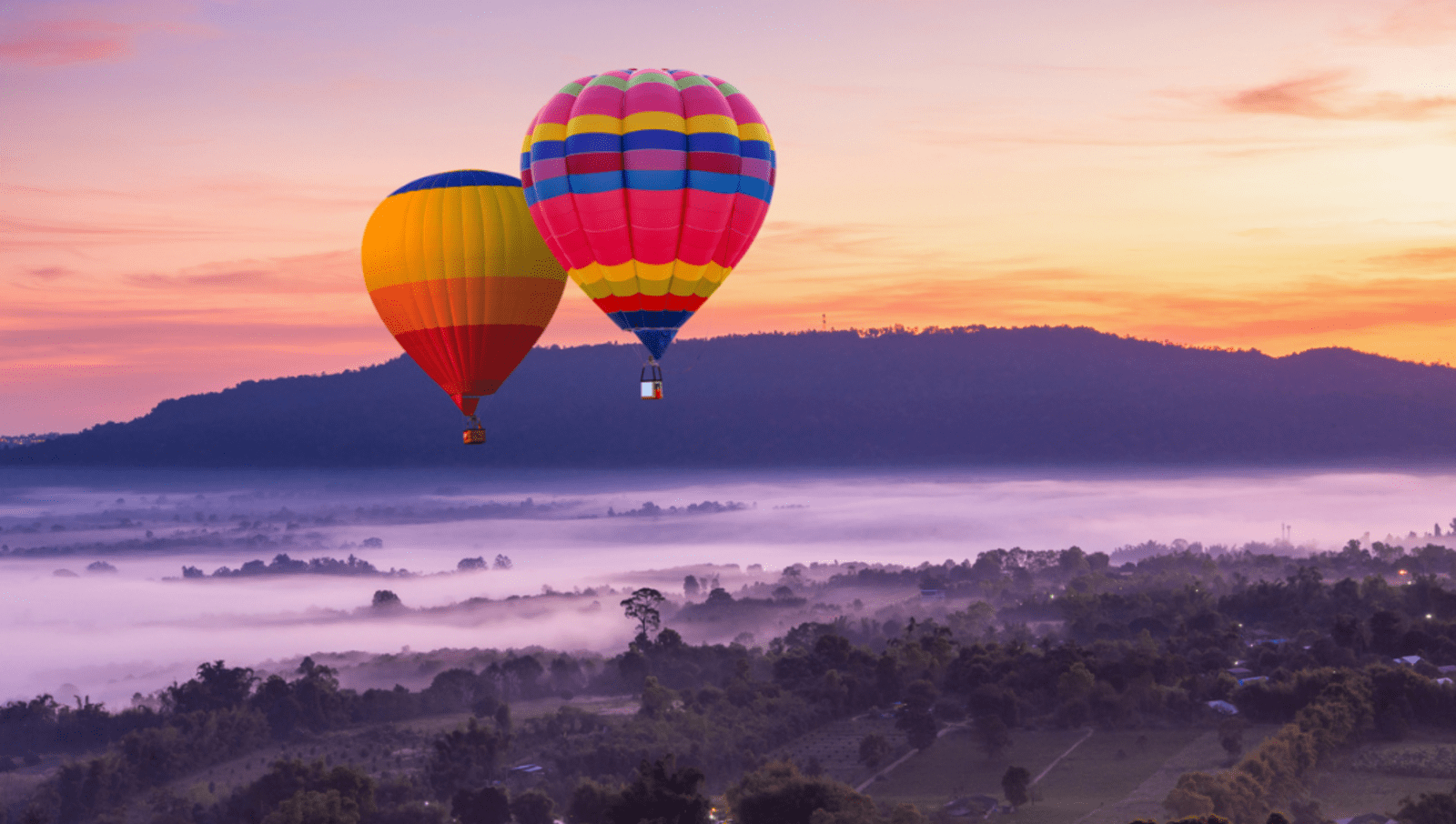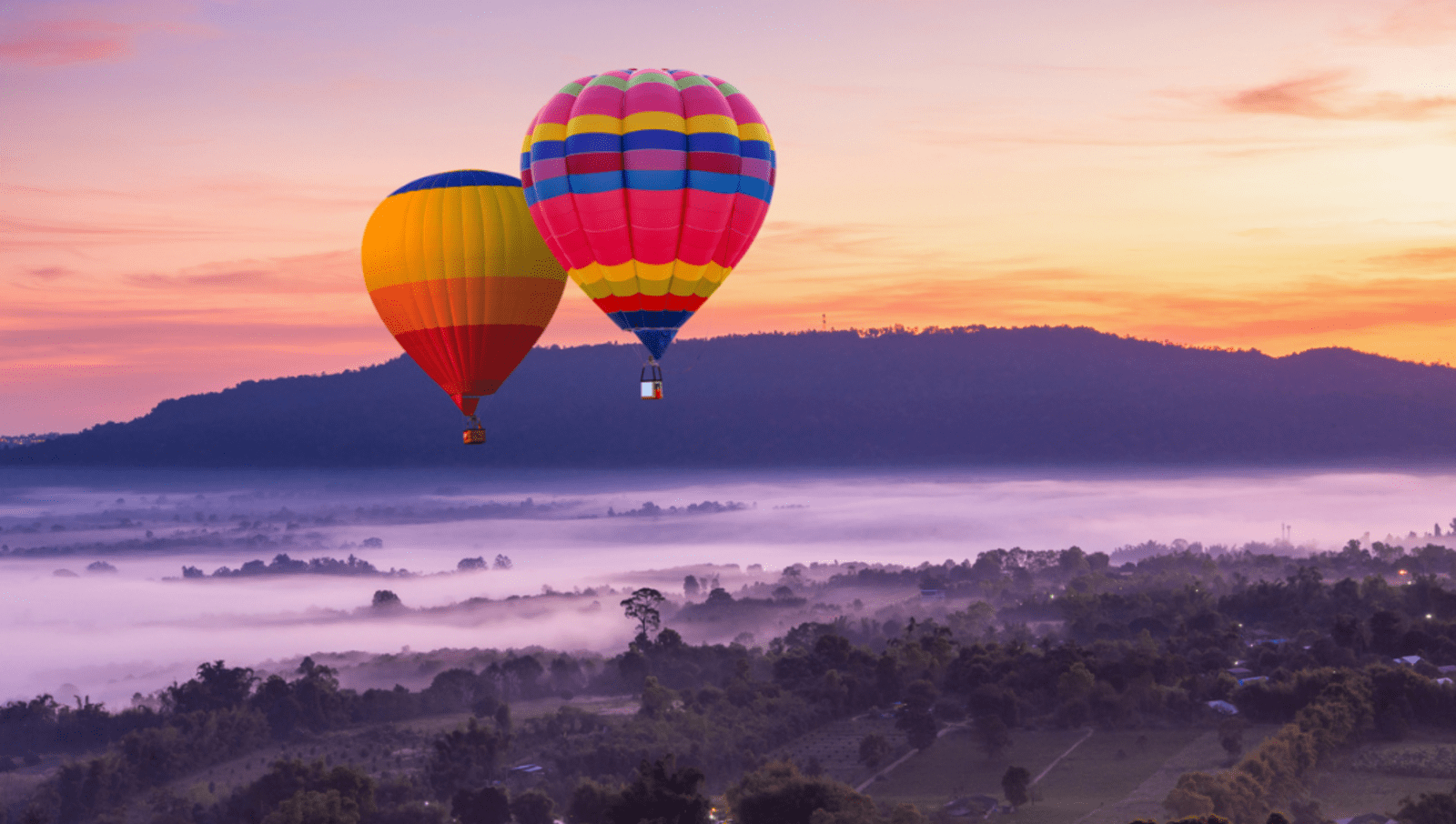 Top honeymoon hotels in Thailand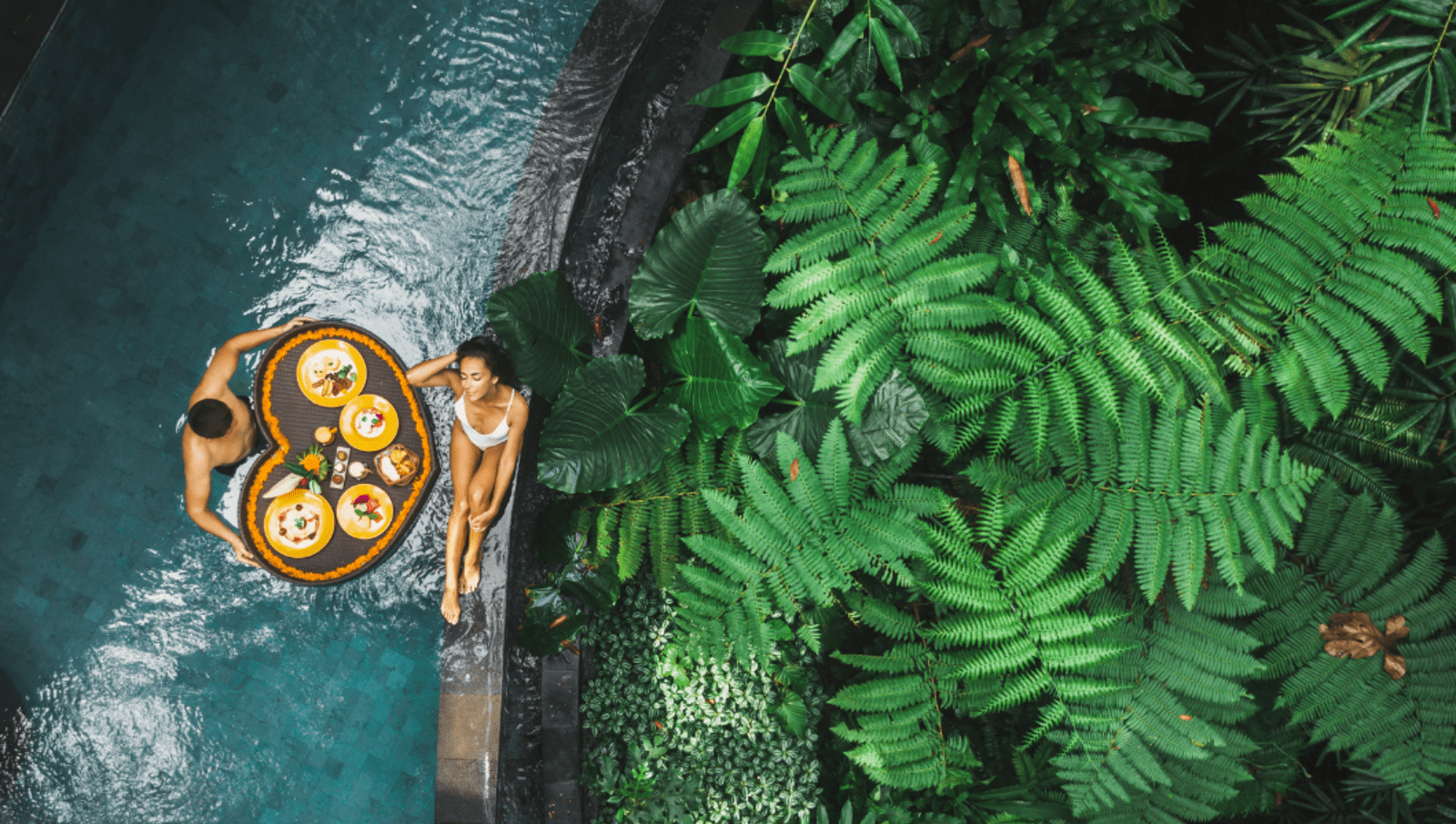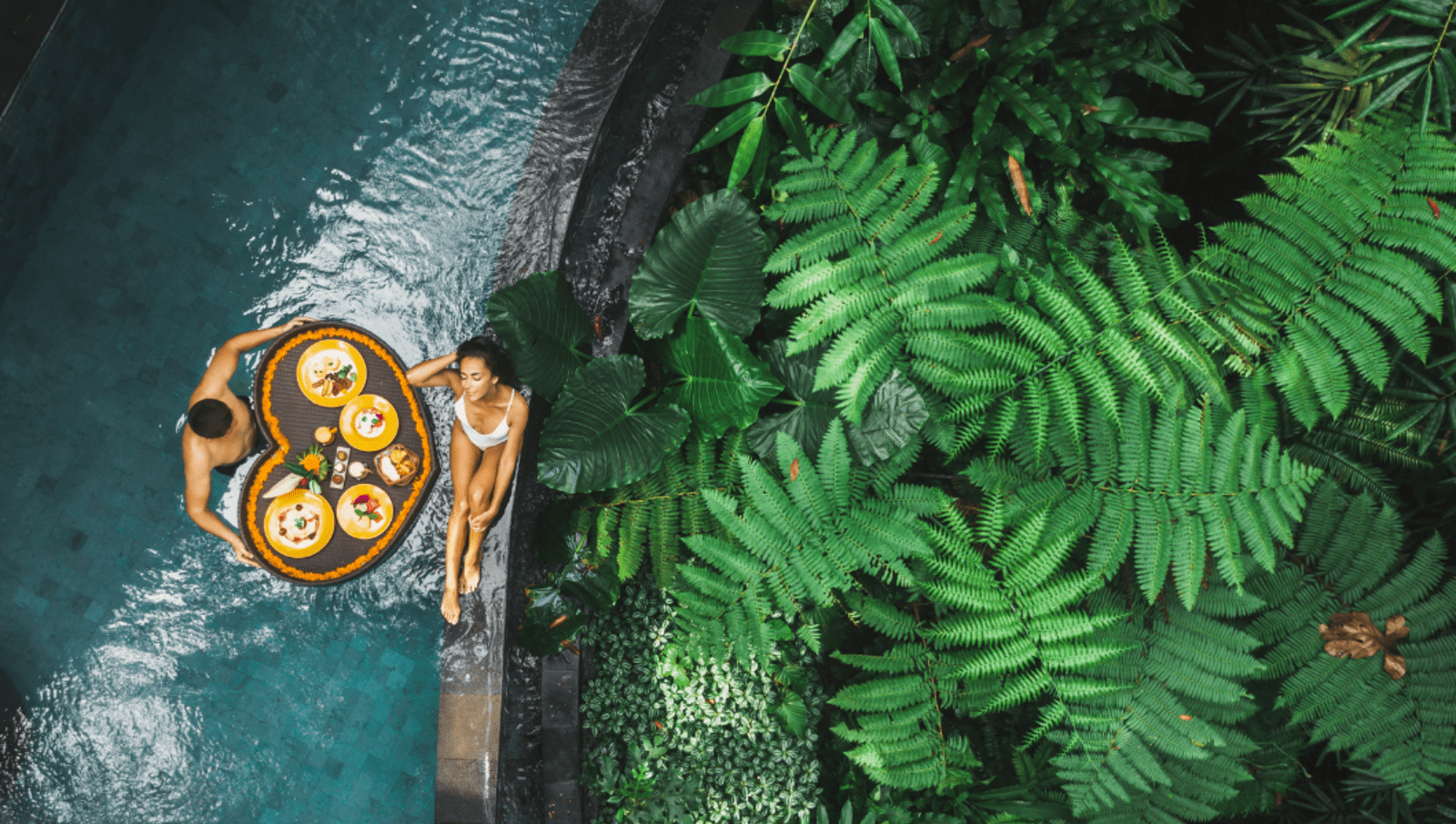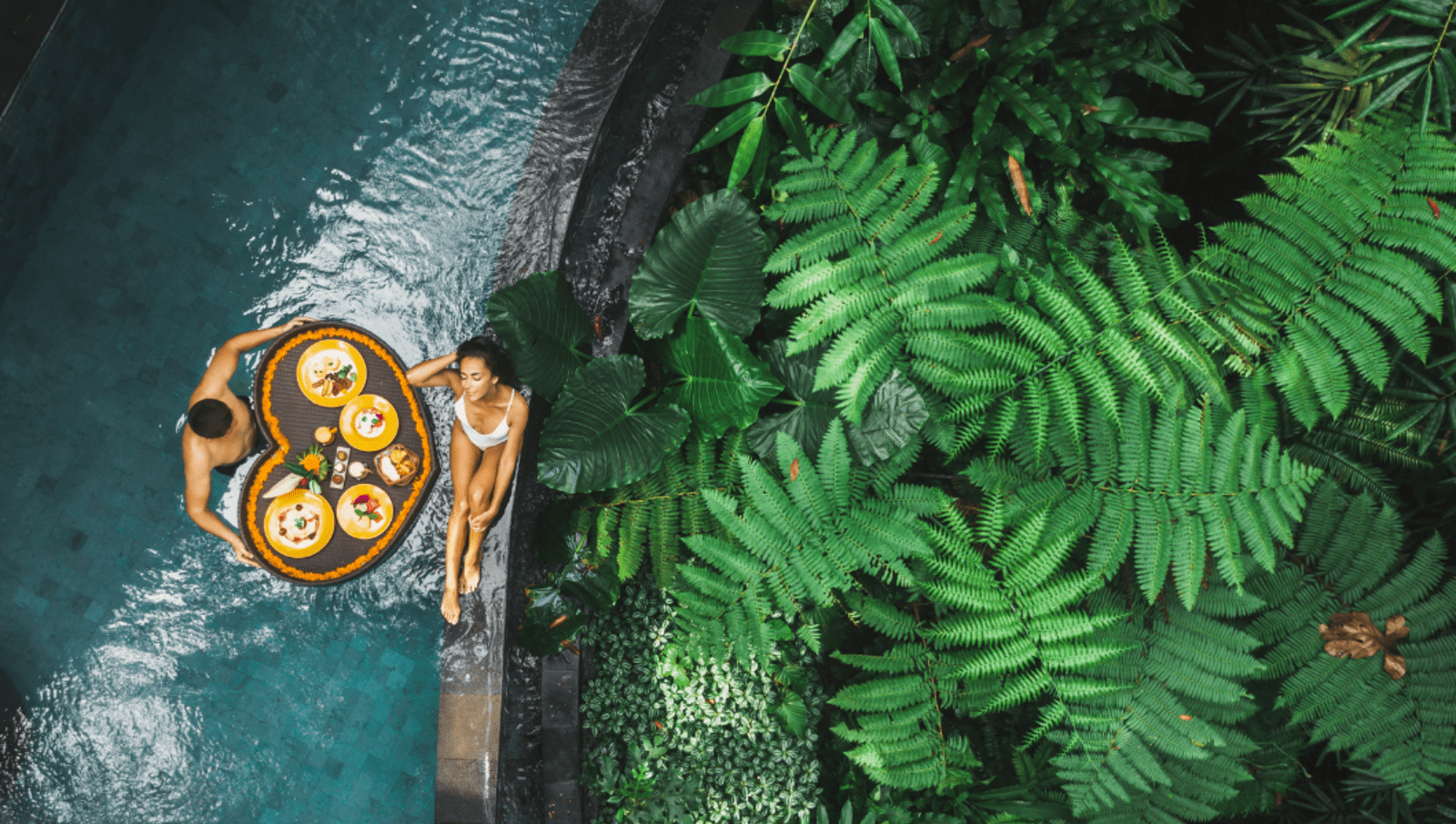 BALI
Congratulations – you're married and you chose Bali in the Bali vs Thailand decision. You've done a good thing. This small tropical island is just one of around 18,000 Indonesian islands but it packs a mighty punch.
The first time you visit Bali it may just take your breath away thanks to its mix of beautiful landscapes, friendly people and interesting culture, so get ready to be wowed.
Explore artistic enclaves in the mountain's foothills, filled with cascading rice terraces, magical waterfalls, jungle hideouts and romantic scenery.
Or find yourself relaxing in style on one of the beautiful beaches stretching from north to south. Top destinations include Kuta, Canggu, Legian, Uluwatu, Seminyak and Nusa Dua.
The most romantic spots in Bali
Gili Islands
You may have heard whispers of "the Gilis", often spoken in hushed tones by those who want to keep this paradise to themselves. And it's little wonder why. This trio of islands – Gili Trawangan, Gili Meno and Gili Air – sit just near Lombok.
Home to impossibly white sand beaches, the clearest turquoise waters and swaying palm trees, spend your days snorkelling and diving the teeming coral reefs before settling in for beach time with your love.
Ubud
Make your way to the hills of Ubud to build an epic love nest. Perch yourself in one of the many amazing bamboo treehouses found in and around this artisanal village known for yoga retreats, natural attractions and spiritual experiences.
Gunung Payung
Surprisingly close to one of Bali's best resort locations, Nusa Dua, Gunung Payung is one of Bali's most picturesque beaches. Find your way to the South Kuta district of the island for a payoff of white sand, turquoise waters and a temple perched above it all. A casual stroll up the 450 steps will give you panoramic views out over the beach and ocean.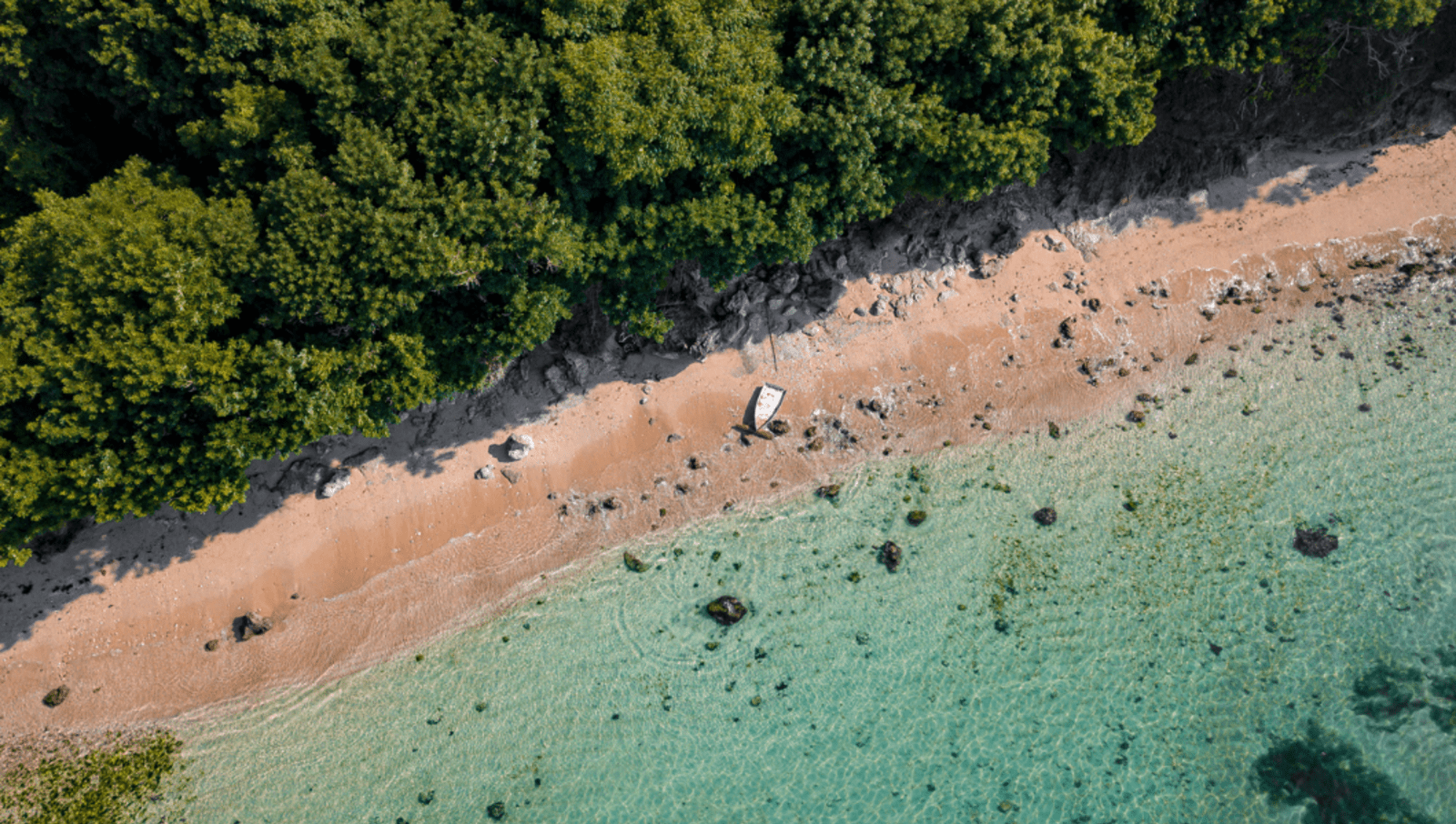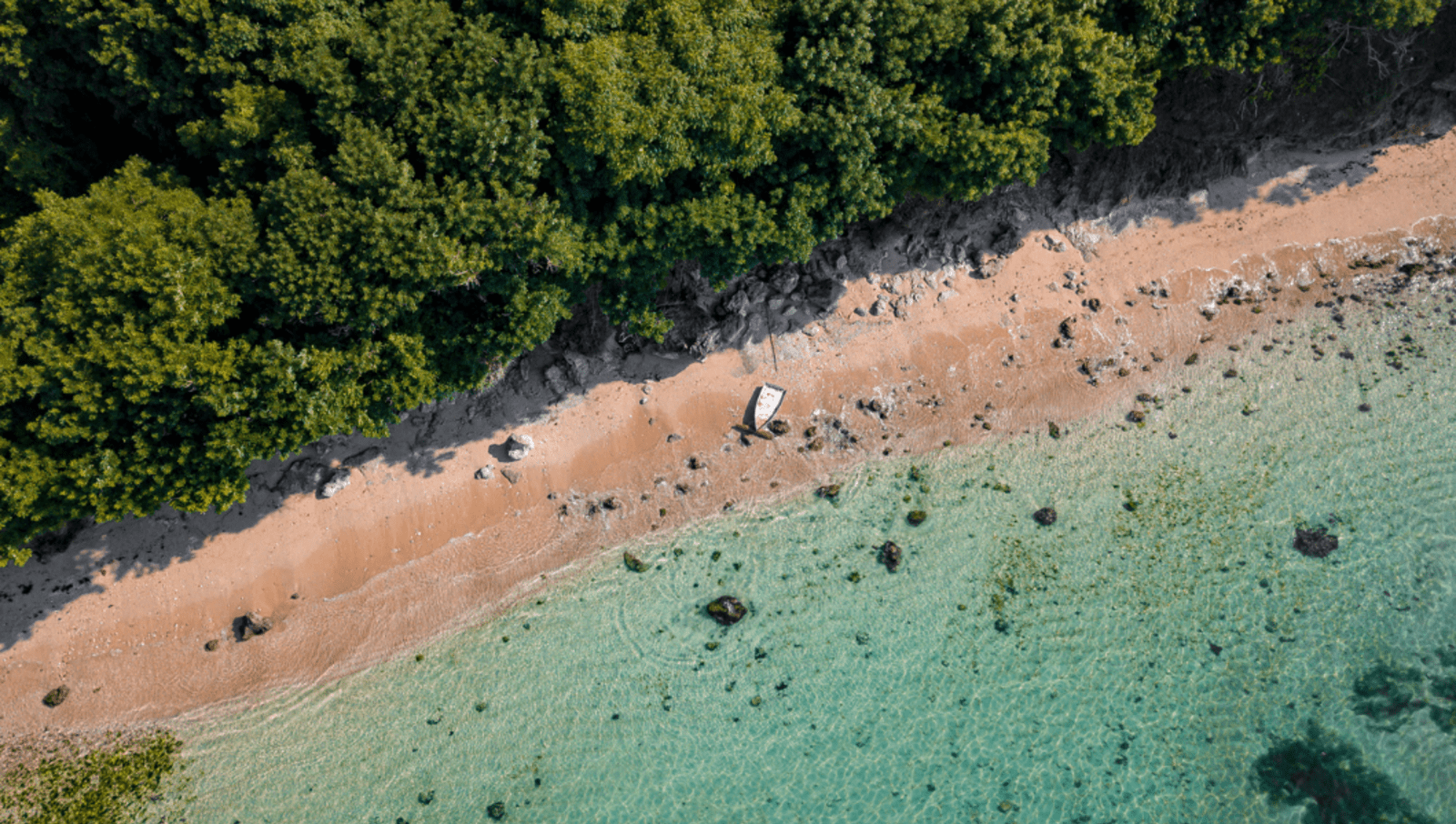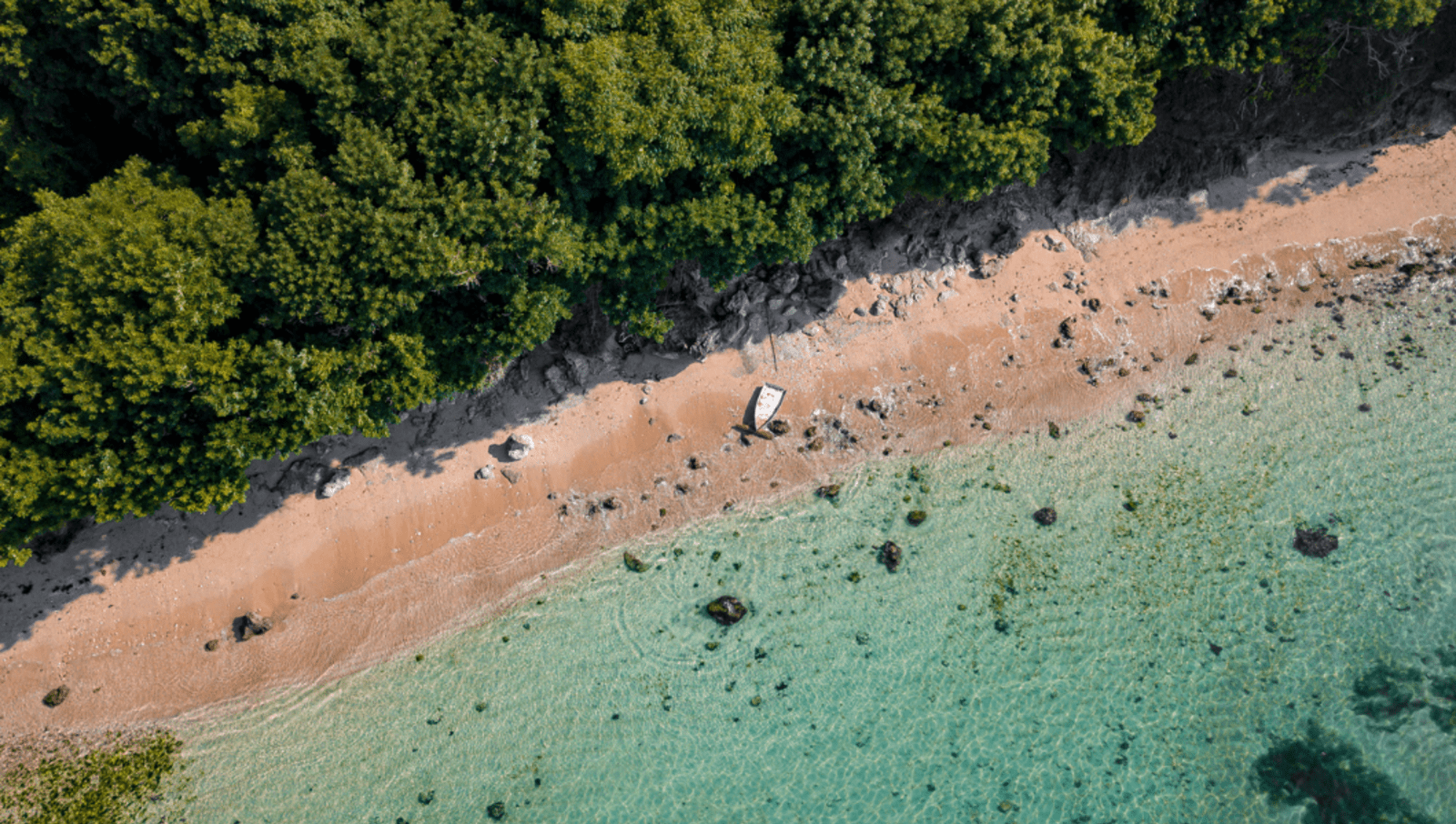 Jimbaran Bay
It may be home to surf meccas Bingin and Balangan beaches, but Jimbaran delivers in the romance department too. Go in search of hidden beaches like Green Bowl, Dreamland and Tengal Wangi before sitting down to a seafood feast at sunset on Jimbaran Beach.
Uluwatu
Clinging to the cliffside as the surf pumps below, Uluwatu is breathtaking in its beauty. Whether you're staying at one of the villas that feels like its on the edge of the world, or just visiting for a day trip, it's worth exploring the sights in this part of Bali.
Seminyak Beach
With the Indian Ocean gently lapping at the dark golden sand, and lo-fi beats setting a heady rhythm, Seminyak is the perfect romance zone. Take a stroll hand in hand or stop at one of the many beach clubs like Potato Head and Ku De Ta for a cocktail and sunset over sea.
The hip enclave is also littered with luxury resorts, high-end eateries and cute boutiques to indulge in some retail therapy.
Canggu
Wedged between rice paddies and surf breaks, Canggu's popularity has grown with visitors thanks to its mix of scenery and activities. Surfing is a no-brainer (why not try a couple's surf lesson?), see Echo Beach on horseback or head to the iconic temple Tanah Lot to explore.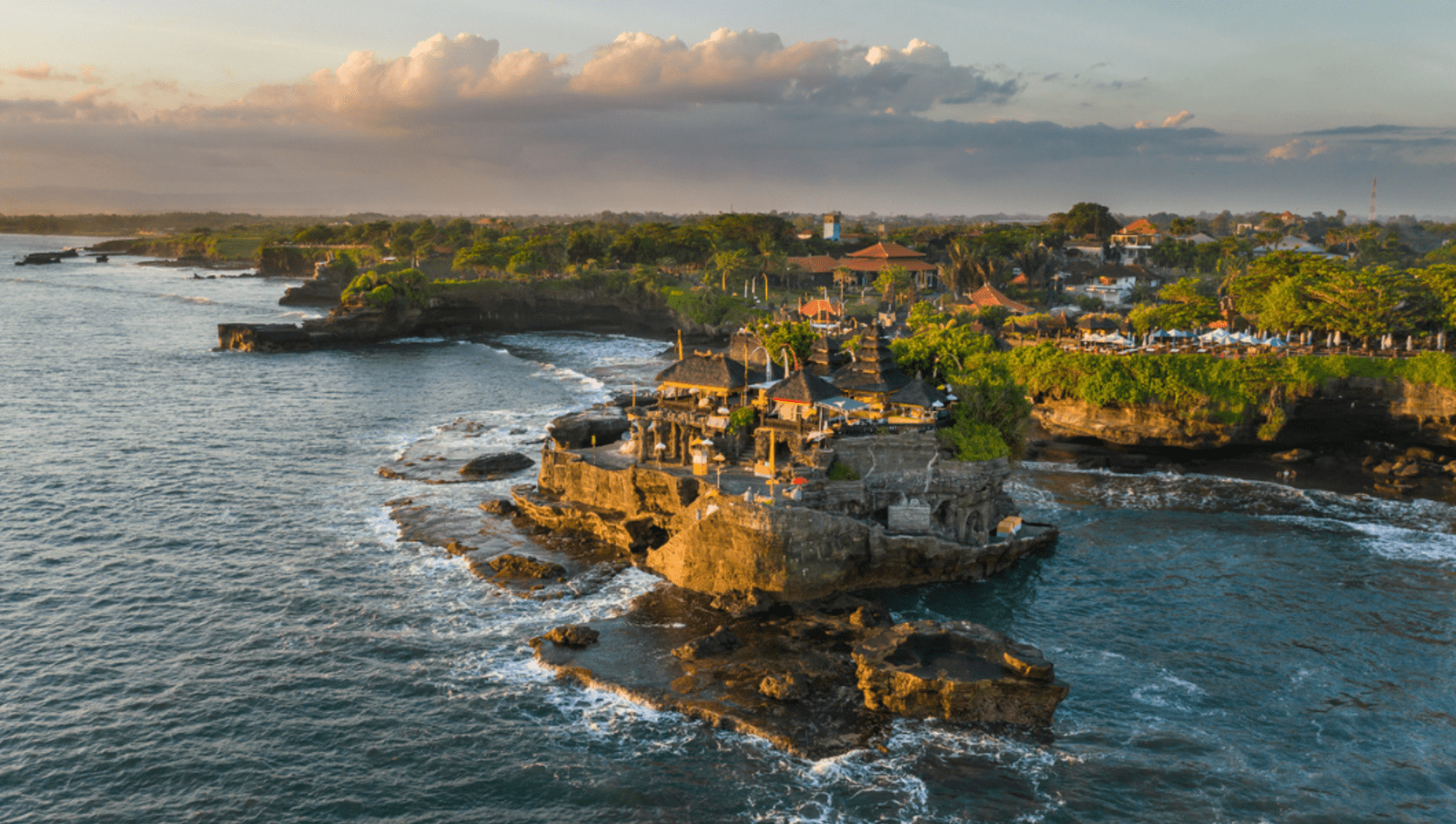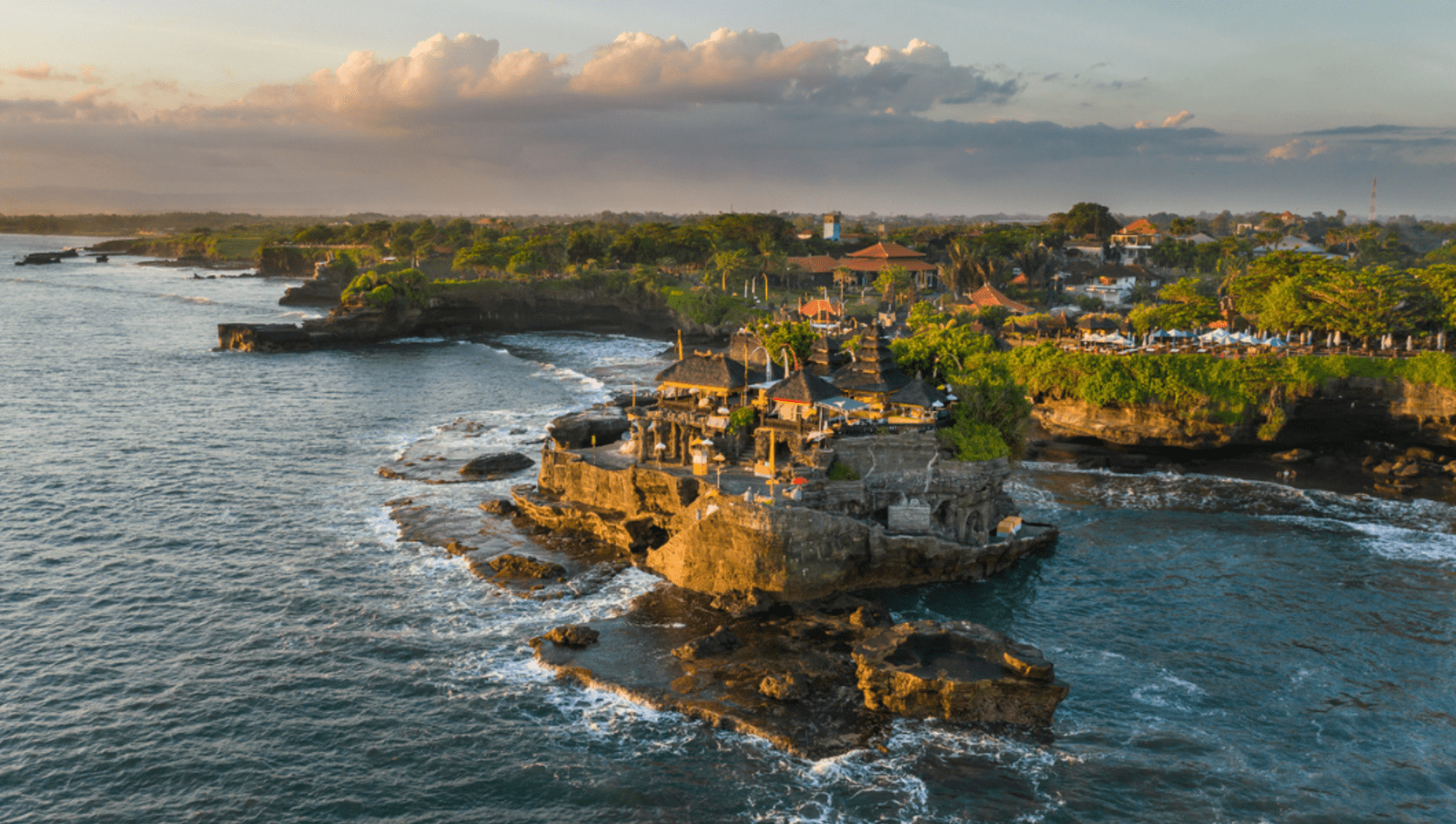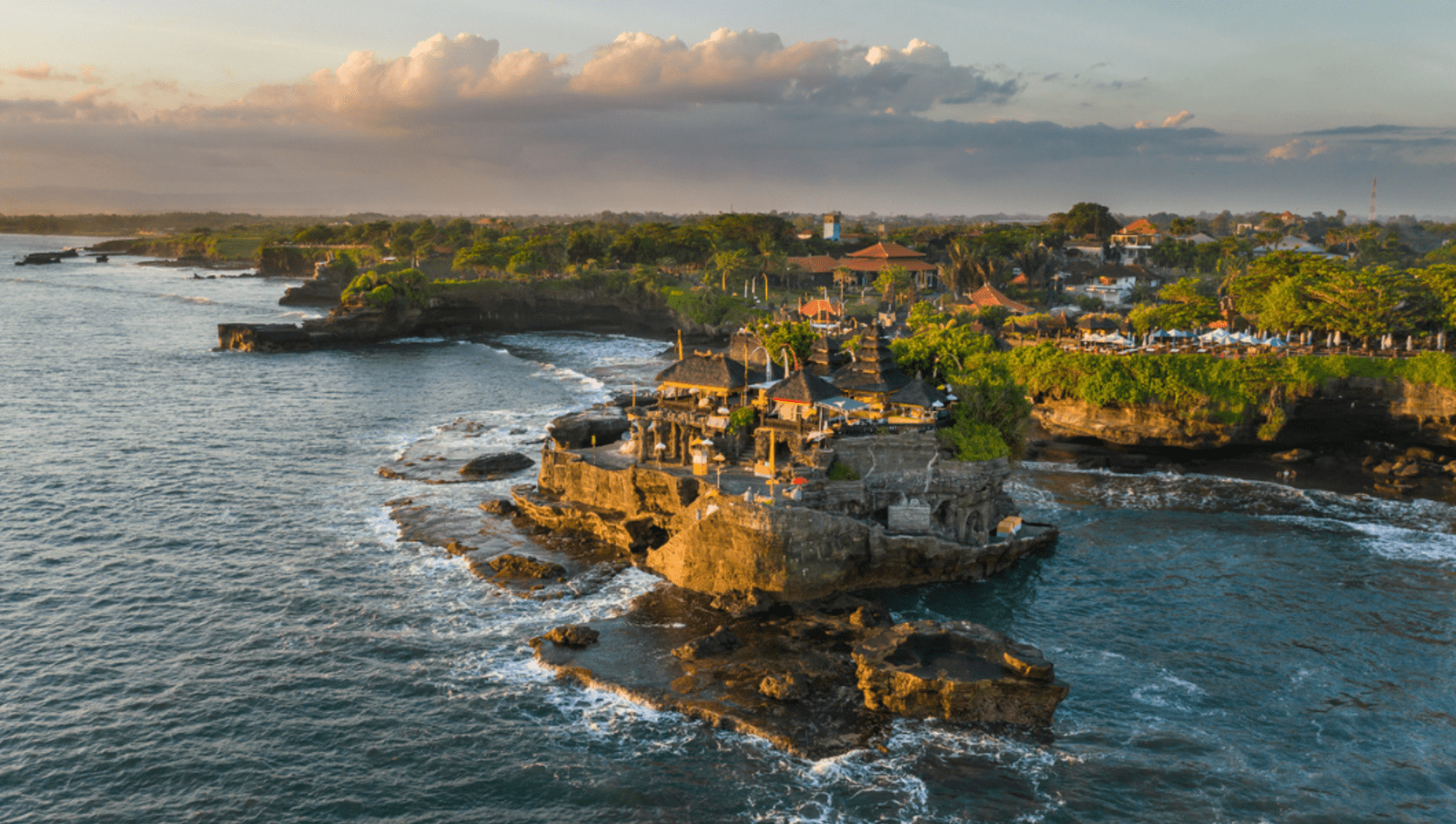 Romantic experiences to have in Bali
Stay in a treehouse in Ubud – channel modern-day Tarzan and Jane vibes (and marvel at the hand-built bamboo structure) with a stay in one of the many luxe treehouses or bungalows dotted throughout dense jungle in Ubud.

Hike Mt Batur for sunrise – trekking up a mountain at 4am may not sound like ideal honeymoon fodder but, trust us, the views and the vibes will be more than worth it.

Sunset at Uluwatu Temple or Ulu Cliffhouse – watch the sunset sink below the horizon from this ancient Hindu temple or with cocktail in hand at one of Uluwatu's most popular beach clubs.

Visit Sekumpul Waterfall – if a soft mist cascading down through jungle canopy doesn't sound like a romantic backdrop, then you need to see what's touted as Bali's most beautiful waterfall for yourself.

Helicopter ride over the island – take your love to new heights with a private helicopter tour of the island.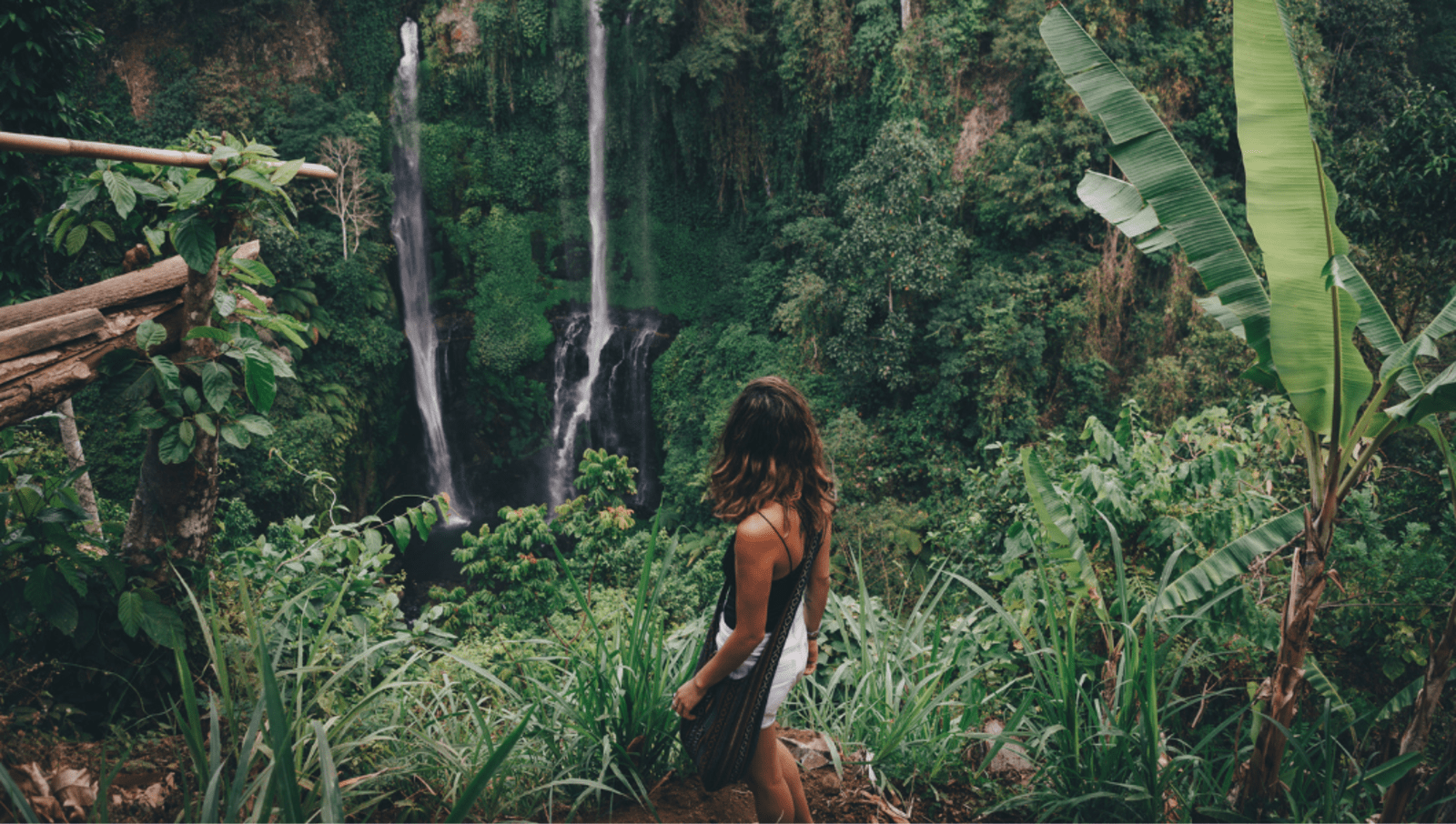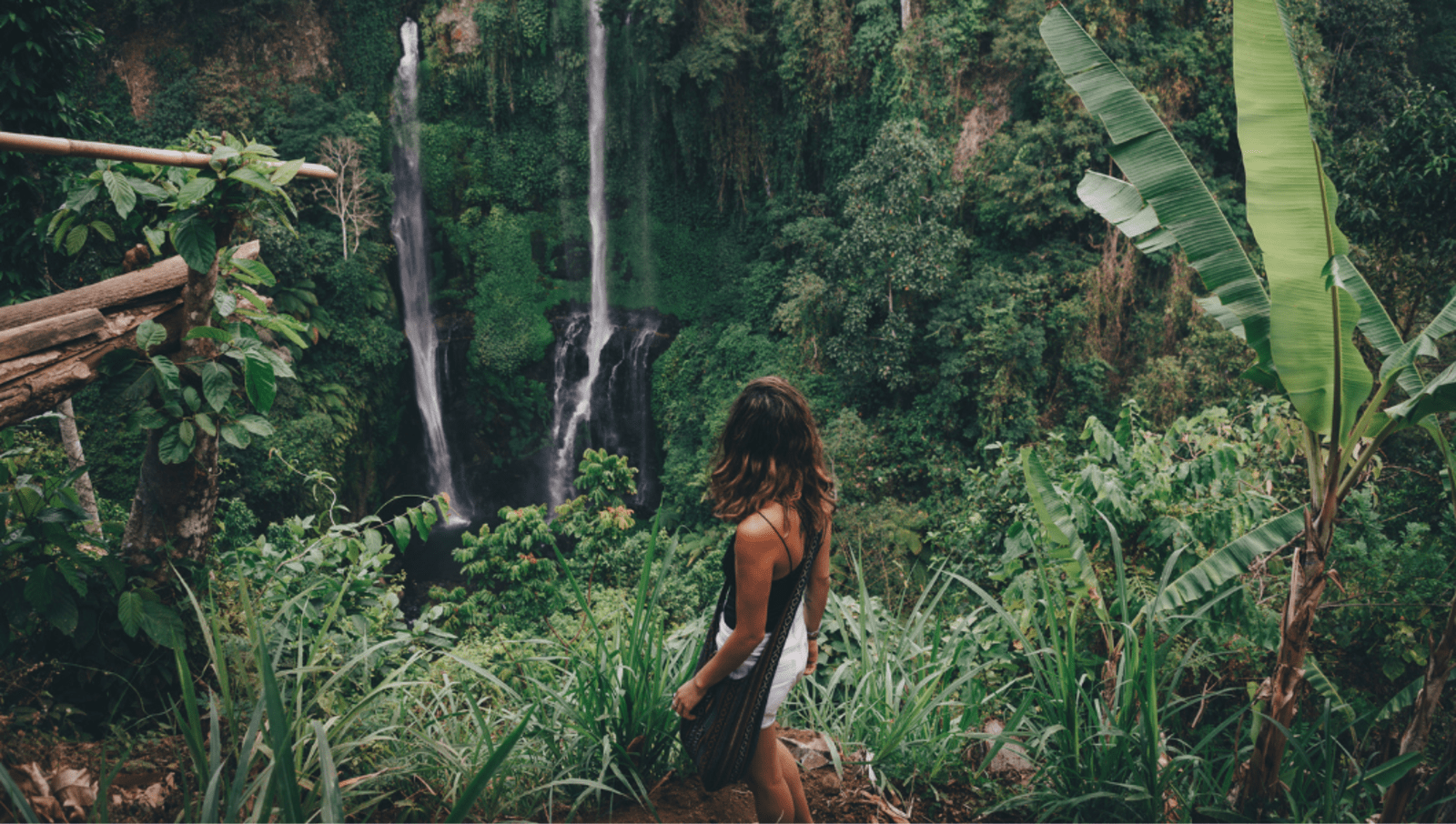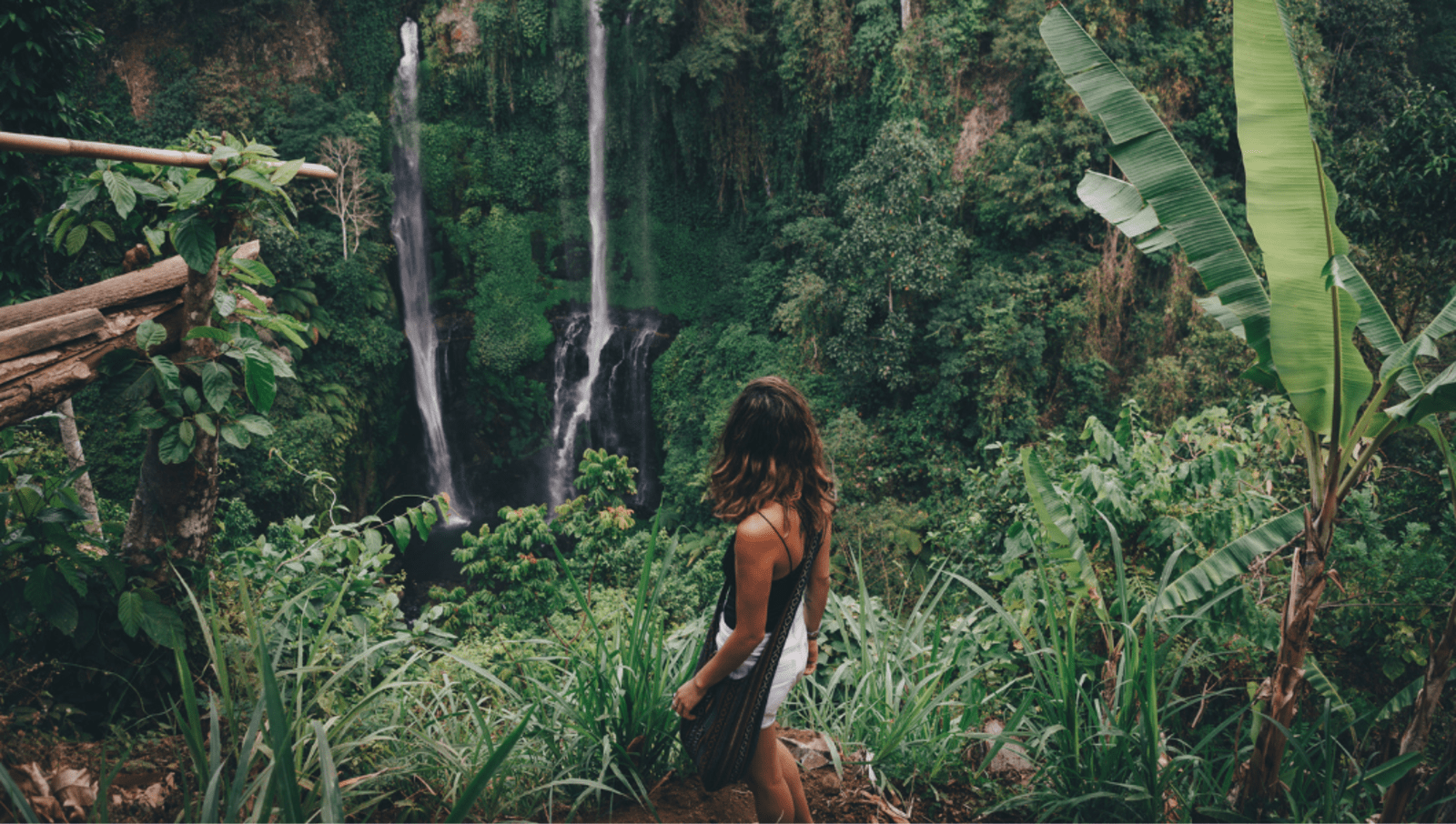 ---
Flight Centre acknowledges the Traditional Custodians of Country throughout Australia.