Fun & Engaging Things To Do With The Family In Edinburgh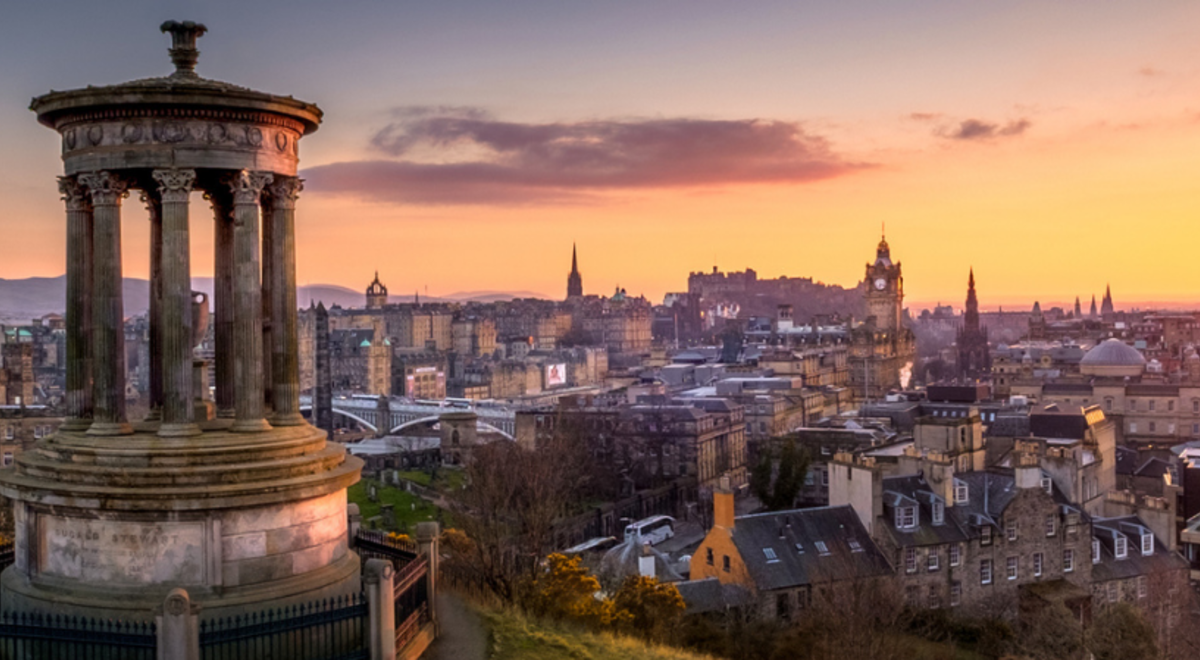 ---
---
First time in
Edinburgh
? Fear not. This blog will let you know all the things to do with your family in Edinburgh.  
What will you find in this blog on Edinburgh?  
What activities to do and landmarks to visit with the kids in Edinburgh 
The reasons why Edinburgh is a kid-friendly place to visit 
The attractions and places are open for families to explore in Edinburgh 
Things to do in Edinburgh with no money 
Whether you're into history, adventure, art or relaxation, Edinburgh is a good place to visit with kids, because there are so many things open for families to have an exciting and memorable experience. Edinburgh is filled with some of the world's most daring, historical, largest, and quirkiest landmarks - pic worthy content right there!  
What is there to do in Edinburgh for families?    
Camera Obscura and World of Illusions   
The Camera Obscura and World of Illusions is a must-see. The attraction was originally founded by Maria Theresa Short in 1835, long before cinemas ever existed. Located in Calton Hill, it's a big hit with tourists, diving into five floors of 100 unique illusions – nothing like you've ever experienced before! The venue is open from 9:30 am to 8 pm, and extended hours during the summer. The prices vary, with adults £15.75; children (5 – 15 years) £12.15; seniors £13.95; and students £13.95.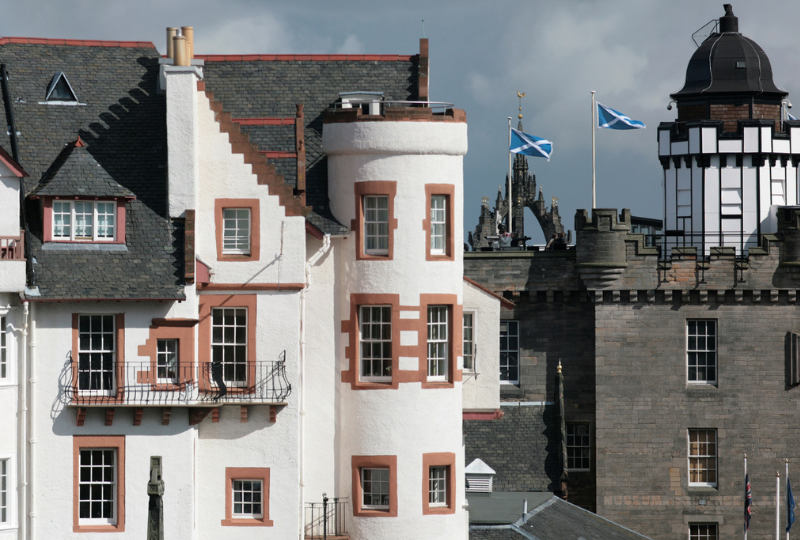 View of the prestigious Ramsay Gardens apartments and the Camera Obscura at the top of the Royal Mile in Edinburgh.
Play Stramash with the Fam in the Pub  
Stramash is a popular Scottish game, similar to the board game "Sorry." Scottish pubs usually allow kids in during the day, so you can enjoy Stramash with some good Ol' pub pickles, cheese and meat platters for an enjoyable family experience in Edinburgh.  
Climb the Scott Monument 
The Scott Monument is one of Edinburgh's most iconic and largest landmarks, standing at 200 feet or 61 meters tall in Princes Street Gardens. The landmark is dedicated to the writer Sir Walter Scott, and from the third-floor viewing platform, you get stunning views over Edinburgh.  
Make sure to book a tour in peak periods as you can expect wait times. or if you are spontaneous, you can still purchase tickets at arrival. It will cost you £8 for adults, £6 for children or a family of four for £20.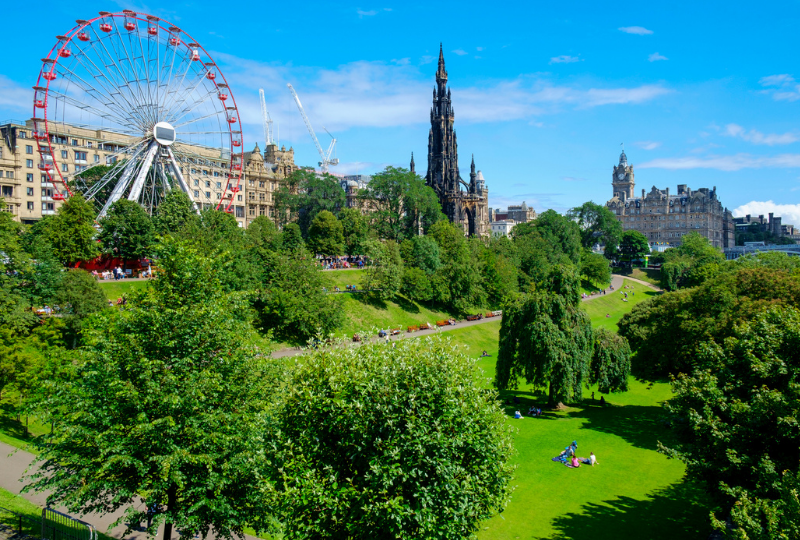 Ferris wheel and Scott monument in park in Edinburgh.
The Real Mary King's Close  
The Real Mary King's Close is a top attraction dating back to the 1600s - step back in time to explore Edinburgh's vibrant streets, buildings, and activities. This attraction will cost Adults: £15.50, Kids (5-15): £9.50 & Concession: £13.50.   
Butterfly & Insect World  
The longest-running butterfly house in Scotland, this exotic world is located at Dobbie's Garden Centre, one of the largest garden centres in Scotland. General admission is Adults is £7.00, Concessions is £6.10, Children (3 – 15 years old) is £5.25, and Children (Under 3 years old) & Season/Corporate/Carer is free.
The Edinburgh Dungeon  
This attraction is a 70-minute interactive walk-through experience with actors, special effects and thrilling rides, diving into 1000 years of Edinburgh and Scottish history. Book online to save 20% off admission tickets. Prices online start at £17.55 per adult and purchase on the day from £21.95.
Royal Yacht Britannia  
The Royal Yacht Britannia is Her Majesty's Yacht Britannia, which was the former royal yacht of Queen Elizabeth II that operated from 1954 until 1997. This is a five-star tourist attraction in Edinburgh where travellers can submerge themselves in history. Prices are Adults £17.00, Seniors £15.00, Students £15.00, Families £47.00, Children £8.75 and Children under-five are admitted free.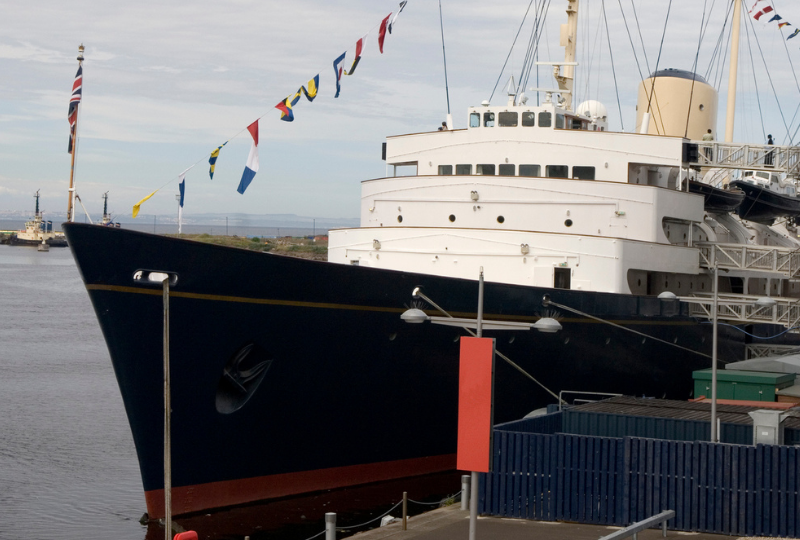 The retired royal yacht Britannia berthed at the port of Leith in Edinburgh.
Holyrood Abbey  
This attraction was the royal family's main home in Scotland. Enjoy a wander through the abbey and gardens after touring the Palace of Holyroodhouse, otherwise known as Holyrood Palace. Observe one of the most impressive Gothic façades in Scotland, and check out the royal vault, which is the final resting place of royalty and Augustinian canons. You can purchase your tickets at the entrance to Holyrood Abbey for a memorable experience. Can you believe the crown jewels used to live here? 
Dalkeith Country Park  
Dalkeith Country Park is full of rich history, architecture, and innovation. The residence has over 300 years of history, farmland, luscious forests, and rental properties extending to 1,000 acres – allowing for endless exploration. There are also a variety of activities for the family to do together and never get bored! You can camp, cycle, walk dogs, go fishing, check out wildlife and experience Fort Douglas (an adventure park to keep the kids buzzing).  
It will only cost you a small entrance fee to experience all this fun, and if you are travelling by car, it will be of greater value. Prices during weekends and school holidays is 0-24months are free, 2-4 years £6.50, 5-12 years £7.50 and adults (13+) £3.00. During the week, it will cost you £2.00 less for 2-4 years and 5-12years, and half-price £1.00 off for adults.   
Edinburgh Zoo 
If you love seeing animals in their habitat, the Edinburgh Zoo is for you. Owned by the Royal Zoological Society of Scotland (RZSS), which opened the zoo in July 1913. It expands over 82 acres of parkland, three miles from the centre of Edinburgh city.  
The zoo is well known for its Panda cam, where tourists can watch giant pandas eat treats, or just sleep all day – there is no in-between. Visitors can donate £10 to watch cheeky pandas eat a slice of cake or £55 for a lunch – which can all be observed from the panda cam. Who would not love to see giant pandas having fun? 
Edinburgh Zoo also provides programs of educational events and activities such as animal encounters, eating experiences, play areas for the kids and a gift shop to remember your experience here! A wonderful place to take the family for a trip, and the kids will have smiles on their faces!
Edinburgh Castle  
One of the most exciting destinations to visit in the heart of Scotland's modern capital city, Edinburgh Castle can offer breath-taking views (on a clear day!) and a step back into history. The castle is open daily from 9 am – 5 pm and is definitely family-friendly. Admission prices vary, with individual prices ranging from £15.50 to £53.00 for family packages. Make sure to book ahead of arrival to guarantee entry at the door.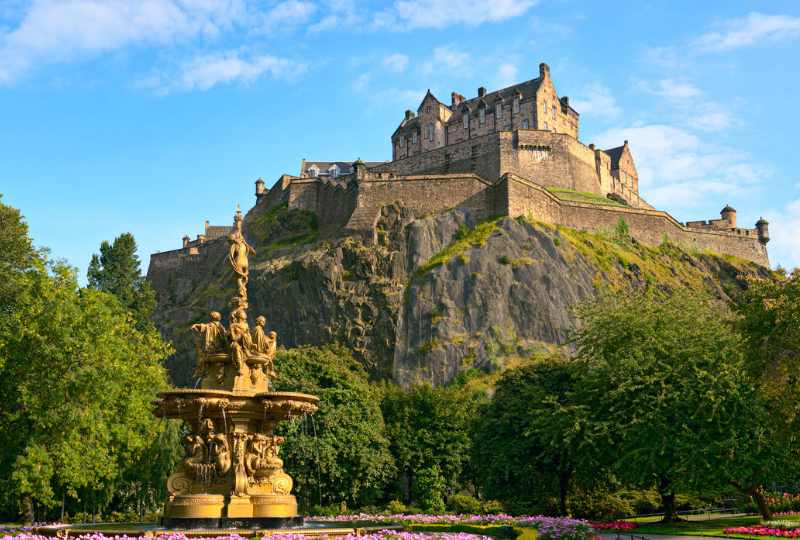 Edinburgh Castle, Scotland, from Princes Street Gardens, with Ross Fountain.
Royal Botanic Garden Edinburgh  
Open daily, the Royal Botanic Garden in Edinburgh is a natural wonder, including three regional gardens full of diverse collections of plants. Edinburgh's royal botanic garden has an exciting programme of exhibitions, events and loads of activities to do. These activities vary throughout the year depending on the season, so there is always something new to see and experience.  
If you are interested in visiting one of their facilities, call ahead to secure tickets as access to activities and exhibitions can sell out in peak periods such as school holidays. If you are more of a browser, feel free to walk through the gardens for a relaxing break.   
What can you do in Edinburgh with no money?  
The Potter Trail  
For Harry Potter Fanatics. This tour is recommended for anyone aged over five years old and it's free! The tours do ask for tips at the end, so you are encouraged to leave something to show your appreciation.  
National Museum of Scotland 
The National Museum of Scotland was established in 2006 with the new Museum of Scotland and displays a range of Scottish antiques, history, and cultural artifacts. If you are a history lover and want to learn more about the history of Scotland, then you should add this museum to your Edinburgh must-do list. It's free to visit and donations are welcome to continue sharing Scotland's history with tourists travelling from all over the world. It's open 10 am-5 pm every day.  
The Royal Mile  
The Royal Mile is a 1.81km long street that runs all the way to Scottish Parliament at Holyrood Park. There is free street entertainment with buskers and a plethora of shops to window shop or devour goodies.
Rub Hume's Toe for Good Luck  
Rub the statue of philosopher David Hume's toe for good luck, a tradition many Edinburgh students do prior to exams, but there's no saying it can't be used for any kind of luck! You can also take a quick snap of your good luck for Instagram.
Greyfriars Bobby  
Take a Selfie with Edinburgh's mascot, Greyfriars Bobby, on Geroge IV Bridge. Bobby was a loyal Skye Terrier who spent 14 years guarding his owner's grave until he passed away in 1872.
Dynamic Earth  
The modern building echoes like the Sydney Opera House and has fascinating architecture. The inside of Dynamic Earth contains a myriad of nature's exhibits, from the formation of the earth to the present day. This is an interactor tourist attraction that lets visitors learn more about the Big Bang – the beginning of Earth's creation.
The Museum on the Mound  
The Museum on the Mound was the former headquarters of the Bank of Scotland and located on The Mound, an artificial slope formed by dumping 1.5 million cartloads of earth. It also includes a booklet trail for children to crack a safe – adult-friendly too we promise! You can learn about the history of the British currency and see the oldest banknotes. Perfect for the historians in all of us.
Museum of Childhood  
The Museum of Childhood is the first in the world dedicated to childhood history, attracting over 200,000 visitors annually. The museum includes an abundance of toys, games, books, clothes and more, from the 1800s to the present day.  
The museum was newly refurbished in 2018 with an interactive gallery that touches on more modern toys such as Buzz Lightyear and Xbox. If you are travelling with kids, this is THE attraction to visit when you are here in Edinburgh! There is no entrance fee, but they welcome donations to inspire future generations with the evolution of childhood memorabilia.
Holyrood Park 
Holyrood Park, also called the Queen's Park or King's Park (depending on the reigning monarch), is a city park to the east of Edinburgh Castle with an array of hills and cliffs offering great views over the city. The Park also consists of deep history and archaeology dating back thousands of years.  
There is a heap of activities to do, such as climb Arthur's Seat (which is 251 meters tall with 360-degree views of Edinburgh), attend free exhibitions, visit St. Anthony's Chapel, or even watch geese at Duddingston Loch for a chilled-out experience.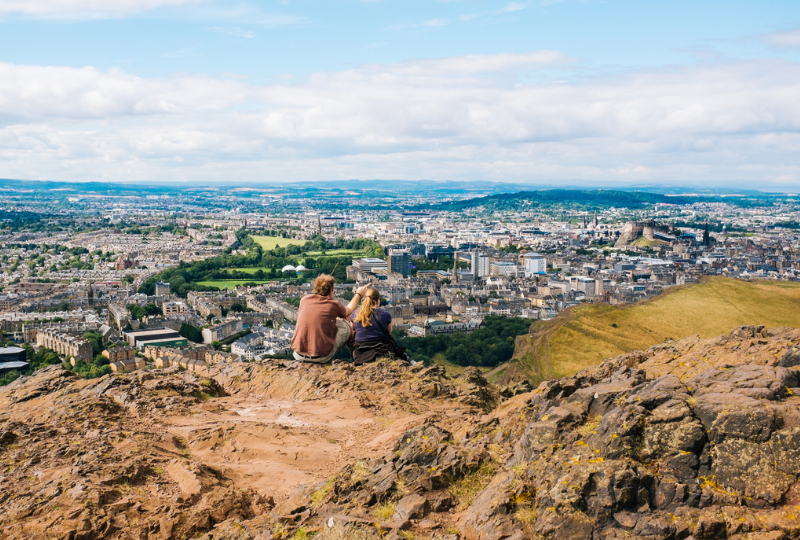 Rear view of couple sitting and viewing a panoramic view of Edinburgh.
Now what?  
No matter what you're looking for, Edinburgh is sure to satisfy your every desire. The travel experts at Flight Centre are ready to help you book your adventures, saving you the hassle of planning your family trip.   
---
Flight Centre acknowledges the Traditional Custodians of Country throughout Australia.