Natural Beauty: Visiting Lake Tekapo For The First Time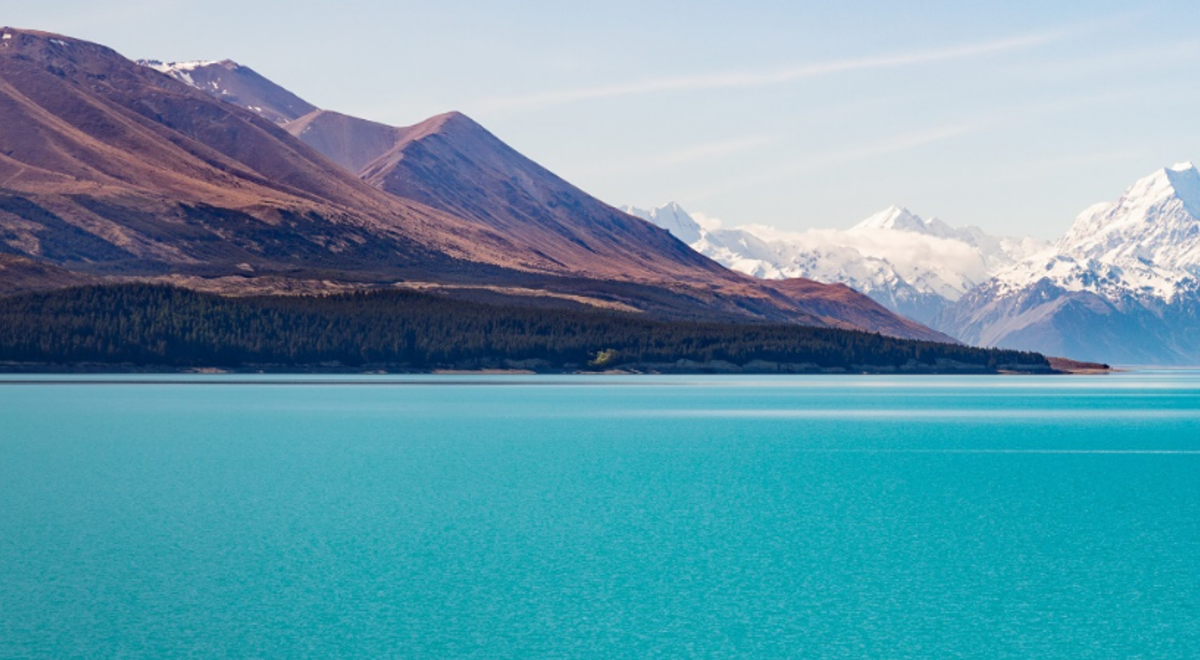 ---
---
For a remote region in New Zealand's South Island, the area around Lake Tekapo is easy to get to, has ample accommodation, and offers a surprising number of attractions and things to do.
Swimming 

Kayaking & Paddle-boarding 

Water-skiing 

Fishing 

Night sky tours

Thermal pools 

Air safari 

Snowboarding 

Skiing 

White-water kayaking 

The Church of the Good Shepherd 

---

 

---
​Let's face it, if your chosen destination is defined by a lake, that lake has got to be pretty. Nestled among the wild yellow tussock of the Mackenzie Basin at the foot of the Southern Alps, the first thing that strikes you about Lake Tekapo is its colour. The lake's milky-turquoise tint comes from glacier-ground 'rock flour' suspended in the water. Throw in a craggy mountainous backdrop, and a classical stone church on its shore crying out to be imitated in Lego, and you've got the most picturesque of settings. 
Pretty lake. Check.
Just getting to Lake Tekapo is pretty 
Equidistant (yes, that's a word) from either Christchurch or Queenstown international airports, getting to Lake Tekapo takes around a three-hour drive, allowing for a couple of sightseeing stops along the way. This is one area of the world where the flexibility offered by hiring a car is a must. The central South Island is dazzling and you'll want to stop to take it in – especially in winter. Even well-travelled Kiwis out for a jaunt among the lakes and mountains of their backyard for the 80-somethingth time will still pull up, stretch limbs, and gaze in awe at the spine of snow-capped peaks as they inhale the southern alpine air that holds a freshness all its own. It's that stunning.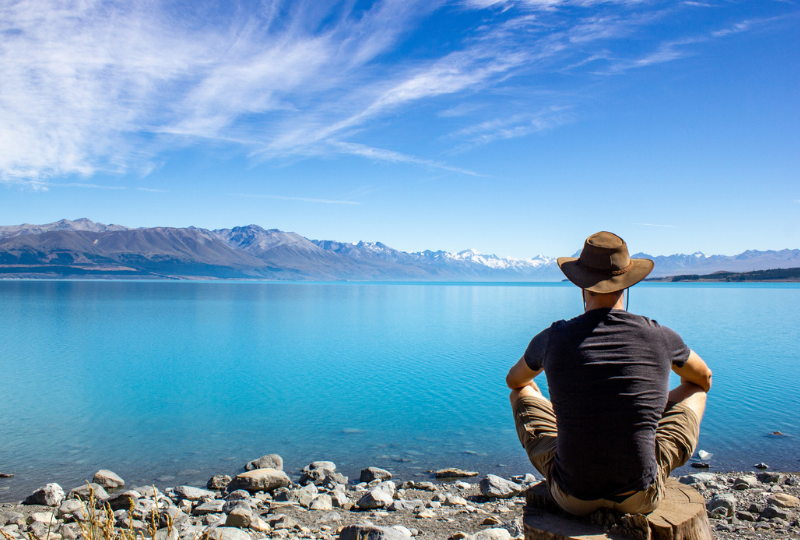 ---
---
Basing yourself at Lake Tekapo 
At the southern end of the lake, Lake Tekapo village (population 538) is large enough to provide the essentials of a short stay but small enough to remain something special. You'll find restaurants, cafes and bars, a supermarket, a servo, and even an electric vehicle charging station if you've opted for an eco-friendly ride. The village offers a pleasing range of accommodation for its size whether you're travelling solo, as a couple, or as a family. You'll find yourself in eenie-meanie mode selecting a place to stay from Peppers Bluewater Resort to hotels, lodges and apartments all the way to B&Bs, motels, and a holiday park (with backpacker facilities and camping for the hardy).
There's also plenty of dining dotted around the village. Peppers Blue Water Resort's Rakinui Restaurant and Bar offers spectacular lake views and casual dining, or you can opt for the delicious local salmon delights of Kohan Japanese Restaurant, a good selection of gluten-free or vegan food at Jack Rabbit, or for a superb breakfast visit The Greedy Cow. Our Dog Friday offers some of the most sumptuous burgers you'll find, and Ramen provides a multi-sided menu of Thai and Japanese dishes.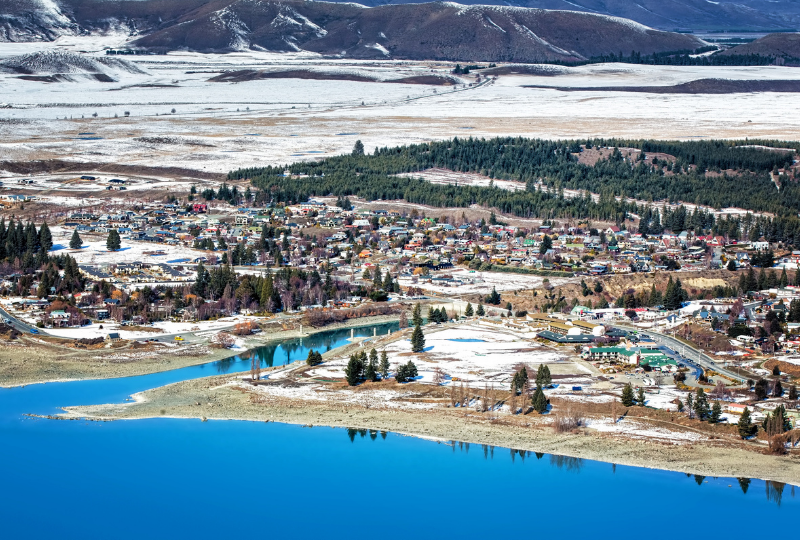 A few snippets of history
The lake's first residents were travelling Maori hapu (extended family groups) who established summer camps along the rivers and lakes in the area to hunt and fish. The surrounding area was largely unknown to the South Island's European settlers until a Scottish shepherd named James Mackenzie ventured inland and into folklore with a flock of sheep in the mid-1800s. Despite Mackenzie later being accused of stealing the flock, labelled an outlaw, jailed then pardoned (it was enough to make him relocate to Australia), the high-country grazing land he "discovered" among the mountains now bears his name.
Lake Tekapo owes a measure of its present-day glory to a dam built at its southern tip in the 1940s to raise the water-level by up to 10-metres. This created water capacity to power a 25 mega-watt generator (located nearby at the end of a 1500-metre intake tunnel) and expanded the lake's area much to the delight of anglers and boaties. 
Things to do
The experiences you'll enjoy while taking in Lake Tekapo are unique and varied. This is partly due to the region's extreme seasonal changes. In summer, temperatures can exceed 35 degrees, while sub-zero temperatures through winter are the norm. 
On the water 
In summer, the lake itself offers you most of the on-water experiences you'd expect. There are numerous operators in the village offering opportunities to try fishing, kayaking, paddle boarding and water-skiing. 
For thrill seekers, an artificial white-water course about 3km south of the village is fed periodically from the lake's dam gates down the Tekapo River. While not recommended for novices, the grade 2-3 course is popular with enthusiast clubs and schools throughout New Zealand. 
Lake Tekapo holds a good number of trout and salmon though you might find trout hard to spot in the milky water. Thankfully for anglers, there are ample small creeks and rivers which generally flow clear providing excellent fishing at the point they enter the lake. Guides are available in the village to show you the best spots, such as the Tekapo-Pukaki canal that runs south just out of town. But note that you will need a New Zealand fishing licence to cast a line in the water.
If you're really keen to (quite literally) immerse yourself in these beautiful waters in summer, you can even head down to a bit of beach by the boat ramp and take a dip. Though be warned, the glacially fed waters are a tad frigid, even by New Zealand standards. For a more relaxed experience that makes slipping into your bathers less like dressing for battle, wander up the beach a little further and drop into the geothermal hot pools of Tekapo Springs. Lay back, summer or winter, and let the soothing waters and stunning backdrop recharge mind and body. 
In the snow 
Winter transforms Lake Tekapo into a spectacular wonderland to relax and play. Frequently blanketed in snow, the Mackenzie district offers opportunities to ride the slopes in a fantastic setting. The region experiences about 149 ground frosts a year, which means snowfalls are frequent anytime from March to September. But locals will tell you that snow in summer is possible too.
The Roundhill Ski Area, just a 32km drive up the eastern shore of the lake, is loved by both newbie and hardcore skiers and snowboarders. There's a massive beginners area featuring a platter lift and beginner ropes for a gentle way to find your feet.  
For hardened snow lovers, grasp the world's longest and steepest rope tow to the top of Australasia's biggest vertical drop (783m) and glide down some super long natural half pipes and chutes that have access to a huge back country area. Freestylers can enjoy Roundhill's 'Central Park' that provides jumps, rollers, rails and boxes. 
Up in the sky 
Winter is the perfect time to enjoy Lake Tekapo's 'gold status' as an UNESCO Dark Sky Reserve. The crisp, clear skies of the region is perfect for stargazing, which makes a Dark Sky Project tour a must-do. The tours offer optical telescope viewing at Mt John or Cowans Hill observatories close to town, and educational journeys that bring science, Maori heritage and amazing multi-media installations together. The regular tours depart from the Dark Sky Project Base in the village. 
From gazing up to looking down, winter also presents an ideal opportunity to see all the splendour of the surrounding Southern Alps and Aoraki Mount Cook up close by taking in an air safari. Scenic flights that showcase the mountains in staggering detail (with unsurpassed aerial views of the central South Island) depart regularly from Lake Tekapo's mini-me sized airport 4km out of town.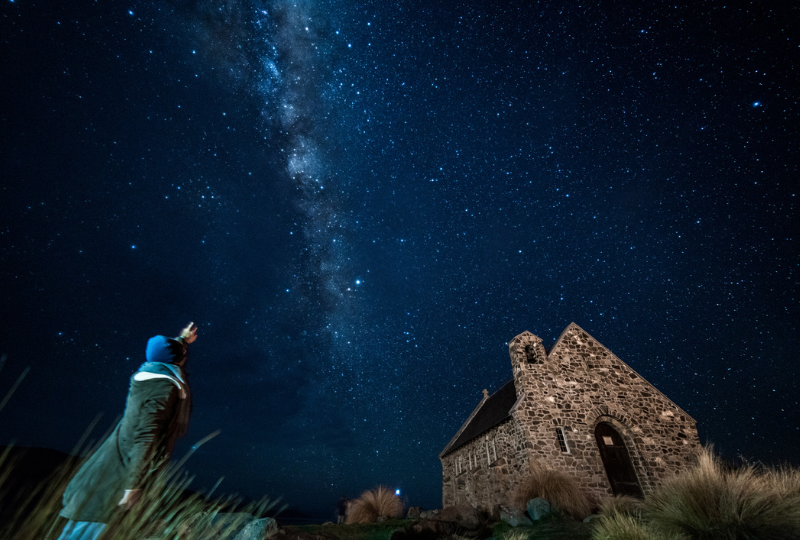 Time to reflect
A trip to Lake Tekapo wouldn't be complete without a visit to The Church of the Good Shepherd on the lakeshore at the foot of the village. This iconic celebration of rock masonry was built in 1935 as a memorial to the pioneers of the Mackenzie region.
At first glance the church resembles an ancient ruin, but on closer inspection you'll discover it's a beautifully maintained heart of a thriving parish community. The church is interdenominational and provides a place of regular worship and gatherings for weddings, baptisms and funerals in the region. The attractive stone structure is also a great setting for photography – framed by lake and mountains by day or reaching up to a vivid array of stars by night. However, be aware that snapping pics isn't permitted inside the church.
Near the church grounds you'll find Lake Tekapo's famed Sheepdog Statue. The four-legged bronze canine was sculptured and placed on a rough and ready rock plinth in 1968 as a tribute to the early Scottish shepherds' border collies, whose hard work prevented the local wool industry from running off into the surrounding high-country valleys.
A breath-taking New Zealand experience is ready and waiting!

---
Flight Centre acknowledges the Traditional Custodians of Country throughout Australia.