Looking for China Holiday Packages?
We can't find any online China holiday deals at the moment but one of our helpful Travel Experts can help you find what you're after! Send us an online enquiry, call us on 133 133 or we can call you.
Explore more holiday deals
Rich culture, delicious food, incredible architecture and stunning landscapes
As the world's oldest continuous civilisation, it was first unified in 221 BC, under Emperor Qin Shi Huang. Its the tomb of this ruler the Terracotta Army is guarding at Xi'an. Later, the Ming Dynasty (1368–1644) is known for trade and exploration and during this time Beijing's famous architectural and cultural treasures, the Forbidden City and the Temple of Heaven, were built. Beyond the capital, China's other metropolitan drawcard is Shanghai. The skyline from The Bund is a spectacular tribute to engineering and neon.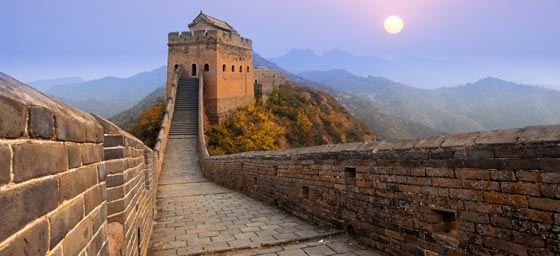 The Great Wall: one of the many World Heritage sites in China
Hong Kong and Macau also have their contemporary attractions and Tibet has its spiritual flavour but there are great sweeps of countryside to enjoy across China. Temples and teahouses to explore and of course, the Great Wall of China to walk. It's a misconception the Wall is an unbroken fortification – it's in sections; some of which are restored and heavy with tourists, others have a more authentic feel. Wherever you go, the food will be light years away from your local takeaway but that's the point. A holiday in China takes you far into another world.
Hong Kong comes to life with incredible food, shopping and nightlife