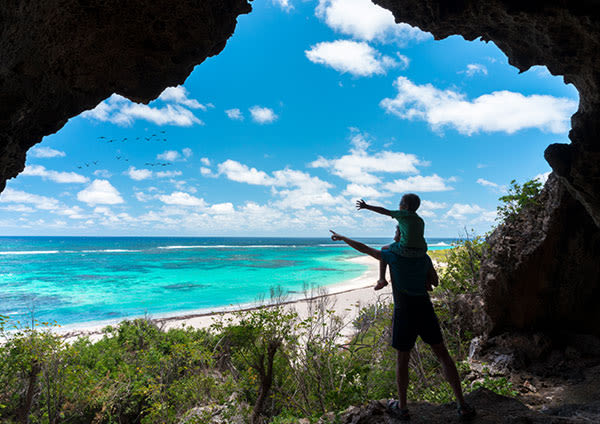 Antigua
and
Barbuda
Holiday
Deals
In the heart of the Caribbean is where you will find the twin-island nation of Antigua and Barbuda, the very definition of island paradise. Adored the world over for its pristine pink and white-sandy beaches, rainforests and all-inclusive beach resorts, Antigua is the island getaway you've been dreaming of. Begin your Antigua holiday in the capital St. John's, where you can fill your days exploring historical sites, eating your body weight in seafood and venturing across to the parish of Saint Peter and its capital Parham.
If the rumours are to be believed, Antigua has no less than 365 beaches – that's a new beach to explore every day of the year! Darkwood beach, in particular, is a dreamy spot to roll out a towel and listen to the sound of the water lapping at the shore. Water sports are big here, with plenty of water-based adventures including day-tours and self-driving inflatable Reef Riders to get out and about. If time permits, catch the ferry out to Antigua's sister island of Barbuda and explore the protected reef, large lagoon and Frigate Bird sanctuary. We guarantee by the time you leave, you'll be googling 'property at Pearns Point'.
Deals with your name on them...
Explore holidays by interest
Frequently asked questions
Which is the best side of Antigua to stay?
The west coast of Antigua is perfect for Holiday makers with calmer seas & scenic backdrops making it perfect for families, couples relaxing or solo travellers!
---
What to take on holiday to Antigua?
Don't forget your universal power adaptor, passport & the most comfortable pair of shoes you own to explore. For main character vibes, we recommend headphones & a great playlist!
---
Where to go on holiday in Antigua?
St Johns is the holiday hub of the island & a great place to start to first time travellers. Dickenson Bay is perfect for families with calmer waters & all-inclusive holiday packages.
---
How do I go about cancelling my Antigua holiday package?
---
Is Antigua safe to walk around?
We always recommend exercising caution with any travel plans so make sure you stick to areas you are familiar with & keep an eye on pick-pocketers.
---
When is the best time to visit Antigua?
For sunny days & beach rays we recommend travelling December to April. However, for more budget concious travellers May to June is a great alternative before the wet season arrives.
---
What is there to do in Antigua?
Hiking, sailing, diving, relaxing, eating, dancing, shopping… The list goes on! Hire a car & explore the island or simply, rest & rejuvenate in your hotel.
---
...loading
Popular holiday destinations
---
Flight Centre acknowledges the Traditional Custodians of Country throughout Australia.