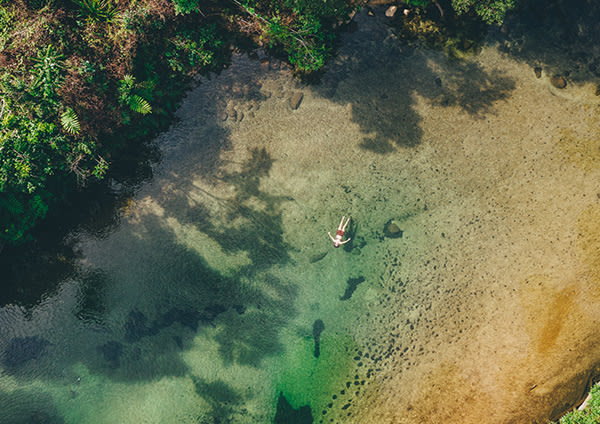 See Mother Nature in her element with a sunshine-filled escape to Cairns. If you thrive in subtropical climates and dream of exploring lush rainforests and world-famous reefs, stop what you're doing and book a Cairns holiday, stat. As the shining capital of Tropical North Queensland, Cairns beckons nature lovers with the promise of hikes, opportunities to learn about Australia's rich First Nations history and culture, and, of course, the chance to sip cocktails and recharge by your accommodation's lagoon pool. Flight Centre's Cairns holiday packages can be easily customised to match how you like to travel. Will it be an excursion to Mossman Gorge, a trip on the Kuranda Scenic Railway, a few nights spent exploring the beauty of the Atherton Tablelands or a reef retreat to Green Island on a glass bottom boat tour? Cairns truly is a travellers haven, serving as a gateway to some of Northern Queensland's best sun-soaked adventures.
Deals with your name on them...
Explore holidays by interest
Explore Cairns
Where to stay in Cairns
Where to stay in Cairns
As one of the most popular tourist destinations in Far North Queensland, finding where to stay in Cairns largely depends on your plans. If you plan to hit the shops, wine and dine, and then explore the city centre, Cairns city is the best spot to base yourself. If you're dreaming of a relaxing beach holiday, Palm Cove or Holloways Beach may be more your style. There are many precincts with spectacular Cairns accommodation, so you can be sure you'll find something to suit your budget and taste.
Read travel guide
Cairns City
While Cairns may seem small in comparison to other cities, it excels when it comes to modern, affordable accommodation. The city is built around the harbour, so you can find places to stay that offer spectacular views over the water and the city itself. Cairns city accommodation places you in the heart of the action.
Palm Cove
Just like the stunning surroundings, accommodation in Palm Cove is truly amazing. With beautiful beach resorts, amazing restaurants and galleries nearby, your stay in Palm Cove is sure to be exciting. Located between Cairns and Port Douglas, Palm Cove is perfect if you're looking for a little more privacy during your visit to the region.
Trinity Beach
Just 15 minutes from Cairns CBD, Trinity Beach is the best place to stay if you want to try out the best golf courses in Far North Queensland. Beachside apartments and resorts are located near the course as well as restaurants and shopping hotspots. Head out to explore during the day and come back to your Trinity Beach accommodation to relax and enjoy spectacular views.
Ellis Beach
If you're searching for beachside accommodation in Cairns, Ellis Beach is a fantastic spot. Approximately 20 minutes north of Cairns, this area is beautifully quiet while being within a short distance to both Cairns and Port Douglas. This gives you the best of both worlds: privacy and easy access to local attractions for sightseeing.
Holloways Beach
Just over 10 minutes from Cairns, Holloways Beach accommodation is what you would call absolute beachfront. With a small dining precinct, the area is a beautiful spot if you want to have a quiet getaway. The location makes it easy to access nearby attractions such as Kuranda, the Botanic Gardens, and Cairns city.
Frequently asked questions
What to take on holiday to Cairns?
Don't forget to pack your swimsuit, sunscreen, and bug spray for a tropical adventure in Cairns.
---
Where to go on holiday in Cairns?
Cairns is a gateway to the Great Barrier Reef, the Wet Tropics rainforest, and the Atherton Tablelands, all of which offer incredible natural beauty and outdoor adventure.
---
How do I go about cancelling my Cairns holiday package?
Life happens - we get it! Contact your Flight Centre Travel Expert here to reorganise your travel plans.
---
When is the best time to visit Cairns?
Cairns is a great destination any time of year, but if you want to avoid the hot weather, you may want to plan your trip for the cooler months of May-September.
---
What is there to do in Cairns?
From snorkelling and diving to hiking and exploring national parks, there's no shortage of things to do in and around Cairns. Don't be afraid to get out and make the most of this amazing region!
---
How to find the best holiday package to Cairns?
We've got that covered too! Sign up to get the hottest deals sent straight to your phone & emails here. You can also check out our deals online, or speak to one of our Travel Experts.
---
...loading
Popular holiday destinations
---
Flight Centre acknowledges the Traditional Custodians of Country throughout Australia.