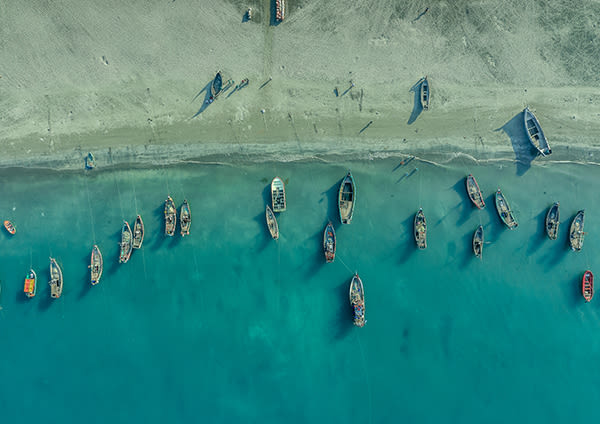 A Bangladesh holiday will give you an authentic Southeast Asian experience. A bit off the beaten track, Bangladesh and its capital, Dhaka, have a developing tourism industry – the upside being that you won't have busloads of tourists photobombing your travel snaps when visiting some of the country's incredible sites like the Lalbagh Fort. Bangladesh boasts some incredible sites, including the world heritage listed Sompur Mahavihara, an ancient Buddhist monastery in Paharpur. In Dhaka, discover the former residential palace turned National Museum, Ahsan Manzil, and Tara Masjid – the Star Mosque. The highlight of your Bangladesh holiday may well be its untouched beaches. Golden sands, swaying palms and pristine waters beckon. Cox's Bazar Beach and Patenga Sea Beach in Chittagong are two popular beaches, but there is plenty of coastline and beaches to discover. With a bit of pre-planning (a package holiday is a good idea), a Bangladesh holiday will take you on the road less travelled.
Deals with your name on them...
Explore holidays by interest
Frequently asked questions
What is the best way to get around Bangladesh?
Bangladesh is well serviced with transport options to get around the country, including by bus, train, internal flights and, at a regional level, by rickshaw. If you're travelling outside Dhaka the train or bus is a great way to see the country.
---
What do I need to know before going to Bangladesh?
Bangladesh has a developing tourism industry, which means that you're in for an authentic southeast Asian experience. With patience and humour you are in for a remarkable holiday!
---
When is the best time to visit Bangladesh?
October to March generally bring good weather and comfortable temperatures. If you're travelling in June, July or August you may want to bring a poncho as you will be visiting during the rainy season.
---
What is there to do in Bangladesh?
In Dhaka visit the Lalbagh Fort, the Ahsan Manzil National Museum, and Tara Masjid – the Star Mosque. Visit Paharpur to see the world heritage listed Sompur Mahavihara, an ancient Buddhist monastery. Discover Bangladesh's untouched beaches in Chittagong - Cox's Bazar Beach and Patenga Sea Beach are the pick of them.
---
How many days do you need in Bangladesh?
While Bangladesh is a relatively small country, you're going to need more time than you think if you plan on using public trains and buses. Allow at least a week, but two weeks might be more relaxing!
---
What to take on holiday to Bangladesh?
Light, loose clothing and layers are advisable when travelling to Bangladesh. Consider how you will be travelling around – smaller suitcases or backpacks will be easier to stow on trains and buses.
---
Where to go on holiday in Bangladesh?
Start in the capital, Dhaka, and visit all the city sights. Then make a beeline for the coast at Chittagong and enjoy some beach days.
---
How do I go about cancelling my Bangladesh holiday package?
---
...loading
Popular holiday destinations
---
Flight Centre acknowledges the Traditional Custodians of Country throughout Australia.