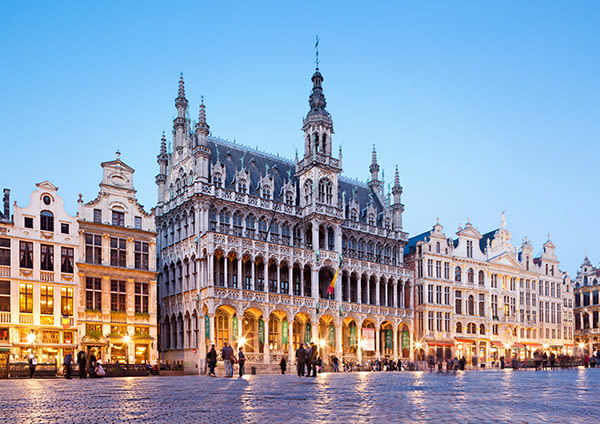 Belgium is an impressively multilingual country that features Dutch speaking north, German speaking east and French speaking south communities. Major tourist spot The Grand Place in the capital, Brussels, acts as a central point for the city, surrounded by opulent Baroque buildings, museums, shops and restaurants. You'll also find medieval towns, Gothic and Renaissance buildings scattered throughout the country. History and architectural buffs, say hello (or bonjour!) to our Flight Centre Belgium holidays!
Deals with your name on them...
Explore holidays by interest
Frequently asked questions
What to take on holiday to Belgium?
Many of Belgium's streets are cobbled so best to leave the stilettos at home and opt for comfortable shoes for exploring and walking off all of the Belgian beer and chocolate you're likely to consume. The rest will depend on the time of year you plan to travel, so best to do some specific research once you've locked in your travel dates.
---
Where to go on holiday in Belgium?
Belgium is a compact country that promises to leave a mighty impression. Discover the vibrant city of Brussels, which is known for awe-inspiring architectural landmarks, delicious cuisine and Belgian beers, or explore the fairy tale town of Bruges with its picturesque canals and medieval architecture. Nestled between the two, you'll find Ghent, which features a little bit of everything Belgium is famous for – incredible architecture, food, cute cobblestone streets, winding canals, museums and plenty more.
---
How do I go about cancelling my Belgium holiday package?
---
When is the best time to visit Belgium?
It depends, if you're dreaming of balmy beach days, the summer months of July and August are the ideal time to bask in the warmth. If, however, you prefer things a little less crowded but just as beautiful, consider the shoulder seasons from April to June and September to October when the weather is a little milder and the crowds are smaller. Belgium in December is also a special kind of magic.
---
What is there to do in Belgium?
Feast on maple-soaked waffles and chocolate, taste Belgian beer from the source, wander historic cities marvelling at stunning architecture, visit world-class museums, cruise around the cobblestone streets and check out real-life castles from the Middle Ages, the list is endless!
---
How to find the best holiday package to Belgium?
Sign up to get the hottest deals sent straight to your phone & emails here. You can also check out our deals online, or speak to one of our Travel Experts.
---
...loading
Popular holiday destinations
---
Flight Centre acknowledges the Traditional Custodians of Country throughout Australia.