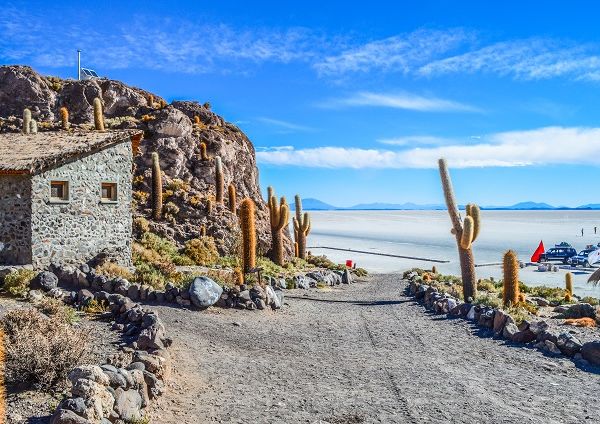 Sure, you could holiday in Italy or the Greek Islands, like everyone else on your Instagram feed, or you could embark on the trip of a lifetime in Bolivia. A place that exists outside of neat descriptions, Bolivia, in the heart of South America, is lively and energetic, strikingly beautiful, wild, captivating, curious and eccentric, all at once. Be mesmerized by the Uyuni salt flats, make pals with the local llamas and spend sun-drenched days exploring the aptly named Isla del Sol, which translates to "Island of the Sun" in Spanish, and is said to be the birthplace of the ancient Inca civilisation. With the Bolivian jungle covering half the country, it's also an excellent (and budget savvy) place to see the Amazon rainforest. With so much to see and do, it can get pretty overwhelming for first timers. Fret not, friend – our holiday packages have been designed to take out all of the hard parts, just leaving the fun.
We're pretty certain you'll be the one with the enviable Insta feed after this trip.
Deals with your name on them...
Explore holidays by interest
Explore Bolivia
Where to stay in Bolivia
Where to stay in Bolivia
Wondering where to stay in Bolivia? We've got the scoop on the best areas and hotels, no matter your budget.
Read travel guide
La Paz
If you're a first-timer in Bolivia, La Paz is a great place to stay. The country's administrative capital city is bursting at the seams with sights and experiences, and a range of accommodation options too. On a budget? Casa Fusión Hotel Boutique has got you covered. This casual hotel offers affordable rates, and access to an outdoor pool and a lovely garden. Want to splurge? It doesn't get more luxurious than a stay at Casa Grande Hotel, one of the best hotels in La Paz. It has an on-site café, bar and restaurant, and access to a sauna, indoor pool and free Wi-Fi. La Paz also has many hostels to choose from, with Saint Peter's Llama Hostal one of the popular ones. From friendly staff, large dormitories, and continental breakfasts to epic happy hours at the vibey bar, this is a top spot for making new friends and joining the party after a day of sightseeing.
Isla Del Sol
How about an island stay? Isla Del Sol, on Lake Titicaca, is a small island so the luxury accommodation providers are limited. Book well in advance unless you're happy with the basics of a hostel or a no-frills guesthouse. For a sustainable, tranquil escape, the Ecolodge La Estancia, on the island's southern tip, ticks all the boxes. Incredible views of the mountains and the lake are guaranteed. Another reason to love this lodge? All the cabins were built by community members using materials with minimal environmental impact.
Santa Cruz de la Sierra
It's the largest city in Bolivia, so there's plenty in store for you if you stay in Santa Cruz de la Sierra. Los Tajibos, a Tribute Portfolio Hotel is your go-to for a lavish getaway, offering three restaurants, a spa, an outdoor pool, a gym and a conference centre. Located within walking distance of Ventura Mall, Hampton by Hilton Santa Cruz/Equipetrol is also quite plush – especially if sustainable travel is important to you. It's eco-certified with a relaxed atmosphere, a gym and a rooftop bar offering gorgeous views of the Pirai River. Breakfast is included in your room rate. If hotels are not your thing, you can also find holiday houses and apartments to rent in the city.
Frequently asked questions
What to take on holiday to Bolivia?
It's South America, so pack for every climate but make sure you pack mosquito repellent, sunscreen, a filtered water bottle & at least two pairs of shoes (if you are heading off the beaten track).
---
Where to go on holiday in Bolivia?
Authentic, adventurous, and largely untouched by tourists you can't miss La Paz. Want to get off the beaten track? Take a three-day boat ride to Madidi National Park - an eco-tourism project that's part of the Bolivian Rainforest.
---
How do I go about canceling my Bolivia holiday package?
---
When is the best time to visit Bolivia?
The peak summer season (November to February) is the perfect time to visit Bolivia. Take advantage of the sunny days to explore the outdoor highlights that it's known for!
---
What is there to do in Bolivia?
Be mesmerized by the Uyuni salt flats, make pals with the local llamas and spend sun-drenched days exploring the aptly named Isla del Sol, and is said to be the birthplace of the ancient Inca civilisation!
---
How to find the best holiday package to Bolivia?
We've got that covered too! Sign up to get the hottest deals sent straight to your phone & emails here: www.flightcentre.com.au/p/subscribe. You can also check out our deals online or speak to one of our Travel Experts.
---
...loading
Popular holiday destinations
---
Flight Centre acknowledges the Traditional Custodians of Country throughout Australia.