Explore more holiday deals
Tea parties, swan boats, and institutions of prestige... Welcome to Boston
The capital of Massachusetts and one of the oldest cities in the United States, Boston is a leader in both culture and history, making it a perfect gateway into the United States.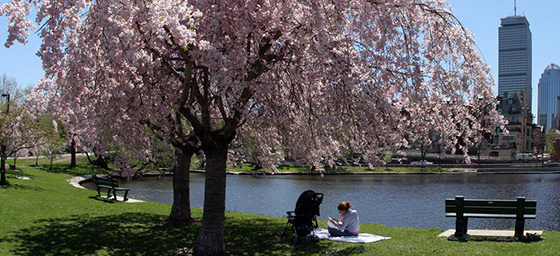 Public Park with Spring Cherry Blossoms
Contemporary American history has found a home in Boston, and there's absolutely no point or pride in attempting to avoid the rich heritage of the city. It's best experienced by wandering along the four-kilometre Freedom Trail, home to 16 sites important to the Revolutionary War, including the famous Boston Common, the home of Paul Revere and the 1797 ship USS Constitution.
Fun, colorful, irregular, postmodern architecture of MIT Strata Center in Cambridge
Once you've covered the history, it's time to concentrate on culture. The Boston Museum of Fine Arts is one of the most exciting galleries on the eastern seaboard, home to works by US and international artists. If you prefer a more culinary cultural experience, Little Italy has (appropriately) the best pizza in the city, while there are some spectacular cafes sprinkled through the streets around the Boston Common. Filmmakers, dancers, photographers, musicians and philosophers all flock to the city who thrive off the artisan vibe, making the city come alive with regular performances and world-class venues. Boston certainly has a unique energy, fusing its proud history with a unique blend of art, food and entertainment – it's a city definitely worth experiencing for yourself.