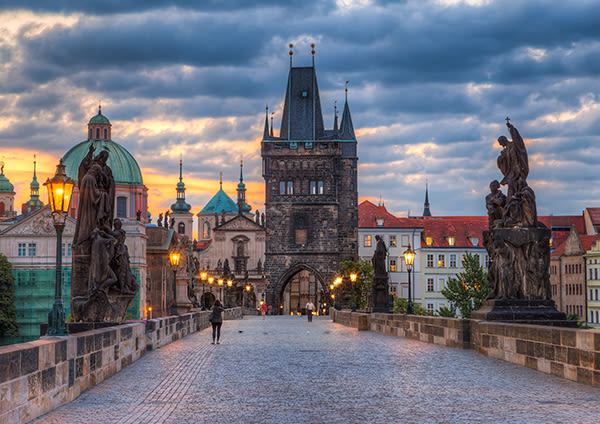 Czech
Republic
Holiday
Deals
Czechia, also known as the Czech Republic, is both a bustling, cultural hub and serene country of rivers and mountain ranges. In the west, Karlovy Vary offers thermal springs and peak relaxation while more centrally in capital city, Prague, you can explore grand structures like St. Vitus Cathedral and shop up a storm over the holiday season at one of their many Christmas markets. For those who love a cheeky beverage, you're in luck. Czechia takes out top spot for highest beer consumption per person in the world. So go on, prep that stein and get ready for the Czechia holiday of a lifetime!
Deals with your name on them...
Explore holidays by interest
Frequently asked questions
What to take on holiday to the Czech Republic?
What to take to the Czech Republic, also known as Czechia, depends on your dream itinerary and the time of year you plan to travel. As a starting point, pack comfortable shoes for exploring the cobbled streets of Prague as well as your beer-drinking shoes, as it would be a cultural crime not to taste the world-famous Czech beer.
---
Where to go on holiday in Czech Republic?
Be enchanted by charming cobblestone streets of Prague, visit the fairy tale town of Cesky Krumlov, or treat yourself in the famous spa town of Karlovy Vary. If you're up for a slightly eerie adventure, head to Kutna Hora to see the Sedlec Ossuary (a.k.a. The Bone Church), which contains the remains of an estimated 40,000-70,000 people who died in the plague.
---
How do I go about cancelling my Czech Republic holiday package?
---
When is the best time to visit Czech Republic?
Located in the heart of Europe, the Czech Republic generally enjoys long, hot summers and icy winters, so the best time to travel depends on your personal preference. The peak tourist season is between May and September, however the shoulder season (April to May and September to October) tends to offer mild weather and smaller crowds. Winter in Czech has a reputation for being bitterly frosty, so unless that's your ideal holiday vibe, perhaps seek an alternative.
---
What is there to do in Czech Republic?
With more than 2000 castles and plenty of UNESCO World Heritage sites to explore, it's impossible to be bored in the Czech Republic. Visitors can spend their days marvelling at old-world architecture, sampling the famous Czech beer, soaking in hot springs and enjoying spa treatments in Karlovy Vary, hiking in the pristine national parks, vising museums, taking walking tours, sipping and snacking – the list is endless!
---
How to find the best holiday package to Czech Republic?
Sign up to get the hottest deals sent straight to your phone & emails here. You can also check out our deals online, or speak to one of our Travel Experts.
---
...loading
Popular holiday destinations
---
Flight Centre acknowledges the Traditional Custodians of Country throughout Australia.