Explore Bali and be rewarded with genuine hospitality and stunning natural beauty.
Always welcoming, Bangkok bustles with a relentless energy that captivates visitors worthy of its intoxicating power.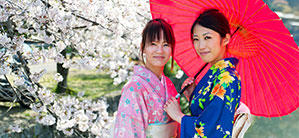 Behind the face of modern Japan lies a thriving gay scene in the country's capital, Toyko.
Asia as a Gay Destination
From the frenetic bars of Bangkok to the relaxing beaches of Bali and onto the culture of Tokyo, Asia has much to attract gay and lesbian travellers.
Perhaps begin your exploration of Asia by checking out the gay bars in Bangkok before heading to one of the Thai beach destinations such as Phuket or Pattaya for rest and relaxation. From Thailand, travel to Indonesia and bask in the glorious Bali sun before hitting the clubs of Kuta. On the other hand, experience the cultural sights of Tokyo during the day, before checking out the city's unique gay night life when the sun sets.
For more information on gay and lesbian focused travel in Asia, call your local Flight Centre consultant on 133 133.