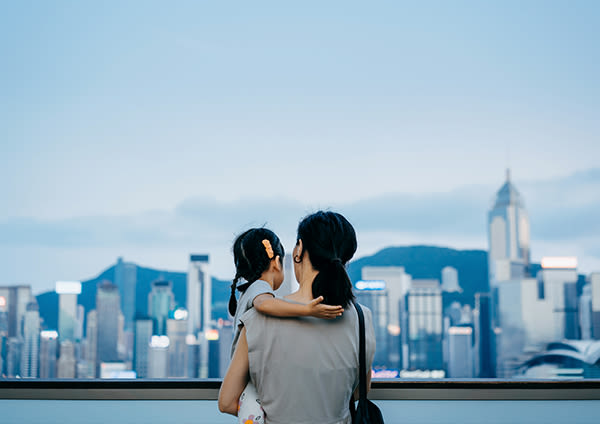 When you think of Hong Kong, it's likely you're picturing towering skyscrapers and densely populated citywalks. But that's only part of the picture. Two thirds of the city area is dedicated to lush parks and forests, making it a dream destination for hikers and outdoor adventurists as well. There's an alluring buzz to Hong Kong, it's a collision of east and west to deliver a place and culture unto itself. While many visitors are drawn here to bow in reverence at the incredible bronze Tian Tan Buddha statue and delight their inner child at Hong Kong Disneyland, Hong Kong has so much more to offer. Hong Kong's culinary scene is hotter than the surface of the sun, with microbreweries popping up all over and the world's cheapest Michelin-star meal, night markets and boundary-pushing fine-dining feasts. For breath-taking views of the city (and to work off all that food you just ate), head to Victoria Peak, known locally as 'The Peak', or drop anchor at Victoria Harbour to watch the twinkling city lights. Then, when you're ready to eat again, be sure to head over to Cheung Chau for some mouth-watering seafood. Hong Kong really is unlike any other city on the planet. If you've not yet had the pleasure of visiting, talk to our team about our Hong Kong package holidays.
Deals with your name on them...
Explore holidays by interest
Explore Hong Kong
Where to stay in Hong Kong
Where to stay in Hong Kong
There are three major locations you have to choose from when you're planning where to stay in Hong Kong. These are Hong Kong Island, Kowloon Peninsula and the New Territories (including several outlying islands as well as Hong Kong's largest island, Lantau). Each has its own pros and cons, so it just depends what you're looking for. If you want to remain in the heart of the action, the neighbourhoods in the north of Hong Kong Island or on Kowloon Peninsula are your best bet, with the other islands offering an entirely different, and less frenetic, Hong Kong experience.
Read travel guide
Central, Hong Kong Island
This area is the business and entertainment hub of Hong Kong. Central puts you in close proximity to the Peak and the Peak Tram, but it can also be one of the more pricier districts of Hong Kong. There are lots of hotels in this area and also plenty of nightlife. You're close to the Star Ferry departure point and the Hong Kong Observation Wheel. In short, you're in the centre of it all.
Tsim Sha Tsui (TST)
Tsim Sha Tsui is one of the busiest districts in Kowloon, on the mainland. This area on the tip of Hong Kong peninsula is popular for one main reason: its close proximity to Victoria Harbour and the iconic Hong Kong skyline. Home to fascinating museums, intimate communities, and plenty of old-worldly heritage, Tsim Sha Tsui houses many top restaurants and world-class attractions. There's also the lush Kowloon Park just five minutes away, if you're in need of some green space.
Wan Chai
Wan Chai and northeast Hong Kong Island will put you in close proximity to Hong Kong Park, Happy Valley Racecourse and shopping; plenty of eating and drinking options; as well as great transport links. Wan Chai was one of the first districts to be inhabited by the British, and is dotted with history and culture despite its slightly gritty appeal. Nearby is Causeway Bay, known as one of the greatest shopping destinations in the world.
Lantau Island
If you are looking for pristine beaches, beautiful landscapes and less hustle and bustle, Lantau Island is a wonderful place to stay. It's also the location of Hong Kong Disneyland Resort, the Tian Tan Buddha Statue (known as the Big Buddha) and Po Lin Monastery, so does draw quite a crowd to these specific attractions. Hong Kong Disneyland Resort has three different hotels on site, so you could very easily spend your entire holiday there and never run out of things to do.
Frequently asked questions
How many days should you spend in Hong Kong?
Hong Kong is the kind of place you could spend weeks and barely scratch the surface. Generally speaking, try to spend at least three to four days here to get a good sense of the city and its attractions.
---
Is it better to stay in Kowloon or Hong Kong Island?
This is like asking which is better – summer or winter. It ultimately depends on personal preference as both Kowloon and Hong Kong Island offer unique experiences and have their own distinct characteristics.
---
When is the best time to visit Hong Kong?
To make the most of Hong Kong's beautiful outdoor scenery, many visitors favour Autumn (October and November) as there's usually plenty of sunshine and low humidity. That said, each season brings with it a whole new way to view the city, so there's no bad time to visit.
---
What is there to do in Hong Kong?
Whatever your heart desires, you will find it in Hong Kong. Explore the city's vibrant culture and history by visiting iconic landmarks, shop up a storm at the bustling markets, sample local cuisine and get a sweat on hiking or beach-hopping on the nearby islands.
---
How to find the best holiday package to Hong Kong?
We've got that covered! Sign up to get the hottest deals sent straight to your phone & emails here. You can also check out our deals online, or speak to one of our Travel Experts.
---
Which area in Hong Kong is best to stay in?
If you're here for city life, Central is home to the majority of the iconic skyscrapers and upmarket restaurants while shoppers and foodies alike will be drawn to Tsim Sha Tsui and Causeway Bay.
---
What to take on holiday to Hong Kong?
Comfortable walking shoes are a necessity, but trust us when we say the shopping is so good you'll be making excuses to hit the shops. Oh, would you look at that, I accidentally packed an empty suitcase.
---
Where to go on holiday in Hong Kong?
You can arrive with an empty itinerary and stomach and fill both quickly. Some popular destinations include the iconic Victoria Harbour, the bustling streets of Central District, and the beautiful hiking trails of Lantau Island.
---
How do I go about cancelling my Hong Kong holiday package?
---
...loading
Popular holiday destinations
---
Flight Centre acknowledges the Traditional Custodians of Country throughout Australia.