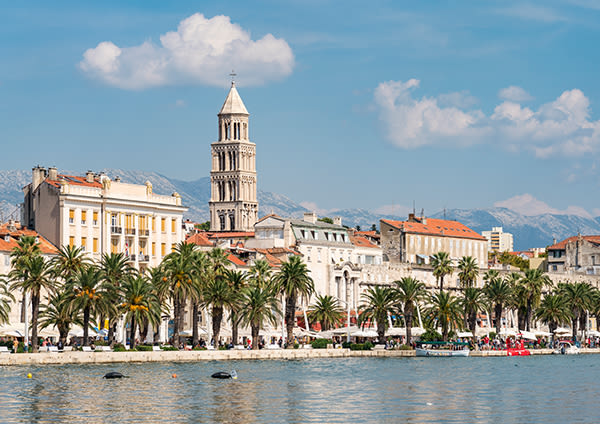 A Croatia holiday is a popular bucket list item, and if it isn't on yours...it should be. Become one with nature in Croatia's largest national park, Plitvice Lakes. A stunning karst landscape, its crystal-blue lakes entwined among forests and meadows needs to be seen to be believed. A trip to this European slice of paradise is not complete without island hopping around the country to visit the best of its beaches and ancient villages. Perhaps Croatia's most infamous city, Dubrovnik, offers medieval stone wall architecture, pebbled streets and captivating views of the Adriatic Sea. Don't be surprised if these glorious sights seem somewhat familiar, the city was a prominent filming location for blockbuster TV series, "Game of Thrones." Prep your history books and pack the sunscreen, Croatia awaits.
Deals with your name on them...
Explore holidays by interest
Frequently asked questions
What to take on holiday to Croatia?
Packing for the warmer months in Croatia is pretty simple – swimsuit, sunscreen, hat, sundress/shorts and comfortable shoes for exploring the historic cities and national parks. Throw in something a little dressier for evenings and you're good to go. If you're planning on travelling in the cooler months, aim for layers, boots and a good coat or jacket.
---
Where to go on holiday in Croatia?
With ancient cities, incredible natural wonders, 700 islands and endless kilometres of turquoise-framed coastline, the hardest part about your Croatian holiday will be trying to narrow down your list! If you're a Game of Thrones fan (who isn't?) Dubrovnik's walled Old Town will make you feel like you've stepped into King's Landing. Split is Croatia's second-largest city with plenty to offer first-time visitors while the Plitvice Lakes National Park is a must-see for nature lovers, featuring 16 interconnected waterfalls and lakes framed by a timber boardwalk.
---
How do I go about cancelling my Croatia holiday package?
---
When is the best time to visit Croatia?
It depends on what brings you to Croatia in the first place. High season (July and August) brings the sun-seekers and revellers en masse with the promise of sun-kissed adventures and beach parties, while the shoulder season from May to June or September to October, is perfect for getting out and about hiking and partaking in various water sports.
---
What is there to do in Croatia?
Learn to sail along the turquoise coastline of the Dalmatian Islands, explore medieval monasteries in Dubrovnik, marvel at waterfalls at Plitvice Lakes, party on the beach in Hvar Town, discover hidden bays on Vis Island, soak up the seaside vibes of Korčula, take a Game of Thrones tour in Old Town, experience Croatia's famed culinary culture, or simply roll out a towel on the pebble beaches and do absolutely nothing at all. If paradise on Earth exists, Croatia is surely it.
---
How to find the best holiday package to Croatia?
Sign up to get the hottest deals sent straight to your phone & emails here. You can also check out our deals online, or speak to one of our Travel Experts.
---
...loading
Popular holiday destinations
---
Flight Centre acknowledges the Traditional Custodians of Country throughout Australia.