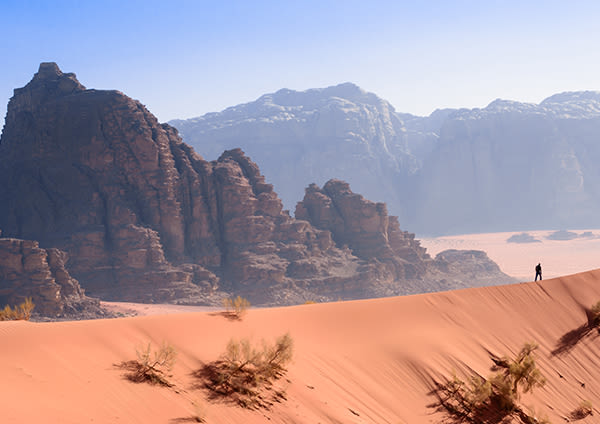 Hashemite
Kingdom
of
Jordan
Holiday
Deals
If you're sick of seeing the exact same holiday photos filling your feed (looking at you, Amalfi, Mykonos, Maldives) and yearn for something…more, book a trip to Jordan. A fascinating mix of ancient ruins, desert adventures, warm hospitality and coral reefs, Jordan is one of those once-in-a-lifetime holiday destinations that you tell your future grandchildren all about. Synonymous with the ancient city of Petra, an incredible archaeological site preserved in the windswept Siq of southern Jordan, the ruins of this once-great lost city are breath-taking and lure travellers from all over. While the exact history of Petra is somewhat sketchy, Petra played an important role as a thriving trade centre around the time of the Roman Empire and is an absolute must-see.
Although it might be tempting to spend all of your time in Jordan exploring Petra, that would be a mistake as then you would miss the deserts of Wadi Rum and its incredible rock formations and moonscapes. Jordan's capital city Amman is also a must-visit. As the launch pad for many Jordan tours, Amman is a fascinating destination in its own right. It's here where you will find the ruins of the ancient citadel and Roman Theatre. For a Middle Eastern beach holiday, be sure to include a few days in the port city of Aqaba on the Red Sea to snorkel your way around the Aqaba Marine Park. A holiday in Jordan will uncover a Middle Eastern jewel that will leave you with lasting memories.  
Deals with your name on them...
Explore holidays by interest
Frequently asked questions
What is the most beautiful city in Jordan?
Amman is the capital city of Jordan, but visitors flock to Jordan to see the ancient city of Petra. Known as the Rose City, Petra is one of the most recognisable cultural heritage sites in the world.
---
What is Jordan best known for?
Jordan is best known for Petra, an ancient city that was carved into its rock formation surroundings. The iconic Al-Khazneh (Treasury) is one of the most recognisable cultural heritage sites in the world.
---
When is the best time to visit Jordan?
Aim to visit Jordan in either autumn or spring, when the temperatures are milder than the sizzling summers and surprisingly chilly winters. However, any time is a good time to visit Jordan. Just ensure you are prepared for the season and pack accordingly.
---
What is there to do in Jordan?
Marvel in the unique landscapes and cultural heritage around Petra and Wadi Rum, get wet in the Red Sea, and enjoy a city break in Amman.
---
How to find the best holiday package to Jordan?
We've got that covered! Sign up to get the hottest deals sent straight to your phone & emails here. You can also check out our deals online, or speak to one of our Travel Experts.
---
How many days in Jordan is enough?
If you want to take in the cities of Amman and Petra and take a trip to the Dead Sea coast and the desert of Wadi Rum, allow at least a week in Jordan.
---
What to take on holiday to Jordan?
Light clothing and layers are the secret to packing for a trip to Jordan. Don't leave home without a hat, sunnies and water bottle, and make sure you are wearing your comfiest shoes – you'll be doing a lot of walking around Petra.
---
Where to go on holiday in Jordan?
Petra is a must-see, and while you're in the country's south you may want to spend some time in the desert for an authentic Bedouin experience. If sun and sand appeals to you, make sure you spend some time in the Jordan coastal city of Aqaba, where you can enjoy swimming and water activities in the Red Sea.
---
How do I go about cancelling my Jordan holiday package?
---
...loading
Popular holiday destinations
---
Flight Centre acknowledges the Traditional Custodians of Country throughout Australia.