Looking for Johannesburg Holiday Packages?
We can't find any online Johannesburg holiday deals at the moment but one of our helpful Travel Experts can help you find what you're after! Send us an online enquiry, call us on 133 133 or we can call you.
Explore more holiday deals
Soak up some South African culture
Johannesburg is a strikingly modern place – home to almost 4 million in the city centre and about 10 million in the broader metropolitan area. To get your bearings in a metropolis that started life as a gold rush town in the 1880s, take the lift to the 50th-floor observation deck in the Carlton Centre; there's no lake or waterway here but there are more than 6 million trees.
Old Mining Village
There's no shortage of places to stay in Jo'burg, with hostels to upscale properties available. Many of the more luxurious hotels and trendy cocktail bars are in the northern suburbs around Sandton. For top restaurants, make your way to the suburbs of Greenside, Norwood and Parkhurst. If you're a shopaholic and want authentic souvenirs from your holiday in Johannesburg, there's a host of modern shopping centres but you'll likely find something more characterful at the host of open air markets, including Bruma Market. Alternatively, for a smaller array of arts and crafts, try the Rosebank Rooftop Flea Market. Remember to take a gold mine tour too – see how it all began.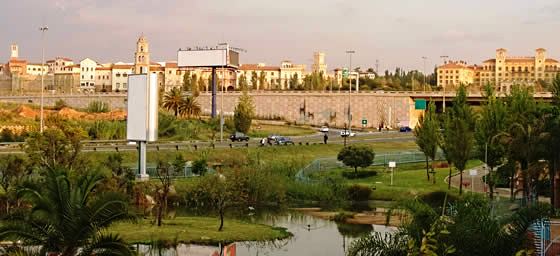 Johannesburg's Skyline and City Gardens