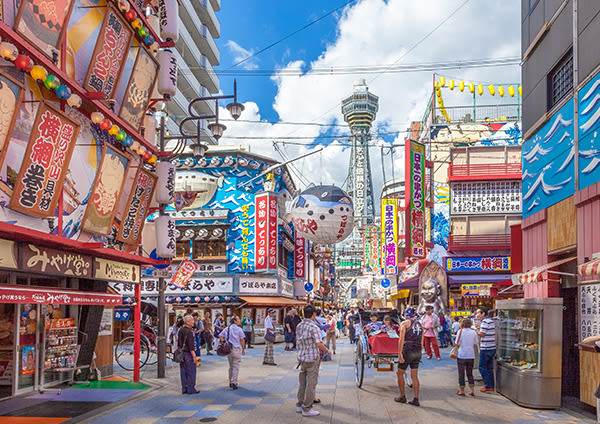 Ahhh Osaka, a refreshing breather from Tokyo's intense energy. If you're the kind of traveller that likes to experience a place like a local rather than skipping in between tourist spots, add Osaka to your travel itinerary, stat. A haven for foodies, Osaka is home to alleyways, known as 'Yokocho', that are lined by tiny Izakaya pubs, bars and sip spots that beg to be explored. In your travels, you may come across the expression 'kuidaore', often interpreted to mean 'eat until you drop', which is a very real possibility here. Got little ones in tow? Osaka's slightly slower pace makes it a popular choice for family holidays, while those who seek to immerse themselves in Japan's culture and heritage will appreciate Osaka's ornate Japanese architecture, the awe-inspiring Osaka Castle and pristine Japanese gardens. No trip to Osaka is complete without visiting Dotonbori Street, where you'll be bombarded with bright neon lights, over-the-top signage and more restaurants and bars than you could ever possibly experience first-hand. Ready to feast? Talk to our team about our Osaka holiday packages today, just don't forget to pack the stretchy pants – you're going to need them!
Deals with your name on them...
Explore holidays by interest
Frequently asked questions
What is the best part of Osaka?
There are plenty of reasons to fall in love with Osaka, but the food is undoubtedly one of its major drawcards. Osaka is one of Japan's most delicious cities attracting foodies from all around the world with the promise of culinary delights including Takoyaki and Okonomiyaki.
---
Is Osaka an expensive city?
The great thing about Osaka is that you can find some delicious street eats and inexpensive accommodation alongside more luxurious lodgings and elevated dining experiences. You can tailor your Osaka experience depending on budget.
---
When is the best time to visit Osaka?
Good news! Osaka is beautiful at any time of the year, however spring is a popular choice for visitors. For a bloomin' beautiful backdrop, plan your trip for late March and early April and you'll catch the majestic cherry blossoms in all their glory.
---
What is there to do in Osaka?
From exploring man-made islands and museums to eating your way around the many Izakaya bars and even donning a onesie for a spot of Mario-inspired go-karting, there's plenty to see and do in Osaka. If you're planning on doing some sightseeing, Osaka Castle and Shitennoji Temple are a must!
---
How to find the best holiday package to Osaka?
We've got that covered! Sign up to get the hottest deals sent straight to your phone & emails here. You can also check out our deals online, or speak to one of our Travel Experts.
---
How many days is Osaka is enough?
It depends, how much eating and drinking can you do in a week? If you're after just the highlights reel, you'll need at least a couple of days here. If you're after the true Osaka experience, you'll want to linger a little longer.
---
What to take on holiday to Osaka?
What to pack depends a lot on what time of year you are travelling, so best to do some specific seasonal research before stuffing your suitcase. As a general guide you'll want cash and credit cards, a SIM card or portable Wi-Fi, electrical adapter, comfortable shoes and your appetite.
---
Where to go on holiday in Osaka?
As much as we love planning the big things (you could even say it's our specialty), there's something truly magical about exploring a new city with an open agenda and empty stomach. We guarantee you'll find a way to fill both, fast.
---
How do I go about cancelling my Osaka holiday package?
---
...loading
Popular holiday destinations
---
Flight Centre acknowledges the Traditional Custodians of Country throughout Australia.