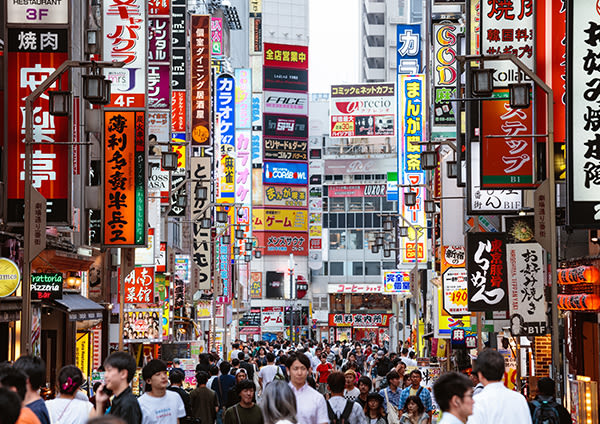 You know that high-energy friend that never seems to draw breath let alone sleep? Tokyo is the city version of that friend. Mesmerising, enchanting, exhilarating – there's a chaotic hum to Tokyo that, while it can be overwhelming at first, becomes kind of intoxicating. The best way to navigate Tokyo's intense energy is to dive in head first, and like a current, just go with it. First stop on your Tokyo tour, get a bird's eye view of the city from the top of Tokyo Tower, immerse yourself in the city's rich history on a tour of Imperial Palace before following your nose to discover hole-in-the-wall bars and restaurants hidden down unassuming alleys. Those who have extra room in their suitcase should head to Tokyo Bay for some retail therapy. Despite popular belief, it isn't all bustle and bustle. When you need a moment of reprieve, soak in the serenity at one of Tokyo's many Buddhist temples, the most famous of which is Sensō-ji. While Tokyo is impressive all year round, springtime is especially magical as that's when the cherry blossom trees bathe the city in soft pink splendour. If you're craving a city break jam-packed full of fun and excitement, talk to our team to get the low down on our Tokyo package holidays. Steeped in tradition yet wildly futuristic, Tokyo is unlike any other place on Earth.
Deals with your name on them...
Explore holidays by interest
Explore Tokyo
Where to stay in Tokyo
Where to stay in Tokyo
Not sure where to stay in Tokyo? Try to base yourself somewhere that is not only interesting but also well-served by trains. It can also be useful to have a convenience store nearby, as here you can withdraw money and also buy cheap yet delicious lunches. Tokyo is huge and best described as a collection of mini-cities. Some of these areas, while only minutes from each other, have completely different atmospheres. It's important to establish which one will best suit your interests when comparing your hotel options.
Read travel guide
Shinjuku
Shinjuku is a great place to stay if you've never visited Tokyo before. It's well-connected to public transport, as well as Narita Airport (catch the Narita Express). Not only is Shinjuku a transport hub – it also boasts a collection of restaurant-packed alleyways, buzzing nightlife, and parks that are especially beautiful in spring.
Ginza
Luxury Ginza, though pricey, is a great place to stay. It's known as Japan's main luxury shopping district with an abundance of galleries, bars and upmarket department stores found here. Ginza was the first neighbourhood in Tokyo to modernise, so it maintains a distinct Japanese vibe without the crowds you experience in Shinjuku. Only one stop away from Tokyo Station, Ginza is a convenient place to base yourself for regional travel.
Akihabara
Akihabara is a quirky neighbourhood with many great budget accommodation options. Though it's a relatively plain district, with little dining and nightlife, it's a world-renowned hot-spot for electronics. Akihabara also has fantastic connections to public transport, with JR Akihabara situated on the Yamanote Line.
Roppongi
Roppongi is a hub for international nightlife, shopping, dining, and entertainment. It's an area with a real air of sophistication. Bars, restaurants, galleries, and picturesque parks are in abundance here. While Roppongi is a great place to stay, it can get very noisy at night. It's also not on the Yamanote Line, posing a problem for those seeking direct connections to Tokyo hot-spots.
Ueno
Ueno, the cultural heart of Tokyo, is a great place to stay if you're interested in history and the arts. The area has the city's greatest concentration of museums and vintage wooden structures. There are more than 100 temples in Ueno, as well as traditional Ryokan and an impressive neighbourhood park – not to mention links to other parts of the city and great airport access.
Shibuya
Stay in Shibuya to experience modern Tokyo. It's full to the brim with upmarket shops and restaurants, is home to the buzzing Shibuya Crossing, and also has great transit links. The epitome of what you picture in your mind when you think about Tokyo, Shibuya is the perfect place for those who love the hustle and bustle of cities.
Asakusa
Asakusa is an area isolated from other parts of Tokyo, with other wards fairly long train rides away. This district has experienced very little of the development seen in other parts of Tokyo, so it maintains a real old-city atmosphere. It's a great place to stay if you're interested in ancient temples and craft shops, with the area retaining a lot of history and old Edo spirit.
Frequently asked questions
Which part of Tokyo is the best?
Ooh, this is a tough one because each city offers its own unique quirks and drawcards. The hubs of Shinjuku and Ginza, however, are popular for many visitors to Tokyo.
---
Is Tokyo English friendly?
Increasingly so! Although most of the signs are in Japanese, there are enough in English to get by. While the locals aren't necessarily fluent, you will find that most are friendly and helpful, plus there are always translation apps – hooray for technology!
---
When is the best time to visit Tokyo?
If you want to see the city awash with pretty pink from the cherry blossoms, you'll want to come between late March and early April.
---
What is there to do in Tokyo?
Tokyo is a smorgasbord for all of your senses with plenty to see, do and devour. Fill your days with sightseeing, shopping and exploring before setting out in search of a cosy spot to fill your belly.
---
How to find the best holiday package to Tokyo?
We've got that covered! Sign up to get the hottest deals sent straight to your phone & emails here. You can also check out our deals online, or speak to one of our Travel Experts.
---
How many days do you need in Tokyo?
You could spend weeks in Tokyo and not even scratch the surface! Like an onion, there are many layers to Tokyo – it just depends on how many layers you want to experience. Give yourself at least five days to a week to fully appreciate this incredible city.
---
What to take on holiday to Tokyo?
It depends on what time of year you are travelling, but as a general guide you'll want your travel money, a SIM card or portable Wi-Fi, electrical adapter, comfortable shoes and a sense of adventure.
---
Where to go on holiday in Tokyo?
Wherever your heart desires! Every city boasts its own attractions and quirks, but the suburbs of Shinjuku and Ginza are popular for many first-timers thanks to the wide variety of accommodation options, restaurants and shops.
---
How do I go about cancelling my Tokyo holiday package?
---
...loading
Popular holiday destinations
---
Flight Centre acknowledges the Traditional Custodians of Country throughout Australia.