The island paradise nature-lovers dream of...
The region is home to Malaysia's first World Heritage site, Kinabalu National Park, intriguingly combining 4 different climate zones and Malaysia's highest mountain – Mount Kinabalu (4000m+).
Mount Kinabalu
Sabah's mixed heritage is revealed in the places of worship in KK: cathedrals, temples, mosques; and the Monsopiad Cultural Village (southeast of KK) and Mari Mari Cultural Village (northwest of KK). There are also stilt villages found along the coast, inhabited since the 15th century or so. Aside from cultural intrigue, mountain climbing and forest trips, what else is there to do?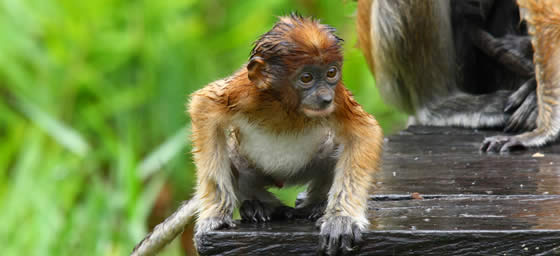 Baby Proboscis Monkey
Kota Kinabalu is one of the top spots in Malaysia from which to launch a deep sea fishing trip and there are ample opportunities for diving and snorkelling here. Nearby Tunku Abdul Rahman National Marine Park comprises 5 islands and their surrounding coral reefs, with abundant marine life and colourful coral. There are also several World War 2 wrecks within 10–15 minutes by boat from the city. Don't worry if you're only a novice diver, you can get PADI certification while on holiday in Kota Kinabalu too.