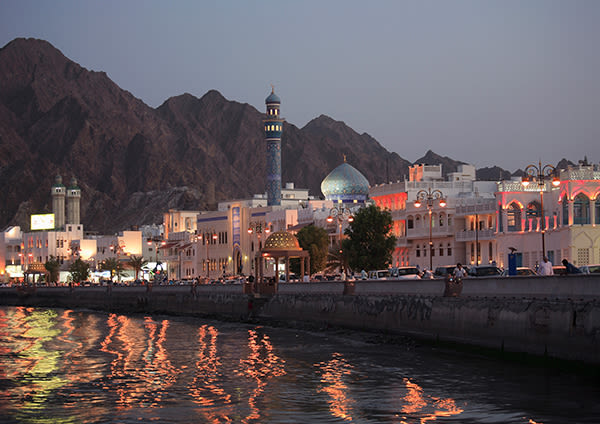 If you want to experience authentic Arabia in pure luxury, an Oman holiday is the perfect choice. Not just a long haul stopover, Oman is renowned for luxury hotels and exceptional service. Travellers seeking a relaxing beach holiday are spoilt with 3000-km of coastline along the Gulf of Oman and the Arabian Sea, where you're quite likely to spot turtles and dolphins frolicking off the coast. A visit to Sultan Qaboos Grand Mosque will leave you awestruck, perfectly showcasing Oman's opulence. While in Muscat, stop by the Bait Al Zubair museum and learn about the history and tradition of this Middle Eastern country. Predominantly a desert country, a stay in the Wahiba Sands desert gives travellers the opportunity to experience an unforgettable desert sunset (better yet, by camel ride!) and, for the adventure seekers, the chance to go dune bashing on buggies and sandboard down soft, shape-shifting mountains. For a completely different landscape, check out Oman's many national parks, where you will find grand limestone mountains, lush valleys and perhaps even spot some elusive Arabian wildlife. Hiking in Jebel Akhdar (Al Jabal Al Akhdar) will surely be a highlight.
Deals with your name on them...
Explore holidays by interest
Frequently asked questions
What makes Oman a good place for tourists?
Oman is the perfect choice for travellers seeking an authentic middle eastern experience. From the gulf coastline through to the lush wadis and desert sands, there is something for everyone.
---
What to take on holiday to Oman?
Be sure to keep in mind Oman's traditional values. Long sleeve shirts and pants for both men and women are advised.
---
Where to go on holiday in Oman?
Enjoy a city break in Muscat, where you can visit popular landmarks and relax on the Omani coastline. Head inland to discover Oman's Green Mountains (Al Jabal Al Akhdar) and the expansive Wahiba Sands desert.
---
How do I go about cancelling my Oman holiday package?
---
How many days should I spend in Oman?
To really get the most out of your visit to Oman, we recommend spending at least a week here, but if you have limited time or are happy to skip some experiences then two or three days might do. Be warned – you will want to come back for more!
---
When is the best time to visit Oman?
October through April brings good weather and milder temperatures. If you're visiting in Summer (June to August) be prepared for hot and dry weather.
---
What is there to do in Oman?
There is something for everyone in Oman! If you're seeking a city break with a bit of beach time, be sure to base yourself in Muscat. For the adventurers or those seeking a desert experience, head inland to discover Oman's many national parks and wadis and its expansive deserts.
---
How to find the best holiday package to Oman?
We've got that covered! Sign up to get the hottest deals sent straight to your phone & emails here. You can also check out our deals online, or speak to one of our Travel Experts.
---
...loading
Popular holiday destinations
---
Flight Centre acknowledges the Traditional Custodians of Country throughout Australia.