There are currently no products, please try again later.
Set on a stunning harbour and rimmed by hills
Welly, to go by its moniker, is in constant struggle with Auckland to become New Zealand's favourite city. The country's official capital (after taking the crown from Auckland in 1865) has a few gems that give it a competitive edge. A weekend getaway in Wellington could involve leisurely brunches in the midst of a booming cafe culture, cultural expeditions to the innovative Te Papa national museum, working up a sweat on a mountain biking adventure or all of the above! Mount Victoria boasts spectacular views reaching to the South Island while Wellington Harbour welcomes cruise boats day tripping across the Cook Strait.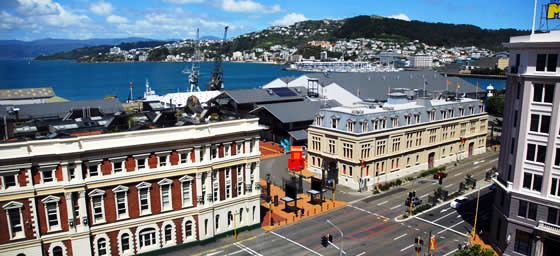 Streets of Wellington
A robust film industry has earned Wellington the nickname 'Wellywood'. During your weekend escape to Wellington, pick up a genuine Lord of the Rings collectible at Weta Cave or visit the historic Embassy Theatre which has rolled out the red carpet for many movie premieres. If you are a fan of Frodo and co, there are over a hundred Lord of the Rings film locations to explore – join a tour and discover Middle Earth for yourself. If you feel like stretching your long weekend in Wellington even further, visit the Kapiti Coast for taste of regional fare and equally delicious coastal views.
Cityscape View
One of Wellington's biggest attractions is a booming gourmet dining scene. Whether you are a passionate foodie or casual diner, you will find some of the country's best cuisine during your weekend away in Wellington. Renowned for quality coffee, try a local blend and see why this little city is the capital of big flavours. If you fancy a romantic weekend in Wellington, why not spend a night in the Wairarapa wine region? Book a short break to Wellington and experience the city's heritage, fine food, arts and adventure for yourself.