Looking for Ayers Rock Holiday Packages?
We can't find any online Ayers Rock holiday deals at the moment but one of our helpful Travel Experts can help you find what you're after! Send us an online enquiry, call us on 133 133 or we can call you.
Explore more holiday deals
A unique glimpse of Australia's geographical and cultural past
One of the great wonders of the natural world, Uluṟu is the world's largest monolith and changes from ochre red to orange and bright red in the transformational light of sunrise and sunset. This sacred Aboriginal site has many billabongs, trees and rock art to view as you walk around the base. Uluṟu-Kata Tjuṯa National Park Cultural Centre offers guided tours to appreciate the unique cultural and natural attributes of this desert habitat.
Discover the world heritage area of Uluṟu and Kata Tjuṯa on a camel tour
While you're in the area, be sure to visit Kata Tjuṯa (the Olgas), towering natural rock shapes which change hues at sunrise and sunset. Head north from Uluṟu to trek through Watarrka National Park and Kings Canyon to see the rugged landscape and tranquil waterholes. Adventurous types will love viewing the region on an adventure tour via motorbike, helicopter and 4WD or even a camel! For a real taste of the outback, consider donning an Akubra hat for a tour or a stay on a working cattle and camel station.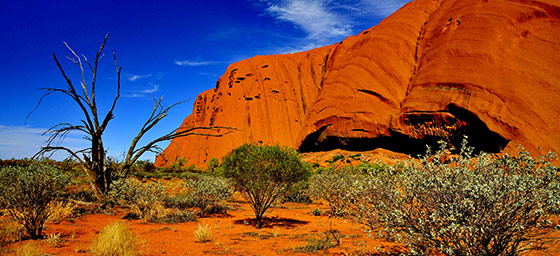 A different perspective on this Australian landmark