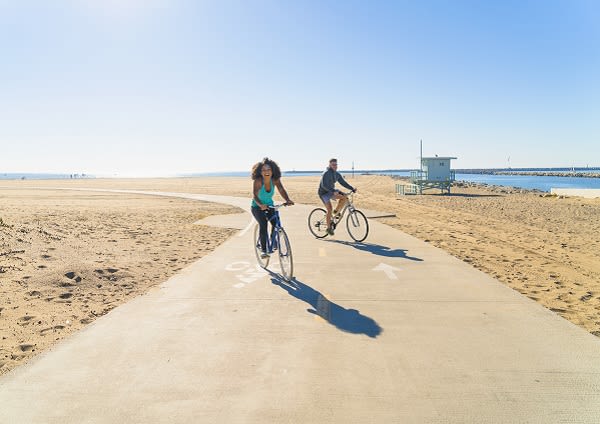 If it's sun-soaked adventures, endless excitement and entertainment you seek, Los Angeles – aka the City of Angels – delivers in spades. Thrill-seekers can get their fix exploring the theme parks while those who are here for the sun and sand can roll out a towel on Venice Beach and soak in stunning views of the Pacific Ocean. Keen to get a sweat on? Cruise along Santa Monica Pier on a two-wheeler or hit the open-air gyms along the beachfront and flex with the locals. For those classic I-went-to-LA snaps, be sure to get a glimpse of the Hollywood sign and do a little celebrity star-spotting on the Hollywood Walk of Fame. Fancy a little retail therapy? Head to Rodeo Drive and shop 'till you drop. Culture seekers will be in their happy place in Downtown LA, a lively hub bursting with museums, galleries and nightlife options, while foodies can embark on a self-guided street food tour of the city. Hot tip, sometimes the best food can come from the back of a truck and tours of celebrities' houses aren't always entirely accurate. Whether you're an adrenaline junkie here for thrills or a culture vulture seeking out the latest art exhibitions, Los Angeles has a side to suit. But don't take our word for it, experience the magic of Hollywood and the glamour of LA for yourself – talk to our team of travel experts about our latest hotel offers and Los Angeles holiday packages today.
Deals with your name on them...
Explore holidays by interest
Explore Los Angeles
Where to stay in Los Angeles
Where to stay in Los Angeles
The topic of where to stay in Los Angeles is, as you may expect, entirely dependent on what you plan to be doing when you're not in your hotel room. Heading to Disneyland for a day or two? It's a good idea to stay in Anaheim. Planning to scour Hollywood? Find a place on Hollywood Boulevard. Basing yourself near the landmarks that interest you most is a great way to cut down on time spent in transit, allowing you to see much more of this incredible, vibrant city.
Read travel guide
Downtown Los Angeles
Fresh from a long-overdue restoration, Downtown Los Angeles is rapidly filling up with gorgeous, five-star hotels. As an example, staying on Francisco Street will put you within walking distance of every major Downtown landmark, from the historic Flower Street and L.A. LIVE to the sprawling Los Angeles Convention Center. Downtown is now one of the best areas to base yourself in Los Angeles.
Santa Monica
Santa Monica is packed with hotels as quirky and oddball as the area itself. Check out the Palihouse Santa Monica for an example of what we mean – clean, spacious and luxurious to be sure, but also with a personality entirely its own. You'll find some of the most memorable places to stay in this neck of the woods.
Beverly Hills and West Hollywood
Beverly Hills and 'WeHo' are dense with luxe five-star accommodation, as you would expect from such affluent places in Hollywood. The Hotel Palomar on Wilshire Boulevard is a beautiful boutique establishment in the heart of Beverly Hills that will satisfy even the pickiest traveller. Similarly, the Ramada in West Hollywood is perfectly placed for exploring everything Hollywood has to offer.
The Valley
The San Fernando Valley, or simply The Valley as it's known by the locals, is a large area comprising much of Los Angeles north of the Hollywood Hills. Here you'll find plenty of upmarket hotels placed near every major movie-making landmark. For those looking to spend the day at Universal Studios or exploring beautiful Burbank, this is where you should find accommodation.
Marina del Rey
Staying at Marina del Ray puts you right on the water and directly next to the beautiful Venice Beach. A sprawling marina filled with expensive yachts, this is the perfect area to stay for those who intend to take advantage of the many beautiful Los Angeles beaches and stunning weather. Throw open the door in the morning and head straight down to the beach.
Frequently asked questions
What do I need to know before visiting LA?
Los Angeles is a world unto itself and can be daunting for first-timers. Some things to know – it's generally always sunny but can get chilly in the evenings, sometimes the best food can come from the back of a truck and the tours of celebrity houses aren't always entirely accurate. LA is massive, so plan your days and travel times wisely.
---
What to take on holiday to Los Angeles?
Comfortable shoes, a light jacket and a backpack for day trips. Los Angeles is generally always sunny, so a hat is essential. Don't stress if you forget something, the shopping here is excellent so you'll be looking for excuses to hit the mall!
---
Where to go on holiday in LA?
For first timers, Hollywood is basically a prerequisite. For a taste of that Cali sun-soaked lifestyle, head to Venice Beach and Santa Monica. For shopping, West Hollywood has Sunset Plaza, and for those budget-is-not-for-us holidays, Beverly Hills is where you'll find luxe lodgings and fancy restaurants.
---
How do I go about cancelling my Los Angeles holiday package?
---
Is a weekend enough to visit Los Angeles?
In short, no. If a weekend is all you have, then be prepared to leave wanting more, much more. Los Angeles is the kind of place you can lose yourself (and find a new version) over weeks/months/years. There's always something new to see, do and devour.
---
When is the best time to visit Los Angeles?
The good news is that Los Angeles experiences near perfect conditions year-round, so there's no bad time to visit! The peak summer season, however, kicks off around June and stretches through until August.
---
What is there to do in LA?
The beauty of LA is that it can be as busy or as relaxed as you desire. For those classic I-went-to-LA snaps, be sure to get a glimpse of the Hollywood Sign, cruise along Venice Beach Boardwalk, do your finest Pretty Woman impression on Rodeo Drive or bar hop along Sunset Boulevard. Culture seekers can skip between museums and art galleries, while foodies can embark on a self-guided street food tour of the city. Then, when you need a break, roll out a towel and soak in the sunshine on one of LA's many stretches of beach.
---
How to find the best holiday package to Los Angeles?
Sign up to get the hottest deals sent straight to your phone & emails here. You can also check out our deals online, or speak to one of our Travel Experts.
---
...loading
Popular holiday destinations
---
Flight Centre acknowledges the Traditional Custodians of Country throughout Australia.