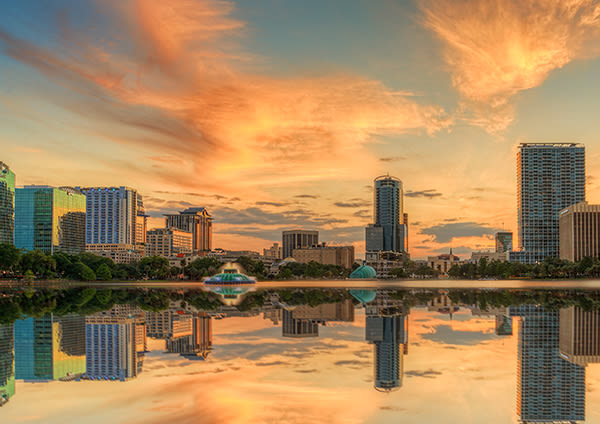 Are you ready for the adventure of a lifetime in the theme-park capital of the world? Then pack your bags because you're heading to Orlando! Home to Universal Studios Orlando, Walt Disney World and SeaWorld, Orlando has all of the ingredients for an unforgettable family-friendly holiday. Muggles and wizards alike can get swept up in the magic of Harry Potter at Universal's Islands of Adventure, or travel around the world at EPCOT. Thrill-seekers are well and truly spoilt for choice with roller coasters for days. Then, when you need to cool off from the Florida heat, hit one of Orlando's water parks where you fly head-first down water slides at Volcano Bay or float your worries away at Castaway Creek, a lazy river that flows around Disney's Typhoon Lagoon. It isn't just a dream destination for the little ones, the big kids can have a swing at one of Orlando's renowned golf courses or take a stroll through downtown Orlando to discover the city's thriving arts and cultural heart, browse the boutiques before deciding which restaurant takes your fancy. With so much to see and do, you'll never run out of options in Orlando. Talk to our team of travel experts today about our Orlando holiday packages and get ready to make memories that will last a lifetime.
Deals with your name on them...
Explore holidays by interest
Frequently asked questions
How many days is enough in Orlando?
It depends how many theme parks are on your to-do list! There are three main theme parks, Universal Orlando, SeaWorld Orlando and Walt Disney World. Here's where it gets tricky, Walt Disney World is actually four parks in one – Magic Kingdom, Epcot, Animal Kingdom and Island of Adventure. If you want to go, go, go, you could do six parks in six days but you'll need a holiday to recover from your holiday! Ten days would be ideal to add a couple of rest days in between.
---
What to take on holiday to Orlando?
Light layers, comfortable walking shoes, a backpack, sunscreen, a hat and a sense of fun and adventure. The rest will depend on the time of year you plan to travel. Oh, and hot tip, if you're planning on hitting the theme parks, buy your tickets ahead of time. 
---
Where to go on holiday in Orlando?
One of the main reasons travellers flock to Orlando is to discover the magic of Walt Disney World and Universal Orlando. Where to go depends on whether you and your tribe prefer Mickey and Disney princesses or Harry Potter and Marvel, and this in itself is a whole research topic. Outside of the theme parks, Orlando is home to the Kennedy Space Centre as well as plenty of museums, shopping malls, galleries and even a science centre.
---
How do I go about cancelling my Orlando holiday package?
---
Is it better to stay at Universal or Disney?
This is like saying which is better – white chocolate or chilli chocolate. Each offers something different that will appeal to different travellers. Walt Disney World boasts all of your favourites including Cinderella Castle, water parks, Mickey and friends, while Universal has Harry Potter and Marvel. Walt Disney World is enormous, meaning you are often waiting for transport, while Universal is more compact. Both parks offer a magical experience, so ultimately it comes down to personal preference.
---
When is the best time to visit Orlando?
If you are looking for pleasant weather, slightly smaller crowds and deals on accommodation, aim to visit from March to May. If you enjoy sweating up a storm, waiting in long lines and paying premium prices, summertime is for you.
---
What is there to do in Orlando?
Eat, sleep, theme park, repeat. Just kidding, there's so much to see and do in Orlando other than theme parks. You can eat your way around Orlando's burgeoning restaurant scene, head to the museums or the award-winning Orlando Science Centre, shop up a storm at The Florida Mall, explore the Everglades National Park, visit the Kennedy Space Centre or take a dip in Crystal River.
---
How to find the best holiday package to Orlando?
Sign up to get the hottest deals sent straight to your phone & emails here. You can also check out our deals online, or speak to one of our Travel Experts.
---
...loading
Popular holiday destinations
---
Flight Centre acknowledges the Traditional Custodians of Country throughout Australia.