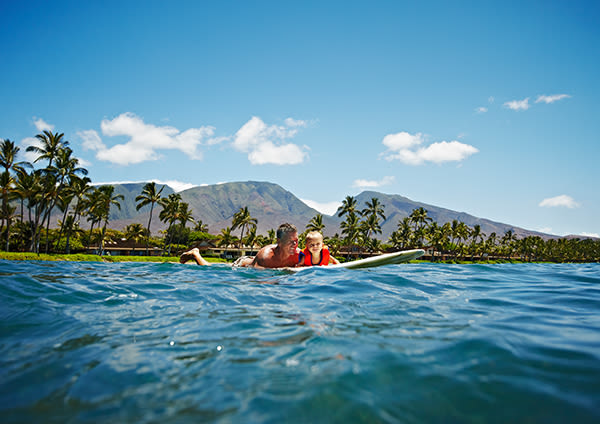 Ahhh Maui, the magical isle that offers endless opportunities for adventure, relaxation and wonder. From the stunning Makena Landing to the mysterious hidden sea caves, there's never a dull moment on this majestic island. If you're up for a little sightseeing, take a drive down the famous Hana Highway and be welcomed by lush rainforests, cascading waterfalls and breath-taking views. Just be sure to stop by Wailea Beach, where the crystal-clear waters and soft sands will have you feeling like you're in paradise (you are!). If you've always dreamt of riding a wave but have not yet had the pleasure, head to Kalama Beach Park and take a lesson – when in Rome, or in this case, Maui. For a truly unique (and adorable) experience, visit the Leilani Farm, where you can get up close with furry friends great and small. Finally, no trip to Maui would be complete without a visit to Haleakala. Early birds can catch the sunrise from the summit, while the rest of the world can appreciate the incredible hues of sunset. Whether you're hiking, biking, or just taking it all in, the beauty of Haleakala is truly unforgettable. Maui offers sun-soaked beach days followed by balmy cocktail-filled nights, wild waterfalls and underwater adventures – if this sounds like your ideal holiday vibe, stop dreaming and start booking. Talk to our team of travel experts today about our Maui holiday packages and deals. You won't regret it!
Deals with your name on them...
Explore holidays by interest
Frequently asked questions
What is the nicest area to stay in Maui?
When it comes to the all-important question of where to stay in Maui, it ultimately comes down to this – the west side or south side. West Maui (Lahaina, Ka'anapali, Kapalua, and Napili) is where you will find the majority of big-name resorts and accommodation options. There are restaurants and nightlife, shops and plenty of things to see and do, making it a popular base for many travellers. South Maui (Wailea, Kihei, and Makena), on the other hand, walks the line between local and tourist with high-end resorts and places where you can escape the crowds. The good news is there's no wrong answer here.
---
Which side of Maui has better beaches?
You'll find glorious stretches of golden sand, calm and swimmable turquoise water and epic snorkelling spots dotted across both the west and south side of Maui. For more dramatic scenes with massive swells and craggy coastlines, the northern and eastern sides make for some pretty incredible sightseeing.
---
When is the best time to visit Maui?
If you're dreaming of a sun-soaked holiday, the good news is that Hawaii enjoys year-round sunshine, so there's really no bad time to visit. The high season stretches from December to April, and again from June to August, so expect it to be busy. For slightly less crowded beaches, aim for the shoulder season.
---
What is there to do in Maui?
If you do manage to peel yourself out of your sun lounge, there's plenty to keep you occupied in Maui. Visitors can snorkel with sea turtles, take a surfing lesson, eat their way around the island, chase waterfalls, explore the rainforest, catch a sunrise from Haleakala National Park and attend a luau, to name a few!
---
How to find the best holiday package to Maui?
Sign up to get the hottest deals sent straight to your phone & emails here. You can also check out our deals online, or speak to one of our Travel Experts.
---
How many days should I spend in Maui?
Although it's the second largest Hawaiian island, Maui is still relatively small. In fact, you could drive around the whole island in 10 to 12 hours. That said, if you've come to Maui to experience the incredible culture, cuisine and soak in some breath-taking sights, a week would be ideal.
---
What to take on holiday to Maui?
Lightweight clothing, a rain jacket for those unpredictable showers, comfortable shoes and swimmers is a pretty great start. If you're planning on exploring the coves, a pair of reef shoes would be a good idea as some of the rocks can be sharp. Throw in a couple of party shirts and glamorous island 'fits and you're good to go.
---
Where to go on holiday in Maui?
This could be a whole article in itself! Some of the must-see Maui highlights are Napili Beach, the historic town of Lahaina, and if you're up for an adventure, the remote town of Hana is ideal for chasing waterfalls and wandering in the rainforest. Molokini Crater is a dream for snorkelling while the vibrant nightlife in Kihei is a must for all Maui visitors. Haleakala National Park at sunrise is another Maui must, this is the kind of experience you'll be retelling for years to come.
---
How do I go about cancelling my Maui holiday package?
---
...loading
Popular holiday destinations
---
Flight Centre acknowledges the Traditional Custodians of Country throughout Australia.