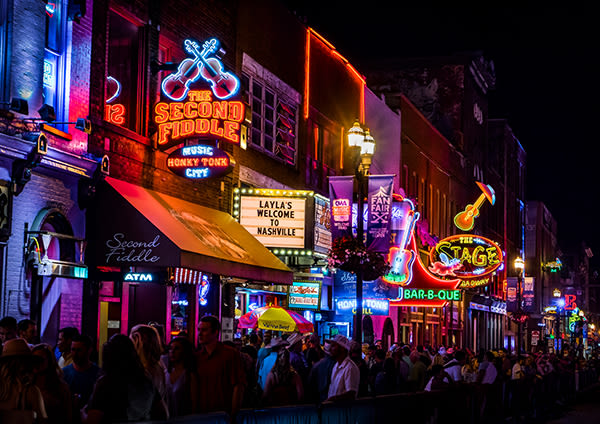 If you're planning an American road trip, consider yourself a country music connoisseur or love getting out in nature, then schedule a stop in Tennessee. This honkey tonk haven is the home of country music, with Nashville boasting the Hall of Fame and legendary Grand Ole Opry stage. History lovers are sorted with a trip to the Parthenon and Antebellum trail, while thirsty folk can head to the Jack Daniel's distillery for a whiskey tour and tasting. Beyond these popular spots, Tennessee serves as a nature-lovers playground, with the Smoky Mountains, Mississippi river and national parks just waiting to be explored. Who knows - your Tennessee holiday package may even have you rubbing shoulders with the next Elvis, Dolly or Taylor.
Deals with your name on them...
Explore holidays by interest
Frequently asked questions
What is the most beautiful part of Tennessee?
Although Tennessee is most famous for music, it's also home to its fair share of breathtaking natural sights. If you're keen to get out and about amongst nature, check out the Smoky Mountains National Park, the majestic Mississippi and Rock Island State Park, to name just a few.
---
What to take on holiday to Tennessee?
If you're planning on boot scootin', you'd better pack a pair of boots, cowboy or otherwise. If you're visiting in summer, aim for lightweight and breathable clothing and in winter, swap the sundress for sweaters, jeans and thick socks. Be prepared for Tennessee's unpredictable weather with a rain jacket and you'll be ready to rock and or roll with the best of them.
---
Where to go on holiday in Tennessee?
Memphis and Nashville are popular holiday destinations for music lovers, particularly those fond of blues and country. Elvis fans flock from all around the world to visit Graceland in Memphis. While you're in town, be sure to take a stroll through Beale Street, which is not only a mecca for live music but it's where legends such as B.B. King performed regularly. Knoxville is also becoming increasingly popular thanks to its trendy speakeasies.
---
How do I go about cancelling my Tennessee Holiday package?
---
What is the prettiest city in Tennessee?
Nashville is Tennessee's 'Music City' but its primo spot upon the Cumberland River also makes it a hot contender for Tennessee's prettiest city. Other horses in the race include Franklin, Townsend, Chattanooga, Tellico Plains and Knoxville, to name a few.
---
When is the best time to visit Tennessee?
For country music fans, June is the only time to visit Tennessee as that's when the CMA Music Festival rolls into town. For the uninitiated, The CMA Music Festival is the largest county music concert in the world. In terms of weather, March through to May and September to November deliver balmy days and cool nights.
---
What is there to do in Tennessee?
Take a hike, go rafting, participate in a cattle drive, visit a ranch, learn about history, pay respects to Martin Luther King Jr. at the National Civil Rights Museum, catch some live music, check out the Musicians Hall of Fame and Museum, feast on fried chicken and mouth-watering barbecue, spot some wildlife in the Great Smoky Mountains National Park, learn to line dance, check out the full-scale replica on the Parthenon, go chasing waterfalls, don your blue-suede shoes and visit Graceland, get a glimpse of the abandoned Tennessee State Penitentiary, visit Lynchburg, the home of Jack Daniel's Tennessee whiskey, the list goes on!
---
How to find the best holiday package to Tennessee?
Sign up to get the hottest deals sent straight to your phone & emails here

You can also check out our deals online, or speak to one of our Travel Experts.
---
...loading
Popular holiday destinations
---
Flight Centre acknowledges the Traditional Custodians of Country throughout Australia.