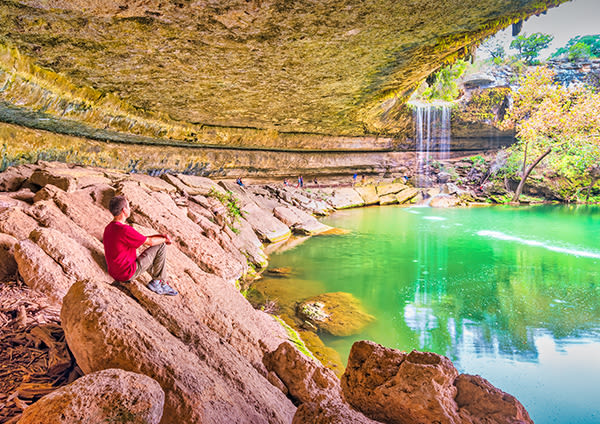 As soon as you step foot in Austin, you can feel its energy. It's undeniable. As the recognised live music capital of the world, Austin's music scene isn't the only reason visitors flock from all over to holiday in Austin. The up-and-coming city is quickly gaining a reputation as one of the most liveable cities and regularly finds itself at the top of 'ideal places to live in America' listicles. There's a creative energy and foodie buzz here that lures tech start-ups and hipsters like moths to a flame. The restaurants and bars are slinging everything from Texan BBQ to innovative fusion and crafted cocktails. After a few of those, you'll be ready to skip (and sip) your way along Congress Avenue and experience Austin's entertainment scene first-hand. When you need to cool off from the Texas heat, take a dip in the crystal-clear waters of Barton Springs or try your hand at kayaking or paddle-boarding on Lady Bird Lake. With the Colorado River flowing through the heart of downtown, Austin is a haven for water-based adventures. Speaking of, if you're in the mood for a spot of cliff jumping (or watching and just saying you did) head over to Eddy Pool and launch yourself into stories you'll be telling for years to come. What are you waiting for? Talk to our team of travel experts about our Austin holiday packages to experience the electric buzz of Texas' capital city.
Deals with your name on them...
Explore holidays by interest
Frequently asked questions
What is Austin known for?
Austin is the live music capital of the world. Home to hundreds of live music venues; you're guaranteed to leave with a memorable soundtrack for your Texas holiday. Austin also regularly finds itself at the top of 'ideal places to live in America' listicles and is widely regarded as a tech and creativity hub for start-ups and hipsters.
---
What to take on holiday to Austin?
While other parts of Texas are all denim and dusty boots, Austin is a little bit different in that regard. Austin is emerging as an epicentre of cool, so feel free to step it up a notch. Another thing you should know is that Austin is hot, so light, breathable layers are your best bet for staying cool.
---
Where to go on holiday in Austin?
If you're looking for an easy base for exploring, Downtown is ideal as it's walkable or just a short drive to major sites. The Downtown area boasts plenty of bars, restaurants and live music venues, so you don't have to travel too far from home for a bite and a beer. Now you've got a base, it's time to talk to-do lists.
---
How do I go about cancelling my Austin holiday package?
---
What makes Austin Texas unique?
Austin is quickly gaining a reputation as one of the world's most liveable cities. Not only is it the live music capital of the world, but there's a creative energy and foodie buzz that's putting it firmly at the top of traveller's to-do lists.
---
When is the best time to visit Austin?
The busy tourist season coincides with the 10-day annual South by Southwest (SXSW) festival, which takes place mid-March and has become a barometer for trends in music, art and culture, and Austin City Limits (ACL) in October. If your interest in Austin is outside of these two events, best avoid town during these times, as even the locals tend to vacate during the peak periods.
---
What is there to do in Austin?
Check out some live music, roll out a rug in Zilker Park, take a dip in the Barton Springs Pool, learn about Texan history at the Bullock Texas State History Museum, look to the sky at dusk for bat feeding, hit the Dirty Sixth for a little late night revelry, check out the Texas State Capitol, eat your bodyweight in Texas BBQ – and that's just the beginning!
---
How to find the best holiday package to Austin?
Sign up to get the hottest deals sent straight to your phone & emails here. You can also check out our deals online, or speak to one of our Travel Experts.
---
...loading
Popular holiday destinations
---
Flight Centre acknowledges the Traditional Custodians of Country throughout Australia.