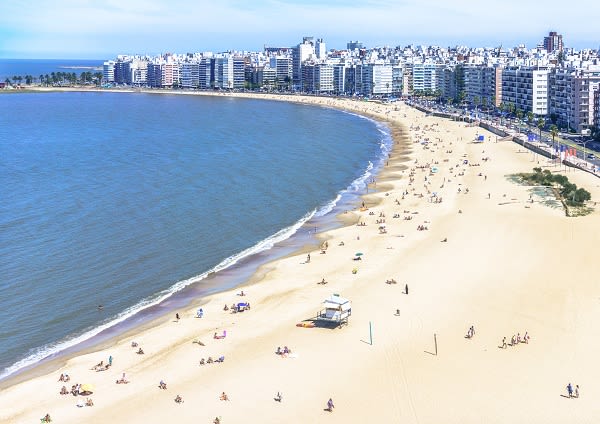 Beautiful beaches and colonial cities are just two of the reasons why a Uruguay holiday should be on your South American to-do list. Our holiday packages are jam-packed with things to see and do – whether your dream holiday involves sun-drenched days on Playa Ramirez and Playa de los Pocitos (Uruguay's most picturesque breaches), exploring Uruguay's cosmopolitan capital of Montevideo, or falling in love with the captivating charm of Ciudad Vieja (Old Town), or all the above. Our team of Travel Experts have done the hard yards to bring together the best travel deals catering to a broad range of whims and budgets. Hot tip, if your visit to Uruguay is between January and February, don't forget your dancing shoes! The month-long Carnival celebrations take over Montevideo for this annual explosion of music, dancing and colourful costumes. If you've been dreaming of a South American adventure, there's never been a better time than right now.
We have just one question for you. What colour are your dancing shoes?
Deals with your name on them...
Explore holidays by interest
Frequently asked questions
What to take on holiday to Uruguay?
It's the Amazon so pack for every climate but make sure you pack mosquito repellent, sunscreen, a filtered water bottle & at least two pairs of shoes (if you are heading off the beaten track).
---
Where to go on holiday in Uruguay?
For picturesque beaches you have to add Playa Ramirez & Playa de los Pocitos to your list. For a mix of old & new cities don't miss Montevideo & Ciudad Vieja - just don't forget your dancing shoes!
---
How do I go about canceling my Uruguay holiday package?
---
When is the best time to visit Uruguay?
Uruguay has two main seasons all-year round: hot & very hot! The best month to travel is January & February for the annual Carnival celebrations - it's the perfect way to experience the culture of the city.
---
What is there to do in Uruguay?
Beautiful beaches and colonial cities are just two of the reasons you will love Uruguay. Add in incredible food, rich history & beautiful locals - you've got yourself one perfect holiday!
---
How to find the best holiday package to Uruguay?
We've got that covered too! Sign up to get the hottest deals sent straight to your phone & emails here: www.flightcentre.com.au/p/subscribe. You can also check out our deals online or speak to one of our Travel Experts.
---
...loading
Popular holiday destinations
---
Flight Centre acknowledges the Traditional Custodians of Country throughout Australia.