Explore more holiday deals
Set on a stunning harbour and rimmed by hills
Much of Wellington's film-related infrastructure is in the eastern suburb of Miramar. Movies wholly or partly shot in Wellington include The Lord of the Rings trilogy, King Kong and Avatar.
This city – the world's southern-most capital – is also hot on retail options. There are fine local wares, vintage stores, international brands and quirky markets. Serious shoppers should head to Cuba, Willis, Victoria, Wakefield and Featherston Streets. Foodies will love the emphasis on fresh produce here and there are regional wineries and breweries to boot.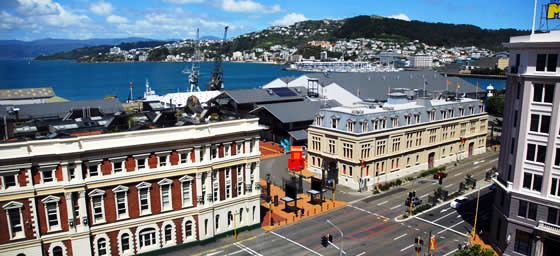 Streets of Wellington
Ample walking trails and lookouts await outdoorsy visitors who will enjoy the city's stunning harbour, rimmed by hills at the southern end of the North Island. No one on holiday in Wellington should miss the interactive Museum of New Zealand Te Papa: here you'll get an unrivalled look at the geology, history and stories of the peoples of New Zealand. Cosy bed-and-breakfasts, idyllic holiday cottages and luxury city hotels are waiting for you. Just remember to pack a fleece, regardless of the time of year. It gets a tad breezy.
Cityscape View