14 October 2013
From delicious meals to personal entertainment screens and the all important seat pitch figure for that extra bit of legroom, airlines today have put a renewed focus on their Economy Class cabins to make sure that passengers who fly Economy receive a comfortable and enjoyable long haul flight. Here's a profile of fantastic airlines that offer a great Economy Class service when flying internationally from Australia.
Thai Airways International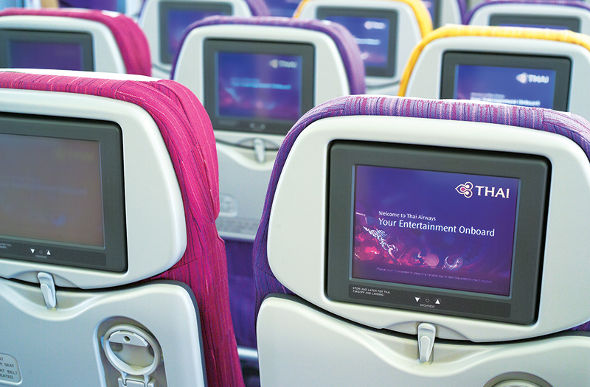 Thai Airways International is a full-service airline and offers Economy Class passengers complimentary drinks including imported and Australian wines. The seats have a pitch of 32 to 34 inches and flights from Australia on their Boeing 777, Airbus A330-300 or Boeing 747-400 aircraft boast personal entertainment systems and LCD screens with Audio Visual On Demand (AVOD). The in-flight menu includes a choice of Asian or Western-inspired meals.
Singapore Airlines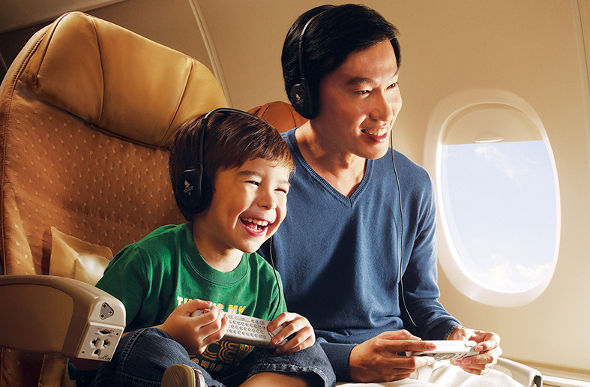 Economy cabins on a Singapore Airlines Airbus A380, A330-300 and Boeing 777-300ER aircraft feature ergonomic seats with a pitch of 32–34 inches, a seat-back mounted handrest that can be adjusted for greater support, an in-seat power supply and a non-intrusive reading light. To keep you entertained throughout the flight, there are over 1,000 entertainment options available on KrisWorld that can be watched courtesy of the 10.6-inch personal screen.
Qantas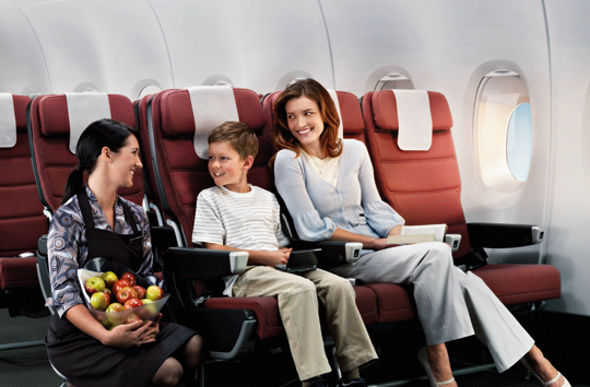 When flying Qantas internationally, Economy Class passengers can relax into their ergonomically designed, slimline seats with built-in lumbar support. The seats on an Airbus A380 and the refurbished Boeing 747-400 aircraft have even softer cushioning, a netted footrest and more legroom for additional comfort. To make the journey all the more comfortable, guests receive a soft blanket, cotton pillow and amenities kit including eyeshades, a toothbrush and toothpaste. To help pass the time, there are 1,500 entertainment options on the A380 and refurbished 747-400 courtesy of the personal touch screen monitor.
Malaysia Airlines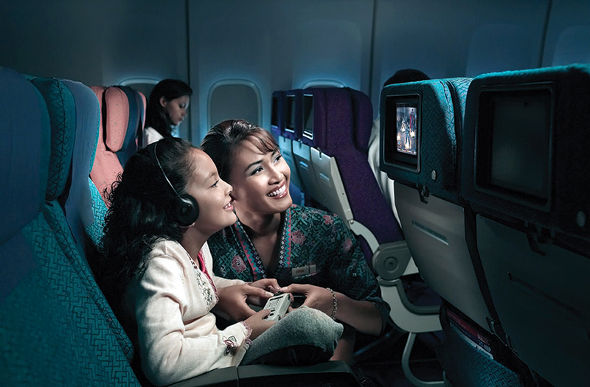 The Economy cabins on a Malaysia Airlines Airbus A330 and A380 feature reclining seats with a seat pitch of 32 inches. Each seat also has an individual in-seat power supply and a USB port. The in-flight menu includes Halal meals and a selection of hot and cold beverages. The entertainment options include over 90 movies, 70 television programs and 400 music albums, which can be enjoyed courtesy of the 8.9-inch seat-back smart screen on the A330 aircraft or the 10.6-inch seat-back mounted screen on the A380.
Emirates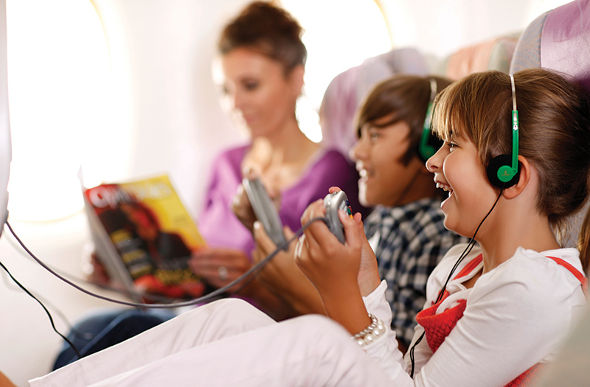 The Emirates Economy Class cabin has been designed with space and comfort in mind. There are personal seat-back monitors that offer up to 1,500 channels of news and entertainment programming and the Dubai-based carrier also features SMS, telephone and email service at every seat. The in-flight menu includes multi-course meals on long haul flights including hors d'oeuvre, salad, a choice of main course and dessert. A range of complimentary beverages and wine are also available.
Air New Zealand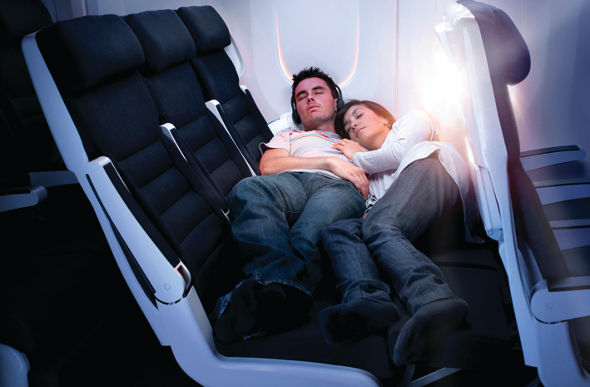 When flying on a 777-300 Air New Zealand aircraft, passengers have the opportunity to upgrade to Economy Skycouch, which is a three-wide seat space that can be used for whatever you desire - to sleep, relax or stretch out. Snacks are also available at the touch of a screen at any time throughout the flight and 580 hours of content is ready to be enjoyed on the 10.6-inch personal touch screen. There's also an individual USB and iPod connection.
Virgin Australia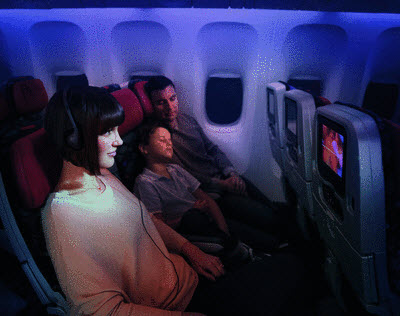 The Economy cabin on a Virgin Australia long haul flight has a spacious 3-3-3 seat configuration, where the individual seats are 18.5 inches in width and have a pitch of 32 inches. Passengers travelling on the Boeing 777-300ER international service are welcome to enjoy the award-winning in-flight entertainment system 'RED,' which has an extensive range of new release and classic movies, television programs and music - all delivered through a touch-screen and handset controlled system.
Cathay Pacific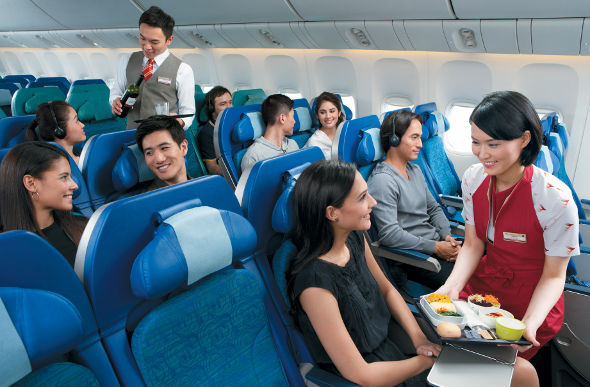 A cradle mechanism in the seat-back of a Cathay Pacific Economy cabin seat allows for a 6-inch recline for resting, while the headrest with side wings adjusts four ways offering maximum support for your head and neck. The StudioCX entertainment system with Audio and Video on Demand keeps passengers entertained for hours via the personal touch-screen 9-inch monitor. You can also connect your iPod, iPhone or iPad to stream your own music and movies to the screen and there's also a USB port to charge mobile devices and a 110V AC power supply for your laptop computer and other electronic devices.
Other Travel Articles You Might Like...