4 August 2016
Words by Renae Spinks
As more than 400,000 people prepare to descend on the Brisbane Showground Precinct from this Friday for the 139th Royal Queensland Show (aka the Ekka), the site is poised to handle them all – along with 10,000 animals, 800 volunteers, 550 exhibitor stands, 380 types of showbags, and more than 100 rides and games.

Picture: RNA
In fact, this eclectic set of venues – which incorporates the three-year-old Royal International Convention Centre – can handle just about anything, says RICC general manager, venue sales and marketing Jago Coyle.
"If you can think it, we can pretty much hold it," Mr Coyle says. "It doesn't matter whether it's a concert or a speedway or an Asian street market – we've got a venue that can pretty much take care of anything. It's only restricted by availability and your budget."
Want a helicopter to land at your convention? It can put down in the main arena. Want a steam train at your model train conference? The precinct has its own train station. Need some team-building ideas? How about beach cricket on the oval, or horse-riding at the equestrian centre? You'll find hi-tech facilities at the RICC, and Heritage-listed charm at the Governor's Pavilion.
Bars? There are several. Food? Don't get me started. The precinct is owned and operated by the Royal National Agricultural and Industrial Association of Queensland, which stages the Ekka and has a 139-year history. And that means the very best produce around.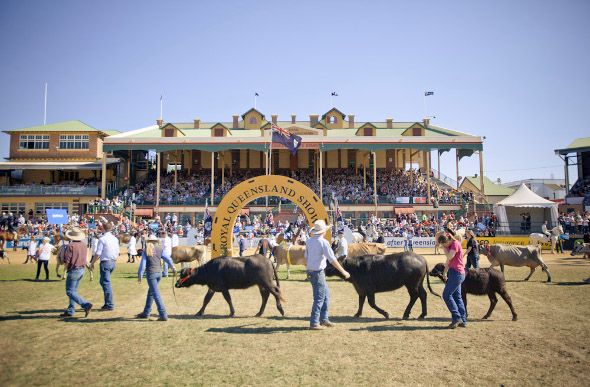 Picture: RNA
"The starting point is if you're going to have a steak, it's very often a prize-winning cut," Mr Coyle says. "It's the best of the best that makes our menu ... and that really harks back to our heritage as the RNA. Our chefs are very passionate about making the absolute best of the already amazing produce."
And the kitchens at the RICC are state of the art. For example, one client holds a breakfast there every year. "It's approximately 2,200 people and it's all plated. It comes out of the kitchen looking perfect, and we serve all that in 16 minutes."
---
More convention inspiration:
Conventions Outside the Box: Hamilton Island
7 Reasons to Have Your Conference at Sea
---
The RICC has three flexible halls, seven meeting rooms, two boardrooms, foyer space and an open Plaza entrance, as well as an Operable Ceiling Grid System that can be lowered by remote control to install tech equipment from a safe work height. One conference even had motorbikes jumping through the grid.

Picture: RNA
Other venues include:
The Marquee, which has hosted music festivals and trade shows.
The John Reid Pavilion and Annexe.
The Avenues buildings, which together provide more than 6,000 square metres of function space.
The covered outdoor areas Expo Place 1 and 2, which use the roof structure from Expo 88.
The intimate Governors Pavilion, which caters for up to 62 people.
The Stockman's Bar & Grill and the Stockman's Rest garden.
The spectacular Main Arena plus Showring 2, which is bordered by 100-year-old fig trees.
Sideshow Alley, which can provide a carnival feel.
The Exhibition Building, with its private organiser's office overlooking the exhibition area.
With all that, the precinct can accommodate gatherings from as small as 25 people right up to 400,000-plus. Mr Coyle describes it as a bespoke conference centre.
"If you've got fairly good numbers here, you can own the venue, so you're not competing with other brands or any other events that might be taking place," he says.
And the site is close to the Brisbane Airport, the CBD, and accommodation in the form of the new 200-room Rydges Fortitude Valley, which sits within the precinct. The precinct itself is divided into different sectors, which are part of a redevelopment plan.
"Because the whole precinct is being redeveloped, it's like that rising tide – it's just getting better and better and better every year, particularly for the corporate market," Mr Coyle says.
Other Travel Articles You Might Like...
Request an appointment with a Business Travel expert