28 September 2016
Words by Carlie Tucker
This big city is still a little bit country, but that's what makes it such an appealing stop. You'll find all the culture and amenities with none of the pretention. The food, museums and theatres serve up national accolades as well as a healthy dose of that famous Southern hospitality, which is more than enough to convince you that 24-hours here isn't nearly enough! While you're there, though, here's how to make the most of every minute ... 

Image courtesy of conservatoryhtx.com (El Burro & The Bull)
Where To Eat
Some will tell you that Houston is the food hub of Texas. It's a tall order to fill considering the surrounding competition. The likes of Austin and Dallas are no slouches when it comes to their restaurant scenes. But, it's a fair call considering the many dining aficionados singing Houston's praises these days. From fine dining to good ol' home cookin', there's a good chance you'll find the best of the best within Houston's city limits.   
Breakfast
Locals and travellers alike will tell you breakfast doesn't get any better than that found at the Breakfast Klub. It's been a staple on the Houston food scene for the last ten years, delighting early morning eaters with the likes of their signature wings & waffle and katfish & grits. You'll also find a healthy selection of other breakfast favourites, including biskits & gravy, French toast (made with Texas toast of course) and the breakfast special (bacon, pan sausage, ham or turkey, eggs, potatoes or grits and toast or a biscuit).  
Lunch
If you still have room for lunch after your hearty breakfast, Houston's selection of hot lunch spots will not let you know. Go for something simple like the state's best sandwiches at B&B Butchers & Restaurant (served at the butcher shop), or bust your gut at the Conservatory. This was Houston's first food hall and offers diners an impressive swathe of eateries to choose from. Ranging from gyoza to BBQ, you're sure to find something to tempt those tastebuds.
Dinner
After a full day of seeing the sights, it's well worth capping things off by sampling Houston's fine dining. Brennan's of Houston has been dishing up Creole traditional favourites with a fine dining twist for 40 years. It's consistently named in the top restaurants of the city. The menu is dictated by seasonal ingredients, but features the likes of freshly shucked oysters, crusted gulf fish, seafood gumbo and bacon-braised collard and mustard greens.  
---
Looking for more USA stopover guides?
Stopover Guide: 24 Hours In Boston
Stopover Guide: 24 Hours In Washington DC
---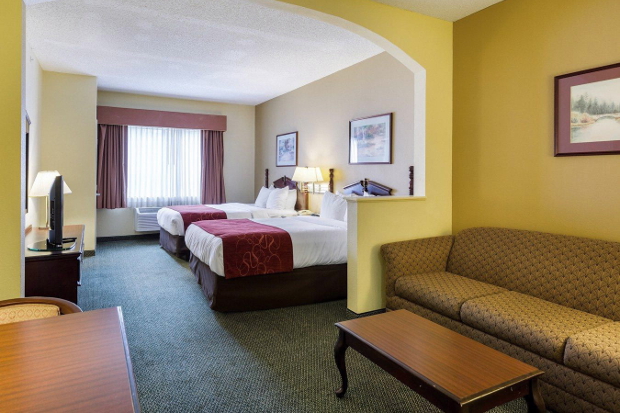 Where To Stay
With limited time to see the city, it only makes sense to stay near the airport for a quick getaway. Situated at the entrance of the Bush Intercontinental Airport, the Comfort Suites Bush Intercontinental hotel offers easy access to the airport without sacrificing on proximity to Houston's downtown sightseeing area. It also comes with a number of value adds when you book with your FCBT Travel Manager. This includes complimentary WiFi access, a continental breakfast and fast track Diamond Status with 4,000 bonus points when you sign up for the Choices Privileges program.
Each room features all the hallmarks of a quality business stay -- comfortable bed, private stone ensuite and a designated workspace with charging outlets nearby -- along with a few extras to make your time in Houston just a little bit more comfortable. This includes a free newspaper (Monday through Friday), iron and ironing board, free coffee and laundry services. The hotel also offers a seasonal outdoor pool, fitness facilities, meeting room with access to business facilities, courtesy transportation and free airport transfers.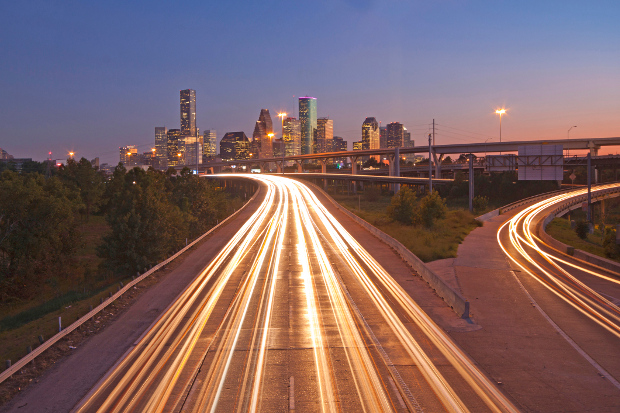 Where To Play
24 hours isn't a lot of time to see everything this city has to offer, but there are a few things that stand out as must-dos. This includes the Galleria. If you count yourself as a shopper, this mega mall can't be missed. With approximately 400 shops, including designers such as Gucci, Apple and Tiffany & Co, there is ample opportunity to exercise the ol' wallet. Alternatively, there are countless restaurants and an ice rink to test your skills.
If you're more of a green spaces kind of traveller, Market Square Park should be high on your list. Proving that small spots can pack a punch, this little park offers up grassy landscaping peppered by restaurants as well as a full schedule of events open to the public. It also happens to provide perfect views of Houston's surrounding historic buildings.
For time poor travellers that want to see as much as possible in a short amount of time, Houston's Museum District is a top choice. Offering visitors the 'chance to travel around the world without leaving the zip code', this epicentre of knowledge features 19 museums and four walkable zones. Covering everything from photography to world history, you'll find it here. Just make sure you plan accordingly as it can get busy with local school children.   
Speaking of museums, you simply can't visit Houston without a stop at the Space Centre Houston.  Houston is known as the Astro-city thanks to its involvement with NASA, and this museum showcases the entire history of space travel in the US. Along with historic artefacts (such as the iconic mission control station), guests can also tour rotating exhibits that range from interactive adventures to films in the Space Centre Theatre. With a little pre-planning, you can even have lunch with an astronaut!  
Other Travel Articles You Might Like...
Request an appointment with a Business Travel expert