21 September 2015
Words by Jess Holmes
So you're heading to Tasmania with your laptop in tow and you need to know the city's best bites. After all, isn't breakfast the most important meal of the day?
Whether you prefer a hot brekkie with all the bacon trimmings, a light flaky pastry or simply a cup of good coffee – we've got you covered. For a sumptuous way to start your day, here are the best breakfast cafes in Hobart.
Pigeon Hole Cafe
Highly touted as one of the city's best cafes, the Pigeon Hole should be top of the list for a tasty breakfast. Located in West Hobart, the cosy restaurant is just a 15-minute walk from the town centre.
Before you fire up your laptop, head on down and grab a seat before the loyal locals start rolling in. The menu changes constantly and features seasonal local produce in every dish.
Favourites that often grace the menu include homemade baked beans, cheesy croquet monsieur, baked eggs and avocado on toast. The bread is baked fresh in-house and the coffee is half decent too!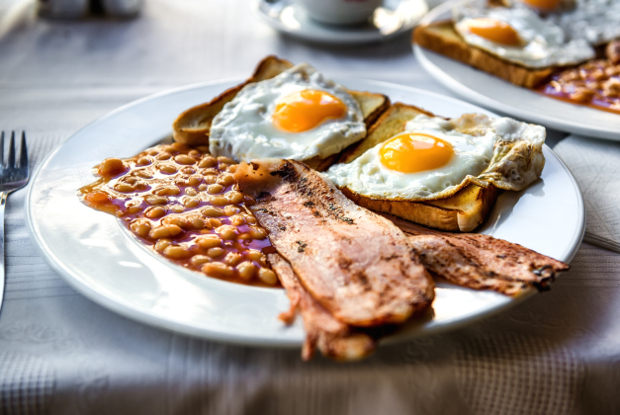 Beans, bacon and eggs (Image: Getty)
Jackman And McRoss
If bakeries are your morning weakness, than look no further the popular Jackman and McRoss. Set inside a beautiful old colonial building in Battery Point, it's the place to go for all things baked.
From crusty homemade breads and golden pies to buttery croissants, cakes, tarts and donuts - both sweet and savoury breakfast lovers will be satisfied. The breakfast menu ranges from fruity brioche buns or cinnamon scrolls to chorizo pastry tarts or poached eggs and smoked salmon.
Don't leave without taking a few sweets home for later – the perfect motivation to get through the work day.
---
Love free W-Fi? 14 Australian Hotels With Complimentary Wi-Fi
Pack like a pro. 5 Packing Tips Every Traveller Should Know
---
Villino Espresso
If your first thought in the morning is 'coffee,' then make tracks to Villino Espresso. This speciality coffee roaster serves up quality coffee including single origin blends.
Get your day off to a lively start with a latte or flat white – complete with the prettiest latte art in town. For something a little different, you could try a cold drip served over ice.
They have a small menu and a little finger food onsite but let's be real, people come here for the coffee. You'll also find a few cafes around town selling Villino Espresso coffee including the popular Jam Jar Lounge.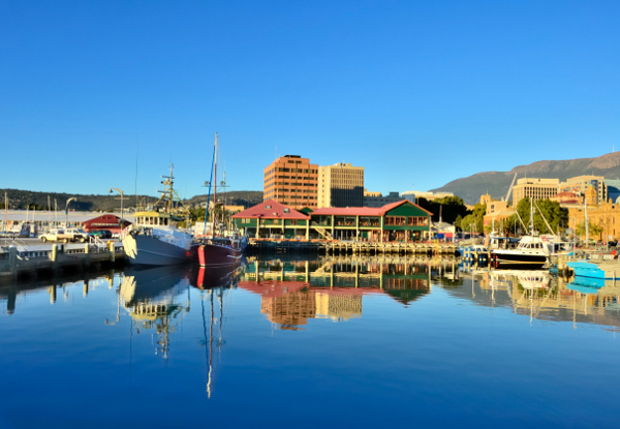 Enjoy a bite along the water (Image: Getty)
Small-Fry
A trendy bar and kitchen in Hobart, Small-fry is certainly worth an early morning visit. The breakfast menu is small but they do let you order from the lunch menu if your hunger dictates. Sample the vanilla lemon curd porridge or scrambled eggs and bacon, or go all out with a few sliders or a four cheese brioche toastie from the lunch menu – yes please!
The popular eatery has also created quite the following with its handmade boutique donuts made completely from scratch. From Turkish delight to lemon meringue, a donut is perhaps the best way to start the day, no?
Daci And Daci Bakers
For an exquisite patisserie specialising in French fare, there's the one and only Daci and Daci Bakers. Walk in and you will be mesmerised by the racks overflowing with crusty freshly baked breads and rows and rows of perfectly handcrafted cakes.
On the lighter side of things, you could go for the apricot and almond granola, seasonal fruit or house made toast. On the other hand, it would be very hard to resist the French toast, or the croque salmon.
Whatever you choose, be sure to order a pastry or two for later – the apple and berry streusel is hard to resist!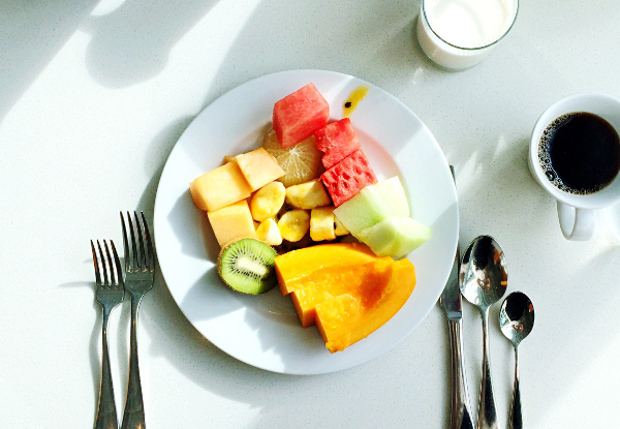 Delicious and fresh fruit makes for a quality snack (Image: Getty)
Other Travel Articles You Might Like...